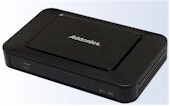 Addonics today announced a NAS enclosure for 2.5" SATA drives that sells for $69.
The Mini-NAS (NAS25HDU2) is about the size of a VHS cassette (remember those?) and accepts 2.5" SATA hard and SSD drives and shares files via SMB/CIFS via a 10/100 Ethernet port with up to 64 concurrent users.
Other features include USB printer sharing, 8 user FTP server, BitTorrent download client and UPnP AV media server.
The Mini-NAS is available now.