Buffalo has announced a new line of Windows Storage Server based NASes.
The TeraStation Pro WSS Storage Servers are built on Buffalo's new TeraStation Pro hardware platform using Intel's D510 Atom CPU, 2 GB RAM, hot-swap SATA drives, dual Gigabit Ethernet ports supporting aggregation and automatic failover and dual USB 3.0 and 2.0 ports.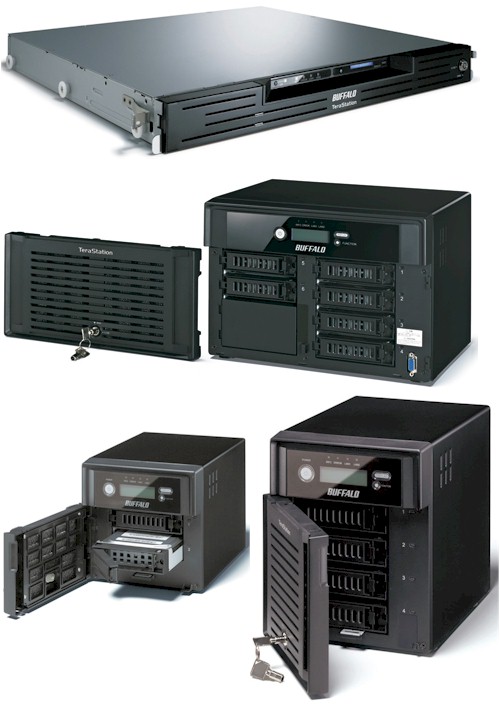 All models run Windows Storage Server 2008 R2, with features including SMB, NFS, FTP/S and HTTP/S network file access, centralized management, DFS replication, iSCSI initiator and target, NTFS volume format, VMware, Hyper-V and IIS support and RAID 0, 1, 5 and JBOD volumes (JBOD, RAID 0, 1 for the dual-drive model).
10 licenses of NovaBACKUP Business Essentials v12 are included with all models for backup of Windows PCs, Windows Servers, Exchange or MS SQL databases.
Models and estimated street pricing are:
– TeraStation Pro Duo WSS: $849.99 for 2 TB (WS-WV2.0TL/R1), $1,049.99 for the 4TB (WS-WV4.0TL/R1).
– TeraStation Pro Quad WSS: f $1,499.99 for 4 TB (WS-QV4.0TL/R5), $1,999.99 for 8 TB (WS-QV8.0TL/R5).
– TeraStation Pro 6 WSS: $2,799.99 for 6 TB (WS-6V6.0TL/R5), $3,899.99 for 12 TB (WS-QV8.0TL/R5).
– TeraStation Pro Rackmount WSS: $2,499.99 for the 4 TB (WS-RV4.0TL/R5), $3,199.99 for the 8 TB (WS-RV8.0TL/R5).
All products carry a three-year limited warranty and will be available in the late April / early May timeframe.