The CloudPlug and the C200 turn any USB or eSATA hard drive into network-attached storage with integrated online backup. The CloudPlug supports a single external drive, while the C200 supports dual hot-swappable internally-mounted 3.5″ SATA hard drives.
Both products are based on Marvell's Sheeva platform, which is also used in CloudEngines' PogoPlug and Seagate's FreAgent Dockstar.
Although the CloudPlug and C200 provide fully-functional local networked storage, they are being sold bundled with one year of online backup service for 10 GB of data. CTERA and Rackspace are partnering to offer the cloud backup service.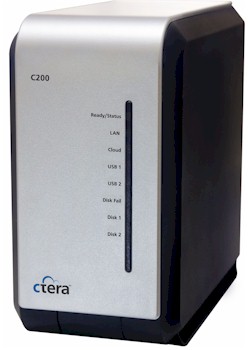 The CloudPlug is available now for $199, which includes one year of 10 GB online backup service. Options for additional online backup space are available starting $9.95 / month. The C200 starts at $499, which also includes one year of online backup.