D-Link said that its new dual-drive NASes are finally shipping.
The D-Link DNS-320 and DNS-325 are dual-bay NASes that accept 3.5" SATA hard drives up to 2 TB.
The DNS-320 runs on an 800 MHz Marvell CPU with 128 MB of RAM, while the DNS-325 is based on a 1.2 GHz Marvell CPU with 256 MB of RAM.
Both models have one Gigabit Ethernet LAN port and USB 2.0 port for printer sharing, UPS shutdown synchronization and attached drive backup and volume support for single drive, JBOD, RAID 0 and 1.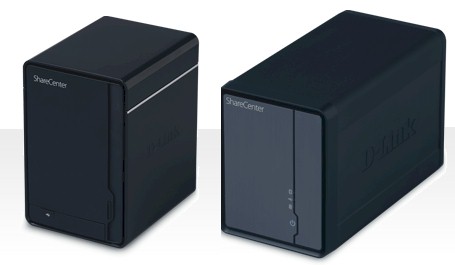 The duo has a common feature set including SMB, AFP and NFS file sharing, HTTP and FTP remote access to files, DNLA-certified / UPnP AV media and iTunes servers and "peer-to-peer" downloader.
Common backup features include bundled Farstone Total Recovery Pro Backup (Windows only) software, NAS to NAS network backu and Apple Time Machine support.
Additional DNS-325 features include audio streamer, Logitech Squeezecenter support, blog and photo center apps and support for more add-on modules.
The DNS-320 and DNS-325 are available now with street pricing around $110 and $200, respectively. Both carry a three year limited warranty. D-Link will also launch the DNS-320-110 and DNS-325-110 pre-configured with a 1TB disk drive next month for $199.99 and $279.99, respectively.