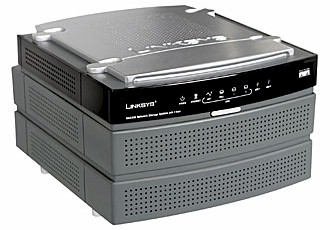 The
main news is that Linksys is finally entering the consumer NAS market with the NAS200 Network Storage System with 2 bays. It's not yet up on Linksys' website and the only info in the ad is that it has two USB ports for supporting external drives.
Other products featured in the ad are:
– The CIT400 DECT Skype / POTS phone that doesn't need a Skype client running on a PC. This product is similar to those announced in August by Netgear and Philips, which have yet to hit retailers' shelves. This one is up on Linksys' site and available for sale.
– WRT600N dual-band draft 802.11n router with built-in UPnP AV media server that can stream content from attached USB storage devices. This one was outed by Engadget back in November.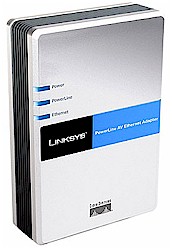 – The PLE200 PowerLine AVEthernet Adapter. The PC World ad has no useful information so it's unknown whether it uses Intellon's HomePlug AV chipset or the 200 Mbps powerline chipset from DS2.