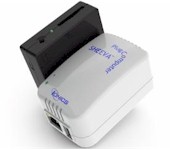 Marvell has released a new installer for its Plug Computing software environment.
The open source Easy Plug Computer Installer (EPI) simplifies Plug Computing software deployment by providing a wizard-based installation tool.
EPI supports Marvell's ARMADA 300/310 processor family and can be used to install Linux distributions, file systems, file system images or single applications. It provides USB key and HTTP-based list retrieval and is compatible with Fedora 11 (32/64bit), Ubuntu 9.04 (32bit), Windows XP SP2/3, and OSX (Leopard).
EPI and supporting information is currently available for download at http://sourceforge.net/projects/esia/.
Plug Computers are based on Marvell's SheevaPlug SoC family and support multiple standard Linux 2.6 kernel distributions For more information, visit www.plugcomputer.org.