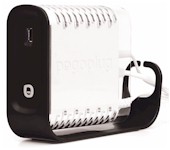 Pogoplug today announced a cloud printing feature and start of shipments for its wireless adapter and Pogoplug Biz model.
The print feature allows users to print to "any [USB] HP or Epson printer made since 2005". The new feature also supports printing to network-enabled printers connected to the same network as the Pogoplug.
The new print feature is part of new firmware that will begin to be automatically downloaded today and should be distributed to all users "by the end of the week".
Pogoplug also said its Wireless Extender ($299 MSRP) and Pogoplug Biz ($29 MSRP) are now shipping to U.S. customers.