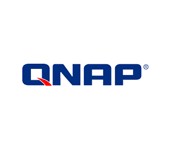 QNAP new TS-x53A NASes sport Intel Braswell CPUs.
The TS-x53A family includes 2, 4, 6, and 8-drive bay models based on quad-core 1.66 GHz (burst 2.08GHz) Intel Braswell N3150 processors with 4 GB DDR3L RAM, expandable to a total of 8 GB.
All models include hot-swappable bays accepting 2.5" and 3.5" hard or solid-state drives, two 4K-capable HDMI outputs, four USB 3.0 ports, IR receiver for remote control and two audio input and one audio output jacks.
All have four aggregatable Gigabit Ethernet ports, except the two-bay TS-253A that has two. All can also be expanded via UX-500P or UX-800P expansion cabinets.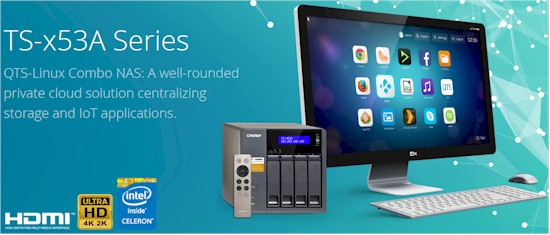 QNAP TS-x53A Series NASes
The new series include Intel's AES-NI hardware-accelerated encryption engine that QNAP says supports transfer speeds of up to 412 MB/s with AES 256-bit encryption for both full NAS volumes and shared folders. Other features include a new Linux Station, QNAP Snapshot file recovery, Qmedia channel for Roku players and TVs and QNAP's wide range of built-in and installable applications.
Models and MSRPs are:
TS-253A-4G/8G (2 x 2.5/3.5 inch drives, 4GB/8GB RAM) – $499 / $649
TS-453A-4G/8G (4 x 2.5/3.5 inch drives, 4GB/8GB RAM) – $599 / $749
TS-653A-4G/8G (6 x 2.5/3.5 inch drives, 4GB/8GB RAM) – $799 / $949
TS-853A-4G/8G (8 x 2.5/3.5 inch drives, 4GB/8GB RAM) – $999 / $1149
Everything is shipping now.