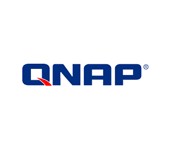 QNAP has announced two Intel Xeon based, expandable desktop NASes.
The TS-EC880 Pro and TS-EC1080 Pro are desktop additions to QNAP's recently-announced TS-ECx80U-RP rackmount line.
Both are powered by 3.4 GHz quad-core Intel Xeon E3-1200 v3 processors with 2 GB DDR3 ECC RAM in the desktops and 4 GB in the rackmounts. All hot-swappable bays accept 3.5" and 2.5" hard or solid state drives configurable into multiple dingle disk, JBOD or RAID 0, 1, 5, 6, 10 volumes with hot-spares.
Both desktop and rackmount models all come with four aggregatable Gigabit Ethernet ports and PCIe slot for optional single or dual 10GbE port expansion. Memory can be expanded to a total of 32 GB using four memory slots. There are also two internal mSATA ports for optional SSD read caching without using valuable main storage bays. Four bays can also hold SSDs for additional cache. Desktop USB port complement is three USB 3.0 and six USB 2.0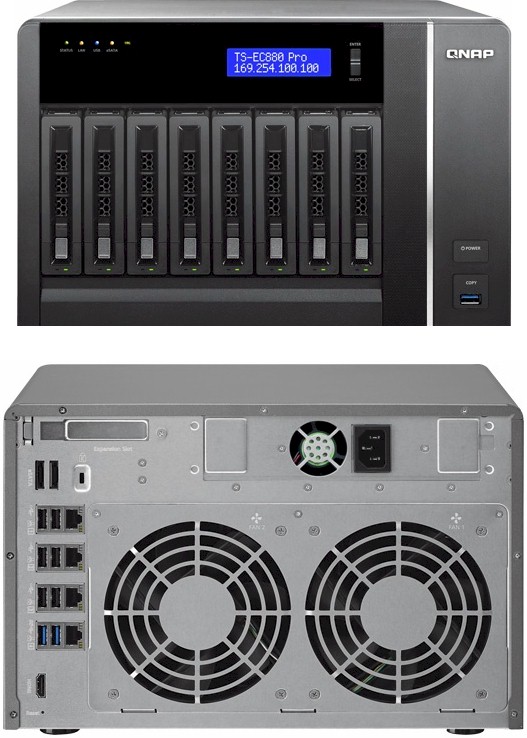 QNAP TS-EC880 Pro NAS
Two eSATA connected, 10-bay REXP-1000 Pro expansion cabinets can be supported by the TS-EC880 and TS-EC1080 in their 2 GB factory configuration. A total of four expansion cabinets can be supported by upgrading to 4 GB of RAM.
Both new NASes support the full feature set of QNAP's QTS 4.1 operating system that supports a wide array of iSCSI, VMware vSphere 5.5, Citrix XenServer and Microsoft Hyper-V virtualization, backup, media playback, mobile access and cloud storage options. Also supported is a new IT Management Station powered by Mandriva Pulse, that simplifies daily tasks and IT asset management.
The TS-EC880 Pro and TS-EC1080 Pro are shipping now at MSRPs of $2799 and $3199, respectively. The REXP-1000 Pro expansion enclosure is also shipping now at a list price of $1199.