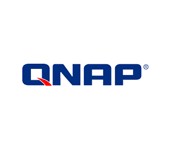 QNAP has announced two lines of Marvell-powered NASes.
The Turbo NAS TS-x21 and TS-x20 series are aimed at home and home office buyers. The TS-x21 series models all use 2.0 GHz Marvell CPUs with 1 GB of DDR3 RAM while the TS-x20 series models have 1.6 GHz Marvell CPUs with 512 MB of DDR3 RAM. Both series have 16 MB of flash.
Both series include models with one, two and four hot-swappable bays for 2.5" and 3.5" hard or SSD SATA drives. The one bay (TS-120, TS-121) and two bay (TS-220, TS-221) models have one USB 2.0, two USB 3.0 and one Gigabit Ethernet ports. The four bay models (TS-420, TS-421) have two USB 2.0, two USB 3.0 and two aggregatable Gigabit Ethernet ports and an LCD status/configuration screen.
The one bays have a single eSATA port, while the two and four-bay versions have two.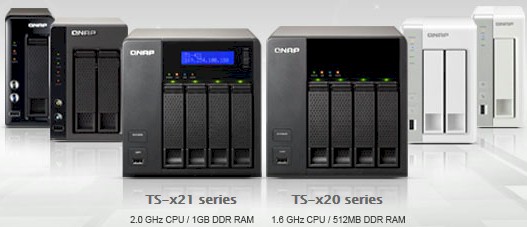 QNAP TS-x21 and TS-x20 NAS families
The new NASes ship with QNAP's new QTS 4.0 OS that features an entirely redesigned multi-windowed interface that features drag-and-drop icons, multiple desktops, quick search, event notifications, event notifications and external device and background tasks.
Also new is the myQNAPcloud setup utility that doesn't require a Windows or MacOS computer to set up the NAS. Just point any browser to start.qnap.com to get your NAS set up.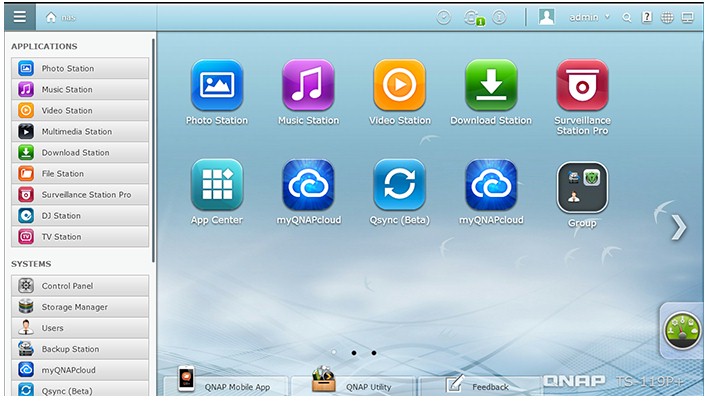 QNAP QTS 4.0 NAS OS
Standard features from QNAP's previous OS are carried forward into QTS 4.0, including File Station, Photo Station, Music Station, Qsync, Qfile and more.
The new NASes should be available soon. Pricing was not provided.