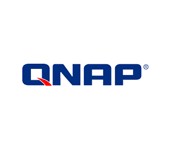 QNAP has started to ship its combination DAS/NAS/iSCSI SAN storage appliance.
The TVS-871T Thunderbolt 2 Turbo vNAS previewed in June at Computex 2015 is now shipping in two models. The TVS-871T-i7-16G has an Intel Haswell Core i7-4790S 3.2 GHz quad-core processor with 16 GB DDR3 RAM, while the TVS-871T-i5-16G runs on an Intel Haswell Core i5-4590S 3.0 GHz quad-core processor and 16 GB DDR3 RAM.
Both models have eight hot-swappable bays that can accept 2.5" and 3.5" hard and solid-state drives and AES-NI hardware encryption engine. Port complement includes dual Thunderbolt 2, three USB 3.0, two 10GBase-T (copper) Gigabit Ethernet, four Gigabit Ethernet ports and one HDMI. (Previous reports said the 10GbE ports would be optional. They are now included.)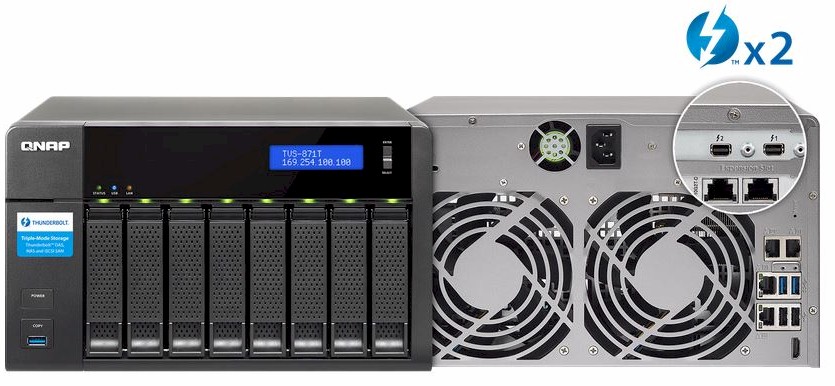 QNAP TVS-871T Thunderbolt 2 Turbo vNAS
The TVS-871T is primarily aimed at 4K video production needs for high I/O throughput and storage capacity. Two Mac workstations can be directly connected via the two Thunderbolt 2 ports and a 4K display can be directly attached via the built-in HDMI port. Network access including iSCSI targets are simultaneously available via the four aggregateable Gigabit Ethernet ports or two copper 10GbE ports.
Storage can be expanded to a total raw 448 TB by connecting up to six 8-bay TX-800P Thunderbolt 2 connected expansion enclosures. The TX-500P 5-bay enclosure is also available for smaller storage expansion requirements.

TVS-871T MSRPs are $2799 for the TVS-871T-i5-16G and $3199 for the TVS-871T-i7-16G. Product is on the way to stores now.