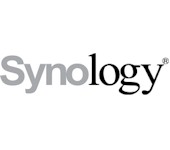 Synology has moved the top end of its product line up to a 106 drive solution.
The RackStation RS10613xs+ takes aim at much more expensive enterprise storage solutions with a hardware platform based on an Intel 3.3 GHz quad core CPU and 8 GB of DDR3 ECC RAM that is expandable to 32 GB.
Four aggregatable Gigabit Ethernet ports are standard and dual 10 GbE ports can be added via an optional PCI Express x8 Gen2 card. There are also four USB 2.0 ports for UPS, printer and drive attach. Dual, redundant power supplies help to ensure high reliability.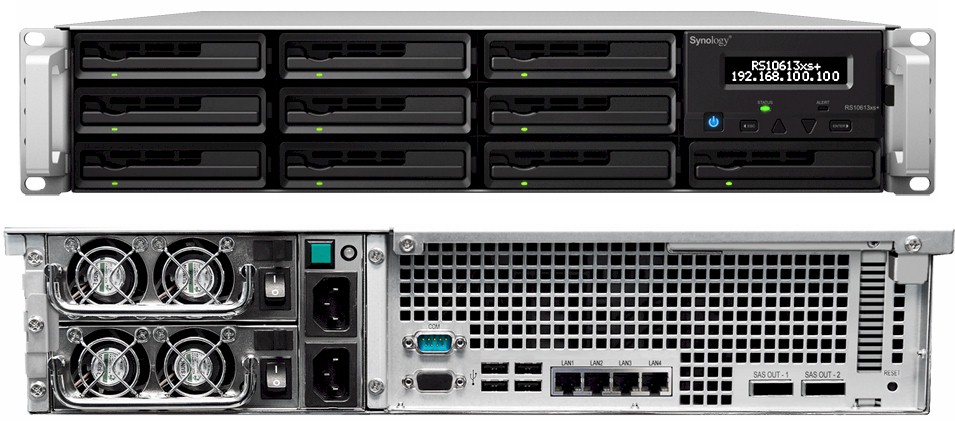 Synology RackStation RS10613xs+
The 2U rackmount cabinet accepts up to 10 hot-swappable 3.5" or 2.5" SATAII/SATAIII/SAS drives up to 4 TB capacity. The drives can be configured as individual volumes or in multiple JBOD, RAID 0, 1, 5, 6 and 10 volumes. Up to a total of 106 drives can be supported via up to eight RX1213sas expansion units that support 12 drives each. The expansion units connect via dual SAS expansion ports.
The RS10613xs+ also supports up to two 2.5" SSD cache drives to speed read access for frequently-accessed data.
The new rackmount NAS is optimized for virtual network storage, supporting both iSCSI and NFS. It is also certified for VMware vSphere 5, Microsoft Windows Server 2012 with Hyper-V, and Citrix XenServer and supports VAAI integration, including Hardware Assisted Locking (ATS), Block Zero, Full Copying, and Thin Provisioning. The RS10613xs+ also supports the other features of Synology's DSM 4 OS.
The RS10613xs+ has a $6999.99 MSRP and comes with a three-year limited warranty. The NAS is also eligible for Synology's new optional extended warranty program that extends the warranty up to 5 years and includes expedited warranty service and next business day shipping of replacement servers and parts.