Synology has added three dual-bay NASes to its DiskStation family.
The new NASes are all based on Marvell processors. The DS212+ uses a Marvell mv6282 @ 2.0GHz w/ 512 MB of RAM, the DS212 is based on a Marvell mv6282 @1.6 GHz w/ 256 MB of RAM and the DS212j has a Marvell mc6282 @1.2GHz w/ 256MB of RAM.
The DS212 and DS212+ include two USB 3.0 ports for fast attached storage transfers. The DS212+ also has an eSATA port for additional storage expansion.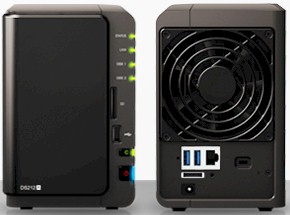 Synology DS212+
The DS212j has neither USB 3.0 nor eSATA ports, but comes with two USB 2.0 ports.
All models run Synology's DSM 3.2 OS that supports Active Directory, MacOS X Lion and Apple Time Machine, UPnP AV / DLNA media serving and much more.
MSRPs are $399.99 for the DS212+, $299.99 for the DS212 and $199.99 for the DS212j. The 212 and 212+ are shipping now. The 212j will be available "in the coming weeks".