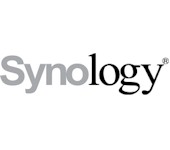 Synology has announced a new rackmount NAS.
The RS3614xs' hardware platform is built around an 3.14 GHz dual-core Intel Core i3 CPU paired with 4 GB DDR3 of ECC RAM that can be expanded to 32 GB total.
Its twelve hot-swappable drive bays accepting 2.5" and 3.5" solid state or hard SATA drives can be expanded to 36 total by adding two RX1214 expansion chassis. Up to 6 TB SATA III drives can be installed for a total raw base capacity of 72 TB and 216 TB with expansion chassis.
Synology RS3614xs
Ports include two USB 2.0, two USB 3.0 and four aggregatable Gigabit Ethernet ports. Dual PCI Express Gen3 x8 slots support optional 10GbE dual-port cards.
The new rackmount NAS runs Synology's DSM 5.0 that has a comprehensive feature set including SSD caching, VMware, Citrix and Microsoft Hyper-V certification and an array of backup and storage synchronization options.
The RS3614xs and RS3614RPxs with redundant power supplies will begin shipments in the "next few weeks". Both carrry a new 5 year limited warranty (also extended to current XS and XS+ series RackStations) and list for $2999.99 and $3999.99 respectively. RX1214 and RX214RP expansion chassis list for $1,699.99 and $2,399.99.