Synology moves upscale with a new "Enterprise" NAS series.
The flagship of the new "xs" line is the Rackstation RS3411RPxs. It is a 2U rackmount NAS based on a dual-core Intel 3.1 GHz CPU with 2 GB of DDR3 ECC RAM that is expandable to 8 GB. It can hold ten 2.5" or 3.5" hot-swappable SATA drives for 30 TB maximum raw capacity.
Other hardware features include four Gigabit Ethernet LAN ports supporting failover and aggregation, support for an optional two port 10 GBe card, four USB 2.0 ports, dual InfiniBand expansion ports and redundant power supply. A RS3411xs version is also available, without the second power supply.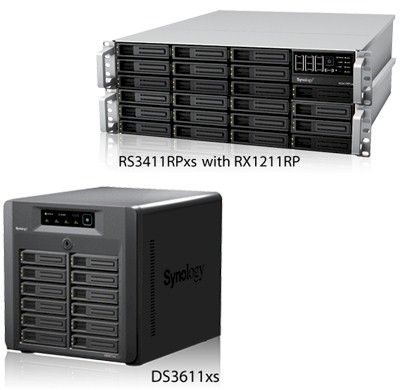 Both rackmount models can expand the base unit to 100 TB of raw capacity via two rackmount twelve bay RX1211/RX1211RP expansion units.
The DS3611xs has all the hardware features of the RS3411xs in a desktop package. It can also be expanded to 100 TB total capacity by adding two 12 bay desktop DX1211 expansion units.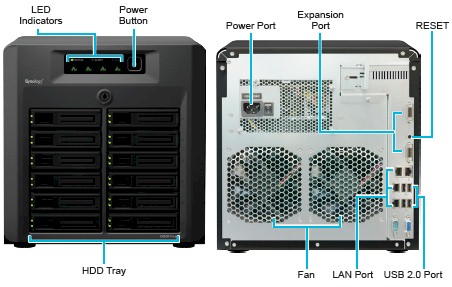 Synology specs the performance of both the RS3411xs and DS3611xs at 1000+ MB/sec throughput and 100,000+ IOPS (tested with dual 10GbE connection with Link Aggregation enabled).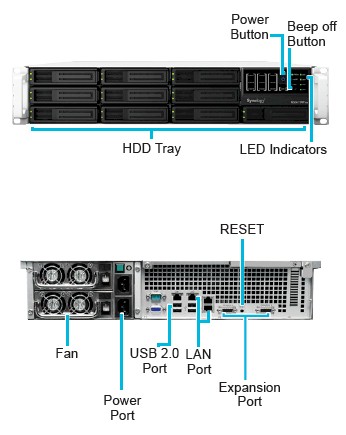 All models run Synology's Linux-based DiskStation Manager OS enhanced with "various business features" including ADS integration for domains up to 100,000 users and groups, ACL support, multiple volumes and iSCSI LUNs, up to 64 iSCSI targets and VMWare, Citrix, Microsoft Hyper-V compliance.
Both the RS3411xs / RS3411RPxs and DS3611xs carry a three-year limited warranty. Products will start shipping in July with pricing starting at "under $5,000".