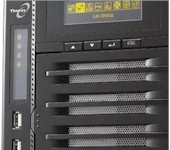 Thecus today announced two additions to its N4200 NAS series.
The N4200PRO is a faster version of the four-bay N4200, based on Intel's dual-core D525 Atom and 1 GB of DDR3 RAM. The original N4200 [reviewed] uses a dual-core D510 Atom.
Also introduced is the N4200Eco, a more affordable N4200 without built-in battery backup and only a single DOM for the OS. It has the performance of the new N4200PRO, however, since it also uses a D525 Atom with 1 GB of memory
All models support the full Thecus feature set and multiple RAID 0, 1, 5, 6, 10 and JBOD volumes.
Both are expected to begin shipping by the end of this month at MSRPs of $825 for the PRO and $705 for the Eco.