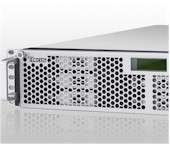 Thecus today added a 2U eight-bay rackmount iSCSI storage device.
The i8500 Storage Device is aimed at enterprise users with a hardware platform including an Intel Xscale IOP Processor, 1 GB of DDR2 RAM, dual Gigabit Ethernet ports supporting auto-failover and aggregation and a separate 10/100 port for web-based admin access.
The i8500 can be configured with single or dual power supplies and an optional RAM battery backup module. Thecus specs transfer speeds of up to 150 MB/s with a single port and 190 MB/s with dual ports.
The device supports up to 256 RAID 0, 1, 0+1, 3, 5, 6, 10, 30, 50, 60 and JBOD volumes plus 32 host cluster connections per volume, for centralized storage for up to 32 users. Up to 32 snapshot versions can be taken with full rollback capability.
The i8500 will be available next month at an MSRP of $2550.