Thecus today introduced its new Atom-based XXX NAS family.
The five XXX products range from a dual-bay desktop to eight-bay rackmount. All use Intel Atom CPUs, with four of the five using the dual-core D525.
All have dual Gigabit LAN ports and 1 GB of RAM and eSATA and USB 2.0 ports for storage expansion.
All of the new models run Thecus' new V5 firmware that features a new user interface, new photo and media servers, improved performance, EXT4 file system and support for 3 TB drives.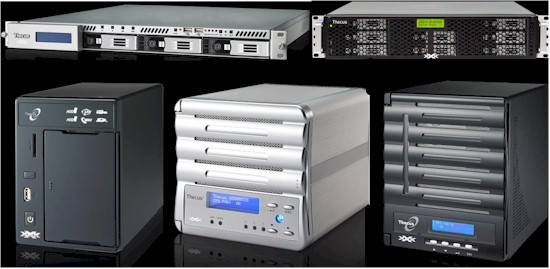 Models and pricing (MSRP) are:
– N2200XXX ($470): Dual-bay Atom D525 NAS with SD, SDHC, MMC card reader
– N3200XXX ($459): Three-bay NAS with single-core Atom N270 CPU
– N5200XXX ($740): Five bay Atom D525 NAS
– 1U4200XXX ($1030 / $1430 for redundant power model): Four-bay 1U rackmount Atom D525 NAS
– N8200XXX ($1,870): Eight-bay 2U rackmount Atom D525 NAS
All are slated to begin shipments by the end of March.