Introduction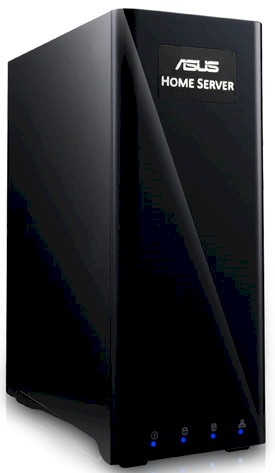 At a Glance
Product
ASUS Home Server (TS mini)
Summary
Dual-bay WHS NAS with lots of USB and two eSATA ports, running on Atom N280 and with local and cloud backup add-ins.
Pros
• Simple to set up and use
• Two eSATA and six USB 2.0 ports for expansion
• Bundled backup software for Windows and Mac OS
Cons
• 10 user limit
• Jumbo frames not supported from WHS interface
ASUS has decided to get into the home storage game, choosing Windows Home Server as its OS platform. The TS mini is a smallish box with two internal 3.5" SATA bays and plenty of USB 2.0 and eSATA ports for your expansion pleasure. It will appeal to those looking to step up a bit from HP's single-bay LX195, but still wanting a store-bought WHS system less expensive than HP's EX MediaSmarts or the business-oriented StorageWorks Data Vault X510.
The mini has a small (~ 4" x 8") footprint, but stands almost 10" tall. Glossy black plastic covers are wrapped around a metal chassis. Figure 1 shows the front panel, with only four indicators, and rear panel that sports six USB 2.0 ports, two eSATA and a single 10/100/1000 Ethernet port. Neither view shows the power button, which is on the front edge of the top cover.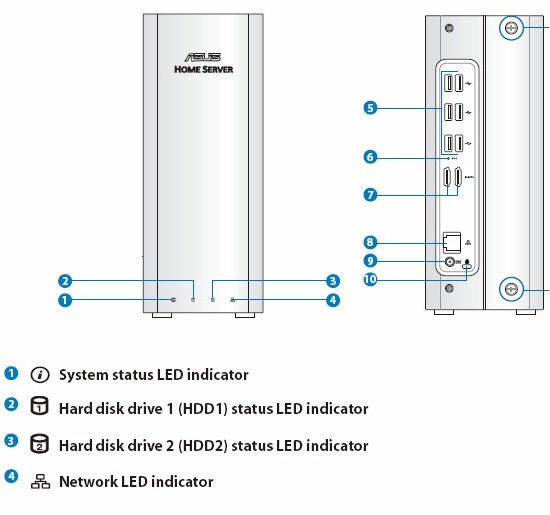 Figure 1: ASUS TS mini front and rear panels
The Ethernet port does support up to 9K jumbo frames. But, like all WHS systems, there's no ability to control jumbos from the WHS Console. After you install the connector and get a password set up, however, you can Remote Desktop into the mini and twiddle the jumbo frame knob there.
Inside Details
It's easy to get into the mini; just remove two rear thumbscrews and slide the cover back. You then need to remove three screws that secure the drive assembly to the main board, then lift it straight up with a bit of a tug.
Figure 2 shows a single Seagate Barracuda 7200.12 500 GB drive (ST3500418AS) installed and one empty bay on the 500 GB review sample.
Figure 2: ASUS TS mini Drive assembly
Figure 3 shows the view with the drive assembly removed. The two small fans run very quietly and the whole system with one drive installed drew only 18 W.
Figure 3: ASUS TS mini main board
The 1.66 GHz Atom N280 CPU is under the smallest heatsink and Intel 82801GBM/GHM ICH7-M SouthBridge and 82945G mobile graphics devices lay under the larger one. 1 GB of RAM is installed somewhere on the other side of the board. I don't know if you can install more memory, but ASUS makes a second version of the mini with 2 TB of disk and 2 GB of RAM.
Other devices I found on the board were a Marvell 88SE6121 SATA II controller near the two eSATA ports, which I'm assuming it handles, Realtek RTL8112L 10/100/1000 Ethernet controller, ENE KB3310 embedded controller, Phison PS2232 flash controller and 256 MB of Samsung flash. Figure 4 shows a shot of the mini's device manager, which confirms what I found.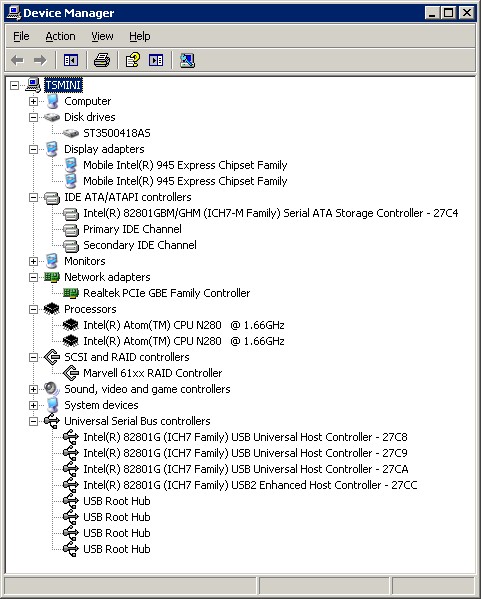 Figure 4: ASUS TS mini devices
Features
Despite many unsuccessful attempts and some back-and-forth with ASUS, I was unable to install the WHS Connector on my Vista SP1-based NAS test system. I was, however, able to complete the install on an XP SP3 system. Go figure.
I let the mini complete its automatic updates and when the smoke cleared the WHS Console Resources page reported that it had Windows Home Server with Power Pack 3. Version information for the various components all showed 6.0.2423.0.
ASUS has installed in a few of their own add-ins and included an avast! Antivirus add-in that can be installed. The Xtor Manager and WebStorage add-ins both appear in the toolbar shown in Figure 5, along with an ASWM (ASUS System Web-based Management) option that doesn't appear to have a visible add-in.
Figure 5: WHS Console with ASUS add-ins
ASWM is a nice touch for the geekier WHS user, providing access to Windows information that you'd otherwise have to RDP into the server for. The info is mostly look, but not touch, although you have an option for flashing the BIOS and a few other configuration options, mostly around SNMP reporting.
Figure 6 shows the Xtor Manager add-in, which provides some nice options for backing up, syncing and merely moving files between the mini and external drives. Too bad that it doesn't include options for network-based backup. Backup options, though, are strictly on-demand; there is no ability to set up regularly-scheduled backups.
Figure 6: ASUS Xtor manager
The WebStorage add-in provides the ability to use ASUS' WebStorage service (Figure 7) free for one year. After that, you'll need to buy a yearly subscription, which ranges from $10 for 10 GB to $40 for "unlimited" space. I didn't bother signing up for an account, so didn't check out this offering.
Figure 7: ASUS WebStorage Service
And, of course, the mini supports all the other goodies you get with a Windows Home server based system including media serving, Windows and MacOS client backup, remote access and more.
Performance
I ran our iozone and filecopy benchmarks using a Gigabit Ethernet connection and our standard process. I didn't test with jumbo frames, both because they don't make significant difference with my test platform and since enabling jumbo frames isn't supported in the WHS Connector interface.
Figure 8 shows plots of the write and read performance vs. "large" file sizes from 32 MB to 4 GB with a 1000 Mbps LAN connection. As is typical of other WHS-based systems, there is significant write cache boost.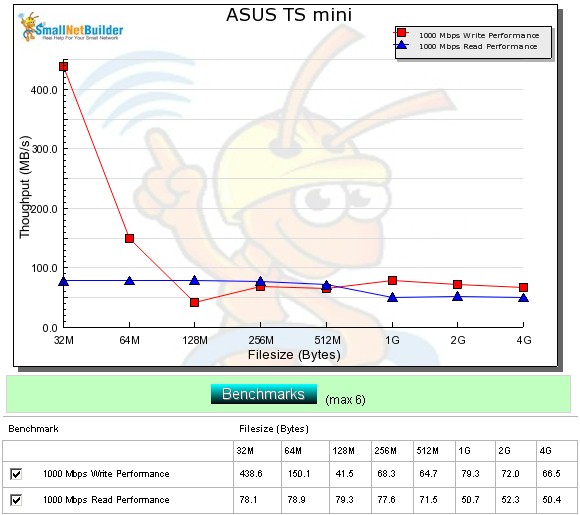 Figure 8: Performance benchmarks
Write performance with a 1000 Mbps LAN connection averaged over the 32 MB to 4 GB file sizes and with cached results above 125 MB/s removed from the average measured 65.4 MB/s with read speed a bit higher at 67.3 MB/s.
For a competitive look, I filtered the file copy tests to include only HP and ASUS products. This gave me a comparison of all the WHS systems I've tested to date, which have all been from HP until now.

Figure 9: Vista SP1 file copy – write
You can see that the TS mini ranks last for both read and write among this limited group. The fairest comparison is between the LX195 and mini, since both use Atom CPUs. It looks like the LX195 has a almost 15 MB/s write advantage over the mini, while they're essentially equal in read performance.

Figure 10: Vista SP1 file copy – read
But a look at Figure 11 shows that the LX195's advantage is probably coming from its write cache boost which stays up higher and longer at smaller file sizes than the mini's. So, in real life, you'd probably be hard pressed to see a real performance difference between the two Atom-based WHS systems.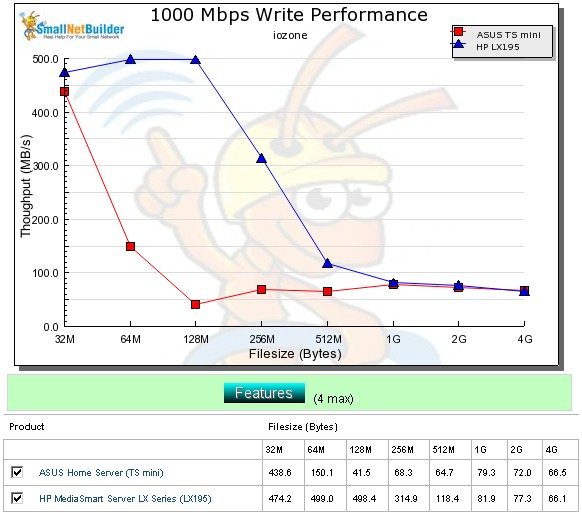 Figure 10: Vista SP1 file copy – read
Use the NAS Charts to further explore performance.
Closing Thoughts
As I said at the top, the TS mini is a good alternative for those looking for a Windows Home Server machine with more internal storage and more external storage options than HP's LX195. It's rougher around the edges than HP's offerings. But it should serve you well (pun not really intended) at speeds similar to other (and even RAID-based) Atom-based NASes.