Introduction
At a Glance
Product
Buffalo LinkStation Duo (LS-WX1.0TL/R1)
Summary
Marvell Kirkwood-based dual-drive home / SOHO NAS with media servers, BitTorrent downloader and remote, secure web access.
Pros
• LAMP webserver
• Secure, hosted remote access
• Media and print servers
Cons
• Slow for a Kirkwood NAS
• Slow USB backup
• No non-Buffalo rsync support for network backup
• Only one USB port
The LinkStation Duo is Buffalo's attempt to produce a more affordable dual-drive NAS than its TeraStation Duo. Although it has a pretty good feature set, unfortunately, I think Buffalo left too much performance on the cutting-room floor.
The Link Duo introduces a new enclosure that gets many things right. While not as compact as the LinkStation Mini, which uses 2.5" SATA drives, the Link Duo is about as small as you can get for a dual 3.5" SATA drive NAS. The matte black (thank you, Buffalo, for not creating yet another glossy black fingerprint magnet!) plastic case is wrapped around a metal chassis.
Figure 1 shows the two drives that are easily accessible by simply sliding off the front cover. This makes the drives easy to get to when they fail, although they are not hot-swappable.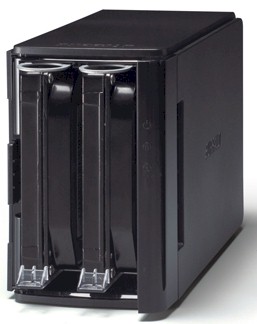 Figure 1: LinkStation Duo with covers removed
And speaking of drive swapping, the Link Duo doesn't have the ability to start naked and let you add your own drives. This is because part of the OS is on the drives and can't be loaded from flash.
You can, however, remove a single drive, replace it with a larger one, let the array rebuild and then repeat the process for the first drive. But Buffalo tells me that this is "not a supported configuration". So you might want to wait until the Duo's one year warranty period expires before trying this.
Figure 2 shows the front and rear panels with all indicators and ports explained. Note that there is only one USB 2.0 port, no eSATA ports and USB hubs are not supported. The single 10/100/1000 Ethernet port supports up to 9K jumbo frames.
Figure 2: Front and rear panels
The power switch is the three-way Off / On / Auto type that Buffalo puts on all its NASes, which requires you to run their NAS Navigator app in order to have the NAS automatically go to sleep when you shut off your computer. I wish they'd dump this "feature" and instead add the much more useful idle drive spindown like everyone else. Fortunately, Buffalo has included the ability to set three sleep / wake schedules for power management.
The Link Duo drew 13 W and was very quiet with only a slight bit of fan noise audible in a quiet room and no drive noise.
Internal Details
Unlike many of Buffalo's smaller NASes, it was relatively easy to get to the board. Figure 3 shows the compact board, which mates with a separate small drive backplane mounted to the chassis.
The Link Duo uses the popular Marvell 88F6281 Kirkwood processor mated with only 128 MB of RAM and 256 MB of flash. A Marvell 88E1118 provides the single Ethernet LAN port. Note the empty spaces on the board for a second LAN port, which Buffalo apparently decided not to include.
Figure 3: LinkStation Duo board
The Kirkwood is also used in the LinkStation Pro LS-XHL, which was a chart-topper for single drive NASes not too long ago. But where the LS-XHL uses a 1.2 GHz Kirkwood, Buffalo opted for a less expensive 600 MHz version for the Duo, which unfortunately results in significantly lower performance.
Two Samsung HD502HI EcoGreen F2 500 GB drives came in the 1 TB version that Buffalo sent for review. You can also get the Link Duo in 2 and 3 TB versions or a single-drive 1 TB flavor. Like other Buffalo NASes, the drives are XFS-formatted.
Features
The Link Duo uses the AJAX-based web admin GUI found on the TeraStation III and LinkStation Pro LS-XHL. Unfortunately, the admin responsiveness was much slower than I remember, with every page change taking 3 – 5 seconds. Browsing through the LinkStation Pro LS-XHL slideshow will give you a good idea of the settings supported by the Link Duo.
The interface also had the annoying habit of frequently returning to the Shared Folders page (Figure 4) when I saved changes on other pages (the Storage page most notably).
Figure 4: Folder setup page
This interface also suffers from the shortcomings of precious little status information and no logging found in other low-end Buffalo NASes. But these issues are probably not as important for the target home user as they are for business buyers.
Features supported by the LinkStation Duo are:
Individual drive, RAID 0 and 1 modes (no JBOD)
Network file sharing via SMB/CIFS, AFP
NT Domain and AD support
Users and Group creation w/ Quotas for both
FTP / FTP-S server (no logging)
HTTP / HTTPs file and admin access (not auto-forwarded)
Email alerts
Backup: Schedulable and immediate to other Buffalo NASes only (no non-Buffalo rsync support) and attached USB drive. One license for Memeo backup client included
FAT, EXT3, XFS write/read USB drive support. NTFS read-only support
Apple Time Machine backup support
Secure Web-based remote access (hosted @ buffalonas.com)
USB printer serving
UPnP AV / DLNA media server (Twonky Media)
iTunes server
BitTorrent downloader
UPS shutdown sync (via USB)
Buffalo is still dragging its feet on adding rsync support for network-based backups to anything other than Buffalo NASes. (Like everyone else, Buffalo uses rsync at the heart of its network backup / replication features.) So you still can back up only to another Buffalo NAS if you want to do it over the network.
Even though you can't configure the drives in JBOD mode, you can configure them in RAID 0 (the default), RAID 1 or as individual volumes (Figure 5).
Figure 5: Storage settings
There is a handly built-in formatter for USB drives that provides FAT, EXT3 and XFS options. You can also check drives for errors on command and scan and automatically repair the RAID array on demand or on a scheduled basis (a handy feature more NASes should have).
Perhaps in response to the inroads that QNAP and Synology have made into Buffalo's market share, the Duo's features include the ability to act as a LAMP webserver, complete with configurable php.ini file and MySQL database server.
Figure 6 shows the setup page, which includes the php.ini editor. There's also a setup page for the MySQL server that contains an enable, port number field and working folder selector.
Figure 6: Webserver setup
Once you enable the webserver and then hit the Link Duo's IP address on port 81, you'll get the default index.php page that Buffalo has set up on the server, which calls phpinfo() to display all the current PHP settings.
I was able to log in via SSH using WinSCP and the web admin credentials. But once in, I couldn't even change directories. So it looks like Buffalo doesn't want you poking around the Duo's file system. A query to Buffalo came back with the reply that root access is not supported.
Performance
Tests were run with 1.24 firmware using our standard test process and Figure 7 presents a summary of the benchmark tests run with a Gigabit LAN connection. Cache boost at lower file sizes is moderate, but performance falls off considerably at file sizes 256 MB and higher. Read speeds also fall off, but not as much as write.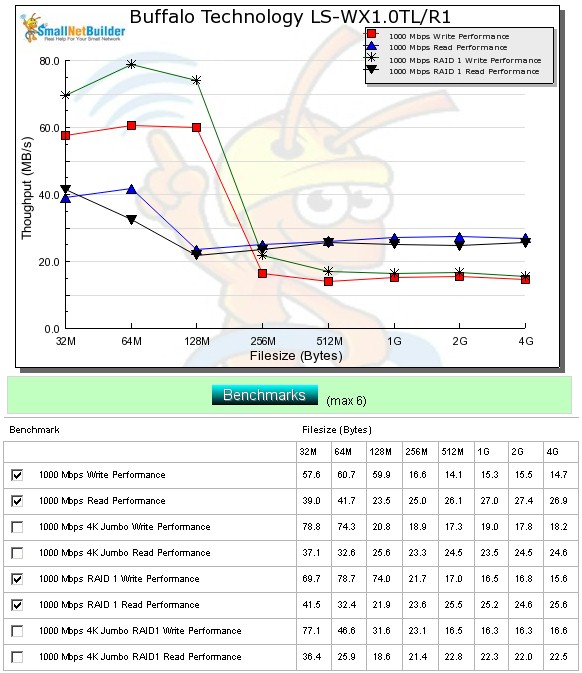 Figure 7: Performance Benchmark summary
RAID 1 Write performance with a 1000 Mbps LAN connection averaged over the 32 MB to 4 GB file sizes and with cached results above 125 MB/s removed from the average measured 38.8 MB/s with read speed somewhat slower at 27.5 MB/s. But a look at Figure 7 shows the higher write average is due to caching effects at smaller file sizes. Once cache effects disappear at 512 MB file sizes and higher, read speed runs around 25 MB/s while write is about 10 MB/s lower at 16 MB/s.
While these aren't terrible results, they rank the Link Duo toward the bottom of the charts for two-bay recent-generation NASes.
RAID 1 file copy write performance of 19.1 MB/s using our Vista SP1-based test was about in line with non-cached write speeds shown in the iozone-based tests above. Figure 8 shows that the Link Duo was similar to other recent Kirkwood NASes like the Seagate BlackArmor NAS 220 and Iomega ix2-200. But it's a good 10 MB/s slower than its TeraStation Duo sibling, which uses a beefier Marvell MV78100-A0 C080 single core ARM processor.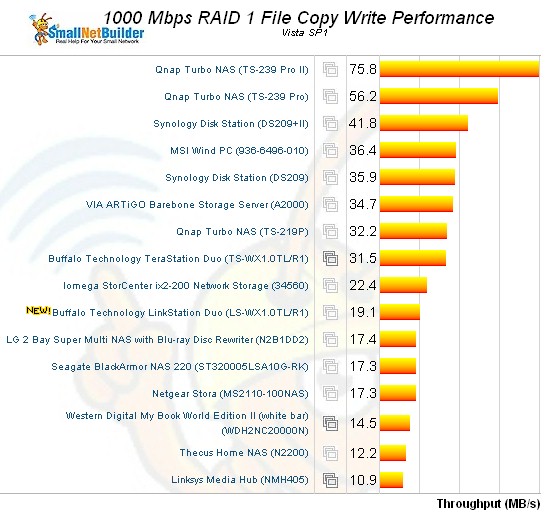 Figure 8: RAID 1 Filecopy write ranking
The Link Duo slips lower, however, in the RAID 1 read file copy rankings, hovering just above the Linksys Media Hub and Thecus N2200 at 25.8 MB/s.
Backup
I checked backup performance to an Iomega UltraMax Pro Desktop Hard Drive configured in RAID 0 attached to the Duo's USB 2.0 port. The test copies the 4.35 GB ripped DVD test folder that I use in the NAS Chart Vista SP1 file copy tests from the NAS to the attached drive. The results are summarized in Table 1.
| Product | Backup Throughput (MBytes/s) |
| --- | --- |
| USB – FAT32 | 5.6 |
| USB – EXT3 | 5.5 |
| USB – XFS | 6.24 |
Table 1: Backup throughput test summary
The good news is that at least you get a backup feature. The bad is that you'll wait a long time for it to finish! Given the limited network backup support, Buffalo should have done a better job on attached backup performance.
Closing Thoughts
I would have liked to see Buffalo go for higher performance in the LinkStation Duo. But I suspect that the Duo is more of a price than a performance play. At a bit over $200, which includes two 500 GB drives, it seems to be aiming for the same buyer that might go for a NETGEAR Stora. But between the two, the LinkStation Duo will appeal more to buyers looking for an inexpensive RAID 1 NAS with decent performance and more "traditional" NAS feature set.