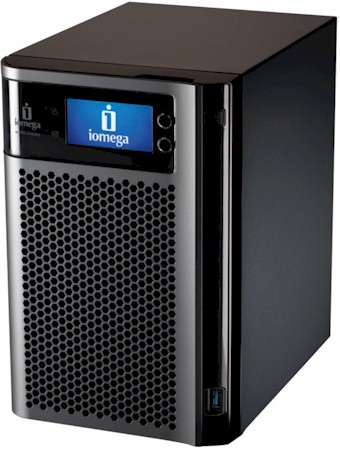 At a glance
Product
Iomega StorCenter px6-300d Network Storage (70BG9011NA) [Website]
Summary
Six bay D525 Atom based NAS with cloud backup and sharing features
Pros
• Supports backup to cloud, rsync and SMB targets
• USB 3.0
• Three year warranty
Cons
• Disappointing performance for a D525 based NAS
Typical Price: $2706 Buy From Amazon
Overview
Updated 12/29/2012: Corrected inside information
Iomega has been slowly working through a revamp of its entire NAS line, updating processors, expanding features and adding cloud connectivity. The three Intel based newbies announced in May have started to ship and so it is that the six-bay StorCenter px6-300d has made its way onto the SmallNetBuilder test bench.
As its name implies, the px6-300d is a six bay NAS. This makes it the next-to-most capacious box in Iomega's current line, with the twelve bay rackmount ix12-300r at the top.
The six hot-swappable drives mount in unlockable trays behind a similarly unlockable plastic front cover (Figure 1). Although Iomega doesn't spec support for 2.5" drives, there are mounting holes for them, or more specifically, Iomega's optional 2.5" SSDs (Micro RealSSD C400's).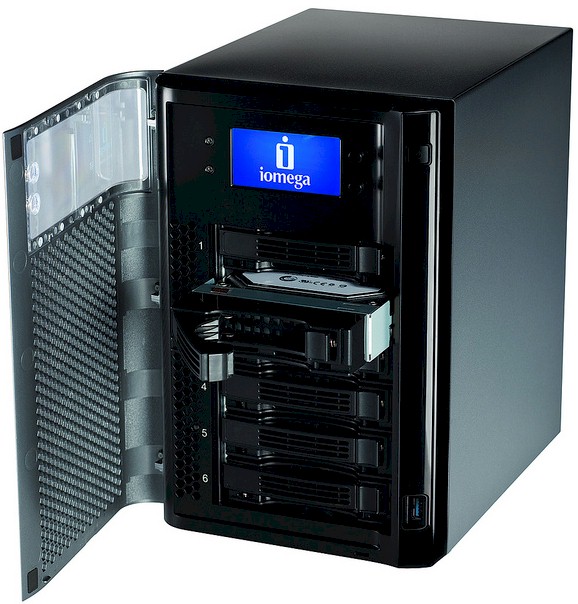 Figure 1: Iomega px6-300d front open
The px6 and its four-bay desktop px4-300d and four-bay rackmount px4-300r siblings are the first Iomega NASes that can be ordered without drives. This is good news for folks who like to select their own drives or don't like sending drives back with sick NASes.
So far, however, the pickin's are kind of slim for Iomega approved drives, with only two drives each approved from Hitachi, Seagate and WD and only one 3TB drive (Hitachi Deskstar 7K3000 HDS723030ALA640) on the list. The 12 TB configuration Iomega sent for review (model 35096) was populated with six Hitachi Deskstar 7K3000 2TB (HDS723020BLA642) drives.
The rear panel view in Figure 2 is uncrowded with only DC power, two USB 2.0 and two Gigabit Ethernet ports. The px6-300d doesn't have eSATA ports, but there is one USB 3.0 port on the front.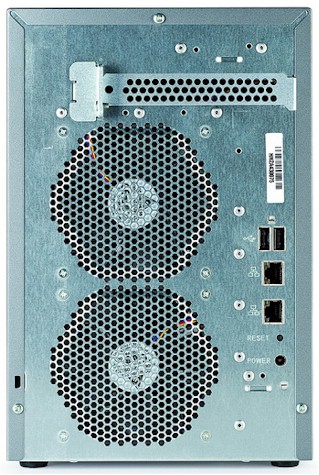 Figure 2: Iomega px6-300d rear
Updated 12/29/2012:
Although the removable card slot panel up near the top looks intriguing, there is nothing but empty space behind it.
The removable card slot has a PCIe x4 connector on the main board to support it. But Iomega hasn't announced any options to insert into it.
Inside
The chassis cover slides easily off after removing three screws. The internal shots in the gallery show plenty of room inside—no surprise since the power supply is external. The relatively small board (Figure 3) was easily removed, but I wasn't able to get the funky little flat cable connector that connected the front LCD panel and buttons reattached (sorry Iomega!)
If I'm to believe the board markings, the Intel D525 Atom is under the fanned heatsink and its companion device is under the other heatsink. I didn't remove the heatsink and Iomega didn't have SSH or telnet enabled, so I don't know what the other device is.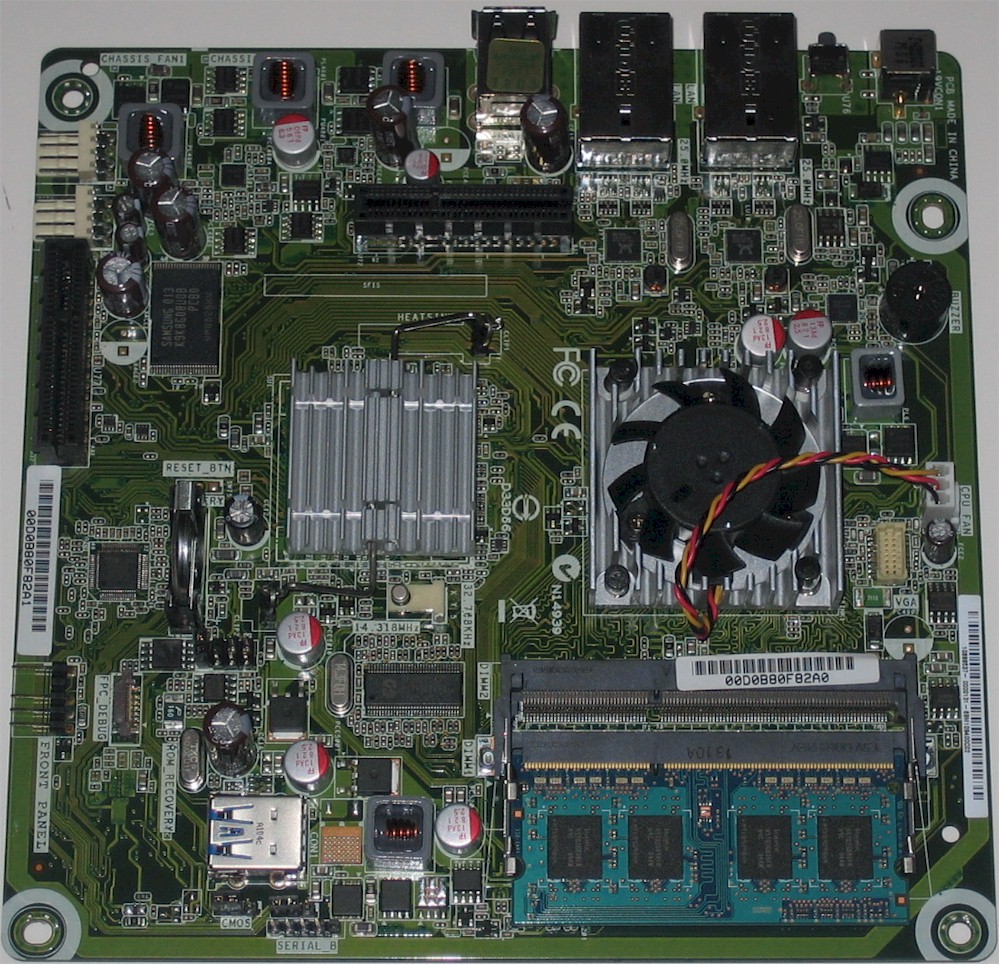 Figure 3: Iomega px6-300d board
All the other devices were easily identified starting with a socketed 2 GB SoDIMM. I asked Iomega whether more RAM could be added to the second, empty socket without voiding warranty. The exact response was "we don't formally support this currently, but the hardware is capable".
Other key devices are two Realtek RTL8111e PCIe Gigabit Ethernet controllers, 1 MB of Samsung K9K8G08U0B flash, a Fresco Logic FL1000G providing the single USB 3.0 port and Fintek F71808E handling miscellaneous I/O.
As noted above, the review unit came with six Hitachi Deskstar 7K3000 2TB (HDS723020BLA642) drives installed, which brought the total power consumption to 56 W. Programmable idle drive spindown knocked that down to only 24 W.
It's hard for a six bay NAS to be silent, and the px6 is no exception. Fan noise was low, but I could clearly hear the drives spinning away in my quiet home office. So I'd rate noise as medium low.
Features
Iomega has been slowly evolving its EMC Lifeline OS and it's been awhile since gave the feature set more than a drive-by look. So let's dig in a bit. Before I start, I'm pleased to be able to point you to an online emulator (Virtual Interface) that I almost missed on the product page (you need to scroll left on the Information slider in the top half of the page). There are some differences between the emulator and what I saw on my review unit, so I think the emulator may not reflect the latest firmware.
Let's begin with a bulleted feature summary:
Storage
Network file sharing via SMB/CIFS, NFS, AFP
WebDAV support
Windows DFS support
HTTP / HTTPs file and admin access
FTP and TFTP servers
Single, JBOD, RAID 1, RAID 5, RAID 5+ spare, RAID 6, RAID10 volumes
Multiple volume support with resizing
iSCSI targets with ISNS support
XFS filesystem
Backup
Network Backup: Schedulable (smallest interval is one day) to / from rsync targets and SMB/CIFS shares
Apple Time Machine backup
Auto file copy from PTP-enabled digital cameras
Media
Recording and viewing of up to 12 Axis IP cameras via AXIS Video Hosting System
Recording and viewing from Axis, D-Link and Panasonic cameras
UPnP AV / DLNA media server (Twonky Media)
Photo slideshow (uses Cooliris)
iTunes server
BitTorrent downloader
Cloud
Secure Web-based remote access and site-to-site backup (Personal Cloud)
Amazon S3, Mozy, EMC Avamar cloud backup
Other
Dual Gigabit Ethernet interfaces with VLAN, bonding, failover and load balance modes
SNMP support
Joins NT Domain / Active Directories for account information
Certified for Citrix XenServer 5.6, Windows Server 2003, Windows Server 2008, Windows
Server 2008 R2, VMware vSphere 4.1, EMC E-Lab tested
User level quotas
Email alerts
Logging
File upload via Bluetooth
USB printer serving
UPS shutdown synchronization via USB
Missing Features
RAID migration and expansion aren't supported
The FTP server doesn't have a secure mode.
You can limit access to shares by user and/or group. But you can't control access by service. So you can't shut off FTP access to certain shares, for example
No iSCSI encryption or authentication and no target multiple connects
No optional drive / volume encryption
No IPv6 support
While RAID level migration and expansion aren't supported, volume configuration is pretty flexible, as is the ability to organize your drives. To allocate storage, you first create a Storage Pool, which can be configured as individual drives or RAID 1, 5, 6 or 10 as your fancy and number of available drives allow. Figure 4 shows three pools created with five drives: an individual drive; two drives in RAID 0; and two in RAID 1
Figure 4: Storage Pool setup
Then you set up Volumes in each Storage Pool, allocating pool space as you desire. Figure 5 shows the 3.6 TB RAID 0 pool divvied up into 2 and 1 TB volumes. I actually started out with two 1 TB volumes and expanded the first to 2 TB. I then tried to change it back, but you can only expand volumes, not contract them.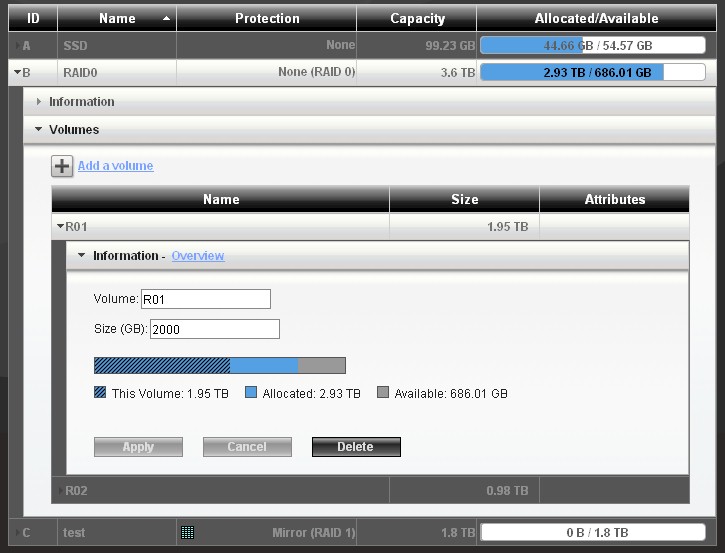 Figure 5: Volume allocation
The expanding-section interface is fine for looking at each pool or volume. But an overall view of storage with all pool and volume sizes visible at once would be very handy.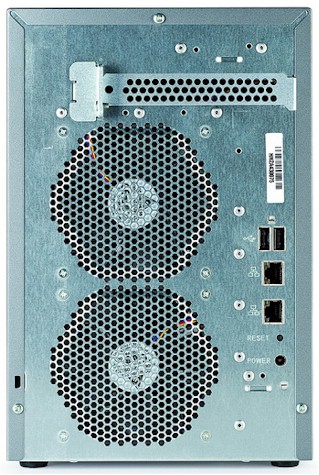 Dual Gigabit Ethernet, two USB 2.0 and power port are on the rear panel. One USB 3.0 connector is on the front. There is nothing behind the removable board slot panel near the top.
The main board is surprisingly small.
Without an internal power supply, there is a lot of space inside.
Here's the overall view of available functions
A good selection of services. No Secure FTP, however.
Iomega is now right behind NETGEAR in backup flexibility. You can back up to and from Windows shares and rsync servers.
Features – more
Iomega is finally walking the talk when it comes to incorporating cloud features into its products. You'd expect that they would support backup to sister company Mozy. But they have added Amazon S3 and EMC's Avamar backup options, too.
You no longer get copies of EMC's Retrospect client backup software, though. Iomega figures that since their NASes now back up to and from SMB/CIFS (Windows) shares and support Mac OS Time Machine that they now have client backup covered.
The other key cloud feature in the px6 is Iomega's new Personal Cloud service. My colleague Craig Ellison covered this feature in depth in his Home Media Network Hard Drive – Cloud Edition review.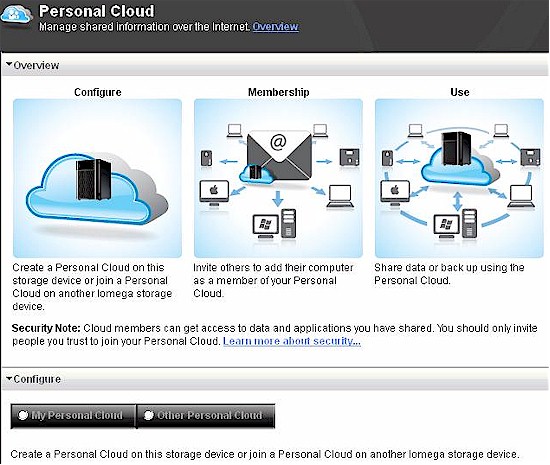 Figure 6: Personal cloud
The quick story on Personal Cloud is that it's a private VPN established between a Personal Cloud enabled storage device and client software that must installed on a device (computer) to enable access to shares sitting on the Personal Cloud device.
Personal Cloud isn't quite as easy to use as, say, Pogoplug cloud sharers and requires that you open router ports manually or have a router supporting UPnP NAT traversal. It also requires a dynamic DNS service to map an Iomega-provided subdomain, but Iomega bundles that in at no charge.
Another welcomed change is that Iomega now has an SDK that can be used to build apps for its Lifeline NASes. Unfortunately, there are no apps yet to be found at http://lifelineapps.com/.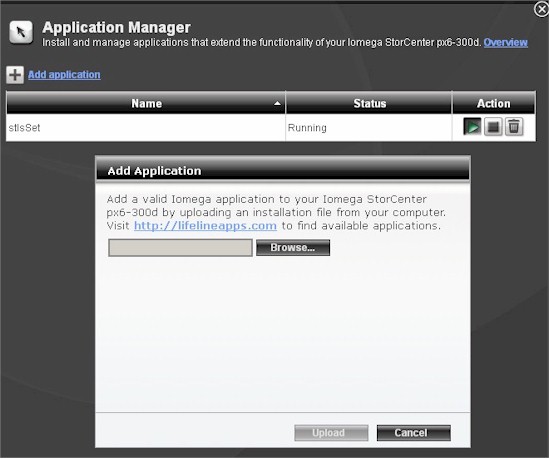 Figure 7: Application Manager
Check Craig's review and the gallery for walkthroughs of other Lifeline features including sharing, media and Copy Jobs. And don't forget the online emulator.
Performance
I tested the px6-300d after upgrading its firmware to 3.1.10.45882, using our NAS test process to run tests with RAID 0, 5 and 10 volumes using all six drives.
The Benchmark summary (Figure 8) shows a significant difference between Windows and NASPT File copy tests. For example, RAID 5 Windows file copy measured only 25 MB/s, while RAID 5 NASPT file copy came in at 80 MB/s! You can see the same scenario played out in the RAID 0 and 10 tests, too.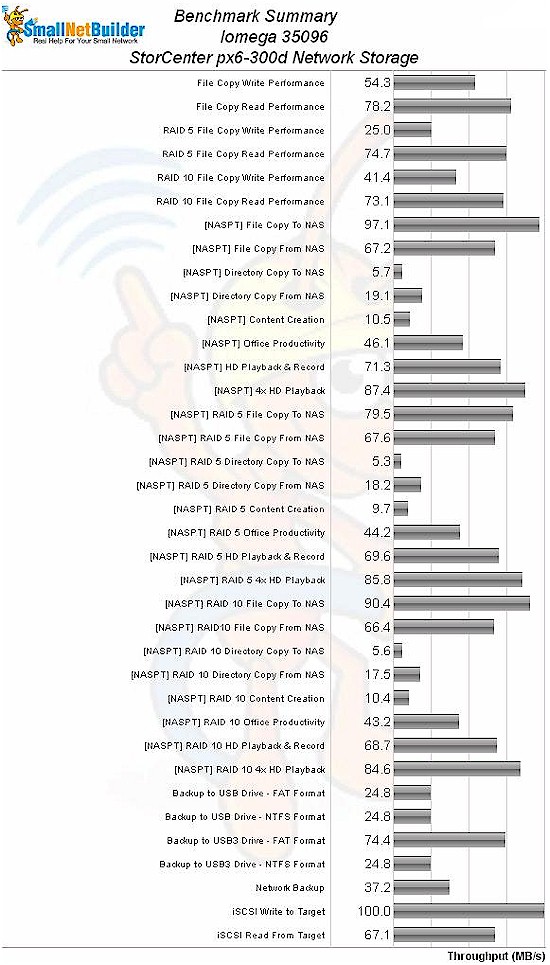 Figure 8: px6-300d Benchmark Summary
I thought the difference could be due to write cacheing, which is set to Enabled with UPS by default (the other settings are Always Enabled and Always Disabled). But since cacheing was disabled for both Windows filecopy and NASPT tests, the cause must lie elsewhere.
As I typically find, NASPT Directory Copy tests stayed in the mid single digits.
I ran backup tests using the USB 2 and USB 3 ports with an Iomega Ultramax Pro drive configured in RAID 0. I switched back from the Buffalo drives I had been trying out because I found I needed the RAID 0 performance to fully test eSATA-equipped NAS backup.
There is no built-in formatter, so I could run only FAT32 and NTFS formatted tests. As the summary above shows, backup to a FAT formatted USB 3.0 drive was fastest at 74 MB/s.
Rsync backup to the NAS testbed running Delta Copy came in at a respectable 37 MB/s.
Please note that backup performance may be over or understated because the log timestamps used in the calculation are only to the nearest minute vs. 100ths of seconds in all other products.
iSCSI write and read to a 10 GB target on a six-drive RAID 5 volume measured a chart-topping 100 MB/s for write, but only a middling 67 MB/s for read.
I usually filter the comparative RAID 5 File Copy Write and Read charts to show products with the same number of drive bays. But with only one other six-bay product (Cisco's NSS326D06-K9), that was a boring chart.
Instead, I decided to use NASPT RAID 5 File Copy benchmarks to compare the px6-300d. This limits the comparison to newer NASes, but does show a mix of drive bay capacities. For reference when looking at the charts, the other D525-based NASes are the QNAP TS-459 Pro+, QNAP TS-559 Pro II and Thecus N5200XXX.
For NASPT RAID 5 File Copy Write (Figure 9), the px6 is clearly outclassed by all the other D525 NASes.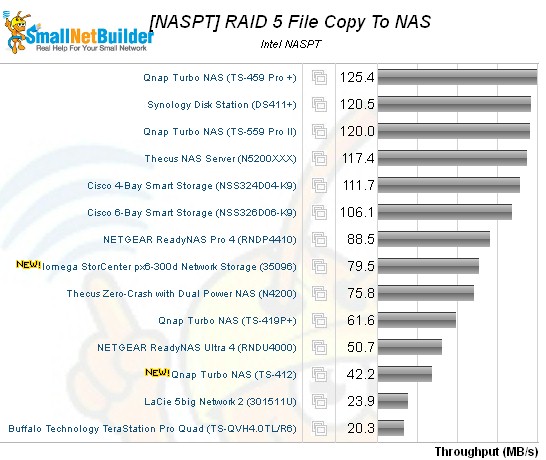 Figure 9: RAID 5 NASPT File Copy Write Comparison
The story is similar for NASPT RAID 5 read (Figure 10), although the spread is tighter.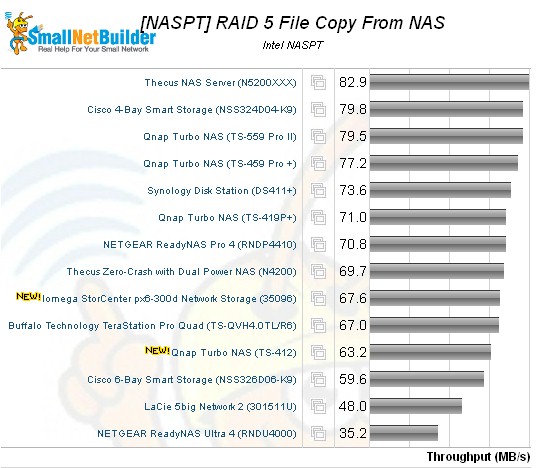 Figure 10: RAID 5 NASPT File Copy Read Comparison
Iomega also sent along a couple of SSD's (128 GB Micro RealSSD C400 MTFDDAC128MAM). I didn't really expect to see a big performance boost because in NASes there are too many other factors that dominate performance.
I ran our test suite using a single drive, with the results shown in Table 1
| Test | Avg (MB/s) |
| --- | --- |
| [NASPT] FileCopyToNAS | 95.37 |
| [NASPT] FileCopyFromNAS | 64.96 |
| [NASPT] DirectoryCopyToNAS | 5.70 |
| [NASPT] DirectoryCopyFromNAS | 21.04 |
| [NASPT] ContentCreation | 10.76 |
| [NASPT] OfficeProductivity | 45.27 |
| [NASPT] HDVideo_1Play_1Record | 72.55 |
| [NASPT] HDVideo_4Play | 81.90 |
| Windows File Copy Write | 74.36 |
| Windows File Copy Read | 75.15 |
Table 1: SSD performance test results
See any spectacular performance bump from using an SSD? Me neither.
Closing Thoughts
I'm glad to see Iomega continuing to improve its products and the new Atom D525 based px4's and px6 have a lot to like. They are now second only to NETGEAR ReadyNASes in backup flexibility and the S3 cloud backup option is a welcome addition to Mozy. The ability to configure multiple storage pools and volumes within those pools is very flexible and iSCSI write performance is surprisingly high.
It's good too, to see diskless offerings and an add-in feature. Given Iomega's wide distribution and brand name, I'd think that app developers would be drawn to the platform. But the current lack of any apps and absence of information on the SDK makes this only a "future" for the moment.
As for value, unfortunately our Price vs. Performance chart is no help, since the supplied model is with six drives, which pushes up the cost. But comparing a diskless px6-300d for $1050 against a naked QNAP TS-659 Pro II at around $1340 seems to indicate that Iomega isn't trying to push the price envelope as hard.
Unfortunately, Iomega isn't pushing the performance envelope as hard as QNAP, either. This definitely forces buyers into a classic price vs. performance quandry, with only Iomega's three year warranty (with registration) vs. QNAP's 1 year to help tip the scales.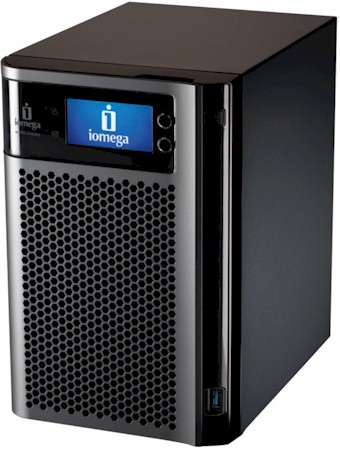 Buy StorCenter px6-300d Network Storage from Amazon