At a glance
Product
Buffalo Technology TeraStation 5200 (TS5200D0202) [Website]
Summary
Two-drive diskful Intel D2550 Atom business NAS running revamped Buffalo Linux-based OS
Pros
• Dual Gigabit Ethernet
• Good value
• Two USB 3.0 ports
Cons
• Still doesn't support rsync to non-Buffalo products
• No add-in support
• Lagging RAID 0 performance
Typical Price: $937 Buy From Amazon
Introduction
Back in June, Tim looked at the Buffalo TeraStation 5800 and he found much better performance than past TeraStations, but not enough to outrank the competition. Today we're going to take a look at the two-bay member of the new TeraStation family and see how it fares.
Buffalo sent the TeraStation TS5200D0202 model for review, which is a 2 x 1 TB version. You can also get the TS5200 with two 2, 3 or 4 TB drives installed.
The TS5200 front and rear panel callout diagram below shows the two aggregatable Gigabit LAN ports, two USB 2.0 ports, two USB 3.0 ports on the rear. There is no eSATA port, but there is a serial port for connection to a UPS.
The front includes an LCD panel for status of the TeraStation, along with a myriad of LED lights for different functions. It also contains a VGA port for console access, which is behind the lockable drive access door. Both drives are hot-swappable.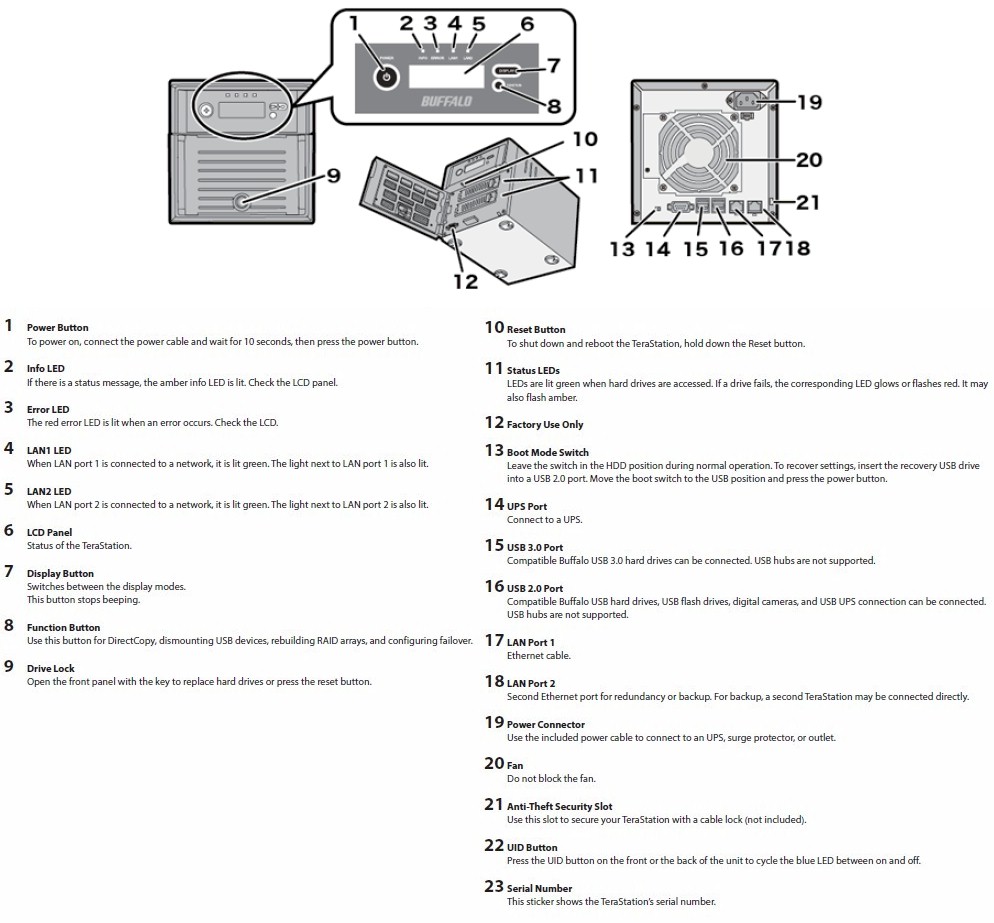 Buffalo TeraStation 5200 callouts
Inside
The TS5200 is not designed for easy main board access. In the image below, you can see the 2 GB SoDIMM. There is no "void if removed" sticker on it like some other vendors have, but Buffalo's documentation doesn't mention whether it's upgradeable either.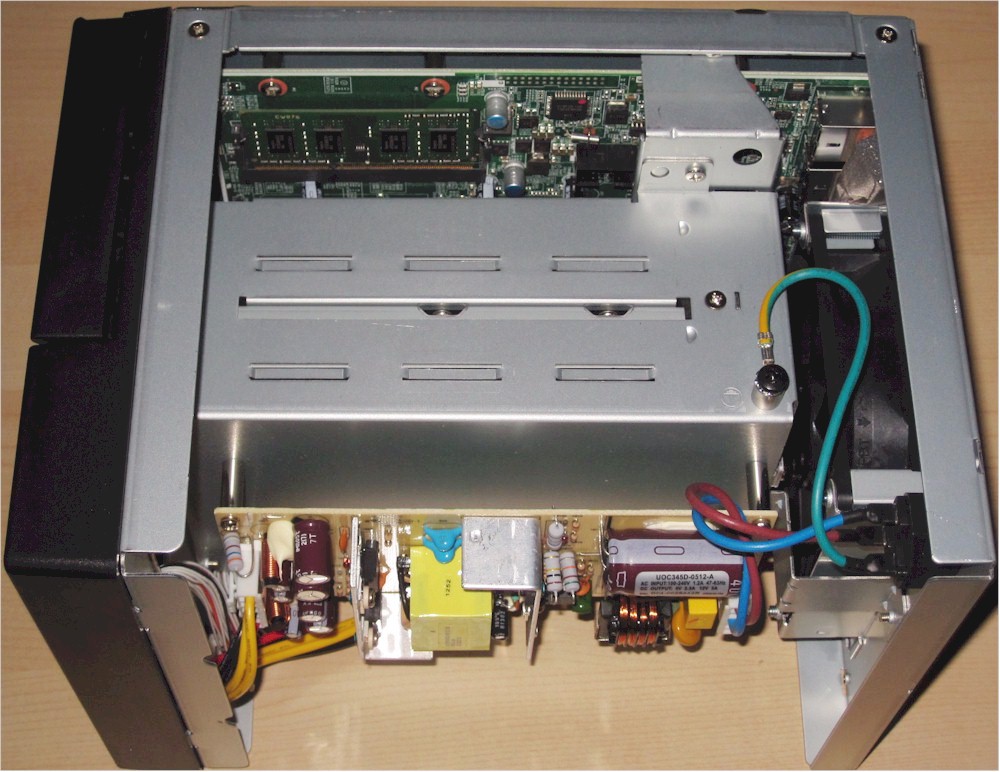 Buffalo TeraStation side view
The top view shows the TS5200's power supply sitting on top of the drive enclosure, with the main board tucked in down below.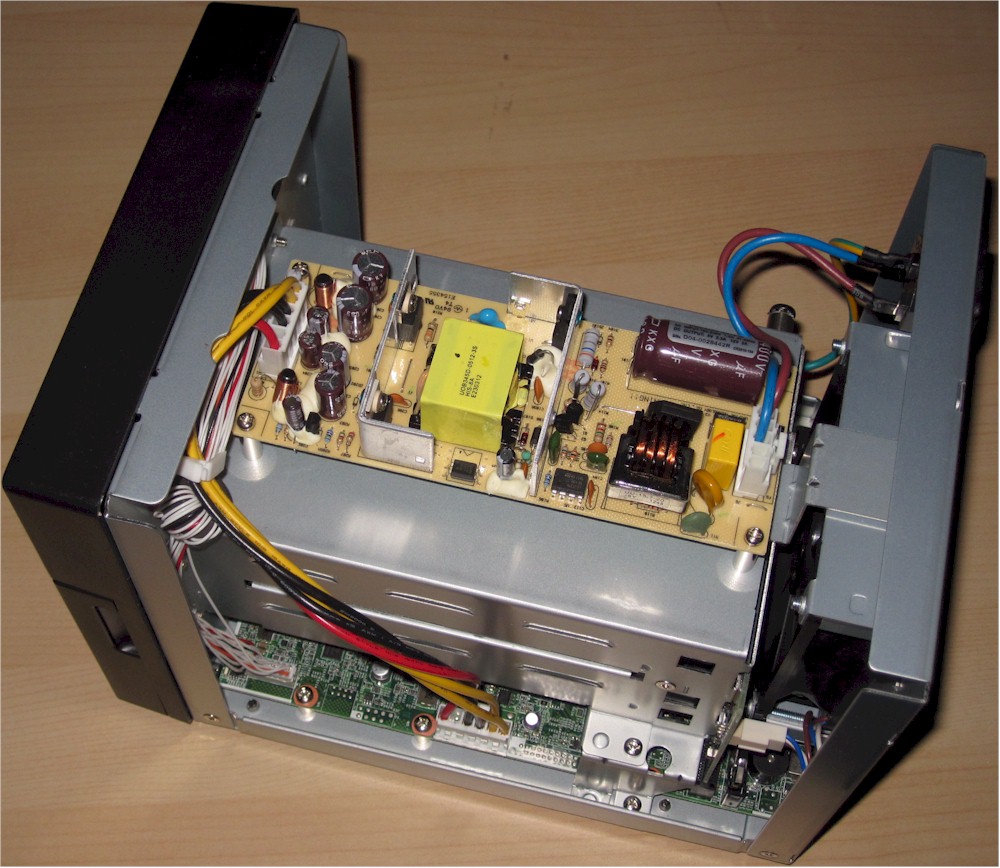 Buffalo TeraStation 5200 top view
The key components for the TS5200 are summarized in the table below beside the TS5800's for comparison. We couldn't see the USB 3.0 device, but we're guessing it is the same NEC D720201 used on the TS5800.
| | TS5200 | TS5800 |
| --- | --- | --- |
| CPU | Intel Atom D2550 dual-core @ 1.86 GHz | Intel D2700 Atom dual-core @ 2.13 GHz |
| RAM | 2 GB DDR3 | 2 GB DDR3 |
| Flash | None | None |
| Ethernet | Intel WG82574L (x2) | Intel WG82574L (x2) |
| USB 3.0 | NEC D720201 (guess) | NEC D720201 |
| SATA | In Intel companion device | In Intel companion device |
| Microcontroller | NEC D78F0513A | NEC D78F0513A |
| I/O | ITE IT8721F | ITE IT8721F |
Table 1: Key component summary and comparison
We used two WD Green 1 TB (WD10EZRX) drives that came with the TeraStation for testing. Power consumption measured 23 W with the two drives spun up. There is no idle drive spin-down. Noise of the NAS is classified as very low and would be fine for a home office, the exception being during boot when the fan runs on high.
Features
Buffalo has spiffed up its admin GUI a bit in its latest Buffalo OS. But it still lacks the ability to add apps / modules like Synology, QNAP and some others. You can see a screenshot of the "Easy Admin" landing page below.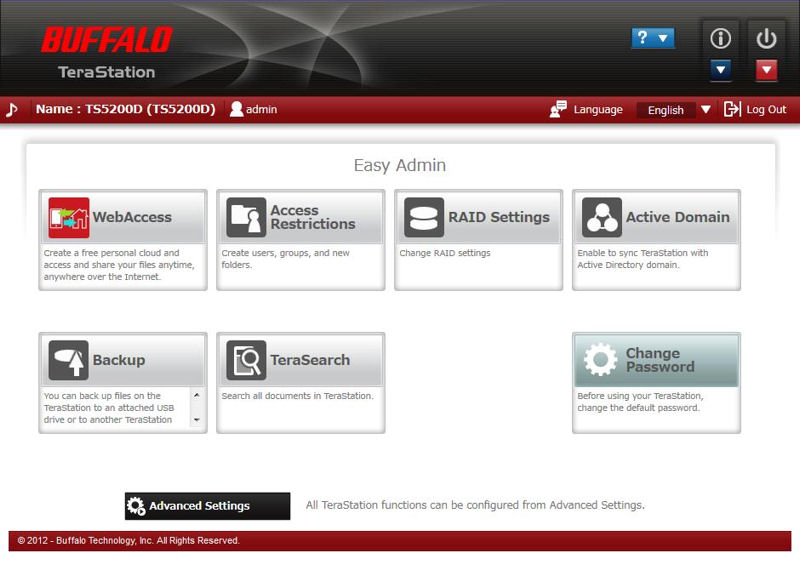 TeraStation Easy Admin landing page
Craig Ellison reviewed the Features of the TeraStation NAS System back in July, so hit that excellent review for a more in-depth look.
In addition to Craig's review, when researching the Buffalo as a potential purchase, you can also look at the TeraStation NAS System section of Buffalo's website and also the TS5200's data sheet.
Performance
The TeraStation 5200 was tested with 2.40-1.28 firmware, which was upgraded after receiving the product. We used our standard NAS test process with RAID 0 and 1 volumes.
Windows File Copy tests show slightly lopsided read and write throughput across RAID 0 and more consistency with RAID 1. Highest write throughput measured was 87 MB/s for RAID 0 and highest read was 101 MB/s for RAID 0. RAID 1 was lower, but more consistent with 73 MB/s for write and 79 MB/s for read.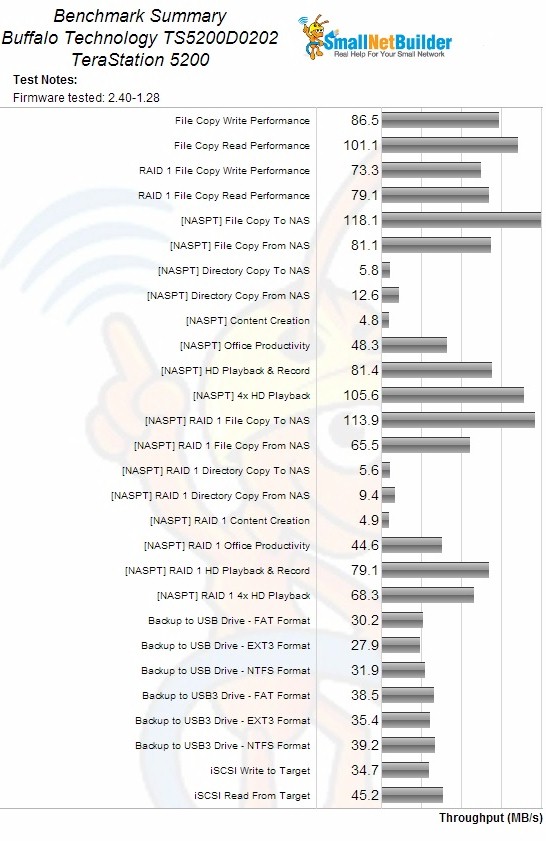 Buffalo TeraStation 5200 benchmark summary
Intel NASPT File Copy results were significantly higher for write and consistently lower for read. Highest NASPT write throughput of 118 MB/s was in RAID 0; highest read was 81 MB/s, in RAID 0 as well.
iSCSI performance was 35 MB/s for write, with a read throughput of 45 MB/s. No rsync numbers are shown because Buffalo still doesn't support rsync to non-Buffalo products.
Attached backup tests were run with our standard Startech USB 3.0 eSATA to SATA Hard Drive Docking Station (SATDOCKU3SEF) containing a WD Velociraptor WD3000HLFS 300 GB drive. Best backup throughput of 39 MB/s was obtained using USB 3.0 and an NTFS-formatted drive. Coincidentally, the drive formatter won't format USB drives, so you'll need to prepare your drive before attaching to the TS5200.
The best way to get a competitive view of the TS5200's performance is with the NAS Ranker. Selecting the Atom-2 (dual-core Atom) class shows the TS5200 tied at #14 rank with NETGEAR's ReadyNAS 312 out of 29 products ranked. Comparing rankings of only dual-bay NASes in this class, the TS5200 ties with the NETGEAR for a #4 rank out of six products ranked, beating only Thecus' new N2560 "Berryville" Atom based NAS.
Digging a little deeper into the results, we can see that the TS5200 actually looks to have reasonably high results when configured in RAID 1. But RAID 0 performance (and iSCSI in RAID 1) really pushed it down in the rankings.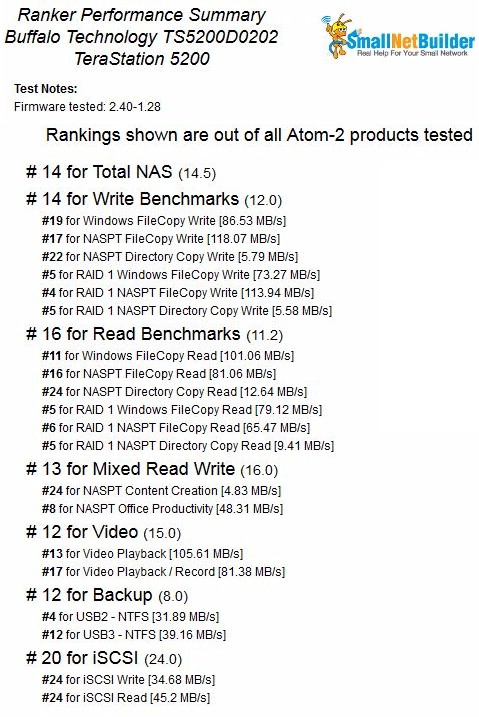 Buffalo TeraStation 5200 NAS Ranker Performance Summary
Closing Thoughts
At about $425 on Amazon and configured with two 1 TB disks, the TeraStation 5200 is one of the most cost-effective dual-core Atom class NASes out there. However, the performance of the TS5200 is up to 30% lower than some of its competitors in some benchmarks. With the Buffalo you also won't get a flashy NAS user interface and ability to load application packages like you get with some other NASes.
If bells and whistles or the best absolute performance are what you are looking for, you may be better served looking elsewhere. But for basic RAID1 storage at a nice price, the TS5200 could be a decent option.
Buy TeraStation 5200 from Amazon