At a glance
Product
D-Link ShareCenter 2-Bay Cloud Storage 2000 (DNS-320L) [Website]
Summary
Entry-level Marvell-based NAS with 'personal cloud' features
Pros
• Relatively inexpensive
• Many backup features including Time machine
Cons
• Slow
• GUI should be better organized
• Only one USB port
• Need to run CD to connect NAS to cloud
Typical Price: $0 Buy From Amazon
Overview
Updated 12/12/2012: Corrected RAID expansion info
D-Link rejiggered its small NAS product line back in October, replacing the DNS-320 with the object of our scrutiny today, the DNS-320L ShareCenter 2-Bay Cloud Storage 2000.
I last checked in on D-Link's NASes over a year ago with the DNS-325, which now represents the highest-performance two-bay NAS you can buy from D-Link. A basic comparison of the products taken from D-Link's product pages is shown below. It's clear from the summary and, obviously, the product name, that D-Link is attempting to position the 320L as a "personal cloud" solution.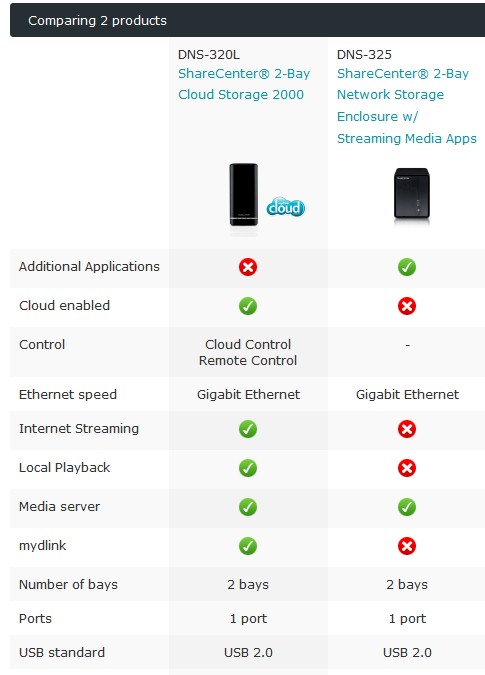 D-Link DNS-320L & DNS-325 compared
The 320L stands a bit taller than other two-bay NASes due to the vertical orientation of the drives. Like WD's My Book Live Duo, drives are inserted from the top and don't require a mounting tray. This means, however, that only 3.5" drives are supported. Before inserting the drives, however, you need to attach a supplied plastic strap that you will need to pull them out.
The 3 TB WD Red drives I inserted were a tight fit, requiring a lot of push to get them in. I cringed at the metal-on-metal scraping heard during insertion, imagining little metal shavings gently wafting down onto the main board. The whole process left me thinking I might have damaged something by inserting the drives. D-Link says the 320L accepts up to 4 TB drives and does not have an approved drive list at this time.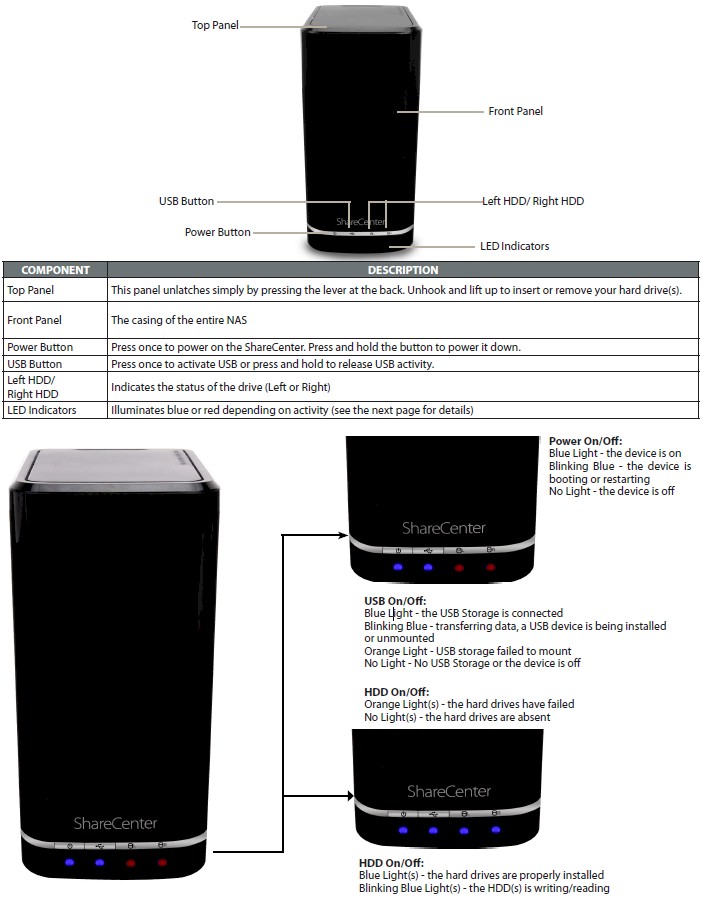 D-Link DNS-320L front panel callouts
The various lights, ports and switches are described in the callout diagrams above and below. As you can see, controls and ports are pretty basic. Only one Gigabit Ethernet LAN port and a single USB 2.0 port are provided for network and external drive and printer connection.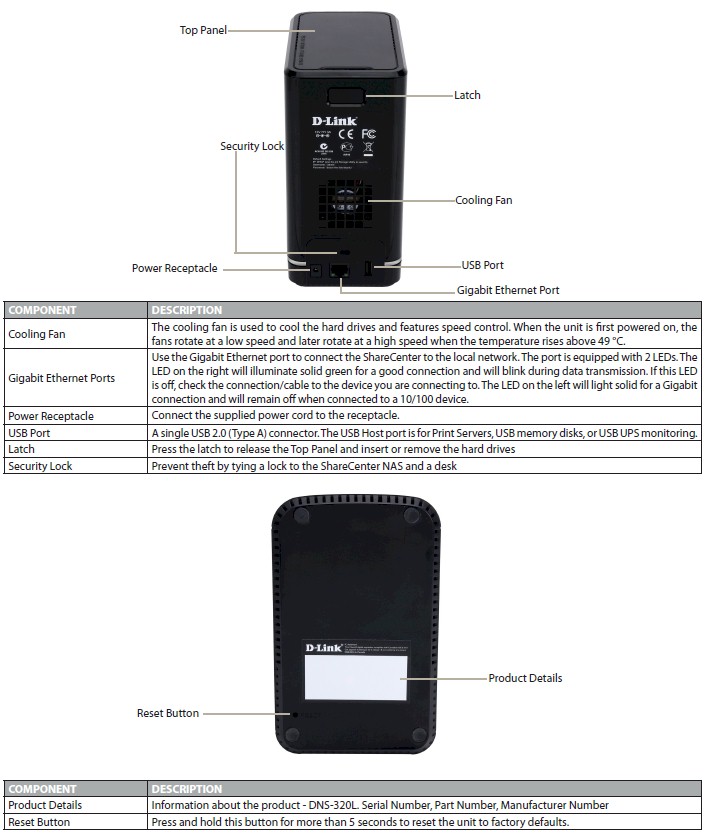 D-Link DNS-320L rear & bottom panel callouts
Inside
The 320L is very simple inside and it's easy to get there. Just push a button molded as part of the top cover and lift it off. I didn't remove anything to take the board photo below. Sorry that it's a bit fuzzy, but the shiny drive cage made flash photos unusable.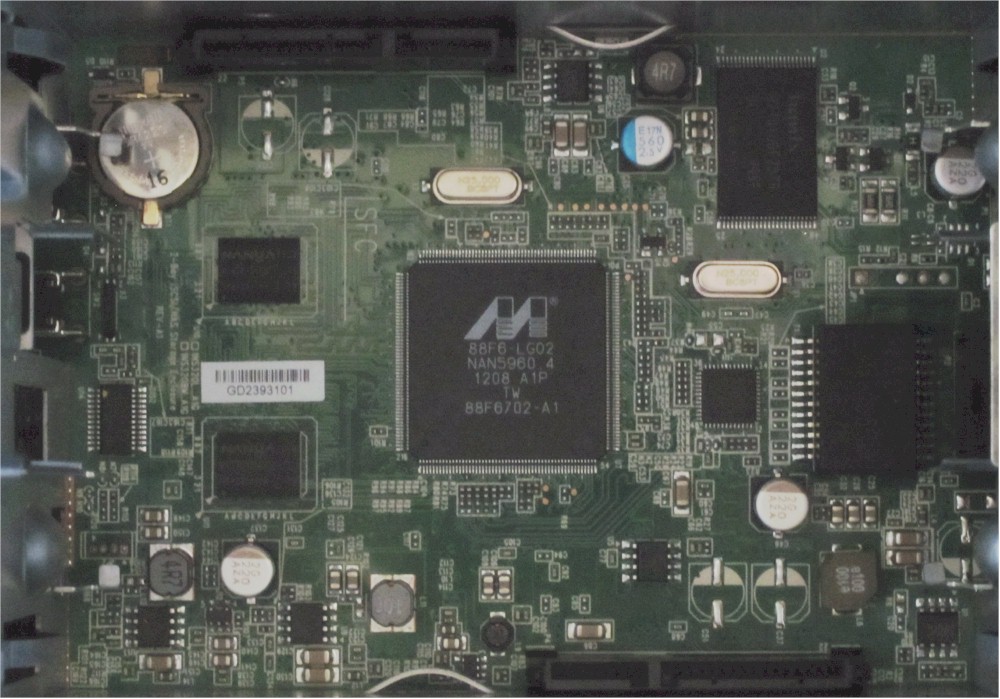 DNS-320L board
There isn't much to see besides the Marvell 88F6702 SoC, anyway. I've summarized the key components below in Table 1, along with those of its current DNS-325 sibling and now-discontinued DNS-321.
| | DNS-320L | DNS-325 | DNS-321 |
| --- | --- | --- | --- |
| CPU | Marvell Kirkwood 88F6702 @ 1 GHz | Marvell Kirkwood 88F6281 @ 1.2 GHz | Marvell 88F5182 @ 400 MHz |
| Ethernet | Marvell 88E1318 | Marvell 88E1116R | Marvell 88E1118 |
| RAM | 256 MB | 256 MB | 64 MB |
| Flash | 128 MB | 128 MB | 16 MB |
| File System | EXT4 | EXT3 | EXT2 |
Table 1: D-Link NAS component comparison
All three are Marvell-based and use different Ethernet PHYs and drive filesystems. This is the first I've encountered the 88F6702, which appears to be in the Kirkwood NAS SoC family. But I couldn't find any other information about it. It's fair to say, though, that the 320L is not a high-powered NAS.
Power consumption measured 16 W with two WD Red 3TB 7200 RPM (WD30EFRX) drives I supplied spun up and 7 W when the programmable drive spindown kicked in. No fan noise and little idle drive noise observed in my quiet home office environment earn the 320L a very low noise rating.
Features
D-Link is positioning the 320L as part of its mydlink "cloud" product family. We've reviewed the mydlink service itself along with a few of the products it powers including the DIR-605L cloud router and DCS-942L Network camera. We also looked at the mydlink services that specifically support IP cameras.
In each review to date, we haven't been impressed with mydlink and it looks like that record will be unbroken with the DNS-320L. But I'm getting ahead of myself…
Setup is easy enough. After inserting the drives and powering on the box, an installation wizard automatically launches so that you can adjust some basic settings (password, time zone, LAN, email). When that is done, you can log in (blank password) and will be presented with the Home screen below. Actually, the default Home screen has nothing installed in the My Favorite Applications section. I did that for the screenshot so that you could see all the "applications" in the product.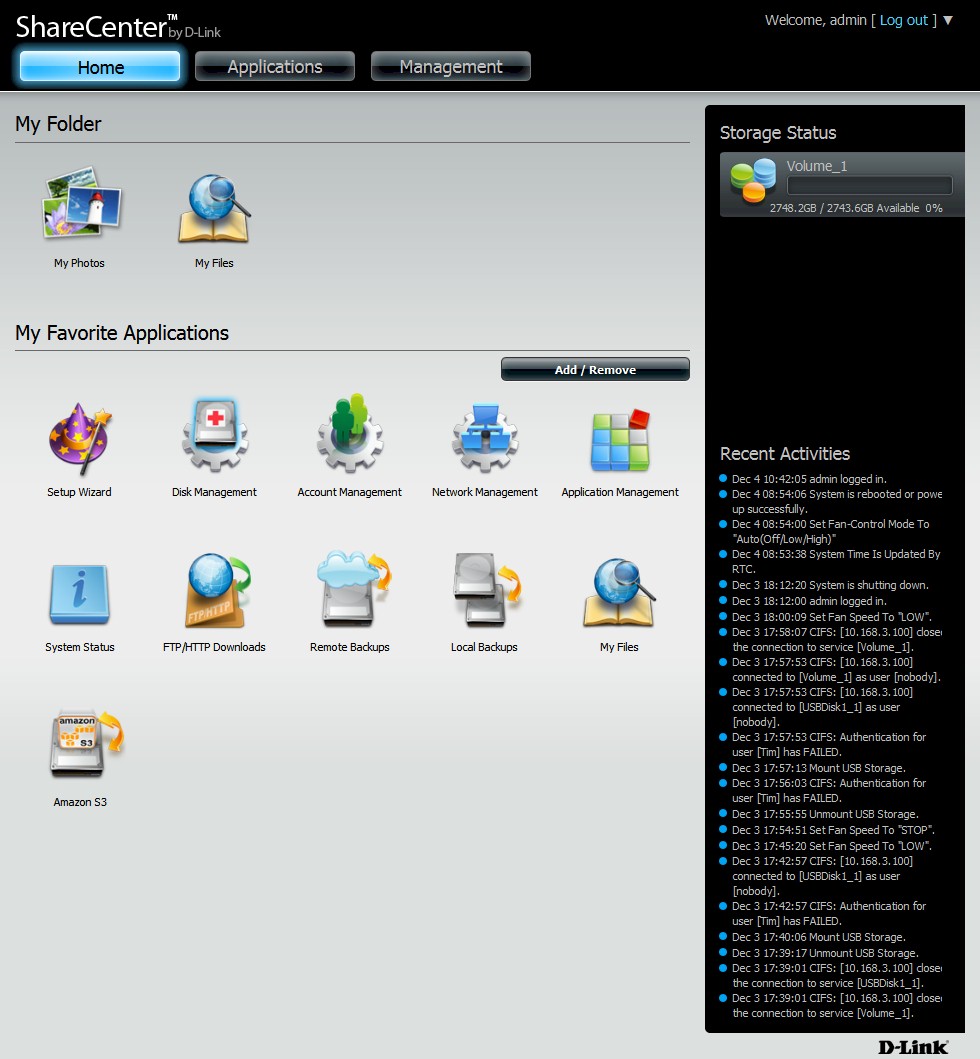 Home Page with all apps added
D-Link casts the net pretty wide for what it calls "applications", perhaps trying to imbue the product with more "app cred" than it deserves. For me, at least, the result was confusion, which was further not helped by the big Applications button shown on the screen above and the Application Managment screen obtained via the big Management button.
Each of these options showed a different set of "applications". You can see what I mean in the Gallery, where I've put relevant screen shots and commentary. I think this organization is a holdover from the add-in ability of the DNS-325. The programs shown under the big Applications button could be a fixed subset of the larger add-in library available there.
A wade through the data sheet and user manual helped compile the feature summary below.
Storage
Network file sharing via SMB/CIFS, NFS, AFP
WebDAV support
HTTP / HTTPS file and admin access
FTP, SFTP servers
Single, JBOD, RAID 0, RAID 1 volumes
EXT4 filesystem
ISO mounts
Backup
Scheduled and immediate networked backup to and from other D-Link NASes and rsync servers ("Remote Backups")
Internal scheduled and immediate folder to folder backup ("Local Backup")
Internal scheduled and immediate folder backup from only FTP or UNC share ("Local Backup")
USB device pushbutton copy to NAS
Apple Time Machine backup
D-Link ShareCenter Sync bundled client backup for Windows
Media
UPnP AV / DLNA media server
iTunes server
BitTorrent downloader
HTTP/FTP downloader
Photo album and gallery (Cooliris)
Cloud
Amazon S3 cloud backup
Remote access via mydlink.com and mydlinkcloud iOS, desktop and Android apps
Networking
Link speed setting
LLTD enable / disable
Dynamic DNS support (dlinkddns.com,DynDNS.org [custom & free options], no-ip.DDNS, tzo.com)
IPv6 support
Other
User level quotas
Email alerts
Logging
USB printer serving
UPS shutdown synchronization via USB
Programmable idle drive spindown
Scheduled shutdown
Auto restart after power failure
There are a few things missing that I can't ding D-Link too badly for, since they aren't really intended for the consumers this product is aimed at.
Updated 12/12/2012
Missing
No RAID migration and expansion. RAID migration supported from Non-RAID to RAID 1.
Active Directory and Windows domains not supported
No iSCSI
The 320L's feature set is vey similar to the DNS-325's. So please check that review for some additional commentary and screenshots. Note that the 320L does not support the optional add-ins that the DNS-325 does. What you see in the base feature set is what you get.
Not that there aren't some useful features there, including ISO mounts, WebDAV support for easy web-based file access and lots of backup features. But there are oddities, too, most notably the inability to initiate attached USB drive backups via anything other than a push on the 320L's front panel button. If you want scheduled backups, you'll need to do it over the network or internally drive-to-drive.
My main problem with the 320L is its positioning as a cloud-based NAS. Like other mydlink-enabled products, you can only connect the 320L to the mydlink cloud by running the installation process on the supplied CD. Since CDs are going the way of the floppy in this brave new smartphone and tablet-centric world, this is not user friendly, to say the least. Cloud centric devices should not require a computer to install them. Even Apple finally woke up and smelled the coffee on this point for all its iOS devices.
Even once I went through the activation process, I ran into a dead end when trying to access the 320L via the mydlink Cloud Android app. I could see the files just fine on mydlink.com. But I couldn't figure out the login for the Android app, which asked for Server, Account and Password.
As with other things mydlink, I could find no help among the various FAQ scattered among the various D-Link websites. I managed to find a mydlink Android app FAQ on mydlink.com. But referred only to the previous generation mydink lite app.
The Google Play store screenshots indicate that the app supports file browsing and download, photo viewing and music listenting. But, as you might expect from such a weakly-powered NAS, you can't view video files.
I've put a few more relevant screenshots into the gallery below. Be sure to check the DNS-325 review for additional feature commentary and screenshots.
A wizard launches on first boot to get you basically set up
Drives install from the top.
Once the drive was registered by running the CD program, files were available at the mydlink.com website
My Files app provides web browser access to files
P2P Application supports BitTorrent downloads
FTP and HTTP downloads are scheduled via a separate app
Local backups are confusing to set up. I could not figure out the LAN backup feature.
Performance
I tested the 320L with original (and latest) 1.0 firmware, using our NAS test process to run tests with RAID 0 and 1 volumes.
Windows File Copy tests in the Benchmark Summary below show read throughput 40% higher than write for RAID 0 (43 vs. 30 MB/s) and 60% higher for RAID 1 (38 vs. 24 MB/s).
Intel NASPT File Copy writes were 40% higher than Windows File Copy for RAID 0 (42 vs. 30 MB/s) and 54% higher for RAID 1 (37 vs. 24 MB/s).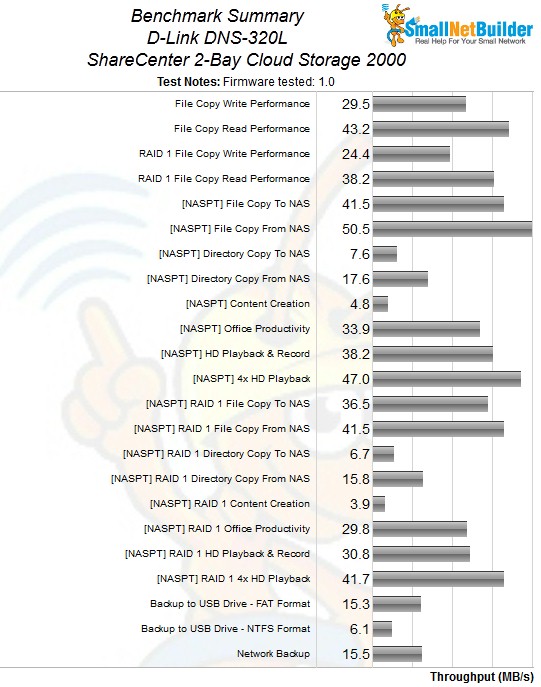 Benchmark Summary
There are no iSCSI results because the product doesn't support it.
Attached backup tests run via the single USB 2.0 port were pretty unimpressive. A FAT32 formatted volume yielded 15 MB/s and NTFS was much slower at 6 MB/s. Although network backup via rsync is supported, it poked along at 16 MB/s.
Performance – Comparative
To put the DNS-320L's performance in perspective, I ran a set of custom RAID 1 performance charts using the NAS Finder, filtered for Marvell Kirkwood-based, two-bay products. The first results show the Windows File copy benchmarks. Most of the products shown use 1.6 GHz 88F6282 Kirkwoods. But the QNAP TS-212 and D-Link DNS-325 use 1.2 GHz 88F6281 SoCs and still manage much better throughput than the 320L.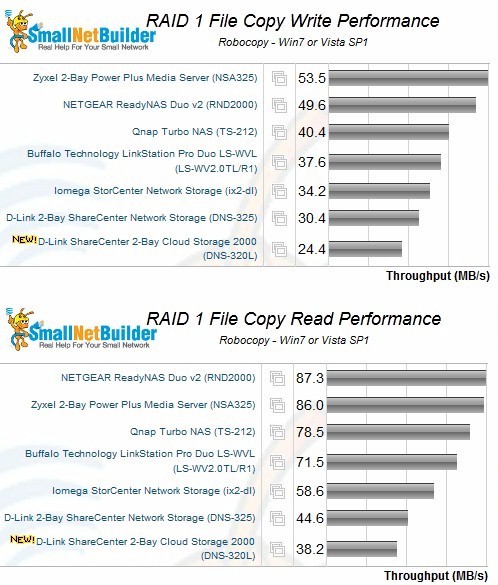 RAID 1 Windows File Copy Performance Comparison
The plot below shows the Intel NASPT File Copy results, which seem a bit kinder to the 320L. Still, it is clear that the 320L's strong suit is not performance. In real life use, I'd expect 25 – 30 MB/s RAID 1 writes during large file transfers and about 40 MB/s reads.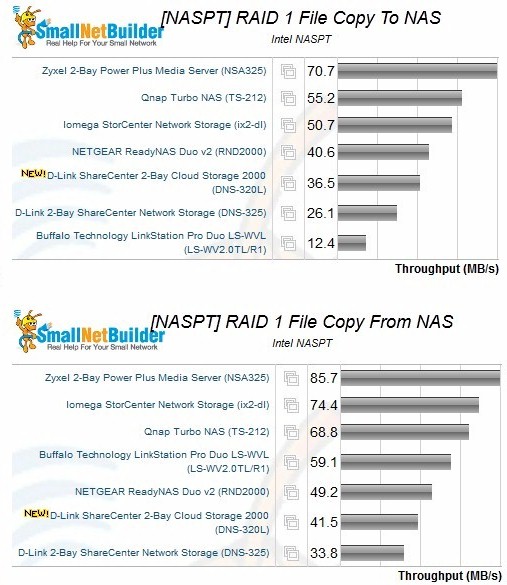 RAID 1 Intel NASPT File Copy Performance Comparison
Use the NAS Charts to further explore and compare the DNS-320L's performance
Closing Thoughts
It's not that the DNS-320L is a bad NAS. But there are better options out there. For a bit more money, ZyXEL's NSA325 will get you as many features as you'd like, better performance and USB 3.0 port for much faster backups.
If you want a NAS that simply and easily lets you access files both at home and away, look toward WD's My Book Live single drive or Duo or any of Pogoplug's simple USB-based boxes.
Buy ShareCenter 2-Bay Cloud Storage 2000 from Amazon