Introduction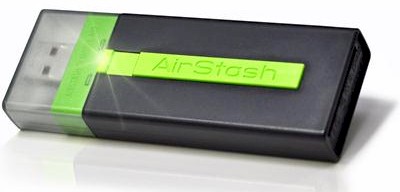 At a Glance
Product
Wearable Inc. AirStash [A02]
Summary
Mini access point, web/file/streaming server with removable SD card storage in a flash drive-sized package
Pros
• Simple configuration
• WebDAV support makes it multi-OS friendly
• Upgrade storage by swapping SD card
Cons
• Might cover two adjacent USB slots
• Can't connect to AirStash and Internet simultaneously
• WEP security only
• App for iOS only
I think I'm the last person on earth without an iPad. To order a pizza, I either have to use my phone or fire up the laptop to place the order. To watch a movie, I connect to a DLNA media server or local share and stream the movie. To share documents, I edit them locally and then copy them over to our NAS. iPad owners just flip open the screen, open a browser, order the pizza, and they're done. No wonder I sometimes have iPad-envy!
I've always had one thing on iPad owners, though: nearly unlimited storage. iPads and other personal devices are somewhat limited in their storage capacities and increasing that capacity is not a trivial task. That's where the second generation Wearable Inc. AirStash A02 (distributed by Maxell) comes in. It's a combination access point, USB flash drive, webDAV, file and media server all in a tight little package approximately the size of two USB flash drives. Figure 1 shows that the A02 is more compact than its first-generation A01 sibling.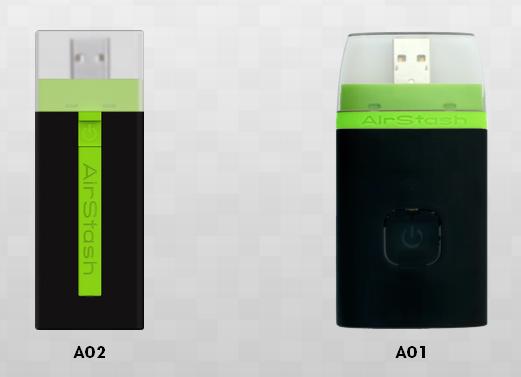 Figure 1: AirStash A01 and A02
The concept is a great one. An 802.11b/g/n 2.4 GHz-only wireless access point, built into a USB 2.0 stick, with expandable storage via an SD card slot. It also doubles as a standard USB flash drive, so media and documents can be transferred via USB and streamed or shared later.
The AirStash site says that up to eight devices can be connected to the 'Stash at one time and in ideal situations up to three devices can stream SD media (1 for HD media). Power is provided by a non-replaceable rechargeable lithium polymer battery that AirStash specs say supports up to seven hours of continuous service. In my initial testing, the seven hour mark was pretty accurate.
The 'Stash is available in two sizes at present: with a bundled 8 GB Class 10 SD card

for about $145 or 16 GB Class 10 card

for $180 (pricing from from Amazon). Either device, however, supports only a maximum 4 GB single filesize, regardless of capacity, due to its use of FAT32 format.
Setup
Setup of the AirStash was a breeze. Simply plug it into a computer's USB slot and move some media over to it. Because of the width of the AirStash, you'll more than likely need to unplug a neighboring USB device if you have side-by-side USB ports. Thankfully, the time the AirStash will spend plugged in to your PC is minimal compared to the time it will spend serving media and extending storage.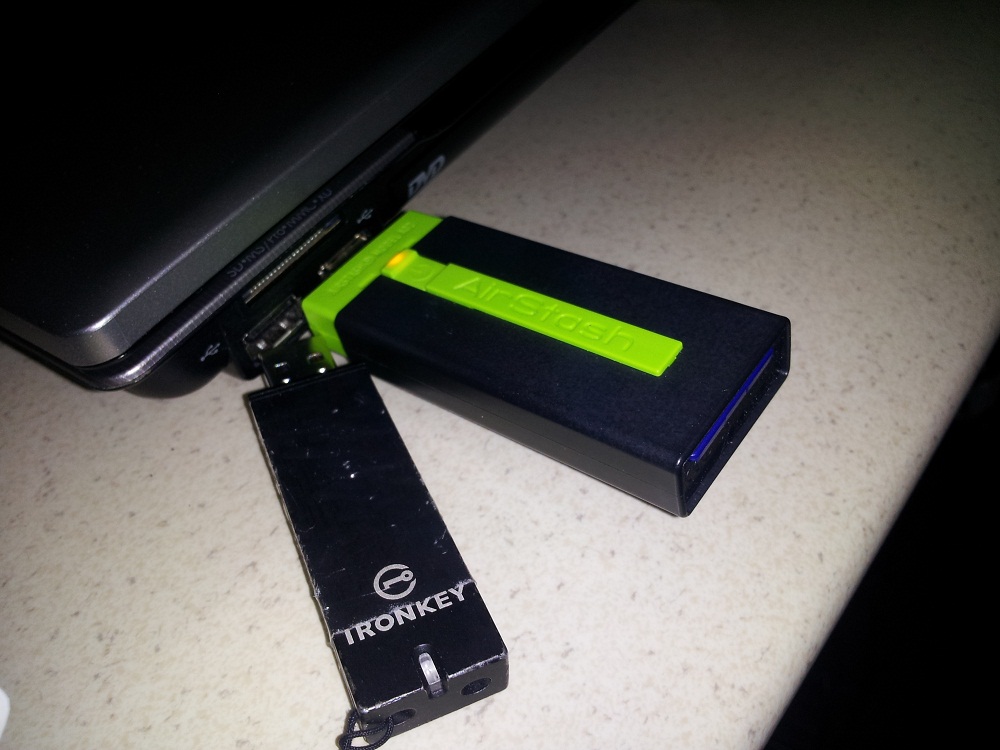 Figure 2: AirStash covering two slots
Once the media is in place, simply disconnect the AirStash from the computer, press and hold the power button until it lights up, and you are ready to connect personal devices. The product is geared towards Apple devices since the only official AirStash+ app is for iOS. However, other devices can connect via their browser or with generic apps such as WebDAV Navigator Lite for Android.
A significant negative for the AirStash is that it can't attach it to an existing wireless network so that you can connect to it and the Internet (or other local shares) simultaneously. But if you already have a wireless network, you probably don't need the AirStash anyway!
This was definitely a pain for testing, however, requiring me to switch back and forth between my normal network to use the Internet and the AirStash. According to http://news.airstash.com, a "SideLink" mode that adds support for simultaneous connection to the AirStash and a WiFi hotpsot is planned for release "sometime in March". But if you absolutely need this feature, you should wait until it has actually been released before buying.
Configuration options for the AirStash are limited, but adequate for its purposes, consisting of SSID name, channel, and security. Channel selection is Auto and can be changed via the AirStash+ app or via web browser. Wireless security at present consists only of WEP. While disappointing, this isn't as significant a security risk as it is for a router, given the limited connectivity of the network the AirStash creates. The AirStash site says the device is "WPA2 upgradeable", but there is no timeframe from Maxell for when that "upgrade" might appear.
In Use
The AirStash really impressed us once in use. Test devices were two iPod Touches of mixed generations, an iPhone 4S, an iPad, a Samsung Galaxy S II Android, a MacBook Air running both Mac OS and Windows 7 via BootCamp and an AppleTV.
SD movies were encoded using the default encoding method for each particular device within the settings of AVS Video Converter. In initial tests, each device played only the video specifically encoded for it; later tests were not as specific.
Specifics of the test videos included:
• Android: SD, H.264 mp4, 800×480, 1700kbps, 24fps
• iPad: SD, H.264 m4v, 640×480, 712kbps, 30fps
• iPhone: SD, H.264 m4v, 960×640, 1800kbps, 30fps
• iPod Touch: SD, H.264 m4v, 640×420, 712kbps, 30fps
For testing, we used firmware 1.1.8 on the AirStash and the 1.3.1 (166) version of the AirStash+ app. We placed the AirStash in a different room, about 15 feet away, with a wall in between. The iPad streamed Season 16, Episode 1 of Top Gear. The iPhone 4S streamed Chaos Theory, and the Android streamed Road Trip. The Apple devices streamed via the AirStash+ app, the Android via the browser.
At one point, we had four Apple devices (iPod Touch, Iphone 4S, iPad, and MacBook Air) all streaming their specifically-encoded SD movie at the same time from the AirStash. During our test we saw very limited buffering. FAQs for the AirStash says that three devices can stream SD media, or one can stream HD media, so your mileage may vary. I didn't have an HD movie available at the time to test, but with the successful concurrent transfers of SD content, proper encoding, and sticking to below 4 GB for file size, it should handle streaming HD content just fine.
The tests worked for the specifically-encoded movie, but for our next test I wanted each of the four devices to all play the same file. The AirStash seemed to handle this as well. Being duly impressed, we then went to the AppleTV, hoping to stream from the AirStash to it. Sadly, the AirStash can not be streamed to the AppleTV. Overall however, when streaming to Apple devices, it worked flawlessly.
A nice feature of the AirStash+ app is resuming from the last position in the movie. When the AirStash network became available again, we chose Resume from Last Position and it resumed right where it left off.
While testing on an earlier firmware, I found the Android would render the AirStash network unavailable. This seemed to be fixed on the latest firmware (1.1.8), because the Android streamed flawlessly. Even as the AirStash network went unavailable on the older firmware, the iPad continued to play for several minutes. So a fair amount of buffering is going on.
File Sharing
The Airstash isn't just for streaming media, it also is aimed at sharing files, collaborating on documents, and importing and exporting photos. To see how well it held up under pressure, I started some media streaming tests on the personal Apple devices and subsequently attempted to create folders and edit files with CyberDuck on the MacBook Air, which it handled fine.
Within CyberDuck (the free recommended Mac and Windows app) I saw consistent transfer speeds of around 740 KB/sec, and would occasionally see around 1.2 MB/sec.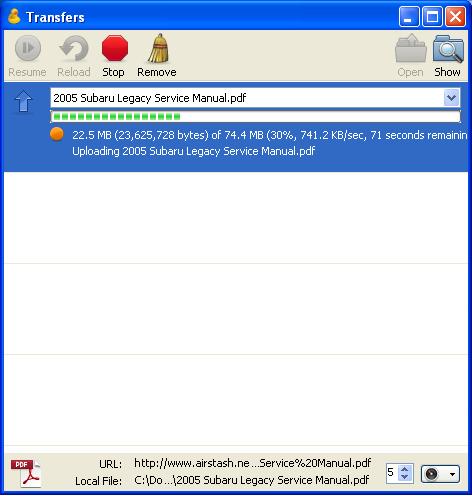 Figure 3: AirStash transfer speed
Apps
The additional apps listed on the AirStash apps page were all paid apps, most $9.99, so I did not try them. However, I did find the AirStash+ app and WebDav Navigator adequate for tasks such manipulating files and directories and streaming media.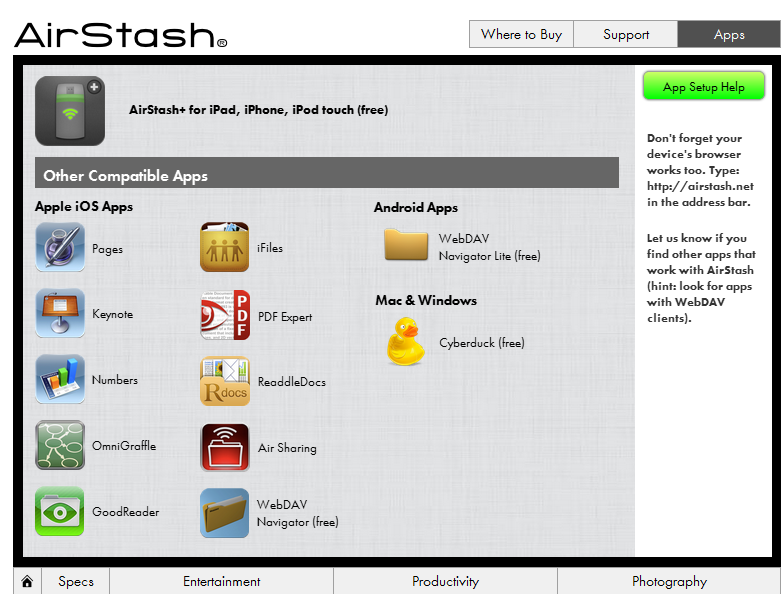 Figure 4: AirStash compatible apps
The image gallery below has a few more interesting screenshots.
There is not much to the AirStash admin screen
The file listing you get via web browser is pretty basic
Main screen of the iOS app
AirStash+ app About page
Settings screen from the AirStash+ app
iOS app List View settings
Closing Thoughts
At around $145 for the 8 GB model from most retailers, the AirStash is not cheap. But it works very well and is, I think, appropriately priced for what you receive. It's like a miniature NAS with media server that runs on batteries and needs very little configuration or maintenance. As storage needs change, it is upgradeable to 2 TB via SDXC cards. So it's relatively future-proof as long as that non-replaceable battery remains functional.
In an Apple-centric household the AirStash is a viable way to increase storage capacity, share files, and stream media, as long as you're not disappointed about the lack of support for AppleTV. In a non-Apple household, the support is there, but not nearly as polished as it is for Apple devices. Performance of the AirStash is very solid and was rather surprising given its miniature nature.