At a glance
Product
NETGEAR ReadyNAS Pro 4 (RNDP4410) [Website]
Summary
Atom D510 powered quad-drive, dual Ethernet NAS with ultra-flexible backup options.
Pros
• Dual Gigabit Ethernet ports
• Extensive backup options including cloud
Cons
• Uncommon Cloud backup options

• Relatively slow NTFS backup

• No USB 3.0 or eSATA ports
• Dated and annoying web admin GUI
Typical Price: $1347 Buy From Amazon
The ReadyNAS Pro 4 is NETGEAR's current top-of-line four-drive NAS. Like other members of the "Pro" family (the recently-reviewed Pro 2, for example), the Pro 4 is powered by a dual-core Intel Atom with 1 GB of RAM.
Unfortunately, the Pro 2 is the only Pro family member with anything faster than USB 2.0 ports for fast attached backup. The Pro 4 has three USB ports, but they are all 2.0. The Pro 4, however, does have dual Gigabit Ethernet ports that support failover and aggregation and can also be used to connect to two different networks.
Hardware-wise, the Pro 4 is essentially the same as the Ultra 4, which, in turn is similar to the NVX. The Ultra 4 and Pro 4 have more in common, however, and appear to use the same board, except for the loading of a 1.66 GHz Intel D510 Atom in the Pro 4, vs. a single-core D410 in the Ultra 4. Curiously, the Pro 2 has a more powerful dual-core 1.8 GHz dual-core Atom.
Since the Pro 4 requires complete disassembly to get to the board, I took a pass. The view through the slots in the Ultra 4's empty drive bay shown below is the same as the Pro 4's.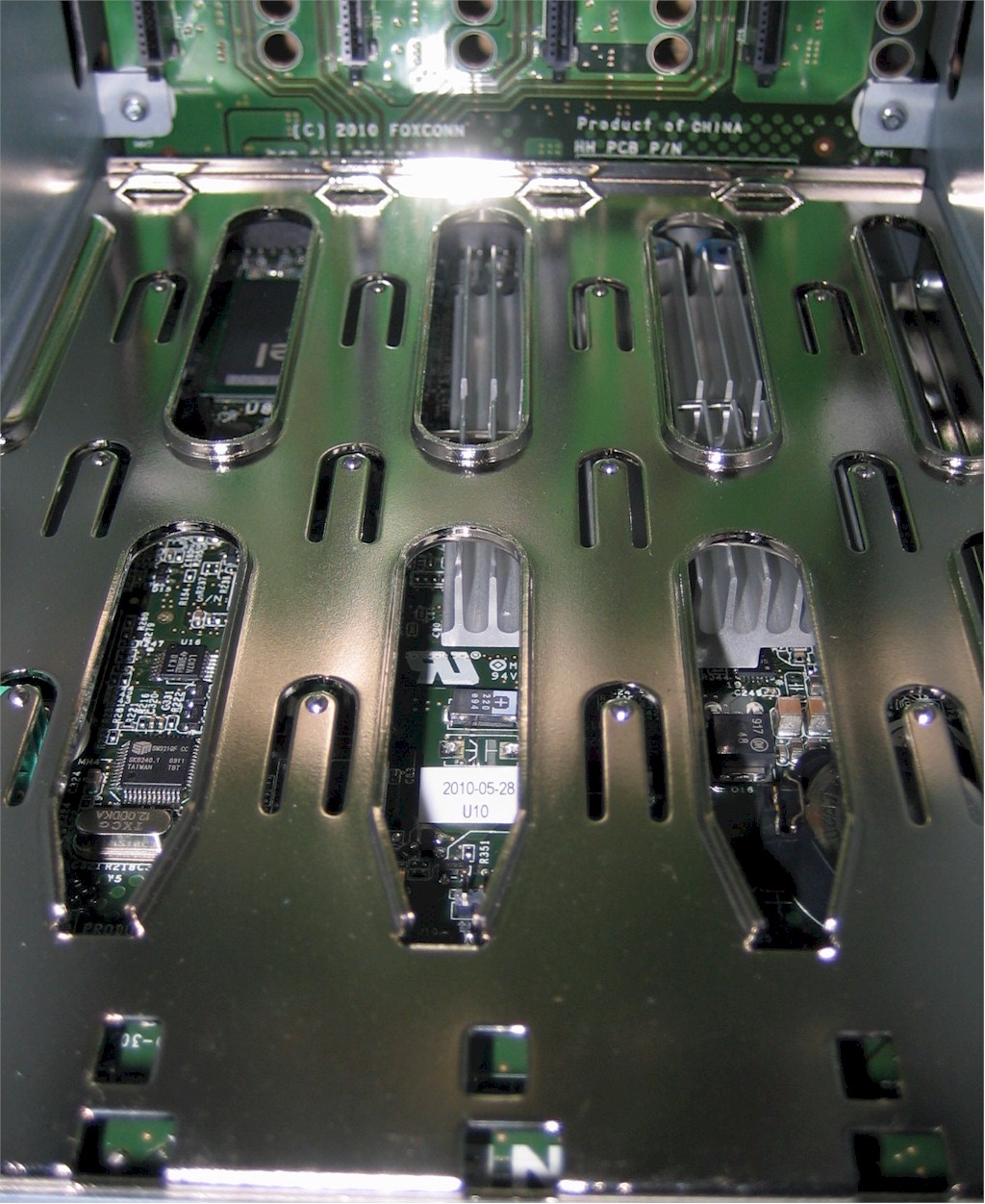 Components that I could see were an Intel 82801IB (ICH9) I/O Controller, Samsung K9F1G08U0C 1 GB flash, two Marvell 88E8057 Yukon Ultra II Gigabit Ethernet controllers and Silicon Motion SM321 flash controller.
The 1 GB of memory comes on an SoDIMM, which you can replace / upgrade without voiding warranty, but at your own risk. You access the RAM on top of the Pro 4 by removing two side and one top covers.
The RNDP4410 Pro 4 version sent for review had four enterprise-class Seagate Constellation ES 1 TB (ST31000524NS) drives loaded, which resulted in a 45 W power draw with the drives spun up and 23 W with them spun down. During initial boot and for some time after the fan was very noisy. But after 15 minutes or so and a recalibration request, it settled down to what I'd rate a medium noise level.
The Pro 4 ran RAIDiator 4.2.16 firmware, so shares the changes noted in the Pro 2 review. To save you a click, these include support for 3 TB drives, RAID volume expansion when using "Flex-RAID" (that's ReadyNAS-ese for standard RAID), IPv6 support (CIFS and FTP only) and a new Add-ons menu. And to save you another click, I've included the same datasheet spec page below.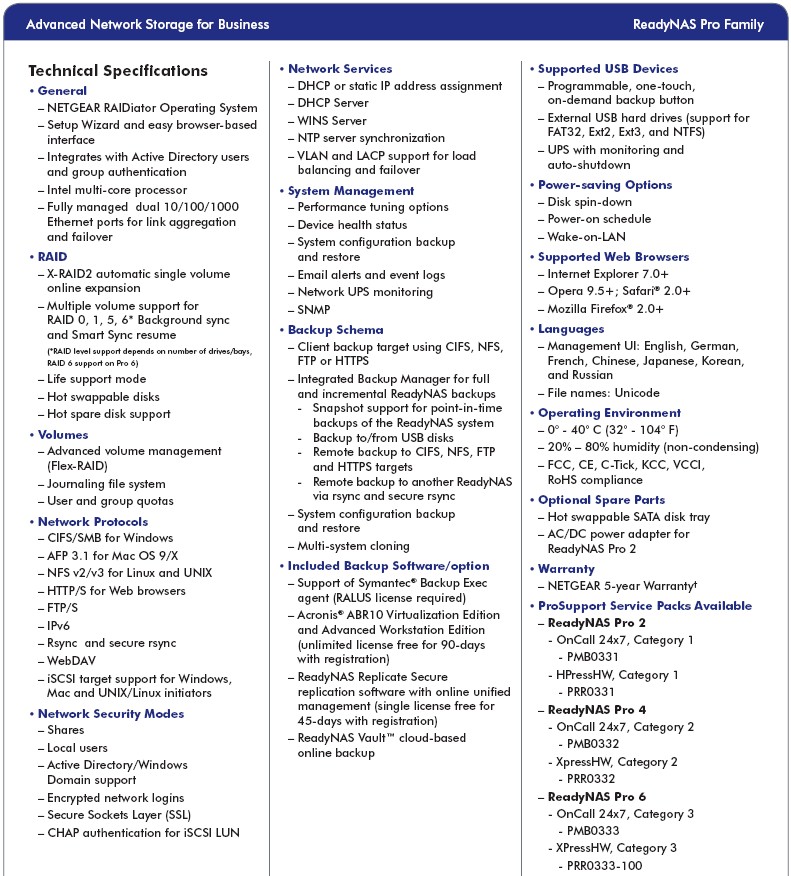 Performance
As noted above, I tested with RAIDiator 4.2.16 firmware using our standard NAS test process. To do this, however, I had to reset the unit to factory defaults and use the RAIDar utility to switch into "Flex-RAID" mode instead of the factory-shipped X-RAID, so that I could run RAID 0 and RAID 5 mode tests. While doing this, I noticed that Flex RAID supports both RAID 6, as spec'd, but also RAID 10, which is not listed in the datasheet. So I ran tests with RAID 0, 5 and 10 volumes.
The Benchmark summary below shows Windows File copy write with a RAID 0 array measured 82 MB/s, dropping to 72 MB/s for RAID 5 and rising to 80 MB/s for RAID 10. File copy read for RAID 0 was typically higher at 102 MB/s and slightly lower for RAID 5 and 10 at 98 MB/s.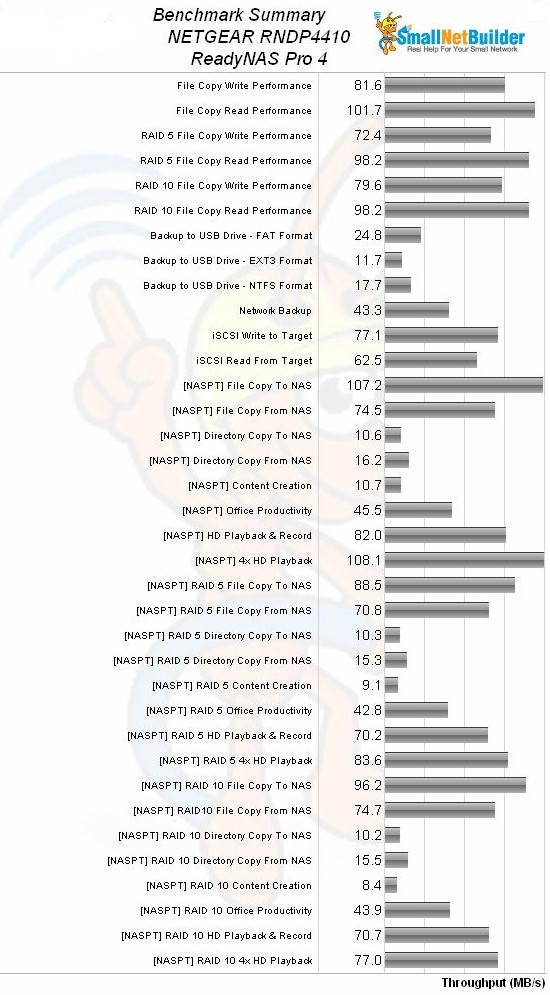 NASPT File Copy write benchmarks were higher for RAID 0, 5 and 10 at 107 MB/s, 89 MB/s and 96 MB/s respectively. NASPT File Copy reads came in significantly lower at 75 MB/s, 71 MB/s and 75 MB/s for RAID 0, 5 and 10, respectively.
The tougher NASPT Directory Copy tests yielded only 11 MB/s for write and 15 – 16 MB/s for read in all tested RAID modes.
Backup tests to an attached USB 2.0 RAID 0 array jumped around a bit depending on format used. Best performance of 25 MB/s was with FAT32, EXT3 was worst at 12 MB/s and NTFS in between at 18 MB/s.
Rsync network backup to the NAS testbed running Delta Copy came in at 44 MB/s, tying the Pro 2 at the top of the Network Backup chart.
iSCSI write and read to a 10 GB volume created on a RAID 5 array produced 77 MB/s and 63 MB/s, respectively, which put it in line with other recent-generation NASes.
The RAID 5 File Copy Write and Read charts below are filtered to show only four-bay NASes. The only D525 Atom NAS shown in these two charts is the QNAP TS-459+. So the D410-based Synology DS411+, Cisco NSS324 and others beat the Pro 4 fair and square for RAID 5 write file copy.
RAID 5 File Copy Write Comparison – four bay products
RAID 5 filecopy read is a different story. Performance here is more evenly matched, with the DS411+ falling behind the Pro 4 and Cisco NSS324.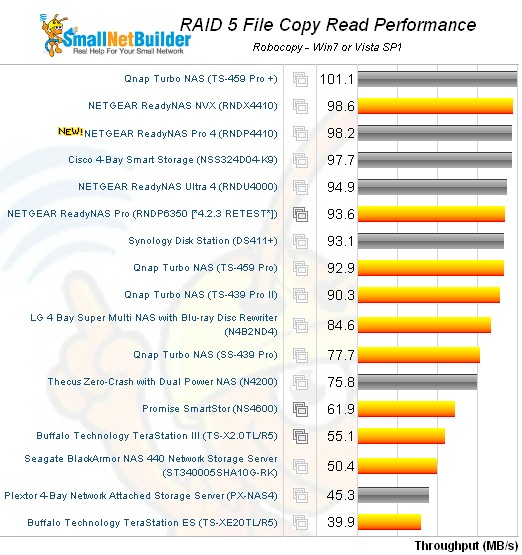 RAID 5 File Copy Read Comparison – four bay products
Conclusion
NETGEAR prices its high-end NASes at a premium, and the Pro 4 is no exception. The RNDP4410 with four Seagate ES 1 TB drives will set you back over $1300. But the Cisco NSS324, which also comes with four 1 TB drives, isn't far behind at $1200. And while the Synology DS411+ may look like a deal at $627, add $500 for four ES drives, and you're still talking serious money. It seems when you're up in this high in the NAS performance stratosphere, you're not going to find any bargains.
There won't be a full review of the Pro 4. If you're interested in the ReadyNAS cloud backup features, you can check out the ReadyNAS Replicate and Egnyte Cloud File Server reviews over on SmallCloudBuilder. And, of course, you can use the new NAS Finder and NAS Charts to compare the Pro 4 with other products.
Buy ReadyNAS Pro 4 from Amazon