Introduction
At a glance
Product
Iomega StorCenter Network Storage (ix2-dl) [Website]
Summary
Two drive RAID 1 Marvell Kirkwood NAS with iSCSI, backup to/from rsync targets and CIFS shares, secure remote access and media services.
Pros
• Lots of features
• Supports backup to cloud, rsync and SMB targets
• Supports Apple Time Machine
Cons
• Remote access requires port forwarding
Typical Price: $365 Buy From Amazon
Iomega has been slowly improving its consumer NAS offerings, adding features and boosting performance. This time, it's the dual-drive ix2 that gets a facelift.
The last time, remote access "cloud" features were added to the ix2-200 [reviewed], resulting in the ix2-200 "Cloud Edition" (CE). The ix2-200 CE didn't have any hardware changes, so we didn't review it. But we took at look at the CE features when Craig reviewed the single-drive Home Media Network Hard Drive – Cloud Edition over on SmallCloudBuilder.
This latest change drops both the "Cloud Edition" and "-200" from the ix2's moniker, leaving it as just the plain ol' StorCenter ix2. This new beastie comes in 2, 4 and 6 TB versions populated with two 1, 2 and 3 TB drives, respectively. There is also a diskless version—the ix2-dl (model # 35887)—that Iomega sent for review, so that we could get the whole experience of installing drives from scratch.
The ix2 has all-metal construction except for the slip-off front and screwed-on rear covers and no-fasteners-required hard drive frames. Front panel indicators are minimal as shown in Figure 1.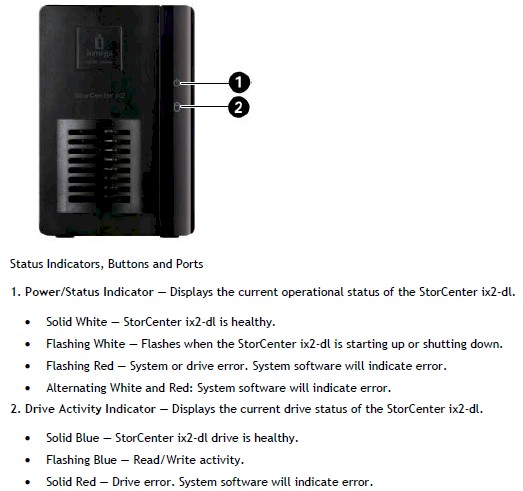 Figure 1: Iomega ix2-dl front panel callouts
The rear panel (Figure 2) is similarly sparse. For those who care, the 10/100/1000 Ethernet port supports 4,000 and 9,000 Byte jumbo frames. (I stopped caring awhile ago since the performance current-day Ethernet interfaces have outpaced the need for jumbo frames.)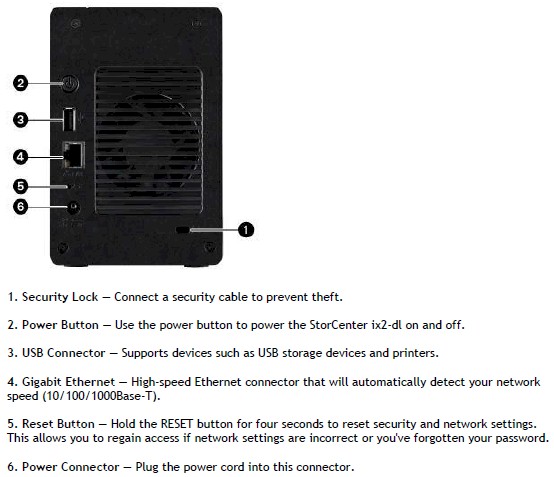 Figure 2: Iomega ix2-dl rear panel callouts
Inside
You can see the small main board when you install the drives. But for a good look, I had to disassemble the ix2 to take the photo below.
Figure 3: ix2-dl board
Table 1 summarizes the key component information and compares it to previous-generation ix2's. RAM and flash sizes remain unchanged from the -200. The main change is a somewhat beefier processor. I'm told the new processor is the same as a Marvell 88F6282 Kirkwood. It seems that Marvell is playing around with part numbers to help keep product teardown fans guessing.
Iomega ix2 (new)
Iomega ix2-200
Iomega ix2 (original)
CPU
Marvell 88F62E2A1C160
Kirkwood @ 1.6 GHz
Marvell 88F6281
Kirkwood @ 1 GHz
Marvell 88F5182
"Orion"
Ethernet
Marvell 88E81318
Marvell 88E81116R
Marvell 88E1118
RAM
256 MB
256 MB
128 MB
Flash
128 MB
128 MB
4 MB
Table 1: Component summary and comparison
Iomega supplied two Seagate Barracuda 7200.14 2 TB (ST2000DM001) drives for installation and test with the ix2-dl. With the drives installed and spun up, I measured 20W of power draw. This dropped to only 7W when the drive spindown power save kicked in. I rated noise level as medium-high, with drive motor hum and head thunks echoing around and seemingly amplified by the aluminum enclosure. I could definitely hear the ix2-dl running in my quiet home office.
Features
The ix2 has a pretty broad feature set. Here's the rundown:
General
RAID 0 and RAID 1 volume modes
Gigabit Ethernet port with 4000/9000 Byte jumbo frame support
SMB/CIFS, AFP, NFS network filesystems
USB drive storage expansion (Fat32, NTFS, ext2/ext3, or HFS+ formats)
USB printer sharing
WebDAV
Windows DFS
FTP/SFTP server
iSCI target
Active Directory
User level permissions with quotas (no groups)
HTTP/HTTPS web administration
Downloadable event logging
Email alerts (w/ built-in SMTP service for no-hassle setup)
Programmable drive spindown for power save (5, 15, 30, 60 mins)
UPS sync
Application manager for third-party apps
Citrix XenServer 5.6, Windows Server 2003/2008/2008 R2, VMware vSphere 5.0 certified for server virtualization
Backup
Schedulable full/incremental/mirror file copy to/from rsync (w/ SSH option) servers, CIFS shares
Apple Time Machine support (Mac OS 10.5 and higher)
Backup to EMC Atmos
Cloud backup to Amazon S3, Mozy
Media
iTunes and UPnP AV / DLNA server (supports XboX 360 & PS3)
Auto file upload to Facebook, Flickr, YouTube
Auto digicam file upload via Picture Transfer Protocol (PTP)
Auto photo resizing and watermarking
Built-in photo slideshow
Axis Video Hosting Solution client
Video surveillance support via MindTree SecureMind (up to five Axis, Bosch, and Panasonic IP cameras; 1 license included)
Mobile
Remote file and media access via Iomega Personal Cloud (manual port forwarding or router UPnP support required)
Folder drop file distribution via email (link or actual files)
File and media access via iOS app
Note that you can't migrate from RAID 0 to RAID 1 and you can't expand storage space by swapping one drive at a time. The latter feature is planned to be supported sometime in the future, but there is no firm schedule. You also can't treat each drive as a separate volume or configure the drives into JBOD.
The ix2-dl keeps the same EMC LifeLine Linux-based OS that we've seen in recent-design ix2 and ix4s (Figure 4). The feature set is mostly unchanged, with the notable exception of new video surveillance features I'll get to in a bit.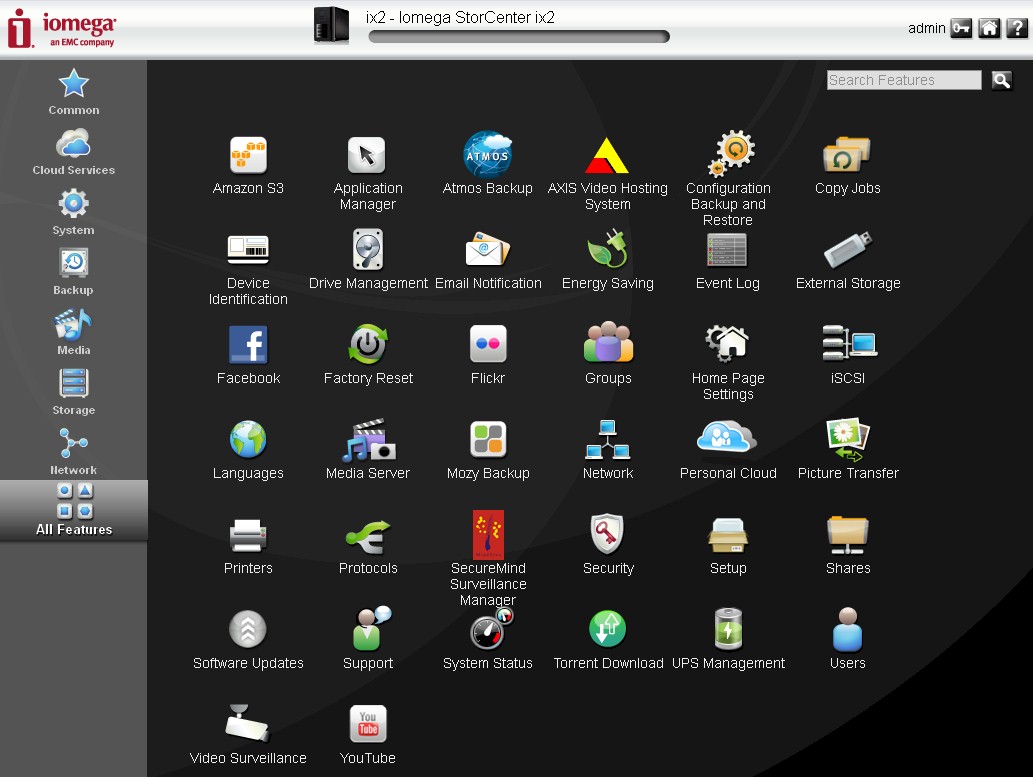 Figure 4: ix2-dl All Features page
The ix2, like other LifeLine-based NASes supports a healthy selection of network protocols as Figure 5 illustrates. WebDAV support is a welcome addition, since many web and cloud apps depend on it.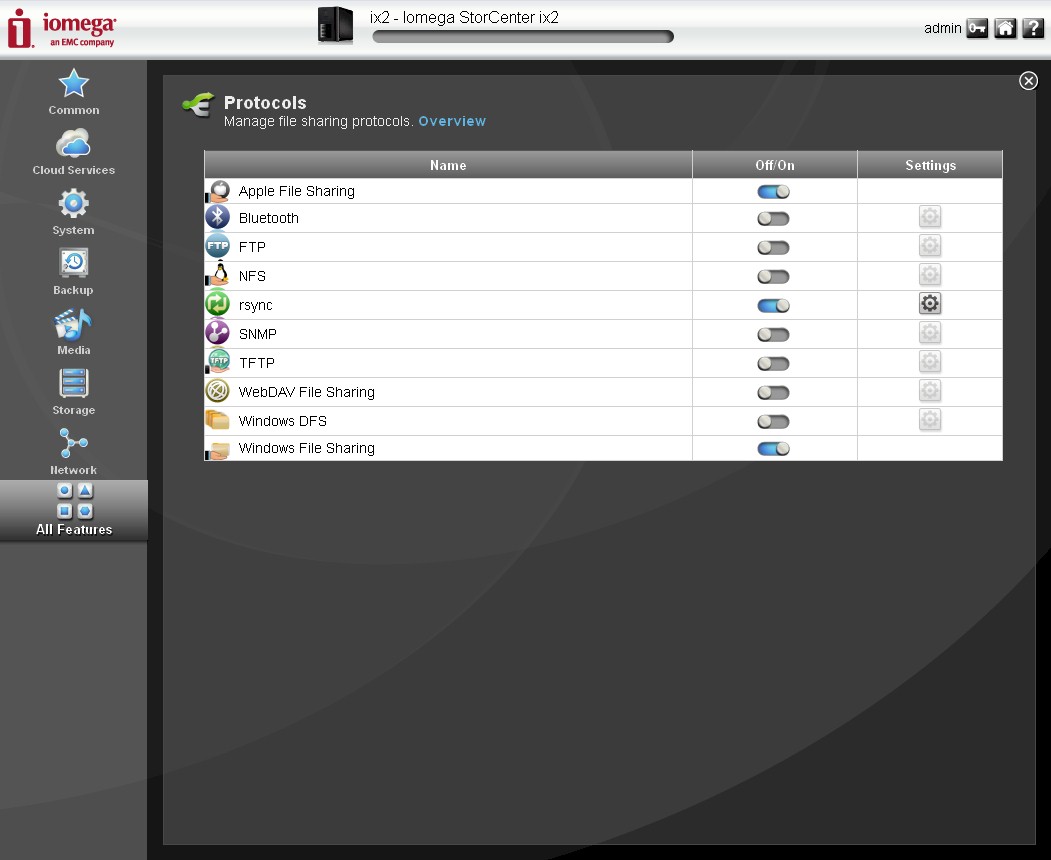 Figure 5: ix2-dl Protocols
Iomega has improved the Personal Cloud setup wizard so that it isn't as confusing. I put a few shots of the wizard in the gallery below so that you can get a feel for it. But unlike WD's WD2go remote access, Personal Cloud still requires opening ports in your router's firewall to work. The Personal Cloud setup wizard will do this automatically if your router supports UPnP NAT Traversal, or you can do it manually.
I run a dual-NAT setup with one NAT in a Linksys X2000 ADSL router and the second in the NETGEAR WNDR3700 that currently serves as my primary router. So setting up port forwarding is a pain that I avoid. The Personal Cloud wizard wasn't able to deal with my double NAT, but WD's WD2go had no problem with it. So I'd really like to see Iomega rework Personal Cloud so that port forwarding isn't necessary.
If you want more info on Personal cloud, check the Iomega Home Media Network Hard Drive review on SmallCloudBuilder. You can also contrast it with the WD2go.
A key new push for Iomega with the revamped ix2 is video surveillance. So they have provided three ways to monitor and record up to five IP cameras from Axis, Panasonic and Bosch.
The ix2 can be an Axis Video Hosting System client. AVHS is a hosted surveillance solution available from many Axis partners. A single camera license comes bundled.
There is a built-in Video Surveillance feature (Figure 6), for recording and viewing up to five IP cameras
MindTree's SecureMind Surveillance Manager provides a more feature-rich video surveillance option than the built-in app, for up to 5 cameras. A single camera license comes bundled.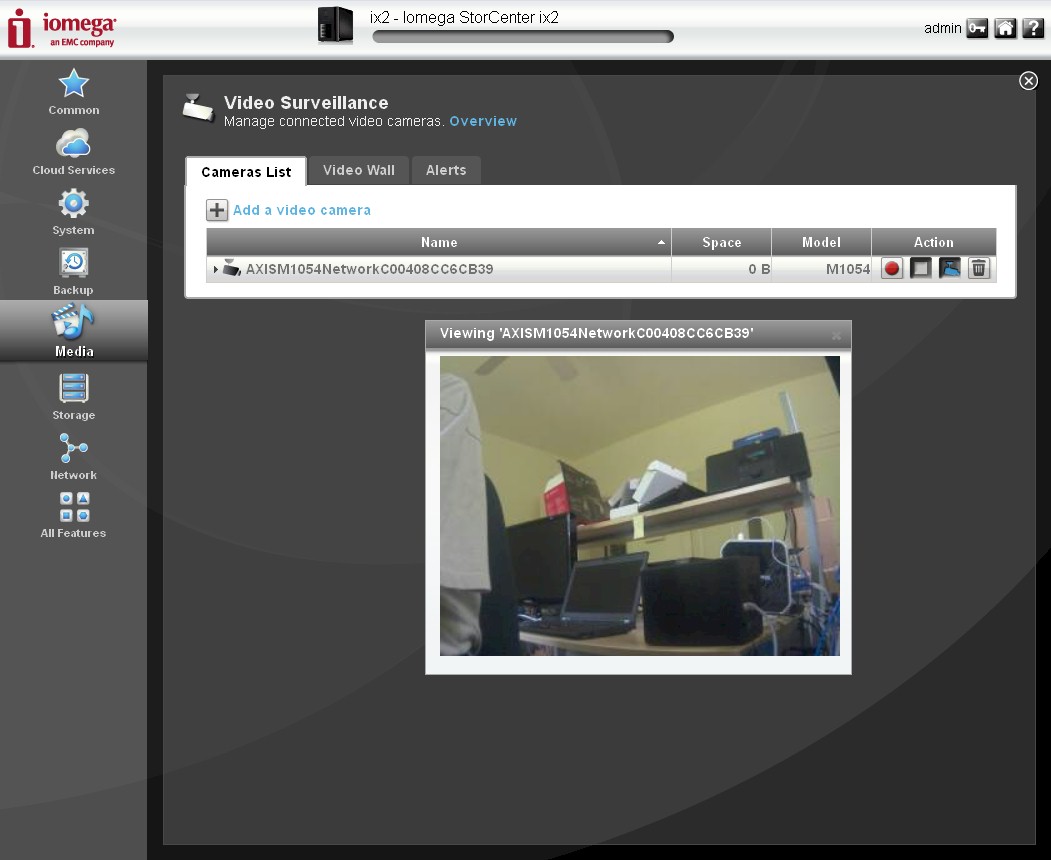 Figure 6: ix2-dl Video Surveillance
The exact cameras supported depend on the application you are using, so you'll need to check the Iomega Knowledge Base for specific models. Since Iomega is so hot to trot on video surveillance, we'll be doing a separate deep dive on these features.
You can browse the gallery for a few more feature screenshots. The Iomega Home Media Network Hard Drive review on SmallCloudBuilder also has more feature details.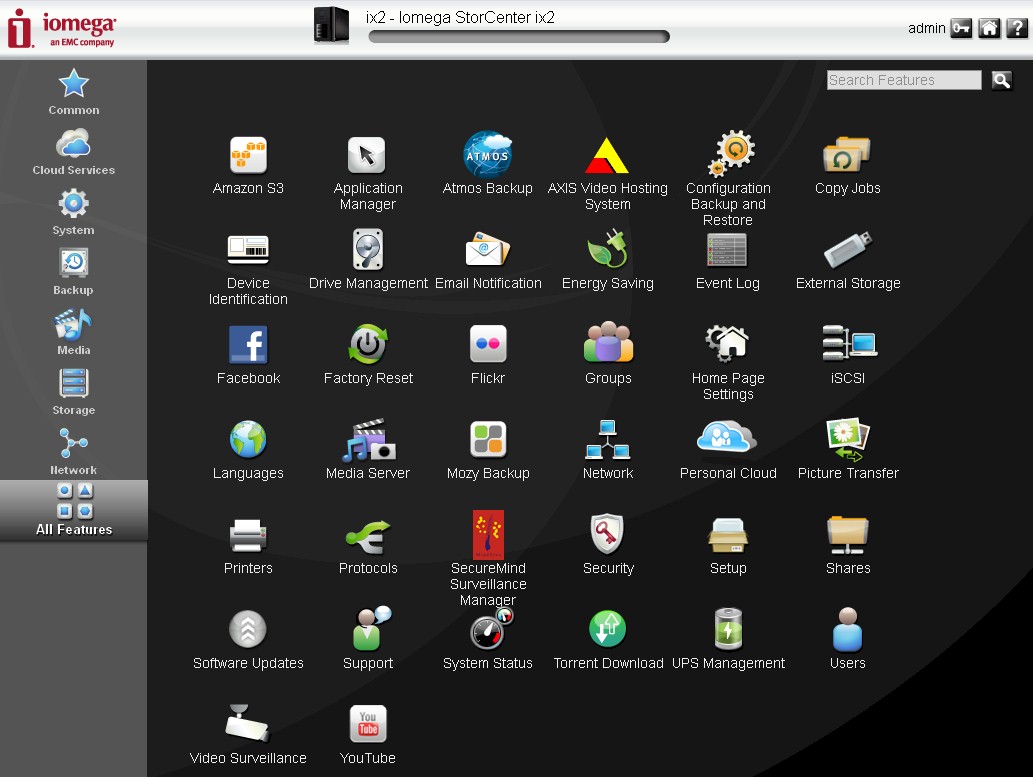 This screen shows links to all the ix2 features.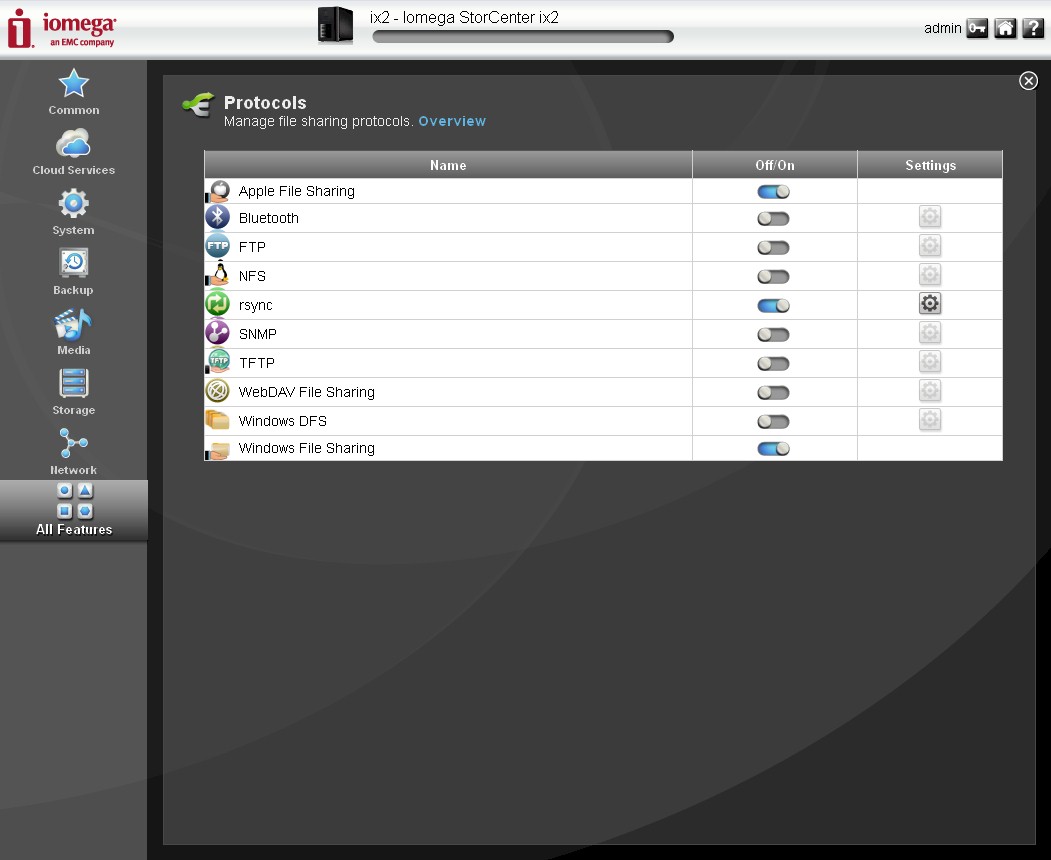 You get a pretty good selection of network protocols.
The first step is easy enough
So is the second
This shows the result of the setup attempt with a double-NAT network configuration
Personal cloud settings. The Internet access and Media server IPs are both set to your ISP-assigned IP.
The System Status page shows the status of a RAID rebuild. It took 4 hours and 20 minutes to rebuild a 2 x 2 TB RAID 1 array with no other system activity.
The built-in video surveillance add-in supports up to five IP cameras with one license bundled. We will be looking at it in more detail in a separate review.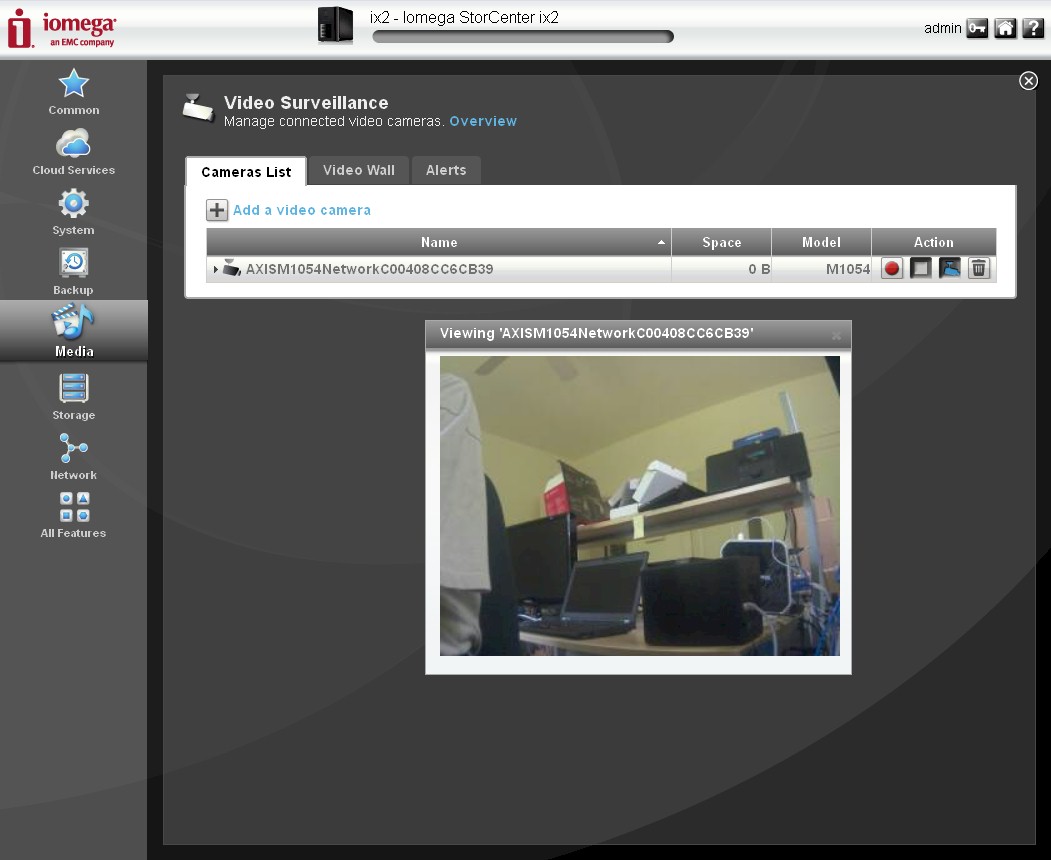 The built-in capability provides basic camera viewing and recording for up to five IP cams.
The ix2 can back up to/from any SMB share and also rsync servers. This is an rsync job.
Performance
The ix2-dl was tested with 3.3.2.18857 firmware using our standard NAS test process. Tests were run in both RAID 0 and RAID 1 modes and are included in the benchmark summary shown in Figure 7.
Windows-based file copy tests for RAID 0 and 1 came in pretty much the same, i.e. 35 MB/s write and just shy of 60 MB/s for read. But Intel NASPT file copy write and read tests in RAID 0 both came in at around 52 MB/s. Oddly, though, NASPT file copy in RAID 1 again shows writes much slower than reads at 51 and 74 MB/s, respectively.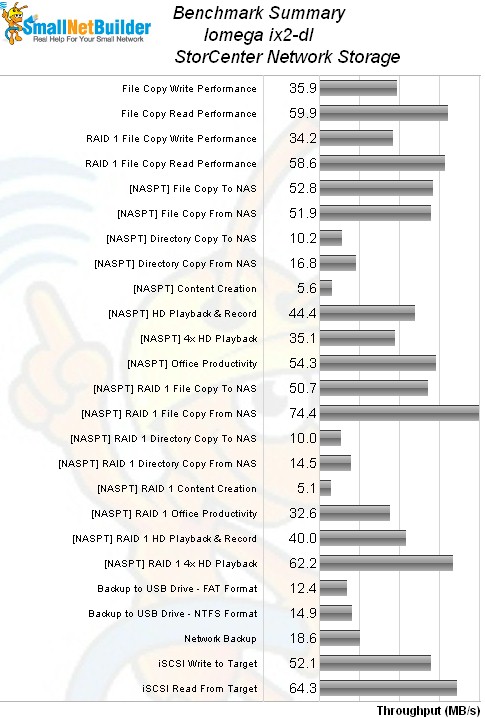 Figure 7: Iomega ix2 Benchmark summary
I repeat each test three times and the value shown is the average of the three runs. Looking back at the individual test data, I saw big jumps in both write and read, RAID 0 and 1 and Windows file copy and NASPT file copy. My guess is that there may be other processes running on the NAS that are affecting throughput. I also tried RAID 0 runs both with and without write caching enabled (default is Enabled with UPS). The results posted in the chart from the "without" run were actually higher.
The upshot of this is that it's hard to call whether I'd bin the new ix2 as a mid-30 MB/s or 60 MB/s NAS. So let's look at how other NASes with the same processor perform. Figure 8 shows Windows File Copy write for the QNAP TS-219P+, Synology DS211+, Synology DS211 and Buffalo LinkStation Pro Duo LS-WVL. All use 1.6 GHz 88F6282 Kirkwood SoCs and all have better RAID 1 write throughput, with the QNAP TS-219P+ the best performer at 58 MB/s.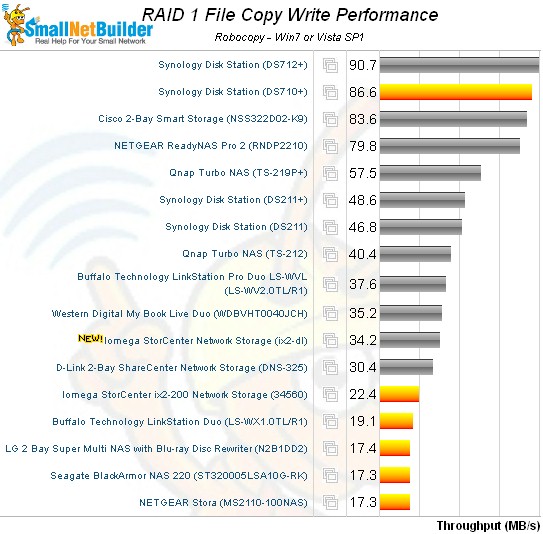 Figure 8: Iomega ix2 File Copy performance comparison – R1 write
Turning to RAID 1, all the competitors again outpace the new ix2, with the TS-219P+ again at the top with almost 2X faster reads than the ix2 (94 MB/s vs. 59 MB/s).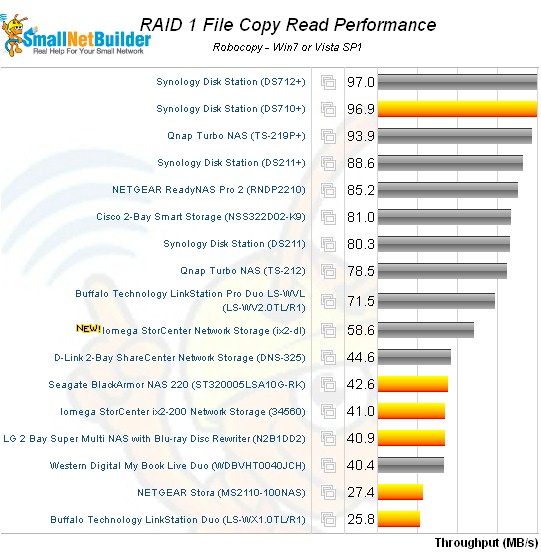 Figure 9: Iomega ix2 File Copy performance comparison – R1 read
So while the new ix2 isn't as speedy as other two-bay NASes with the same Marvell Kirkwood SoC, the two charts above show that the new ix2 is faster than the ix2-200 it replaces.
iSCSI performance, on the other hand, was pretty good—better, in fact than the QNAPs and Synologys just referenced at 52 MB/s write and 64 MB/s read.
USB backup speeds, though, weren't anything to brag about, coming in at 12 MB/s for FAT and 15 MB/s for NTFS formatted drives. The better of comparative NASes can max out USB 2.0 bus capacity in the mid 20 MB/s range. Backup to an rsync target was also comparatively slow at 19 MB/s vs. mid-20 MB/s.
Use the NAS Charts to further explore performance.
Closing Thoughts
The bottom line is that the new ix2 bundles in more features with its video surveillance options, but not a lot more performance than the ix2-200 it replaces. The fact that you can get it in a diskless configuration for only around $180 might make more folks open to trying it. But others may opt for a older QNAP TS-212, for about the same money, but with more features and higher performance.
Buy StorCenter Network Storage from Amazon