At a glance
Product
Iomega StorCenter 36057 Network Storage (70BA9001NA) [Website]
Summary
Two bay D525 Atom based NAS with cloud backup and sharing features
Pros
• Supports backup to cloud, rsync and SMB targets
• Very high iSCSI performance
• USB 3.0
• Three year warranty
Cons
• No IPv6 support
• Sparse collection of add-ins
Typical Price: $1270 Buy From Amazon
Introduction
Updated 12/5/2012 – Revised SSD drive comment
It's been a long time coming, but Iomega has finally released a two-bay member of its "Server Class" px family. (We reviewed the six-bay px6-300d way back in mid-2011.)
The px2-300d comes in diskless and three diskful versions with two 1 TB, 2 TB and 3 TB enterprise-class drives loaded. Iomega sent the 4 TB version (Iomega Item number 36057) for review.
The NAS is taller than most other two-bay products I've recently reviewed. This is partly due to the front panel LCD display that isn't found on competing products. Too bad Iomega didn't include a buzzer too for audible alerts.
Updated 12/5/2012
As the photo below shows, two hot-swappable drives mount in unlockable trays. I can't ding Iomega on the px2 for leaving the drives completely unprotected as they did on the px6-300d. Note the front door lock on the photo below. Like the px6, the drive trays have mounting holes for 2.5" drives.
Only Iomega SSD's SKUs are found in the approved drive list main page. But if you follow the links on the Qualified Disks tab of that page, you'll find this FAQ that lists five Intel SSD 520 series drives. Also listed are a dozen or so 3.5" SATA 1, 2 and 3 TB drives. There are no 4 TB drives listed as of this writing, however.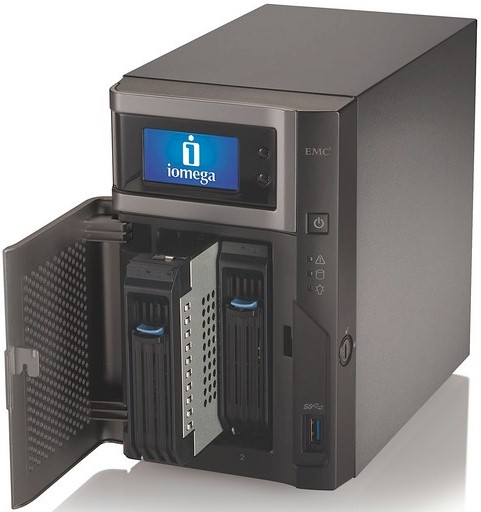 Iomega px2-300d front open
Sorry for the fuzzy photos below, but that's all I found in the User manual. The single USB 3.0 port is found on the front panel, which can be good or bad, depending on your attached-drive backup strategy.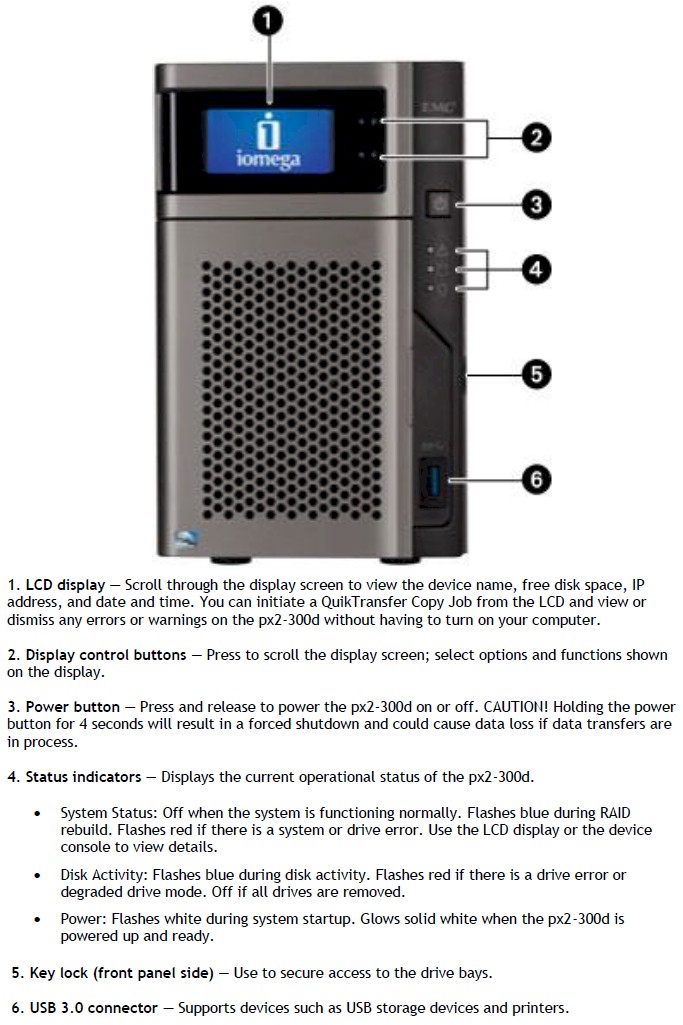 Iomega px2-300d front panel callouts
The rear panel view below reveals the surprising addition of a VGA console port. I was able to get a login prompt from the console port when I attached a display and keyboard. But Iomega wouldn't cough up login credentials. The user manual says the port is "for video surveillance applications" and Iomega told me that it's also for "internal debug". Note also the removable card slot cover that is not called out. More on that shortly.
Iomega px2-300d rear panel callouts
Other ports are the same as on the px6 and include dual Gigabit Ethernet and two USB 2.0 ports. The dual LAN ports support jumbo frames with 4000 and 9000 Byte settings and can be set for adaptive load balancing, failover or 802.3ad aggregation modes.
Inside
The px2 is designed for easy serviceability. The power supply is an external brick and the cover slides off after removing three screws. Fan removal requires opening the case and probably removing the small backplane board. The latter is easy, though, because the backplane is mounted on a metal plate that is secured by two screws and plugs into a connector on the main board.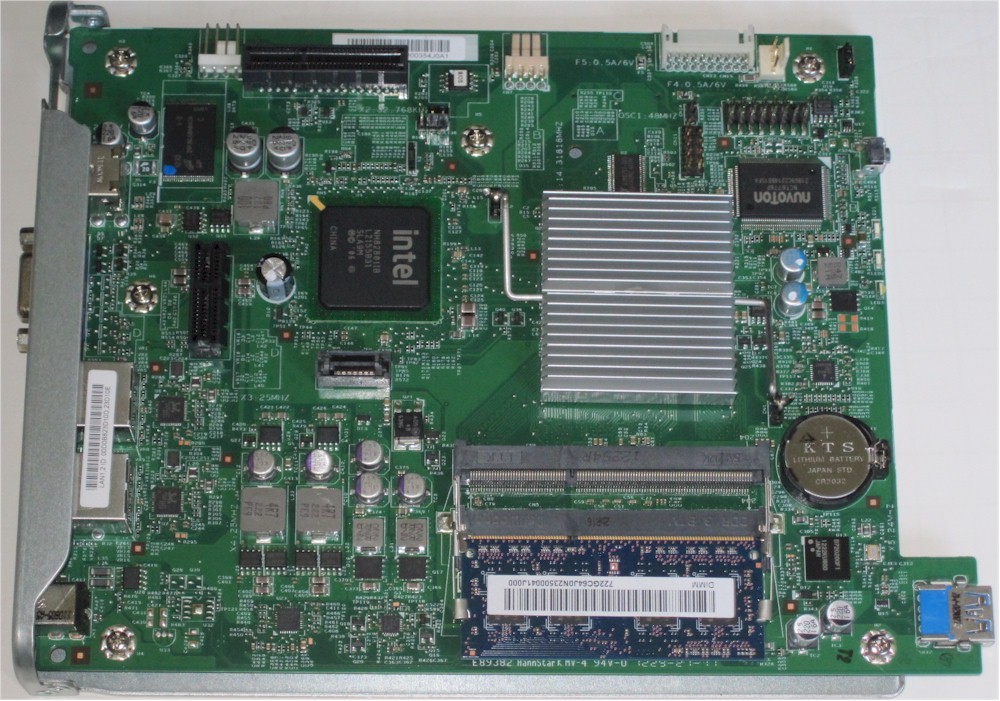 Iomega px2-300d board
That's a PCIe x4 connector up at the top left of the photo. It matches up with a removable card slot cover on the back panel. In the px6-300d review, I mistakenly said the similar slot on it had nothing behind it. The photo below of the px6-300d board shows I was wrong, since a PCIe X4 slot is clearly shown at the photo top right.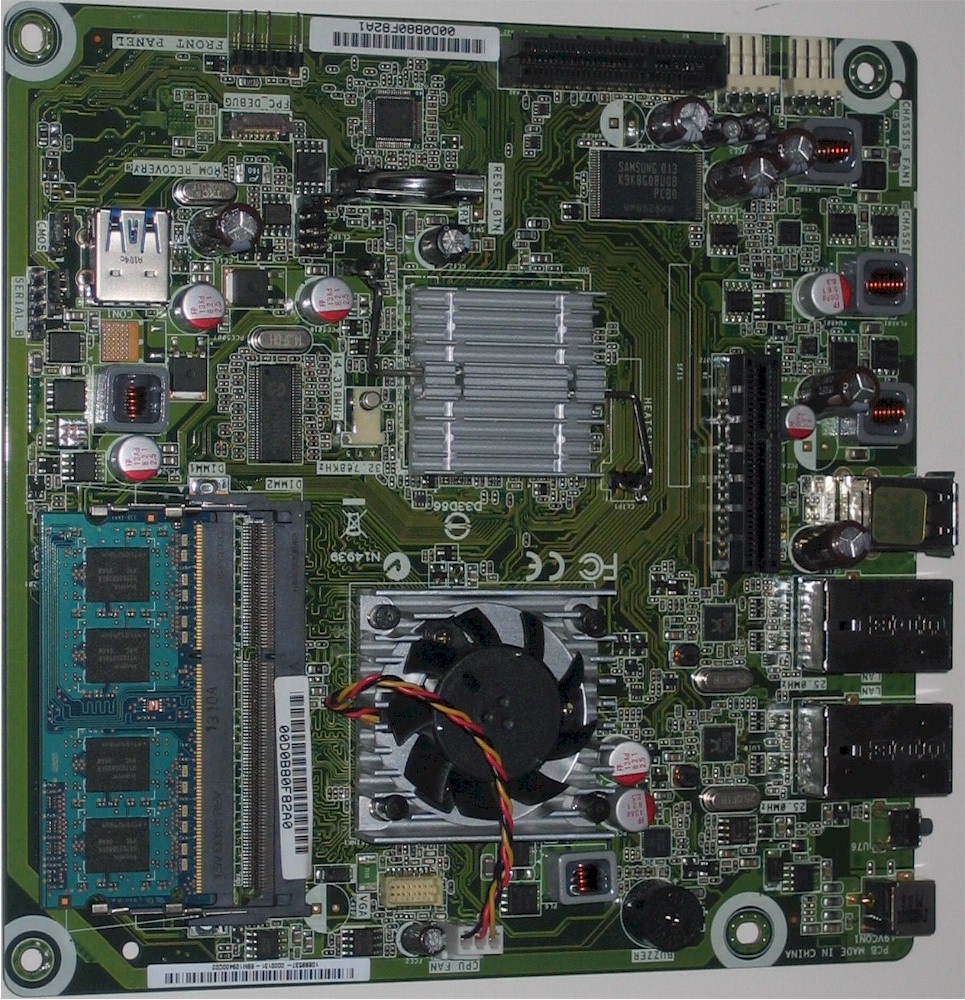 Iomega px6-300d board
Iomega apparently has re-evaluated the Intel device cooling requirements on the px2, since the Companion I/O device has no heatsink and the D525 heatsink no longer has a fan.
Table 1 has a summary of the key components for both NASes.
px2-300d
px6-300d
CPU
Intel Atom D525 @ 1.8 GHz
Intel Atom D525 @ 1.8 GHz
Ethernet
Realtek RTL8111f (x2)
Realtek RTL8111e (x2)
RAM
2 GB DDR3 SoDIMM
2 GB DDR3 SoDIMM
Flash
1 MB
1 MB
Companion I/O
Intel 82801IB ICH9
?
SATA
In 82801IB

?

I/O
Nuvoton NCT6776F
Super I/O
Fintek F71808E
USB 3.0
NEC D720200F1
Fresco Logic FL1000G
Table 1: px2-300d component comparison
I suspect the px6 has the same Intel 82801IB ICH9 Companion I/O as the px2, but couldn't positively identify it due to its heatsink. I didn't pay enough attention on the px6, but suspect that there was a SATA expansion chip on the backplane to handle its total of six drives. There was not one on the main board.
The socketed 2 GB DDR3 SoDIMM with a second empty slot has been carried over from the px6. I didn't again ask Iomega whether more RAM could be added to the second, empty socket without voiding warranty. But the exact response from my last query was "we don't formally support this currently, but the hardware is capable".
The review unit came with two Hitachi Ultrastar 7K3000 2 TB (HUA723020ALA640) drives installed, which brought the total power consumption to 32 W. There is a programmable idle drive spindown, but I could not get it to kick in, so could not measure power draw with drives spun down.
Fan noise was low, but I could clearly hear the drives spinning and chattering away in my quiet home office. So I rate noise as medium low.
Features
The px2-300d's feature set looks mostly unchanged from our last look in the ix2-dl review. There is no online emulator posted for the px2, but you can use the px6-300d emulator to get a good feel for the product. The emulator hasn't been updated since I last looked at it and doesn't include the video surveillance features, for example. The All Features screenshot below provides an overview of the px2's capabilities.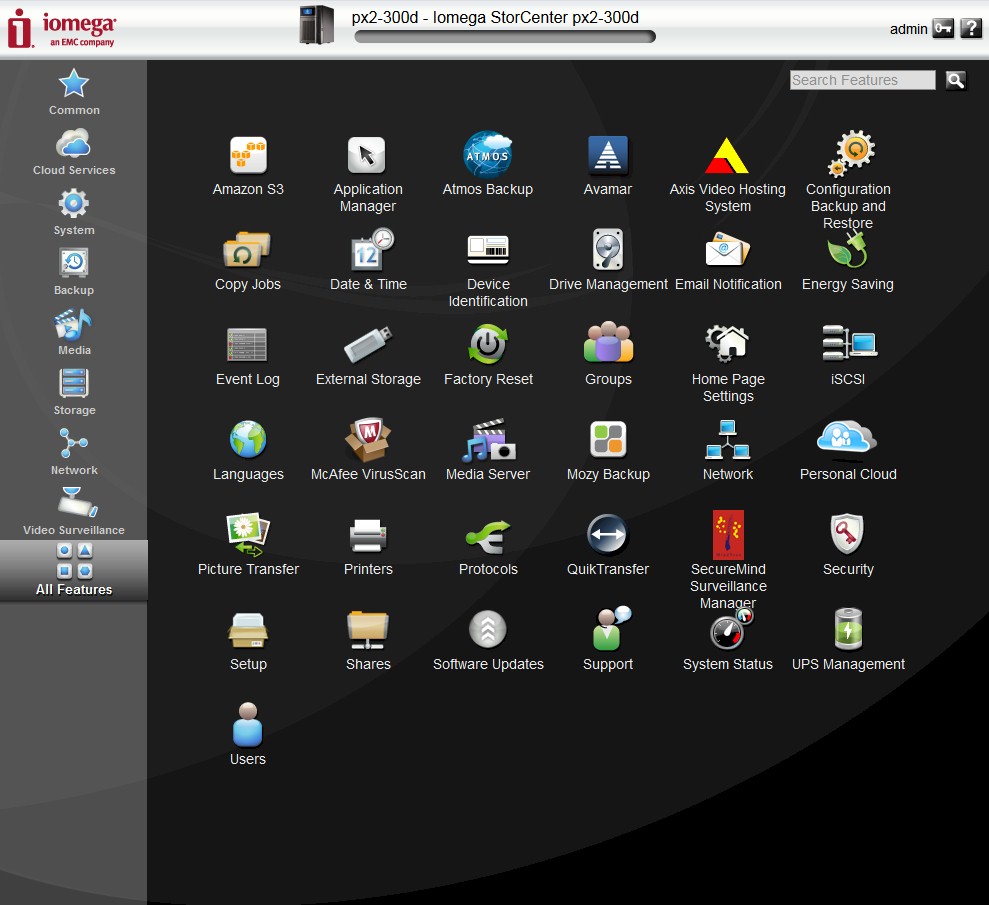 Iomega px2-300d All Features screen
This bulleted feature summary below provides a bit more feature set detail.
Storage
Network file sharing via SMB/CIFS, NFS, AFP
WebDAV support
Windows DFS support
HTTP / HTTPS file and admin access
FTP, SFTP and TFTP servers
Single, RAID 0, RAID 1 volumes
Multiple volume support with expansion
AES-256 optional volume encryption
iSCSI targets with ISNS support
EXT4 filesystem
Backup
Network Backup: Schedulable (smallest interval is one day) to / from rsync targets and SMB/CIFS shares
Apple Time Machine backup
Auto file copy from PTP-enabled digital cameras
Media
Recording and viewing of up to 16 IP cameras [supported models] via MindTree SecureMind (1 camera license included)
AXIS Video Hosting System support
UPnP AV / DLNA media server (Twonky Media)
Photo slideshow (uses Cooliris)
iTunes server
BitTorrent downloader
Cloud
Secure Web-based remote access and site-to-site backup (Personal Cloud)
Amazon S3, Mozy, EMC Avamar, EMC Atmos cloud backup
Other
Dual Gigabit Ethernet interfaces with VLAN and failover modes
SNMP support
Joins NT Domain / Active Directories for account information
Certified for Citrix XenServer 5.6, Windows Server 2003, Windows Server 2008, Windows
Server 2008 R2, VMware vSphere 4.1, EMC E-Lab tested
User level quotas
Email alerts
Logging
File upload via Bluetooth
USB printer serving
UPS shutdown synchronization via USB
Iomega has made a few notable changes since we looked at the px6. The filesystem is now EXT4 vs. XFS. This could be part of the reason for the px2-300d's improved performance, which is more in line with what I've seen on D525 Atom based NASes from Synology and QNAP. Volumes can now be also encrypted with 256 bit AES.
But a few competitive weaknesses still remain, namely:
No RAID migration and expansion
No JBOD
You can limit access to shares by user and/or group. But you can't control access by service. So you can't shut off FTP access to certain shares, for example
No iSCSI encryption or authentication and no target multiple connects
No IPv6 support
As on the px6-300d, RAID level migration and expansion aren't supported. But volume configuration is still pretty flexible, although your options are limited with only two drives to work with.
Here's a shot of the Drive Management screen showing normal (Shares), iSCSI (iomega) and encrypted volumes (secret). You can create plenty of volumes. Once created, you can expand a volume or delete it, but you can't encrypt it.
Drive management
Other changes and continuing complaints are:
EMC Atmos has been added to the Mozy, Amazon S3 and EMC Avamar cloud backup options
There is still no Windows or MacOS client backup software bundled
You still get only one camera license for MindTree SecureMind surveillance
Personal Cloud setup still requires router port forwarding. See the Home Media Network Hard Drive – Cloud Edition review for details.
There are no LifeLine apps listed for the px2-300d and only four for the px6-300d (which should work on the px2)
I've put a few more relevant screenshots into the gallery below.
Inside view with drives removed and with drive backplane inserted.
Inside view with drives removed and without drive backplane inserted for easier fan removal.
Dual NIC modes are revealed by clicking the Modify network settings link on the Network page.
The Personal Cloud feature still requires port forwarding on your router. If UPnP is not enabled, you need to manually open the port.
There are no apps specifically for the px2-300d. But given the hardware similarities, these apps for the px6-300d should work.
Performance
I tested the px62-300d with latest 3.3.4.29754 firmware, using our NAS test process to run tests with RAID 0 and 1 volumes.
Windows File Copy tests in the Benchmark Summary below show read throughput somewhat higher than write. There isn't much difference between RAID 0 and 1 for write (79 vs. 77 MB/s). But RAID 1 read came in 8 MB/s higher than RAID 0 (94 vs. 86 MB/s).
Intel NASPT File Copy writes for RAID 0 and 1 both exceeded 100 MB/s (111 and 114 MB/s). But NASPT File Copy reads were a bit lower than Windows file copy at 72 and 74 MB/s for RAID 0 and 1, respectively.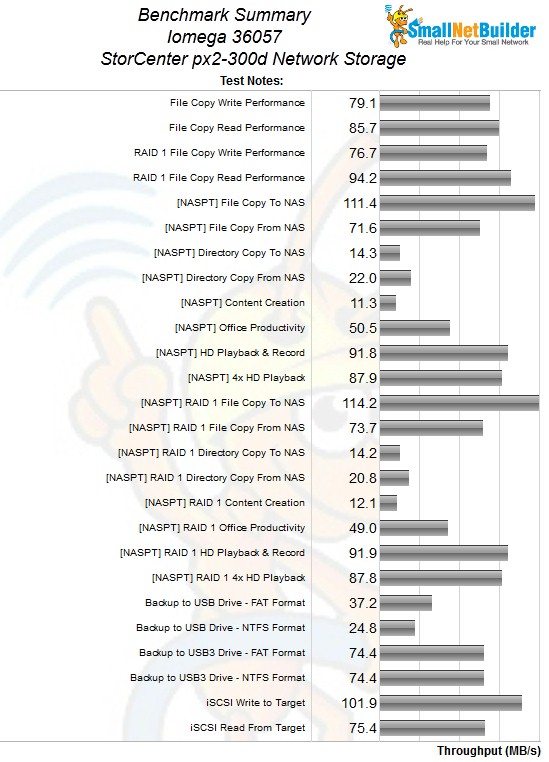 px2-300d Benchmark Summary
iSCSI write throughput of 102 MB/s ranked the px2-300d in the #2 spot of all NASes tested, even those with more powerful Intel processors, like the i3-based QNAP TS-1079 Pro. I supposed I shouldn't have been surprised, since its px6-300d six-drive sibling ranked right below it with 100 MB/s. iSCSI read ranking was closer to mid-chart at 75 MB/s.
Attached backup tests were run with USB 2.0 and 3.0 connections. There is no built-in formatter, so I could run only FAT32 and NTFS formatted tests. As the summary above shows, backup with the USB 3.0 connection for both formats was fastest at 74 MB/s. Note that backup performance may be over or understated because the timestamps taken from the Iomega log that are used in the calculation have only one minute resolution vs. 0.01 second resolution in most other products.
I was not able to run Rsync backup to the NAS testbed running Delta Copy because I kept getting authentication errors. Note that rsync authentication currently supports only rsync as a username.
Performance – Comparative
To put the px2-300d's performance in perspective, I created a set of custom RAID 1 performance charts using the NAS Finder, filtered for dual-core Atom processors and two-bay products. The edited screenshot from the NAS Finder shows the four products that came up. Yes, most of the products are pretty old!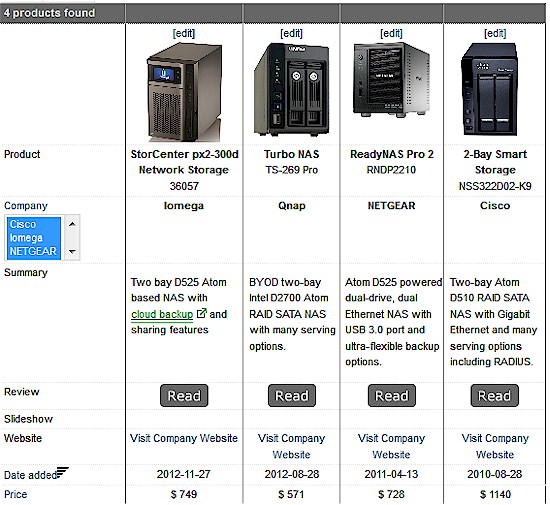 Dual-bay dual-core Intel powered NASes
The plot composite below shows Windows and NASPT RAID 1 file copy write and read results for this select group of NASes. The px2 generally does pretty well. Its weakest spot in these benchmarks is NASPT file copy read, coming in at 74 MB/s, 20 MB/s lower than the chart-topping QNAP TS-269 Pro.

RAID 1 file copy performance comparison
I also compared NASPT directory copy performance for this group of products. I have to say I'm surprised to see the Iomega rank at the top of the group for read.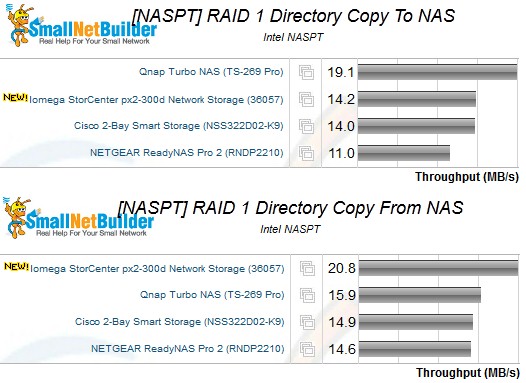 RAID 1 NASPT directory copy performance comparison
Due to popular demand, I'm continuing to check the performance hit for encryption. I created a test folder on a RAID 1 volume and ran our standard benchmark suite using the folder as a mapped drive. The results are summarized in Table 2 below and, as expected, show a pretty big hit in most cases.
| | Normal | Encrypt | % Diff |
| --- | --- | --- | --- |
| FileCopyToNAS | 114.2 | 58.2 | -49 |
| FileCopyFromNAS | 73.7 | 25.8 | -65 |
| DirectoryCopyToNAS | 14.2 | 14.1 | -1 |
| DirectoryCopyFromNAS | 20.8 | 11.9 | -43 |
| ContentCreation | 12.1 | 5.0 | -59 |
| OfficeProductivity | 49.0 | 44.8 | -9 |
| HDVideo_1Play_1Record | 91.9 | 39.8 | -57 |
| HDVideo_4Play | 87.8 | 25.6 | -71 |
| | | | |
| Win File Copy Write | 76.7 | 32.0 | -58 |
| Win File Copy Read | 94.2 | 26.1 | -72 |
Table 2: Encrypted folder performance comparison
For one final comparison, I pulled the RAID 0 results for the px2 and px6 into Table 3 and calculated the % performance difference. Keep in mind, that the px6 tests were done with four drives and the px2 with two. The results clearly show that Iomega seems to have found the switch to kick its performance up closer to that of its competitors.
| | px2-300d | px6-300d | % Diff |
| --- | --- | --- | --- |
| FileCopyToNAS | 114.2 | 97.1 | +18 |
| FileCopyFromNAS | 73.7 | 67.2 | +10 |
| DirectoryCopyToNAS | 14.2 | 5.7 | +49 |
| DirectoryCopyFromNAS | 20.8 | 19.1 | +9 |
| ContentCreation | 12.1 | 10.5 | +15 |
| OfficeProductivity | 49.0 | 46.1 | +6 |
| HDVideo_1Play_1Record | 91.9 | 71.3 | +29 |
| HDVideo_4Play | 87.8 | 87.4 | 0 |
| | | | |
| Win File Copy Write | 76.7 | 54.3 | +41 |
| Win File Copy Read | 94.2 | 78.2 | +20 |
Table 3: RAID 0 performance comparison
Use the NAS Charts to further explore and compare the px2-300d's performance
Closing Thoughts
I think the day is dawning where Iomega will no longer have to apologize for the performance of its Atom-based NASes. Our tests show that the px2-300d has a clear performance advantage over its six-drive sibling, which is built on essentially the same D525 Intel Atom-based platform. Perhaps it's the switch in filesystems from XFS to EXT4, I don't know. Although whatever changes Iomega has made don't put it at the top of all our benchmark charts yet, performance is clearly going in the right direction!
The improved performance is a welcome change and more likely to make me recommend that folks considering QNAP / Synology / Thecus products take a closer look at Iomega. At a tad above $400 for its diskless model (36069), the px2-300d is almost $200 cheaper than QNAP's TS-269 PRO. And if you're buying before the end of this year, you can save an additional $100 buying from Buy.com or PC Connection and $50 buying from Amazon. So if you're in the market for a high-performance, Atom-based RAID 1 NAS, you should take a closer look at Iomega's px2-300d.
Buy StorCenter 36057 Network Storage from Amazon