Introduction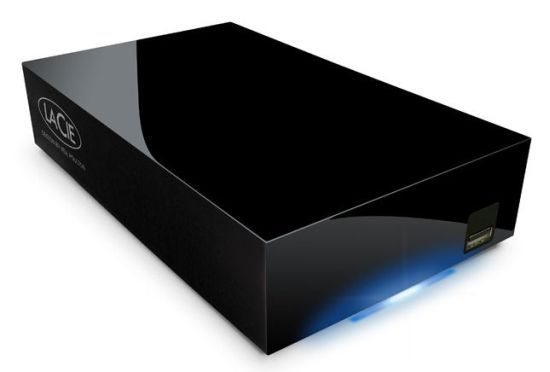 At a Glance
Product
LaCie Network Space 2 (301515KUA)
Summary
Single 1TB NAS with Gigabit Ethernet support. USB support for printers, additional storage, or for direct attach to a computer
Pros
• Simple Setup
• Built-in DLNA and iTunes server
• Supports Apple Time Machine backups
• Separate USB port for direct connection to computer
Cons
• No Jumbo frame support
• Supports only Postscript-compatible printers
• Requires separate partitions for USB and NAS modes
If you're looking to add storage to your home office, you're often faced with a choice. Should you buy a NAS device and add it to your network, or should you purchase an external USB drive and just plug it into a computer? The LaCie Network Space 2 (NS2) eliminates the need to choose.
It can operate either as a traditional NAS, or you can connect it to a host computer via a Type-B (square) USB port. But you have to choose which mode, NAS or USB, to use— you can't connect to both interfaces simultaneously. With a list price of $189.99 and a street price of about $160 for a 1TB device, it's almost like purchasing an external drive and getting a NAS thrown in for free (or vice versa).
From the outside, the NS2 looks virtually identical to its predecessor, the original (and notoriously poky) Network Space. The device is housed in a black monolithic block (Figure 1) designed by industrial designer, Neil Poulton. Measuring 4.6" x 7.6" x 1.8", the NS2 sits on four rubber feet that keep the device slightly off of your desk. This promotes cooling, as well as allowing the downward-facing blue LED to reflect off of its supporting surface.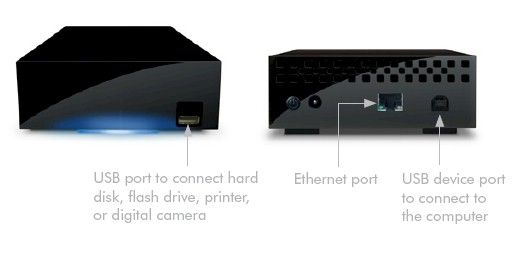 Figure 1: Front and Rear panels of the LaCie Network Space 2
The single LED is used to indicate status as shown in Table 1. The front panel has a single USB port used to connect a printer, external storage or a digital camera. On the rear panel, you'll find a power switch, the power connector, 10/100/1000 Ethernet port (sorry, no jumbo frames) and the USB "Type B" port used to connect the device directly to a computer. The NS2 is supplied with both Ethernet and USB cables.
| LED Behavior | Indication |
| --- | --- |
| Off | Drive is turned off |
| Blue: Fast blinking | Drive is initializing |
| Blue: Static | Drive is ready |
| Blue: Flickering | Disk access |
| Red: Static | Failure |
| Red/Blue: blinking | Automatic backup in progress |
Table 1: LED Status Modes
Though some people may like the case, it's not my favorite. The plastic is formed in a highly polished mold, so the case has a very shiny, reflective surface that shows virtually every fingerprint and scratch. Additionally, the case is not designed for user access. In fact, we were unable to open the case to take our usual circuit board photos and to identify the components. So you can count on not being able to replace a drive unless you are willing to damage the case. But if you open the case during the two-year warranty period you'll void your warranty anyway.
Based on performance of similar single drive NAS products, however, we're guessing that the processor is most likely an 800 MHz Marvell "Kirkwood" processor. LaCie sort of confirmed this by responding to our query saying that the CPU was an "ARM926EJ-S". They also said the NS2 has 256 MB of RAM and the single drive is XFS formatted.
The NS2 operates silently, since there's no internal fan. The processor seems to be thermally connected to the metal frame on the bottom of the case, as you'll discover if you pick it up after it has been running for a while. That area of the case is quite warm (hot) to the touch. Power draw measured 10 – 12 W with the drive spun up.
Setup
The NS2 ships with a CD that contains the LaCie Network Assistant and backup software for both the Mac and Windows operating systems. The Network Assistant installs in the system tray, and finds the NS2 on your network. (Figure 2).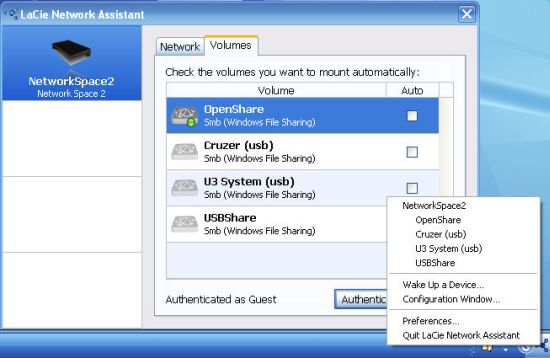 Figure 2: Network Assistant
The Network Assistant shows the public shares and gives you the option to auto-mount them. The Network tab on the left shows you the IP address of your NS2, lets you update firmware and provides you with a link to the web management interface.
Figure 3 shows the admin home page for the NS2. LaCie took an interesting approach with a "widget" based interface. There are nine widgets, one for each of the main menu entries. You can customize the home page with your choice of up to six widgets. Three display across the bottom and three display along the right hand side. Alternatively, you can minimize any / all of them, and merely drag a widget into the working area of the screen to jump directly to that configuration page.
Figure 3: Admin home page
Hands On
If you like a simple user interface without a lot of options, the NS2 is for you. Each of the nine menus holds just a few controls.
General Settings – Here, you set the name of the device (as it will appear on the network), the workgroup name, time, date and time zone. You can also choose to enable / disable FTP and built-in media / iTunes server. The iTunes server supports.mp3,.wav and.acc file formats. Audio files stored on the NS2 showed up as shared libraries on both PC and Mac versions of iTunes, and played properly. There doesn't appear to be an option for setting the device time from an NTP server.
Drive Information – By default, the NS2 allocates all of its storage as NAS. If you intend to also use the NS2 as a USB-attached device, you'll need to create a separate USB partition. LaCie recommends a maximum USB partition size of 128 GB. Figure 4 shows creating the USB partition. Choose your partitioning carefully, because it's not dynamic. You'll need to initialize the NS2 to defaults (and lose your data) if you change your mind.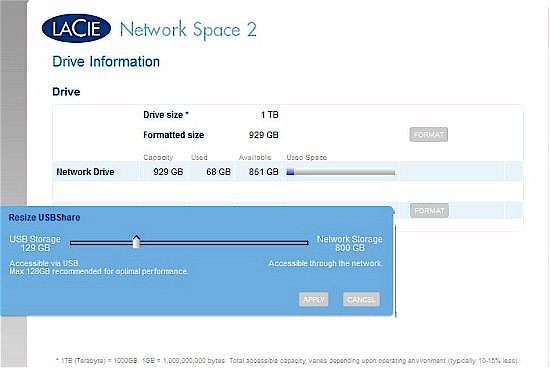 Figure 4: Resizing the partition to create a partition for direct attach USB use
Download – Like many other NASes, the NS2 supports unattended BitTorrent downloads. Figure 5 shows you that you have the option of setting upload and download bandwidth limits, the number of concurrent downloads and the TCP listening port. Figure 5 also shows all nine widgets minimized. The instruction manual is a little light on information on how to download Torrents and points you to Wikipedia. If you're a regular Torrent user, you should have no problems.
Figure 5: Download options for the Network Space 2
Front Port – This menu shows the status of a USB device plugged into the front panel USB port. You can also activate the print server and have the media server index content on the attached drive. Figure 6 shows a Maxtor USB drive connected.
The instruction manual offers the following caveats about the front port:
For multi-function printers, only the print function is supported.
Only printers that support Postscript are supported by the print server.
The front port is only active when the NS2 is connected via a network cable.
Supported formats for attached drives are FAT32, NTFS, HFS+, EXT2 or EXT3
Maximum capacity for an attached FAT32 drive is 500 MB
Maximum capacity for any external device is 2TB
Figure 6: Maxtor One Touch drive connected to the front USB port
Copy – This menu allows you to create a backup of one share to another share. You can also choose to automatically copy the contents of an attached USB drive to publicly-available OpenShare. Copies must be manually initiated and can't be scheduled.
Users – By default, the NS2 is configured with an open, public share named OpenShare. In addition, there's a default private share named MyShare for the Admin. As you create users (a maximum of six are supported), a private share is automatically created named with the user's login ID.
Each share can also be designated as a Time Machine share. I configured my private cellison share as a Time Machine target and have been backing up my Mac without incident for the past three days. The NS2 has one of the easiest Time Machine backup setups of any of the NAS products I've tested and has no problem handling Time Machine backkup for multiple Macs. Figure 7 shows both the OpenShare and cellison shares available for Time Machine backups.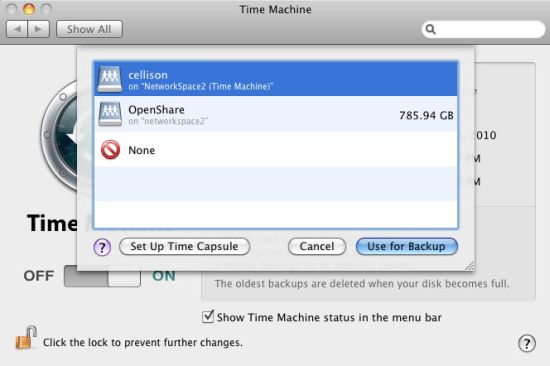 Figure 7: NetworkSpace2 configured for Time Machine Backups on 2 separate shares
Hands On – more
Network – There's not really a lot to see on the network menu. You can configure your network settings for DHCP (default) or a Static IP address. You can also enable Dynamic DNS (DDNS) and select between the four DDNS providers shown in Figure 8. You can also select Automatic Port Forward if your router supports that feature via UPnP NAT Traversal.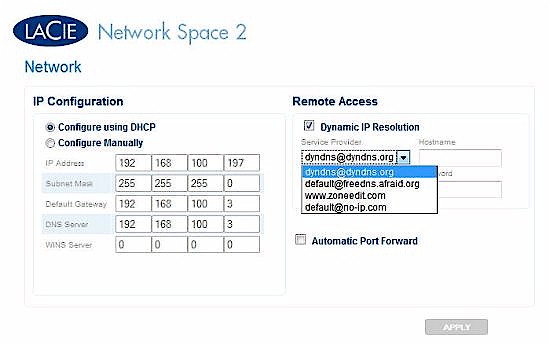 Figure 8: NS 2 Network configuration
Eco Management – If you want to save a few watts of power, the features found on the Eco Management page will enable you to do so. You can elect to turn off the indicator light, and to enable "Eco Mode" (drive spindown) as shown in Figure 9. You can also schedule the NS2 to shutdown and startup at the same time each day.

Figure 9: Eco Management features
You can manually put the NS2 to sleep by briefly tapping the power switch on the rear of the device. "Deep sleep" only saves you about 6 watts, however. In normal mode, the NS2 consumes 10 – 12 W, and I measured sleep mode at 6 watts.
You can awaken the sleeping NS2 by again tapping the power switch briefly, or use the Wake on LAN option found in the LaCie Network Assistant program. However, to use Wake on LAN, you have to enter the MAC address of the NS2, which, unfortunately doesn't appear anywhere on a label on the device.
Support – This menu lets you set up email alerts as well as download log files. The NS2 does support authenticated SMTP servers.
Like many NASes, the NS2 supports remote access. However, there's not too much information available on this feature in the instruction manual. You can access your files remotely via HTTP or FTP. The secure versions of these protocols (HTTPS and FTPS) aren't supported. If you have set up DDNS and port forwarding, you can point your browser to your domain name and log in. As a non-administrative user, you will see a subset of the menu items available to the administrator. (Figure 10)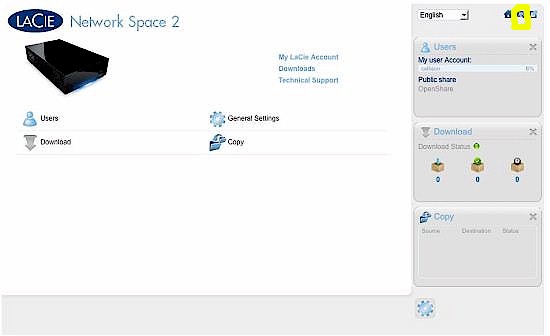 Figure 10: Menu options available to a non-administrator
Highlighted in yellow in Figure 10 is a tiny icon that provides you with access to an Ajax-based file browser. (Figure 11). A row of icons across the top of the file browser interface provides you with full file functions including delete, rename, move, upload, download, new directory, parent directory, thumbs and new file. Public shares as well as your private share are available through a drop down selection window in the upper left corner of the interface.
Figure 11: Web-based file browser
Backup
In addition to the built-in feature that allows you to copy one share to another, the NS2 ships with backup software for both the Windows and the Mac OS platforms. Unlike bundled backup software that is supplied with some NAS products, the backup software for the NS2 is surprisingly good.
The Windows software is called Genie Backup Assistant (Figure 12) and for the Mac, Intego Backup Assistant. The Windows version is limited to storing backups on the NS2 or local drives, but you can purchase an upgrade to allow backups to any NAS. Unfortunately, the included Intego Backup Assistant is limited to backing up to local drives only. As with the Windows software, there is an upgrade (Intego Backup Manager Pro) for the Mac that allows you to back up to the destination of your choice.
Figure 12: Genie Backup Assistant
Performance
Testing and analysis by Tim Higgins
Tests were run with 1.0.2 firmware using our standard test process. Write and read performance with a Gigabit LAN connection are plotted below. Cache boost at lower file sizes is moderate, but performance falls off considerably at file sizes 256 MB and higher. Read speeds also fall off, but not as much as write.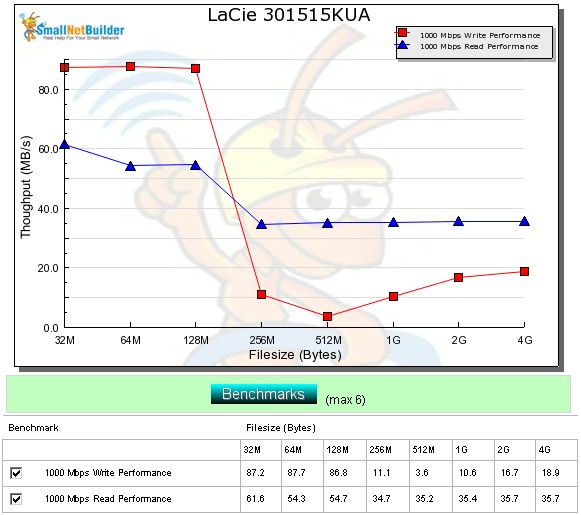 Figure 13: LaCie Network Space 2 Throughput vs. file size
Average write performance using a Gigabit Ethernet connection averaged 40.3 MB/s for file sizes between 32 MB and 4 GB, with cached behavior not included in the average calculation. Average read performance was slightly higher, measuring 43.4 MB/s. This performance is in line with other Marvell Kirkwood based single drive NASes including the Buffalo LinkStation Pro LS-XHL.
File copy write performance of 14.7 MB/s using our Vista SP1-based test was much lower and more reflective of the speeds for larger file sizes indicated in the iozone-based tests in Figure 2. Read file copy was also reflective of the iozone results, coming in at 46.9 MB/s.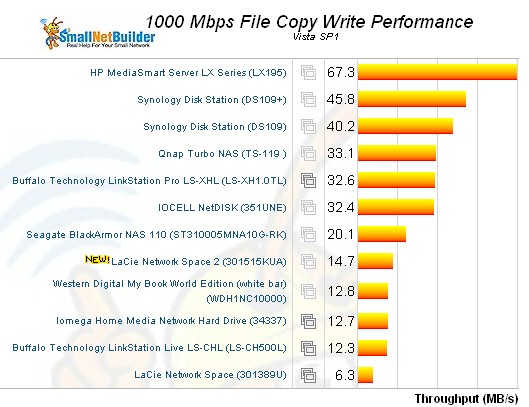 Figure 14: File copy write ranking
Since the NS2 can do manual backups to an attached USB drive, I copied the file copy test folder over to the NS2's internal drive, then ran backup (Copy) jobs. With the USB drive formatted in NTFS and FAT32, I measured 4.87 and 4.92 MB/s respectively—not very impressive. Use the NAS Charts to further explore and compare the NS2's performance.
Closing Thoughts
All NAS manufacturers face tradeoffs in design between features and ease of use. For the home user, I think that LaCie has struck the right balance. I like that private shares are automatically created when you create a new user account. The much-improved performance is very welcome, as are the new features of easy-to-use Time Machine storage support, built-in UPnP / DLNA and iTunes media servers and Torrent download client.
In an office, the six user limit might be a problem, as could be the lack of user quotas. But for the home environment, those aren't really limitations, nor are the lack of jumbo frame support and Active Directory integration.
Aesthetically, I prefer cases with a more textured "vapor blast" surface that don't show fingerprints or scratches. In just the week that I've had the NS2, it's loaded with fingerprints and needs to be cleaned – something that's not required by any of my other NAS devices. I'd also prefer a case that could be easily opened. But again, most home users probably won't care.
In all, the Network Space 2 has all the essentials a home user needs, with an easy to use interface and at an affordable price.