Updated: The QNAP SS-439 Pro has been added to the NAS Charts.
The SS-439 Pro is a TS-439 Pro in a slimmer package that accepts four 2.5" SATA drives only instead of either 2.5" or 3.5". Otherwise, it's feature-for-feature the same, so check the TS-439 Pro review for details.
The slimmer cabinet blocked my attempts to quickly remove the board for a photo, because I couldn't get the drive backplane connector totally free without running into a lip on the chassis bottom pan. But from what I could see, the design hews closely to QNAP's other N270 Atom-based designs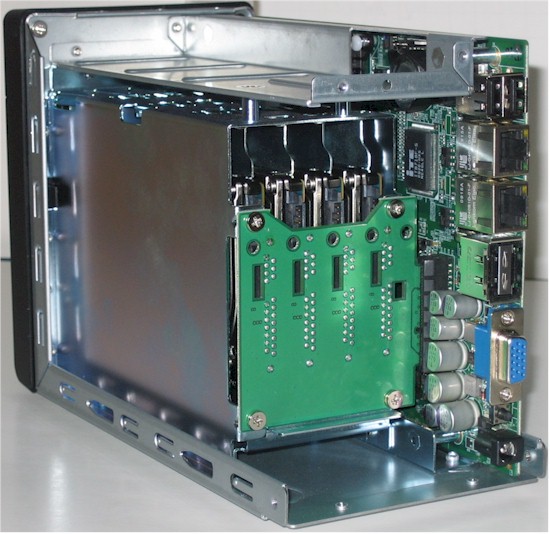 The hardware platform uses an Intel N270 Atom clocked at 1.6 GHz, with one SODIMM socket holding 1 GB of DDRII 667 RAM and a 128 MB IDE DOM (Disk on Module). The photo above shows that the backplane doesn't have a SATA controller on it. But I was able to spy a single Marvell 88SX7042 PCI-e 4-port SATA-II interface directly on the board. The rest of the design is similar to that of the TS-439 Pro and TS-639 Pro, with an ITE IT8718F "Super I/O" and two Intel 82574L Gigabit Ethernet Controllers.
The SS-439 Pro is pretty quiet, with only a single variable speed fan that I didn't hear ramp up at all during my testing. Power consumption measured 25 W with four 160 GB Seagate ST9160412AS Momentus 7200.4 2.5" SATA drives QNAP supplied with the test sample spinning and a comparatively high 17 W with the drives spun down after a programmable idle period.
Tests were run with 3.2.0 Build 1212T updated firmware using our standard test process. Write and read performance with a Gigabit LAN connection for four-drive RAID 0 and 5 volumes are plotted below. RAID 0 and 5 write speeds track surprisingly closely, while RAID 5 reads are higher than RAID 0 at higher file sizes.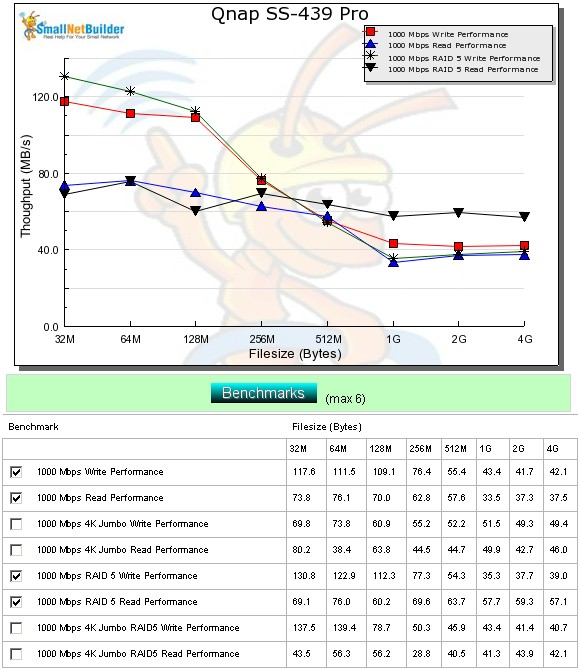 Average RAID 5 write performance using a Gigabit Ethernet connection averaged 68.4 MB/s for file sizes between 32 MB and 4 GB, with cached behavior not included in the average calculation. Average RAID 5 read performance was just slightly lower, measuring 64.1 MB/s. As a result, the SS-439 ranks among the top five four-drive NASes for RAID 5 write and read.
The plot below compares the TS-439 and SS-439 RAID 5 write performance. Since the SS' throughput doesn't fall off as quickly as the TS', the SS outranks the TS in the RAID 5 write chart at 68.4 MB/s vs. 52.2.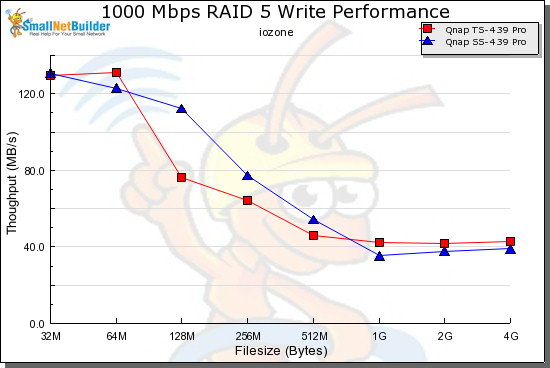 RAID 5 file copy performance using a Vista SP1 client under the same conditions tracked the iozone-based results pretty well for write at 59.9 MB/s. But it showed a much higher read speed of 77.7MB/s.
Since QNAP products support FAT, NTFS and EXT3 (and now, EXT4) formats for both USB and eSATA external drives, you'll find backup test results for all six combinations in the Charts. The most surprising results were using an NTFS formatted drive, which yielded backup speeds of 23.7 MB/s and an eye-popping 78.3 MB/s for USB and eSATA connections, respectively. The eSATA tests were rerun multiple times, with files deleted from the backup drive each time, but the results stayed the same.
Even if the near 80 MB/s performance isn't real, performance seems much improved when using NTFS formatted external drives. So if you're already a QNAP NAS owner and want to use NTFS format on your external drives, you might want to download the latest 3.2 series firmware and see if you get improved speed.
Update 1/16/2010: QNAP told us that the improved NTFS performance is due to the integration of Paragon's NTFS solution that was discussed in this Forum thread, in response to user complaints about slow NTFS performance. QNAP said the improved performance has been integrated into all its NASes, including TS-x39/x59 x86-based and TS-x10 / TS-x19 ARM-based products.
Given the similarity to other QNAP NASes, there won't be a full review. So use the NAS Charts to further explore the SS-439 Pro's performance and compare it to other products.