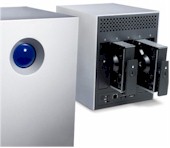 The LaCie 5big Network 2 has been added to the NAS Charts.
The LaCie 5big Network 2 is an updated version of LaCie's 5big Network [reviewed] five-bay Linux based NAS.
The 5big 2 uses a 1.2 GHz Marvell Kirkwood 88F6281 instead of the 500 MHz Marvell Orion 88F5182 used in its predecessor. RAM has been upgraded to 512 MB from 128 MB, but flash downgraded to 512 KB from 4 MB. The SATA multiplier has also been changed to a Marvell 88SM4140 Four Port SATA multiplier from a Marvell 88SX6081.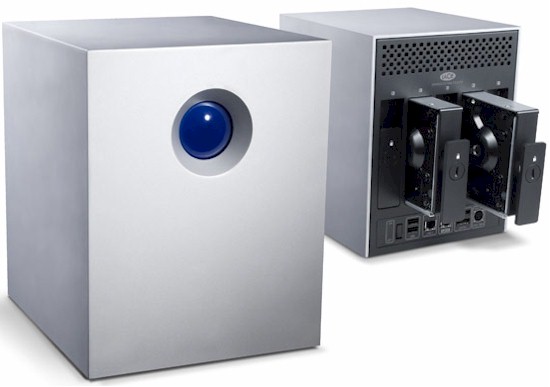 A significant change from the original 5big is that the 5big 2 has dual 10/100/1000 Ethernet ports via Marvell 88E1116R Gigabit PHYs instead of the single port from a 88E1118 in the original 5big. There are now also two USB 2.0 ports instead of one along with two eSATA ports (same as the original 5big).
LaCie has stuck with Hitachi CinemaStar 5K1000 1TB drives in the 5 TB version that it sent for review. Other available configurations are 7.5 and 10 TB.
Power consumption measured 35 W, which dropped to 20 W when the drives spin down using the programmable hard drive sleep time setting. LaCie likes to point out its "ultra-quiet cooling system with self-stabilizing oil-pressure bearing technology", which is a single large fan mounted at the top of the drive cage. But noise level was still moderate with both fan and drive noise clearly noticeable in a quiet home office setting.
I tested the 5big 2 with firmware upgraded to 1.2.90 using our latest Revision 4 NAS test process. The Benchmark summary below gathers all the test results into one place for easy reference.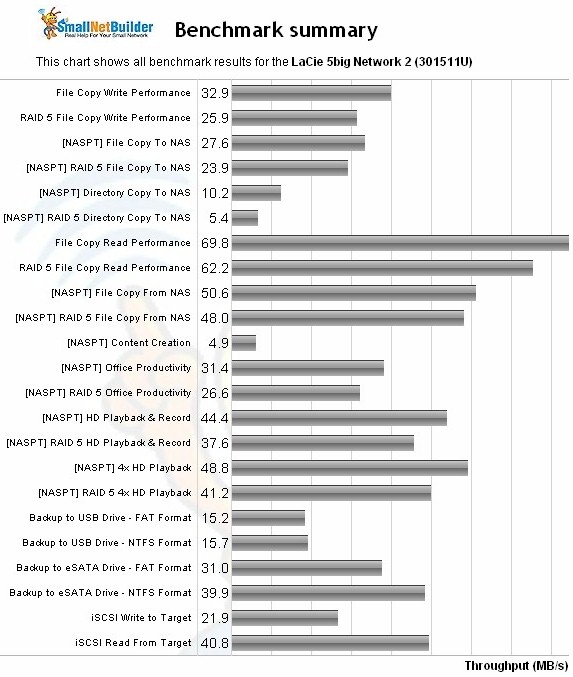 LaCie 5big Network 2 Benchmark Summary
Windows File copy write with a RAID 0 array measured 33 MB/s, dropped to 24 MB/s for RAID 5. File copy read for RAID 0 is significantly higher at 70 MB/s, but drops to 62 MB/s for RAID 5.
As usual, NASPT File Copy results generally produce lower results, 28 MB/s write for RAID 0, but only a slightly lower 24 MB/s for RAID 5. The tougher NASPT Directory Copy tests yielded only 5 MB/s for RAID 5 write.
You don't see NASPT Directory Copy From NAS (read) results because I wasn't able to get the test to run after multiple attempts. A check with LaCie revealed the source of the problem to be a combination of Windows 7 not closing files quickly and LaCie's limit of 1024 concurrent open files and use of oplocks on all its NASes. According to LaCie, Win 7's cache logic has a delay of 5 – 10 seconds for file closure when oplocks are used. (Oplocks are not under user control.)
Because the NASPT Directory Copy test uses a high number of files and directories, the number of available connections are still tied up when the Directory Copy Read test tries to start. Since all connections are in use, the test fails because the NAS appears to be offline. Putting a large delay between the Directory Copy Write and Read tests didn't help, nor did moving the Read test to the end of the NASPT test run. All that happened when I did the latter was to make a different test fail.
Backup speed to an attached USB drive measured around 15 MB/s for both FAT and NTFS-formatted volumes. Switching to an eSATA drive bumped this up to 31 MB/s and 40 MB/s for FAT and NTFS drives, respectively.
iSCSI write and read to a volume created on a RAID 5 array produced 22 MB/s and 41 MB/s, respectively.
There aren't that many five-bay NASes around and the 5big 2 and the original 5big are the only ones I've tested that are Marvell-powered. Since Windows File Copy tests weren't used when I tested the original 5big, I have only iozone averaged results to compare.
That said, the original 5big RAID 5 averaged 13 MB/s for write and 25 MB/s for read. So the 5big 2 has significantly better performance, around 2X for RAID 5 write and 2.5X for read.
For comparison to other current 5 bay NASes, check the RAID 5 File Copy charts below.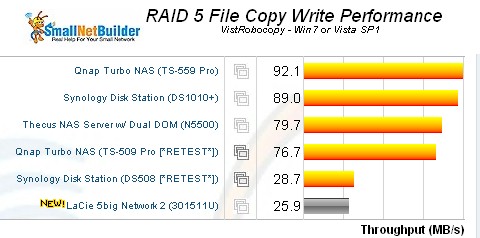 RAID 5 File Copy Write Comparison
The closest in performance is the discontinued Synology DS508, powered by an 800 MHz Freescale MPC8543. All the other products are powered by either Intel Atom D510 (Synology DS1010+, QNAP TS-559 Pro) or Celeron M (QNAP TS-509 Pro, Thecus N5500) processors.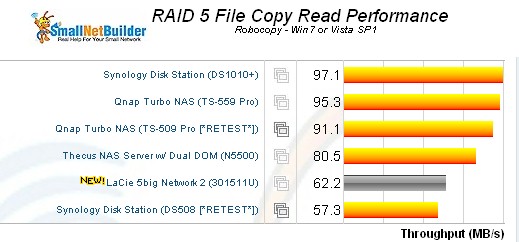 RAID 5 File Copy read Comparison
While these other products may outclass the 5big 2 on performance, the LaCie certainly wins on price. At just above $700 with 5 TB of storage, it's significantly less than the Synology and QNAP products.