The LG N4B2 4 Bay Super Multi NAS with Blu-ray Disc Rewriter has been added to the NAS Charts and briefly reviewed.
The N4B2 (specifically, the N4B2ND4) is essentially the previously-reviewed N4B1 (now obsoleted), powered by a 1.66 GHz Intel D510 Atom (Pineview) CPU and 1 GB of RAM vs. the Marvell 88F5281 Feroceon SoC and 128 MB of RAM in the underpowered N4B1.
The B2 is physically identical to the B1 with four unlockable 3.5" SATA drive bays behind an unlockable door. Supported volume configurations include JBOD, RAID 0, 1, 5 and 10. Multiple volumes are supported with online RAID expansion and RAID level migration.
Build quality is high, with a clean internal layout. You see only one red SATA cable in the photo below (which goes to the Blu-ray drive) because the four hard drive cables run from the other side of the board.
The board has surprisingly few devices for an Atom-based NAS. The photo below shows the 1 GB RAM SoDIMM and Atom and support devices under heatsinks. Although the System Log appears to show raw Linux console output, I could not tell which D510 companion chip is used. I did see references, however, to an Atheros Gigabit Ethernet driver. But I could not find a standalone Ethernet device on the board.
Other hardware features carried over from the N4B1 include three USB 2.0 ports, one eSATA port, an SD,MMC,MS,xD card reader and built-in Blu-ray rewriter. The USB ports can be used for printer sharing, UPS synchronization and backup to/from USB storage devices. But neither USB nor eSATA storage can be shared or used for storage expansion.
Power consumption with four Hitachi Deskstar 7K1000.B (HDT721010SLA360) 1 TB drives measured 42 W active and 11 W witih the drives spun down. Fan noise from the single 3.5" fan was very low and minimal drive noise made the N4B2 surprisingly quiet for a four-bay NAS.
LG seems to have made some welcome tweaks to its web-based administration interface, adopting a feature set closer to the one seen in the dual-bay N2B1 [reviewed]. NFS has been added to the CIFS/SMB and AFP network file systems supported. Files can also be accessed via FTP (but not secure FTP). HTTPS is now also supported for admin access, but SSH login isn't.
I was surprised to find, however, that telnet was enabled and that I could log into the Linux console using the admin / admin web interface login. Running uname -r returned 2.6.30-ns2.
At the top of the admin screenshot above, you can see new Torrent and File Viewer icons. The Torrent download feature is for Torrents only and has up / download bandwidth controls, but can't be scheduled. Clicking on File Viewer icon launches AjaXplorer, which provides a full range of browser-based file management features.
iSCSI still supports only the Blu-ray drive, but dyndns.org has been added as a DDNS option in addition to LG's own service for remote access. rsync client and server support has also been added. But without the ability to specify an rsync target or test connection to the target, I decided to pass on testing it.
Tests were run with 2033.477 firmware using our standard test process. Write and read performance with a Gigabit LAN connection for four-drive RAID 0, 5 and 10 volumes are plotted below. All three volume types show moderate write cache effects with file sizes up to 512 MB and converge to the high 40 – low 50 MB/s range above that. Read speeds are fairly steady in the high 70 MB/s range up to 512 MB filesize, then fall to write speeds for RAID 5 and 10. Read speeds for RAID 0 volumes don't show a similar falloff.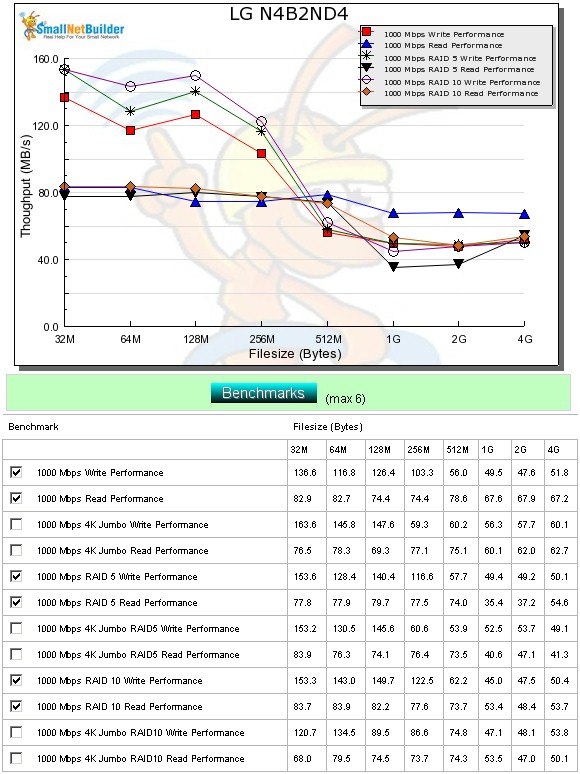 Average RAID 5 write performance using a Gigabit Ethernet connection averaged 64.6 MB/s for file sizes between 32 MB and 4 GB, with cached behavior not included in the average calculation. Average RAID 5 read performance was essentially equal, measuring 64.3 MB/s. Both results rank the N4B2 below all other D510 Atom based NASes we've tested to date, i.e. QNAP TS-459 Pro, QNAP TS-559 Pro and Synology DS1010+.
RAID 5 File copy performance using our Vista SP1-based test also showed speeds slower than the other D510 Atom NASes, measuring 65.1 MB/s write speed and 84.6 MB/s read.
Since the LG NASes don't support backup to external drives, you won't find any backup results in the NAS Charts. Same for iSCSI write and read.
LG seems to be able to produce nice hardware and reasonably good software for a company new to the NAS market. But they remain essentially clueless when it comes to support. Multiple queries about online support resources for the N4B2 were not answered and I could not find anything on my own.
The product page Literature & Downloads tab shows only a Spec sheet link and clicking on the Support link takes you to a page with only phone numbers to call for display products. No mention at all of digital storage support.
The N4B2 has decent, although not best-in-class, performance and a decent feature set, except for backup to anything other than Blu-ray. However, I simply can't recommend taking a chance on any LG NASes until the company shows that it understands what it takes to properly support these products.