The NETGEAR Stora has been added to the NAS Charts.
The Stora is NETGEAR's attempt at producing a more Mom-and-Pop friendly dual-drive NAS at a lower price point than its aging ReadyNAS Duo. But it's built on Axentra's HipServ OS, so is not a part of the company's ReadyNAS line.
The Stora comes with a single 1 TB Seagate Barracuda LP (low power) drive and an open slot that can accept a second 3.5" SATA drive, which can be configured for RAID 1 mirroring.
Out of the box, the Stora can be configured with three user accounts and supports UPnP AV / DLNA and iTunes media serving. It can also share a USB printer, back up Windows and MacOS clients and push updates to Facebook. Also included is a 30 day subscription to Stora's Premium service, which enables unlimited user accounts, remote access for data and media files and Flickr and RSS integration. If you like the optional services, it'll cost you $19.99 a year.
The hardware platform uses the 1 GHz version of Marvell's popular 88F6281 Kirkwood SoC, 128 MB of RAM, 256 MB of flash and a Marvell 88E1116-R for the 10/100/1000 Ethernet port (which doesn't support jumbo frames). Drives are formatted using the XFS filesystem.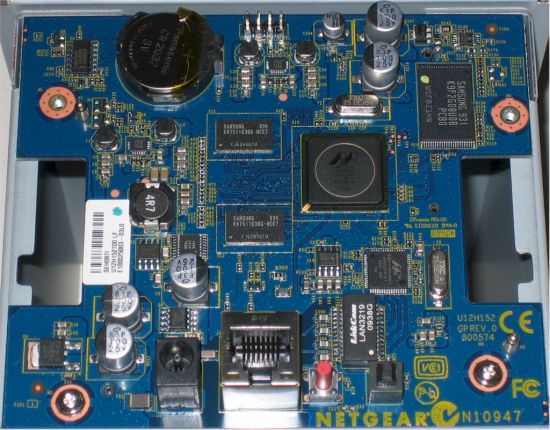 The Stora is very quiet, and I couldn't hear the single top-mounted fan or even significant drive noise. Power consumption measured a miserly 9W with the single Seagate LP drive. There are no drive spindown or programmable shutdown / startup features to reduce this even further.
As noted above, CIFS/SMB is the only supported network file system. But files can also be accessed via HTTP / S and FTP / S.
Write and read performance with a Gigabit LAN connection for both single drive and RAID 1 are shown in the plot below. Average single-drive write performance using a Gigabit Ethernet connection averaged 20.6 MB/s for file sizes between 32 MB and 4 GB, with cached behavior not included in the average calculation. Average read performance was noticeably higher, measuring 32.7 MB/s with the same conditions. This puts the Stora in the same performance ballpark as Seagate's BlackArmor NAS 220 and Western Digital's My Book World Edition II (white bar).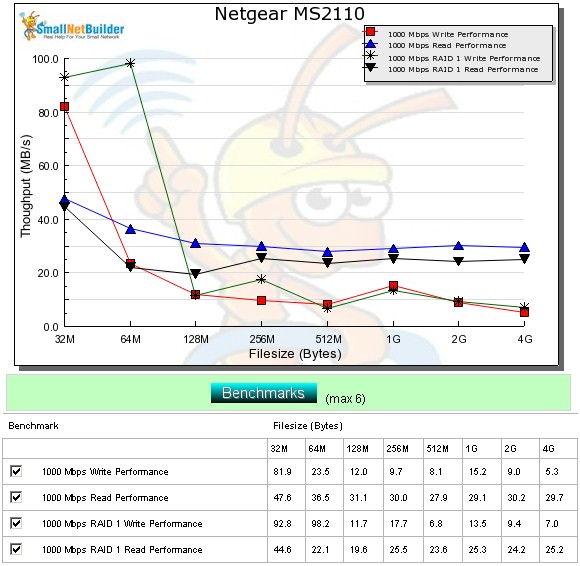 File copy performance using a Vista SP1 client under the same conditions tracked the iozone-based results pretty well with write at 23.0 MB/s, and read at 39.3 MB/s.
A full review of the Stora is coming soon. In the meantime, you can further explore and compare performance using the NAS Charts.