The Synology DS1010+ has been added to the NAS Charts.
The DS1010+ is a five-bay RAID 5 / 6 NAS that is expandable to ten bays by the addition of an eSATA-connected DX510 expansion cabinet. Its non-lockable disk trays can accept both 2.5" and 3.5" SATA drives, which are hot-swappable. Drives can be configured in Single Disk, JBOD, RAID 0/ 1/ 5/ 6/ 5+hot spare volumes. Multiple volumes and online RAID level migration and capacity expansion are supported.
The 1010+'s cabinet is a bit more streamlined than that of its predecessor, the DS509+, which the 1010+ appears to replace. Indicators and ports shown in Figure 1 include two Gigabit Ethernet, four USB 2.0 and one eSATA ports. There is no USB port on the front panel and a single VGA port for console monitor attachment on the rear panel.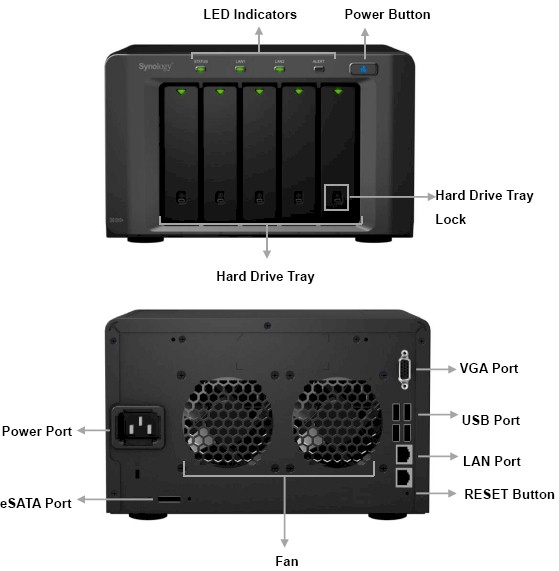 Figure 1: DS1010+ front and rear panels
The partially disassembled cabinet is shown in Figure 2, where you can see the backplane, main board to the left and power supply to the right.
Figure 2: DS1010+ inside front
Like the QNAP TS-459 Pro, the 1010+'s CPU is an Intel D510 Atom clocked at 1.66 GHz. Since I didn't remove the heatsinks, I'm not sure of the D510's companion chip. But a look at the boot message log after enabling SSH root access revealed a reference to Intel's ICH6 southbridge.
The board shot in Figure 3 shows one SODIMM socket holding 1 GB of DDRII RAM, what appears to be a USB-connected 128 MB flash module and ITE IT871820F "Super I/O". A Silicon Image SiI3132 SATALink PCI Express to 2-Port Serial ATA II Host Controller supports the single eSATA port.
Figure 3: DS1010+ board top
The bottom of the board (Figure 4) holds two Intel 82574L Gigabit Ethernet Controllers, a second flash device and an empty SoDIMM socket. Expanding memory via this socket won't void the warranty, but not so with the factory-installed RAM on the other side of the board. This Synology Forum thread has information on acceptable 200 pin 800 MHz SoDIMMs.
Figure 4: DS1010+ board bottom
The 1010+ is reasonably quiet for a NAS with five drives spinning. But you may be able to hear the two rear fans spinning in a quiet room. However, the NAS seemed to transfer a good deal of vibration to the desktop that it was sitting on, with the resulting buzz definitely audible enough to be annoying / distracting and drowning out any fan noise.
Power consumption measured 70 W with five 1 TB Samsung HE103UJ F1 RAID 3.5" SATA drives Synology supplied with the test sample spinning and a relatively high 27 W with the drives spun down after a programmable idle period.
Performance tests were run with DSM 2.2-1045 firmware using our standard test process. Write and read performance with a Gigabit LAN connection for five-drive RAID 0 and 5 volumes are plotted below. Like the QNAP TS459 Pro, RAID 0 and 5 write speeds track surprisingly closely, and both RAID 0 and 5 writes show significant cache boost at file sizes below 512 MB.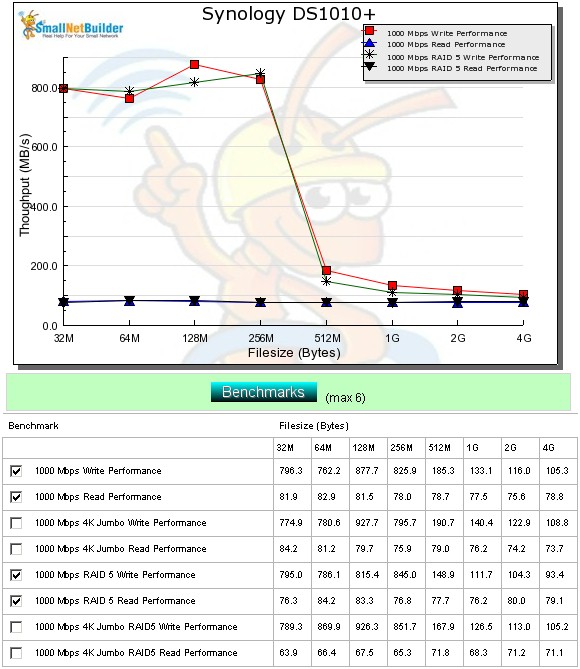 Figure 5: DS1010+ Throughput vs. file size
Average RAID 5 write performance using a Gigabit Ethernet connection averaged 103.2 MB/s for file sizes between 32 MB and 4 GB, with cached behavior not included in the average calculation. Average RAID 5 read performance was significantly lower, measuring 79.2 MB/s.
Both results still rank the DS1010+ among the current top five NASes for RAID 5 write and read. In fact, iozone benchmark test results for the TS-459 Pro [click for plot] and DS1010+ are so similar, that you would swear that you were looking at the same NAS!
RAID 5 file copy performance using our Vista SP1-based test was slightly better than the TS-459 Pro, with an 89.0 MB/s write speed and 97.1 MB/s read. Write ranking is shown in Figure 6. Read ranking (not shown) also puts the 1010+ in the #2 spot.
Figure 6: DS1010+ RAID 5 File Copy write performance
Synology NASes support FAT, NTFS and EXT3 formats for both USB and eSATA external drives, although you can't format NTFS with the built-in formatter. You'll find backup test results for all six combinations in the Charts. You'll find that the 1010+ trailed the TS-459 Pro in all backup tests using an eSATA drive, especially for an NTFS formatted drive. It appears that Synology hasn't adopted the Paragon NTFS solution that gives QNAP its superior speed when backup up to NTFS-formatted drives.
I also tested write and read speed to a 10 GB iSCSI target volume created on a RAID 0 array. Running our standard Vista SP1 filecopy test yielded a write to iSCSI target speed of 78.9 MB/s, slightly better than the TS-459 Pro, and 93.9 MB/s for read, almost 30 MB/s higher than the QNAP.
At almost $1000 (without drives), the DS1010+ isn't cheap. But shoppers looking for alternatives to NETGEAR's NVX and Pro should give the 1010+ a serious look. Given the similarity to other Synology NASes, there won't be a full review of the 1010+. So use the NAS Charts to further explore its performance and compare it to other products.