Introduction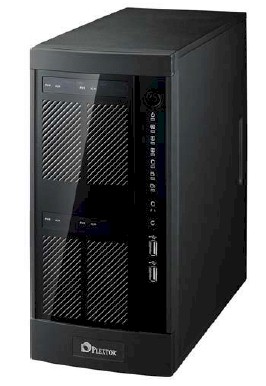 At a Glance
Product
Plextor 4-Bay Network Attached Storage (PX-NAS4)
Summary
Inexpensive BYOD four-bay NAS from a NAS newcomer
Pros
• Relatively inexpensive
• Easy setup
• Stable SMB/CIFS support
• Unique RAID and backup features
Cons
• Missing many features vs. competition
• Relatively big
• RAID doesn't automatically start rebuilding when drive is failed
• Support website doesn't inspire confidence
• Noisy
Plextor is a brand that you might normally associate with optical DVD or Blu-Ray drives. So it was interesting to see a NAS from them come in for review. Plextor is a relative newcomer to the NAS market and the PX-NAS4 is their top-of-line NAS.
The company aims to compete with more feature-rich NAS vendors, offering business features such as iSCSI target and initiator, NFS sharing, and Active Directory integration. But Plextor also has missed some of the simpler features that many other NASes support.
Plextor also has a two bay RAID 1 NAS that comes in both BYOD and diskful configurations. The PX-NAS4 however, is offered only in a diskless configuration. Plextor filled our review unit with four 500 GB Western Digital Blue drives.
Construction
The PX-NAS4 has a dated design, based on an 800 MHz Freescale 8543 processor with only 256 MB of DDRII RAM and 256 MB of flash. The design is essentially the same as the discontinued Synology DS408.
Feature Summary
Pictures are better than words when it comes to getting a feel for a NAS admin interface, So, I'll summarize the NAS4's feature set bullet-style and you can hit the Gallery for the screenshots and captions.
Volume Types, File Systems, Services
CIFS/SMB, NFS, FTP, HTTP, DFS share types
External Disk Formats: EXT2/3, FAT32, NTFS, XFS
Internal Disk/Volume Format: XFS
RAID Types: JBOD,RAID 0/1/5/10 – Hot Spare Support for levels 1 & 5
Online Volume Expansion in JBOD & RAID5
SMART support
iSCSI Target & Initiator
USB Printer Server over CIFS
2 USB and 2 eSATA Ports for additional external drives
USB supports USB Card Readers
Networking
Dual Gigabit Ethernet
Standalone, Failover, Link Aggregation, and Load Balancing modes
Port Trunking
Jumbo Frame support
DHCP or Static IP
Multimedia Services & Features
Media servers: UPnP AV / DLNA, iTunes
Accounts
Joins NT Domain / Active Directories for account information
Unlimited Users
Unlimited Groups
Quotas
Backup
Scheduled and immediate networked backup to other Plextor NASes or standard CIFS servers with compression and encryption options.
Volume snapshots
Client Backup: Genie Backup Manager Lite (Windows only, unlimited licenses)
Scheduled Backup to attached drives
USB device pushbutton copy
Power
UPS shutdown sync via USB
Programmable idle drive spindown
Auto restart after power failure
Admin Features
Email alerts
Logging / Syslog Access
Resource monitor (CPU, memory, network usage graphs)
Missing Features
As I noted above, the NAS4 lacks features that its competition has long had. Let's take a run through them.
AFP Support– This is required to support Apple Time Machine, which Plextor says it supports. More on this later.
Automatic RAID Recovery– The Plextor in our tests did not automatically recover its RAID volume when a new drive was inserted.
SSH/SFTP access– Access to the file system via a secure method is useful for more security-minded individuals and businesses.
Remote Access to files– Plextor offers no concept of being able to remotely access files either directly from the NAS or via a hosted portal
Remote media access – Some NASes have photo sharing services and remote access to stored music and video via browser or mobile device apps. The Plextor has neither.
DDNS support– Dynamic DNS would be needed if Plextor supported remote access features.
Download manager– Many consumer NASes include a download manager to handle downloading BitTorrent and other file types.
Add-on system– Unlike NETGEAR and other vendors, Plextor NASes do not allow the addition of new features via optional modules.
IPv6 support– You might not need it now, but you'll eventually need this replacement for the current IPv4 networking settings.
Root access – You can't log in as root or any other user via SSH or Telnet.
Setup & Configuration
Plextor, like most of the major NAS vendors, has a software utility you install on a desktop PC to initially find and configure the device. Plextor's utility can actually configure the network capabilities of the device without having to enter the web GUI, which is nice if you want to immediately give the device a static IP address. But it has a strange requirement on installation that you enter a company name. It also doesn't show any health state of the NAS like NETGEAR's Raidar utility.
The main configuration utility is web-based. Plextor flags you to change the password upon login, but allows you to ignore the request. But if you don't set a new password, you get the nag upon every subsequent login until you enter one.
After initially logging into the admin pages, you are presented with a wizard to set up the initial RAID and volumes. It's a fairly straightforward process, although Plextor makes some assumptions that the user knows the difference among the different RAID levels. Once configuration is complete, you are presented with a home screen (Figure 1).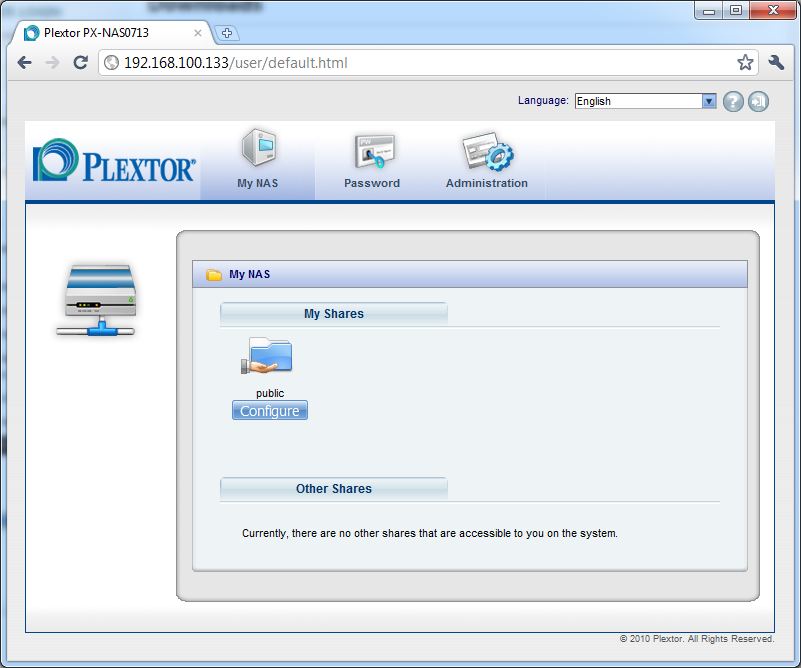 Figure 1: NAS Home Screen
The web admin's home screen is surprisingly devoid of information, unlike most other NASes that display the status of the device. In contrast, Plextor puts the share configuration front and center, which I guess is ok since it's the primary reason for having one of these devices. But I would prefer some kind of status display without having to dive into the configuration screens.
The configuration screens themselves are chock-full of information. Sadly the web portal is designed for an 800×600 screen, so there is a lot of scrolling to get to items. This is where you configure things like volumes, additional users, etc. Check out the Gallery to see what the admin interface is like.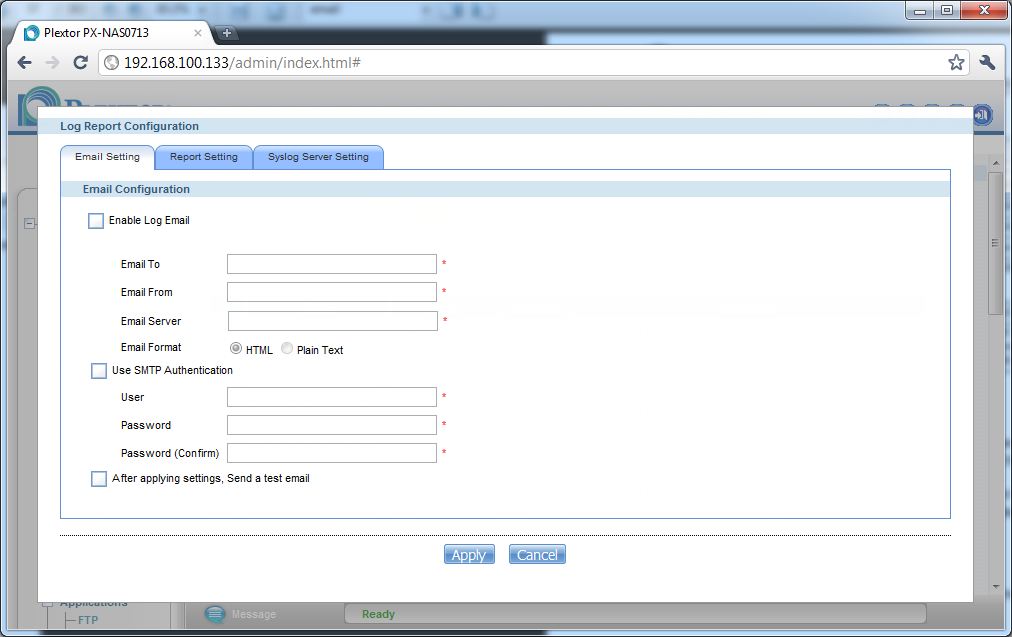 Figure 2: This screen should be part of the admin setup, not buried under of all places Log settings.
As I mentioned, the admin panel is somewhat difficult to navigate, and this can cause features to be missed. For example, I missed on the first two passes the fact that the PX-NAS4 actually does have email monitoring functions. It wasn't until I found it buried in the poorly structured User Guide that I even knew it existed.
Email monitoring support is one of the more critical features. Many times a drive could be failing in the unit for weeks, and SMART will detect the errors at least a day or two before the drive fails. Plextor would be wise to make this part of the initial wizard setup, as NETGEAR and Synology do.
Installation requires I add a company Name?
The RAID utility requires you pick the network card you want to look for the NAS from. If you run any virtual machines, the list can be confusing.
The RAID utility found the device quickly.
You can configure the Network interfaces from the setup utility or web interface. The right hand selector can be set to Stand Alone, Fault Tolerance (fail-over), Load balancing and Link Aggregation (802.3ad)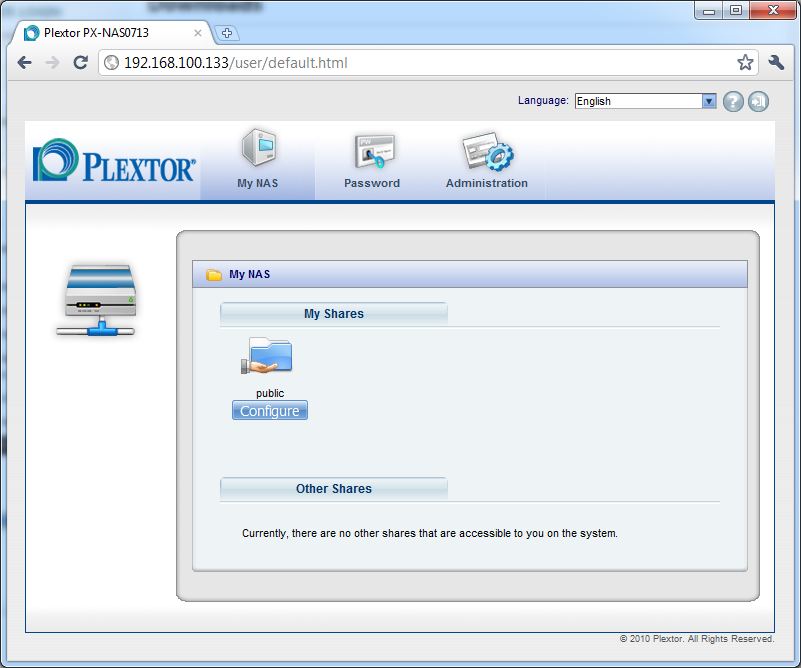 The Home screen of the web configuration is where you set up your shares.
The admin panel can be somewhat overwhelming, and is hard to use because of its constrained size.
The admin pane for SATA storage in general.
The admin pane for particular SATA disks.
The admin pane for the RAID that have been enabled. Attached eSATA drives can be included in RAID arrays.
The admin pane for the volumes assigned to a particular RAID.
The admin pane for USB storage devices. EXT2/3, FAT32, NTFS, and XFS formats are supported.
The admin pane for enabling ISCSI initiators.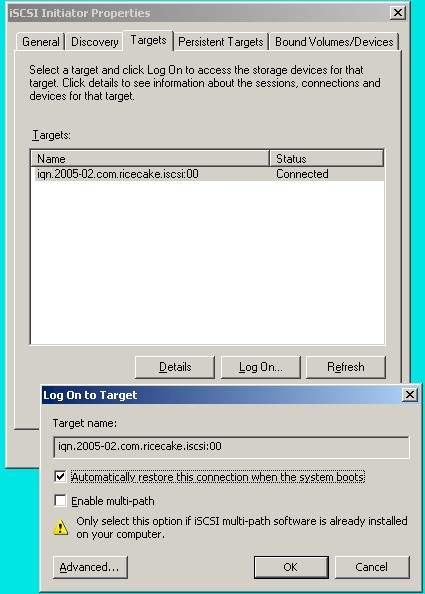 The admin pane for enabling ISCSI targets.
The TCP/IP admin pane.
The admin pane for managing the workgroup that SMB/CIFS shares belong to.
The NFS management admin pane.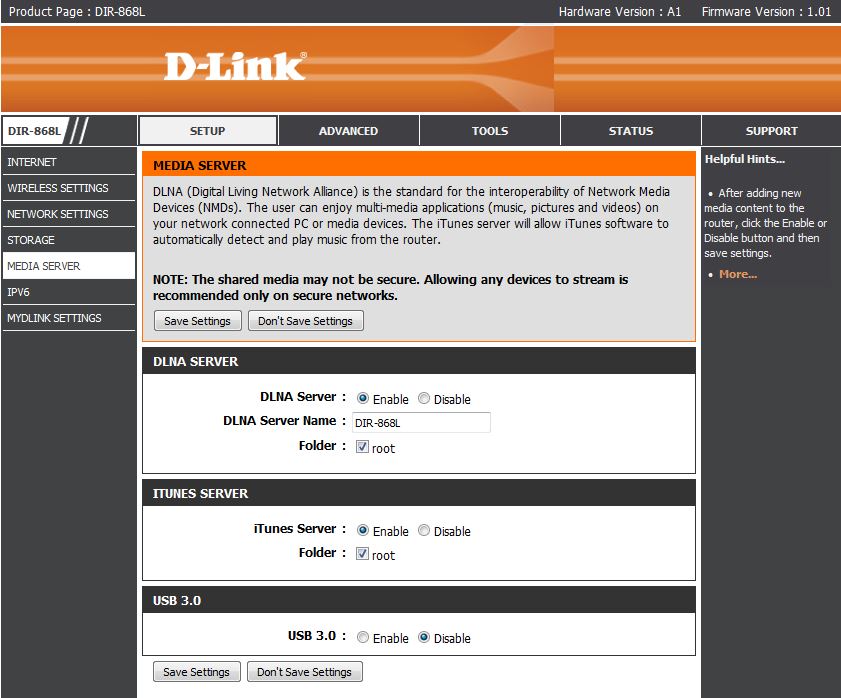 The admin pane for controlling the media server. Note that there is no scheduled scan or media transcoders
The maintenance logs admin pane shows the current running log, and how to manage it.
The SSL admin pane allows the administrator to force SSL on users logging into the device, and change the current certificate settings.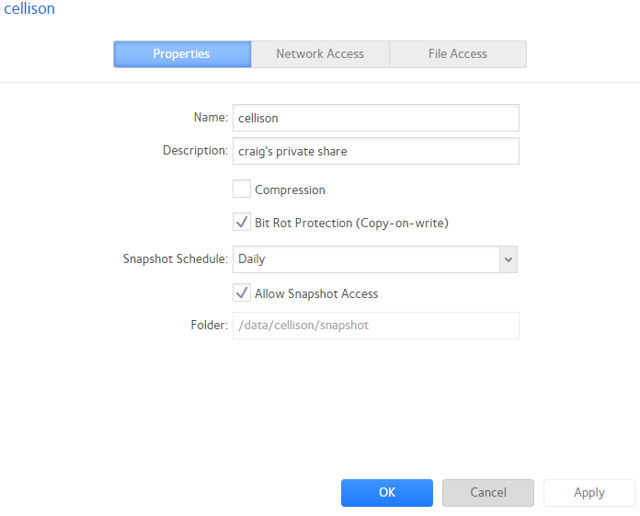 Share properties screen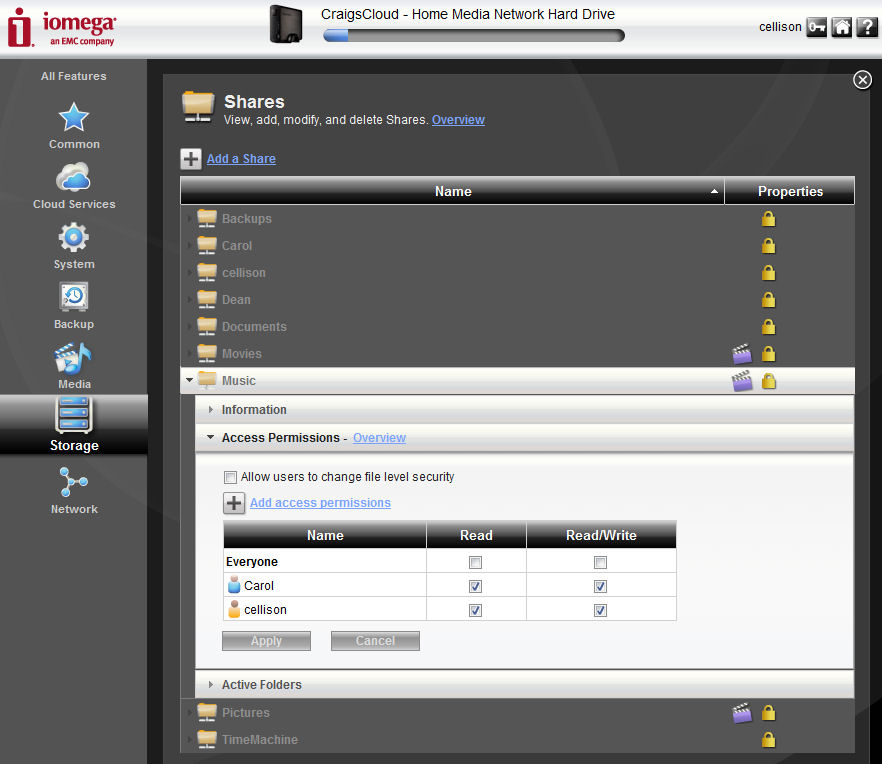 You set share user and group access rights here
Volume snapshots can be scheduled and a maximum number set
Degraded drives show up quickly in the admin panel
Unfortunately you have to manually repair the array
Recovery status does not automatically update, but it was accurate for the RAID10
RAID
The PX-NAS4's RAID features are a bit different than normally found in consumer NASes. The most notable difference is that you create RAID arrays first, then volumes in those arrays. You can have multiple volumes in a RAID array. But you can't dynamically resize those volumes.
The NAS supports RAID expansion, but not RAID level migration. You can add drives to existing JBOD and RAID 5 arrays only, without disturbing existing data. Drives that can be added include external eSATA drives. Once the RAID array is expanded, you then increase volume sizes(s).
You can also expand RAID 5 arrays by replacing drives one at a time and letting the array rebuild. You only get a capacity increase when all drives in the RAID array have been replaced.
Media Serving
The PX-NAS4 provides typical DLNA and iTunes streaming support. These worked well enough out of the box, and once I had configured the the "Media Server" section of the admin, I was streaming files to my Xbox360 with relative ease. An interesting sidenote: Microsoft appears to have updated their media player with more support for MP4 files, as most of my collection is in that format to support H.264 and my Apple devices nicely.
NAS Vendors really need to be clearer about their Xbox360 / PS3 DLNA "support". Even though the Xbox360 and PS3 have been getting better at streaming files, there is still notoriously bad support for things encoded in unsupported codecs, or unsupported file containers.
For example, DivX and XviD support is virtually non-existent, and many files are still encoded in these older codes. NAS vendors should stipulate that DLNA "support" means the ability to index your media files and present them so that DLNA-only devices can see them, but not necessarily be able to play them.
iTunes streaming worked fine as is usual for NASes. But there are no separate controls for iTunes and DLNA servers, and no indication that the "Media Server" actually controls both services. I did have some initial trouble getting videos to show up, and ended up having to rebuild the database. This could be a long process for people with large collections, but didn't seem to happen much afterwards. Note that only a manual scan can be initiated; there is no automatically scheduled scan.
Backup
The PX-NAS4 has a number of interesting backup options. One interesting perk is the ability to use other NASes' SMB / CIFS shares as backup targets. NETGEAR has offered this for some time on its ReadyNASes, joined by Iomega more recently.
The downside is that this Archive type backup creates a DAR format file, which will be familiar to Linux users, but not so much to Windows and MacOS fans. It would have been much better if backed up files and folders were copied as-is for easy recovery. At least Plextor provides a built-in recovery mechanism for these Archive backups.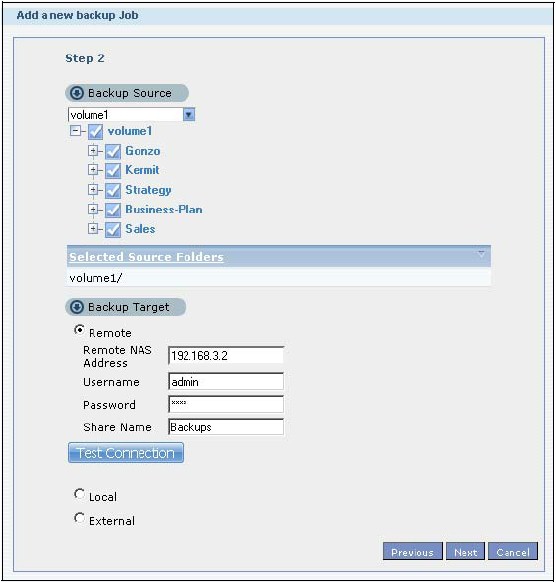 Figure 3: Archive backup setup
Also available is a Synchronization backup to another PX-NAS4. The protocol used isn't specified, but we're guessing it's a slightly customized form of rsync, which is a method used by other NAS manufacturers. Unfortunately, we could not get it to connect to a standard rsync server because there is no place to enter an rsync module (target folder) name. So you have to buy another Plextor NAS to use the synchronization type backup jobs. Synchronization backups can be compressed and sent via an encrypted connection and you can also set a bandwidth limit.
A third backup type is Snapshot, which makes a copy the entire selected volume at scheduled intervals. Snapshots are stored in a special image file type, which Plextor includes a recovery option for.
The last backup feature of note is support for Apple Time Machine. As I noted earlier, AFP support is required to support Time Machine backups, but Plextor doesn't support AFP. So how do they support Time Machine?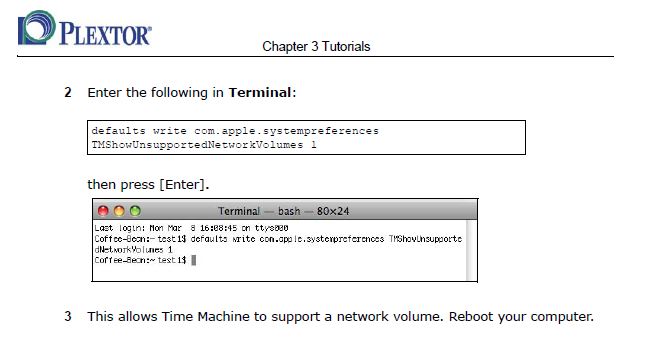 Figure 4:Don't try this at home, kids.
It turns out that in the user guide, Plextor instructs Mac users perform a hack at the command line (Figure 4) that enables unsupported network shares for Time Machine. This is a undocumented command and generally not recommended for production environments, because AFP supports HFS+-only file system features like resource forks.
Enabling completely undocumented and unsupported share types for Time Machine is not for the feint of heart (or smart for that matter). So I would not count on using a Plextor NAS for Time Machine backups until Plextor supports AFP.
Drive Pull Test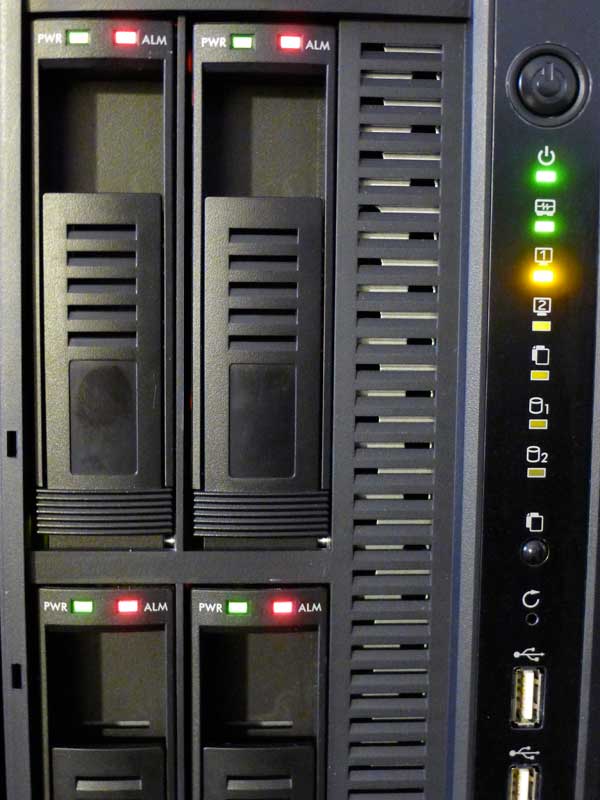 Figure 5:Don't expect too much information from the hard drive indicators themselves in a failure.
I did not bother to remove the case for internal pictures as Tim already covered this in his New To the Charts review. I did, however, perform a drive pull test, to see how the device responds to a drive failure. I tested by starting a large folder copy, waiting a bit, then pulling a drive. Shortly after the pull, the file transfer stopped for about 5 seconds and then continued at a degraded speed. (The Windows 7 file copy window reported a drop from 50 MB/s to 35 MB/s.)
Shortly after the pull, the PX-NAS4 starting beeping, similar to how a UPS might beep when on battery, but a little slower. Unfortunately there's no front panel button to disable the buzzer. So I had to log into the device and go to, of all places, the log configuration page!
I reinserted the drive, hoping the buzzer would silence, but it did not. I ended up silencing it via the web interface, which is annoying because you have to remember to re-enable it once the array is restored. Also, restore did not start automatically and required manually initiating the repair from the SATA Disk > RAID configuration submenu.
The array rebuild, once manually restarted, took about an hour and a half. Files were still available during this time.
Support
Support from Plextor is mediocre at best. Their support website is really devoid of anything useful, including not being able to download things like the manual. They don't even list their corporate address! Forget about re-downloading copies of Genie Backup too, as no software is available. Contacting technical support is via a phone number or live chat, found on the support website.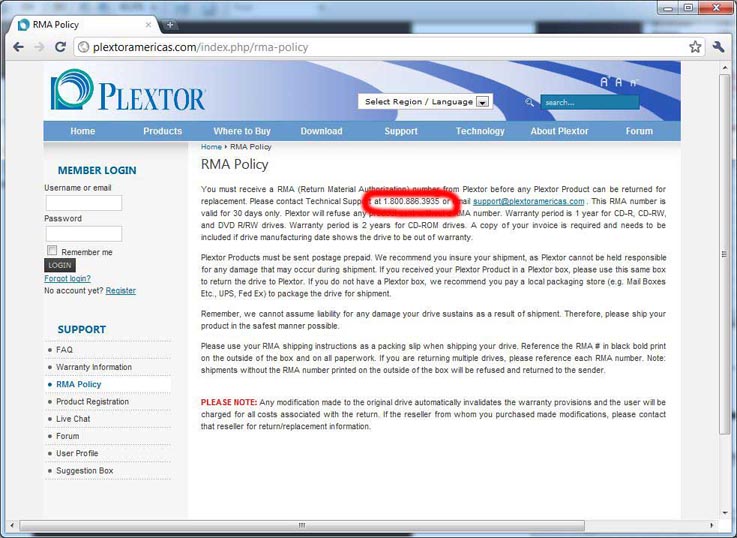 Figure 6: The only mention of the support phone number is on their RMA section of their website.
Live chat and phone support are available Monday through Friday, 9 AM to 6 PM PST. Tech support's phone number is not listed on the main Support page. I had to dig to find it listed on the "RMA" page (Figure 6) and it's also listed on the Contact Us page.
There is also a fairly useless FAQ and a user forum that looks more like a suggestion box, and does not seem very active at all. Finally, an email address of [email protected] is available to email in a question, although I imagine it's also staffed only during normal business hours.
Performance
Testing and analysis by Tim Higgins
The PX-NAS4's benchmark results are summarized in Figure 7. RAID 5 large file copy performance measured around 30 MB/s for write and 45 – 50 MB/s for read, depending on benchmark method. Performance as an iSCSI target with a RAID 5 based volume came in at 30 MB/s write and 39 MB/s read.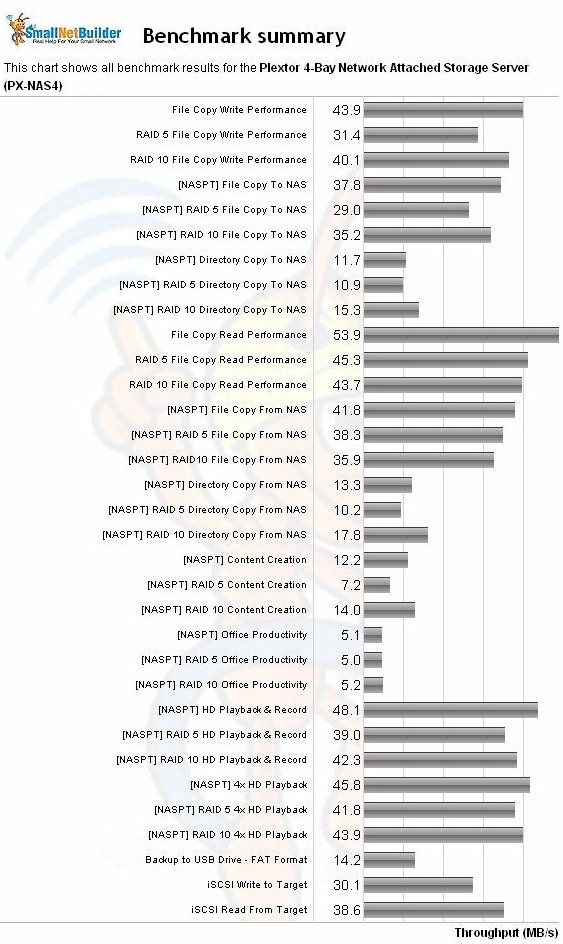 Figure 7: Plextor PX-NAS4 Benchmark summary
I was not able to run a network backup test to an rsync target, but was able to back up to a FAT formatted USB drive at a 14 MB/s rate.
Basically, the PX-NAS4's performance is more in line with older Marvell Kirkwood based products like the Buffalo TeraStation ES than with 1.8 GHz Kirkwood and Intel Atom-based NASes. Consult the New To the Charts article for more details of the PX-NAS4's performance.
Closing Thoughts
Plextor has its work cut out for it if they are going to gain any serious market share. While it is a less-expensive NAS, for not much more money you can step into a NETGEAR, Synology, QNAP or other NAS that will outgun and outperform the Plextor.
Although the PX-NAS4 has some unique backup and volume configuration features, its odd quirks and outdated interface really limit it to consumer use, even though it contains several features that a home user would never access. Plextor also really needs to improve its support website and resources if they plan to be a serious player in the business NAS market.
A competitive comparison is best done using the Price versus Performance NAS charts. Filtered for four-bay products and using a RAID 5 File copy benchmark, the closest product is a Promise SmartStor 4600, an older product with limited appeal.
You basically want products to move higher up on the chart (Performance axis), but not farther to the right (Price axis). In this regard, the next closest product is the QNAP SS-439 Pro. Although it's $100 more expensive, the QNAP provides significantly more features, a better admin interface, and higher performance.
It does however only accept 2.5″ drives, which limits storage space. I would probably still go this route though, since 2.5″ drives are continuously reaching higher storage capacities and are much quieter and more power efficient for similar performance.