Introduction
Updated 2/7/2009: Added link to retest article.
Updated 11/21/2008: Explanatory notes added in Performance sections
At a Glance
Product
Netgear ReadyNAS Pro (RNDP6350-100NAS)
Summary
Fast, fully-featured, six-drive expensive NAS
Pros
• High performance
• Extensive feature set
• Many backup options
• Root shell access
• User-expandable RAM up to 4 GB
Cons
• Expensive
Five drives used to be the top end in NASes, established two years ago by Thecus' N5200. This year, QNAP joined Thecus in the five-drive NAS club with its high-performance TS-509 Pro, which, up until now has been the high-end NAS to beat.
Recently, however, NAS makers seem to be in a competition to see who can produce the highest capacity and most expensive NAS. Thecus has announced, but isn't yet shipping, its seven-drive N7700. But the honors for the highest-capacity, currently-shipping NAS go to NETGEAR's six-drive ReadyNAS Pro line, which is the focus of this review.
The Pro line has three current models: the top-of-the-line RNDP6610 loaded with 6 1 TB drives); RNDP6310 (3 x 1 TB); and RNDP6350 (3 x 500 GB). Becoming a member of the Pro club isn't cheap, however, with the entry-level RNDP6350 at around $1700.
The Pro represents a new generation of ReadyNASes, which have until now been powered by proprietary storage processors made by Infrant, the company NETGEAR acquired in May 2007 when it decided to get serious about being a player in the explosively-growing networked storage market.
The Pro line follows what appears to be a trend in high-performance prosumer / small business NASes and uses an Intel-based mini-server platform. This beefier hardware is married to a new version of NETGEAR's RAIDiator OS to produce a fast, full-featured NAS aimed at small-business and anyone else who can afford a $1000+ NAS.
As the product shot above shows, the Pro looks like a (much) larger version of NETGEAR's two-drive Duo, but still relatively compact at 10.0" x 6.7" x 11.2". Both have black metal enclosures with a metal-mesh door that swings open to reveal the drive bays. Figure 1 shows that the six 3.5" hot-swappable SATA drives mount on the same metal drive trays used in the Duo.
Figure 1: ReadyNAS Pro drive bays
The Pro and Duo both have a power switch and USB port and button for the push-button backup feature. But where the Duo has LEDs to indicate status, the Pro has an OLED display. But unlike the LCD status displays on some Thecus NASes, you have no control over what is displayed on the Pro's.
You get status and warning messages at appropriate times. But most of the time you see a display of the Pro's IP address and six small numbered boxes that show the populated drive bays. There's a separate flashing disk activity light that is a bit too faint for my taste.
Figure 2 shows the Pro's rear panel, with nice big case and power supply fans. Both are variable speed and run suprisingly quietly, except for boot-up when they ramp up to full speed before falling back to their normal quiet hum.
Figure 2: ReadyNAS Pro rear panel
There are two USB 2.0 ports that support additional storage, USB printers and USB-enabled UPSes (such as APC). Two 10/100/1000 Ethernet LAN ports support jumbo frames (auto-adjustable up to 9K) and can be configured in a variety of teaming / failover options explained here.
Note that there is no eSATA port for storage expansion, as there is on the Qnap TS-509 Pro and Thecus N5200 Pro. There currently is no support for iSCSI either, although iSCSI Target-only capability will be added after the current Beta test is done.
Internal Details
Removing the left side cover reveals the view shown in Figure 3. The Intel 1.8GHz E2160 Dual-Core CPU is under the top headsink / cooler. Note the large heatsink for the North and Southbridge devices. 1 GB of DDR2-667 RAM occupies one of the two DIMM slots.
Figure 3: ReadyNAS Pro main board
NETGEAR lets you upgrade to a total of 4 GB with no warranty hassles. The small board to the left holds the USB and Ethernet connectors.
Power consumption measured 63 W with three drives and 78 W with five drives. When the programmable idle drive spin-down kicked in, I measured only 46 W. Like other ReadyNASes, the Pro can be programmed to shut down and turn back on, on a daily schedule. When powered off via this feature, power consumption was only 6 W. As I noted earlier, the Pro runs quietly. You definitely know that it is on, but it is one of the quietest large NASes I have tested.
If you want SSH root access, all you need to do is download the EnableRootSSH add-on. But, be aware that NETGEAR warns that it "may deny support" if you enable root access.
One of the ReadyNAS' strengths is an SDK that can be used to develop your own add-ons. There are already a few third-party add-ons (which are not supported by NETGEAR) including PHP, MySQL, WordPress, Drupal, PHPMYAdmin and others.
One important "feature" of the Pro is its use of standard ext3 as its drive format. Other ReadyNASes running RAIDiator 4.X and using the Infrant storage processors use ext3 with a 16 KB block size, which is unreadable on any x86 or x64 system. This means that their drives can't be read on most Linux systems running on PC hardware. But with the switch to the Intel Pentium Dual-Core platform, NETGEAR has had to switch back to a standard 4 KB block size, which means that the Pro's drives are readable on any system supporting ext3.
Features
Like some of its competition, NETGEAR has taken the approach of using the same user interface and common feature set across the ReadyNAS product line. So if you have used the NV, NV+ or other ReadyNASes, you know the extensive feature set that the RAIDiator OS provides.
Doug Reid did a good job of detailing RAIDiator's current features in his ReadyNAS Duo review. So I'll primarily focus on what's unique to the Pro. There is also a slideshow of many of the key admin screens.
I borrowed Doug's Menu Options table from the Duo review and updated it with the Pro's additional sub-menus. There is really not that much difference in the overall structure; the Pro's additional features are buried in the sub-menus.
Menu Item
Menu Options
Network
Interfaces
Global Settings
WINS
DHCP

Security

Admin Passwd
Security Mode
User & Groups Accounts
Services
Standard File Protocols
Streaming Services
Discovery Services
Installed Add Ons

Volume

Volume Settings
USB Storage

Shares

Share Listing
Add Shares

Backup

Backup Jobs
Add a New Backup job

Printers

Printer Queue Service

System

Clock
Alerts
Performance
Language
Update
Config Backup
Power
Shutdown

Status

Health
Logs
Table 1: Admin menu summary
The short summary is that the Pro supports just about any file protocol you'd want (SMB/CIFS, NFS, AFP, HTTP, HTTPS, FTP, FTPS) as well as streaming services (UPnP AV, iTunes, Logitech SqueezeCenter) to handle just about any networked media player. It supports joining Windows Domains or Active Directories or handles User and Group management complete with quotas and NFS UIDs.
Backup is one of the key strengths of the ReadyNAS line. Scheduled backups can be done to/from the ReadyNAS and networked clients, attached USB drives or remote HTTP, FTP, NFS and rsync servers. Backups can be scheduled daily and at 4,6,8,12 or 24 hour intervals. Protected shares are handled, too. The main backup weaknesses are that backed-up files can't be encrypted, nor are secure connections supported for remote backups.
My biggest problem with RAIDiator (which says something for its feature set) is evident if you browse the slideshow. For some reason, the ReadyNAS web interface uses a fixed-width scrollable window on many of its admin screens that is implemented as an iframe.
This means that it can't even be opened in another browser window or tab. I find this very annoying, since it makes for a lot of scolling and doesn't take advantage of today's larger display screens. Figure 4 shows the Network Interfaces screen, which is a typical example.
Figure 4: Network Interfaces screen
Storage Modes
Like its quad-drive predecessor, the NV+ [reviewed], the Pro supports both standard RAID (0, 1, 5 and 6) and NETGEAR's proprietary auto-expandable X-RAID technology. Actually, the Pro supports X-RAID2, which according to this ReadyNAS Forum thread (scroll down to the last post), has one key improvement.
Both X-RAID and X-RAID2 support "horizontal" (by adding additional drives to empty bays) and "vertical" (by replacing smaller capacity drives with larger capacity drives) volume expansion. But while X-RAID requires that all drives be replaced when doing a "vertical" expansion, X-RAID2 expands the volume as soon as two larger-capacity drives are added.
Both X-RAID and X-RAID2 have a one drive overhead. So the "1.5" TB RNDP6350 I had for review, yielded 908 GB of usable space. (Each 500 GB drive had 461 GB of allocated space.) That's not to say the X-RAID2 expansion is fast. When I added two 500 GB drives to the three that came factory installed, it took around 19 hours to completely sync the expanded array (which was available throughout the sync). Also note that, same as RAID 5, X-RAID/2 can withstand only a single drive failure.
The Pro comes configured in X-RAID2, but can be switched to standard RAID mode. The requires a procedure that is similar to a factory defaults reset and requires the RAIDar utility (Windows, Mac OS X and Linux versions available) to change the mode. Figure 5 shows the standard RAID configuration screen.
Figure 5: RAID volume configuration
X-RAID2 supports only a single volume. But you can create up to four separate volumes in standard RAID mode.
I didn't bother running a drive fail test on the Pro, since Doug had already done that in the Duo review. Suffice it to say that the process goes smoothly and if you have email alerts enabled, you will be kept informed throughout the process.
Performance – NAS Charts
Updated 2/7/2009:
Note:
When
retested
with a faster testbed, performance significantly increased.
When I tested the QNAP TS-509 Pro, I didn't realize that it was bumping up against the limits of my aging, soon-to-be-replaced iozone test machine. But early reports of the Pro's high performance over in the Forums and NETGEAR's test results indicated that the Pro, like the TS-509 Pro, would be limited by the current NAS Chart test bed.
Updated 11/21/2008: Explanatory note added
So I'll first present the results posted in the NAS Charts, then results taken with the faster iozone test machine I have been using in the Fast NAS series. Please also note that the NAS Chart tests were run with the RNDP6350-100NAS model in its three-drive factory configuration.
Figures 6 and 7 show NAS Chart combined write and read benchmarks for RAID 0 and 5 with both 1000 Mbps and 1000 Mbps plus 4k jumbo frame connections.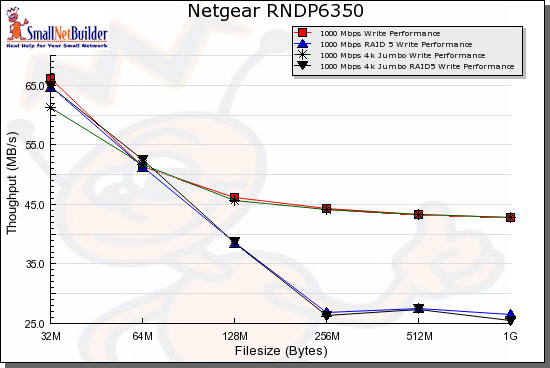 Figure 6: Write Benchmarks – 1000 Mbps LAN
The main points here are that RAID 5 knocks down write throughput (around 25% for average throughput of 32 MB to 1 GB filesizes) and that jumbo frames don't provide a throughput boost. NETGEAR confirmed this, saying their testing with IOMeter didn't show a difference with 9k jumbo frames until they used 1024 KB record sizes.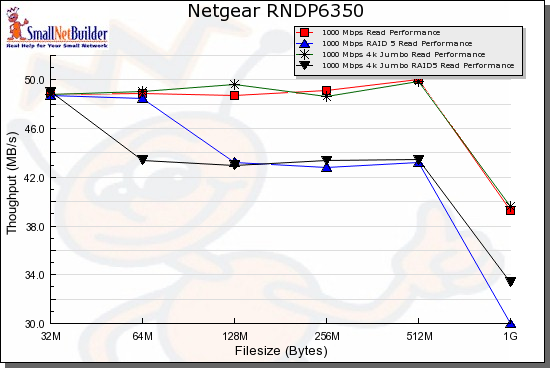 Figure 7: Read Benchmarks – 1000 Mbps LAN
For a competitive look, I ran a plot of the Pro and the 5-drive QNAP TS-509 Pro, Synology DS508 and Thecus N5200 Pro. Note that the Pro was configured with the three Seagate ST3500320NS Barracuda ES.2 500 GB drives that came installed in the RNDP6350 model tested, while the other products were configured with 5 drives each.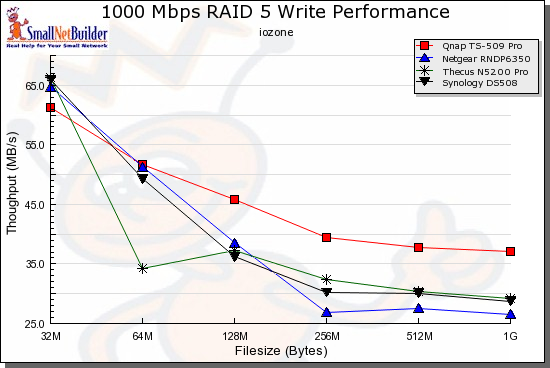 Figure 8: Competitive RAID 5 write comparison – 1000 Mbps
Even though the old 2.4 GHz P4 iozone test machine is limiting performance, it is limiting it equally for all products. That said, Figure 8 shows that the QNAP TS-509 Pro beats out the Pro, Thecus and Synology NASes for RAID 5 writes, mainly by maintaining higher throughput as file sizes increase.
Figure 9 shows a similar story for RAID 5 reads, but with the TS-509 Pro beating the other three products at all large file size test points.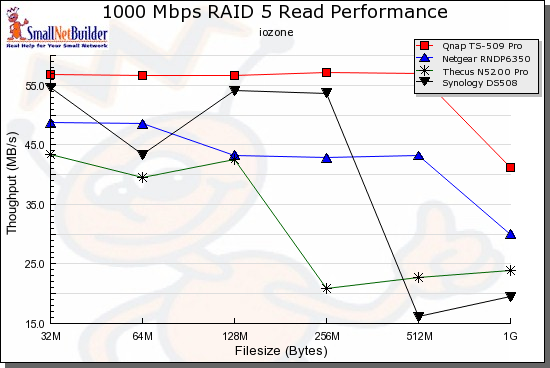 Figure 9: Competitive RAID 5 read comparison – 1000 Mbps
Performance – New Platform
To quantify how much the current NAS Chart test machine was limiting the Pro's performance results, I ran a series of tests on the newer machine that I have been using in the Fast NAS series.
This is a Dell Optiplex 755 with an Intel Core 2 Duo E4400, onboard Intel 82566DM-2 PCIe gigabit NIC and 512 MB of RAM. I purposely kept the RAM low to see non-cached performance kick in before I hit the maximum 1 GB test file size. But given Pro's 1 GB RAM, I ran the tests out to a 4 GB file size.
Figure 10 shows three test runs of RAID 0 write performance with a gigabit LAN connection:
Darth, XP SP2, Perf Tweaks – New testbed running Windows XP, SP2. ReadyNAS Pro System performance options set to disable all journaling, disk cache enabled and fast CIFS writes enabled.
Putti, XP SP2, Perf Tweaks – Same as #1, but running on current NAS testbed machine
Darth, Vista SP1, Perf Tweaks -Same as #1, but testbed machine runing Vista SP1
The 66.9 MB/s 1000 Mbps PCI line is a reference line for maximum LAN throughput measured between two PCI-based gigabit NICs. I didn't plot a reference line for the same measurement between two PCIe NICs (113 MB/s) because it would have compressed the plot vertical scale.
Figure 10: Testbed comparison – RAID 0 write – 1000 Mbps LAN
As expected, Figure 10 shows that the faster testbed machine achieves higher throughput from the Pro. Averages across the tested filesizes are 68.3 MB/s, 69.9 MB/s and 47.4 MB/s for test runs 1, 2 and 3 respectively. So I got an almost 50% average throughput gain by using the faster iozone test machine.
The best average throughput was produced using Vista SP1, but mostly by the boost at smaller filesizes. You can see that XP SP2 actually beat out Vista SP1 for file sizes 128 MB on up.
RAID 0 read results are shown in Figure 11, which show average speeds of 61.1 MB/s, 52.4 MB/s and 44.0 MB/s respectively for the three runs. The best case gain in average throughput this time is just shy of 40%, with Vista leading the way across all tested file sizes.
Figure 11: Testbed comparison – RAID 0 read – 1000 Mbps LAN
Of course, the question in many of your minds is how the Pro compares to the QNAP TS-509 Pro, which has been the subject of a long series of performance experiments by Dennis Wood and others over in the Forums.
While I still had the TS-509 Pro here (believe it or not, vendors don't leave all these expensive beasties here for me to play with indefinitely), I somehow had the foresight to run a few tests using the "Darth" testbed. That data is presented in Figures 12 and 13.
All tests were run on the same faster testbed machine, using Vista SP1. This time, however, the plots show the Pro configured in XRAID-2 with three drives, then five drives. The TS-509 Pro had all five drives configured in a single RAID 5 array. Jumbo frames were not used because the Vista drivers don't support them for the Intel onboard NIC. The QNAP data ends at 1 GB because I didn't have that much foresight!
Figure 12: QNAP TS-509 Pro comparison – RAID 5 write – 1000 Mbps LAN
Write performance is very similar for the Pro and TS-509, with even a similar throughput fall-off as cache effects die out. Although the results show the TS-509 slightly beating out the Pro, I think you would be hard-pressed to notice a difference in real-life use. It's also good to note that adding more drives to the Pro in XRAID-2 doesn't significantly impact write performance.
Read performance in Figure 13 is a bit more interesting. Both the QNAP and Pro start out with essentially the same throughput in the 65 to 70 MB/s range. But the Pro with 3 drives loses steam after the 64 MB file size, while with 5 drives holds up until after 256 MB. The QNAP maintains its steady throughput until after 512 MB, then really crashes to earth at 1 GB.
Figure 13: QNAP TS-509 Pro comparison – RAID 5 read – 1000 Mbps LAN
At NETGEAR's request I ran a quick IOMeter test on the Pro in XRAID-2 with 5 drives, but only managed to hit 95 MB/s for writes and 71 MB/s for read, far short of the 100+ MB/s that NETGEAR measured using a Intel Quad Core 2.66 GHz test machine with 2 GB of RAM, running Vista SP1.
Updated 11/21/2008: Explanatory note added
As a final test, I ran write and read drag-and-drop tests using the same "Darth" machine used in the Figure 12 and 13 tests. Of course, a machine-to-machine filecopy brings the performance of test machine's disk subsystem into play. For the "Darth" machine, the drive is a Seagate Barracuda 7200.10 80GB SATA (ST380815AS).
Certainly not the fastest SATA drive out there and with only 8 MB of cache, I'm probably testing the "Darth" machine's performance more than the Pro. In fact, NETGEAR says that to fully utilize the Pro's performance, you need to use a "large ramdisk or a RAID 0 with 3 striped disks". So transferring a 4464 MB folder containing a ripped, uncompressed DVD yielded 50.7 MB/s write and 48.5 MB/s read.
I pulled the Vista Drag-and-Drop filecopy, Iozone X-RAID2 (Figures 12 and 13) and IOMeter results into Table 1. My take-away from this is that it appears that iozone's results, which are not limited by the hard drive speed of the machine it runs on, are more indicative of real-world file copy performance (at least as defined by Vista SP1) than IOMeter's results.
Test
Iozone X-RAID2, 5 drives
(avg 32 MB – 4 GB)
Vista SP1 DnD
IOMeter
Write (MB/s)
46.8
50.7
95
Read (MB/s)
55.7
48.5
71
Table 1: ReadyNAS Pro X-RAID2 performance comparison
Knock yourself out running your own comparisons using the NAS Charts.
Closing Thoughts
There is little doubt that NETGEAR has really stepped up its game with the Pro and its switch from the aging Infrant processor platform to Intel-land. While the Infrant processor got the ReadyNAS line to where it is today (part of NETGEAR), it was long past time for NETGEAR to move off that proprietary dead-end and onto a platform that offers a much wider array of price / performance options.
The Pro deserves its status as one of the top-ranking products in our NAS Charts. But I'll leave it to the fanboys to argue whether it or the QNAP TS-509 Pro (or Intel SS4200-E or Sans Digital MN4L+ or Synology DS508) is really the top dog. From what I can see, you'll probably see more difference in performance among the group due to client OS, memory and networking interface than from the NASes themselves.
What's not subject to debate is that the Pro is the most expensive 5+ drive NAS available…at least for now. NETGEAR plans to release a "Pioneer" diskless model ($1950 MSRP, ~$1200 street) once the current tight availability situation improves (December earliest, more likely early 2009).
The Pioneer version will have most of the features of the diskful models except snapshotting, Active Directory, and VLAN. (A full PDF model comparison list is here.) But even at $1200, the "Pioneer" Pro will still be the most expensive BYOD NAS; even more than the upcoming seven-drive Thecus N7700 ($1099 MSRP).
The ReadyNAS line has always had a solid feature set and user-friendly automatic RAID. And its move under the NETGEAR umbrella only enhanced its value proposition. What was lacking was performance, and now that has been addressed.
In the end, the Pro is going to give NETGEAR a shot at getting business back from the lesser-known and smaller (and not as widely available) "QST" (QNAP, Synology, Thecus) challengers that have been stealing performance-focused buyers away. Let the price wars begin!

See the slideshow for an admin screen tour