Introduction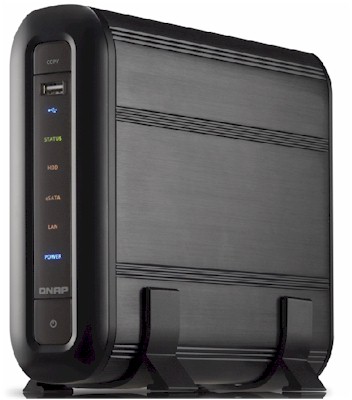 At a Glance
Product
QNAP Turbo NAS (TS-119)
Summary
Latest, faster version of QNAP's single-drive BYOD NAS powered by Marvell's Kirkwood processor
Pros
• Many features including full LAMP webserving
• Fast attached backup to USB and eSATA drives
• High performance
Cons
• Relatively expensive
A pile o' NASes has hit the ol' SmallNetBuilder lab of late and I'm trying to work my way through them before the backlog gets too big. QNAP sent their TS-509 Pro for an oft-requested retest on the new test platform as well as its Intel Atom-powered TS-639 Pro. But I grabbed the TS-119 first because, being a single-drive NAS, the test time would be short.
The 119 replaces the TS-109 Pro II as QNAP's fastest single-drive NAS. In keeping with QNAP's one-OS-fits-all approach, the 119 has the same feature set as its predecessors and is housed in the same aluminum, fanless chassis that is differentiated only by its all-black color. Figure 1 shows the indicators, controls and ports, which include an eSATA connector for speedier backups to attached drives in addition to two rear and one front-mounted USB 2.0 ports.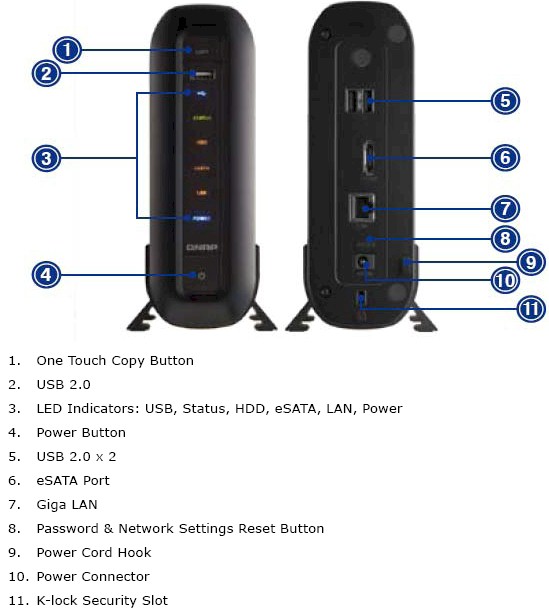 Figure 1: Front and Rear panels
The 119 draws only 15 W when active and 7W with its drive spin-down option (settable for 5, 10, 15, 20, 30 and 60 minutes) kicked in. You also have a shutdown / startup / restart schedule that you can set for further power savings.
Internal Details
Figure 2 shows the bottom of the TS-119's board, which I knew was based on the Marvell "Kirkwood" 88F6281 clocked at 1.2 GHz, with 512 MB of DDR2 RAM and 16 MB of flash. A Marvell 88E1116R is used for the Gigabit Ethernet port and an Alcor AU6254 4 port USB 2.0 hub provides the three USB 2.0 ports.
Figure 2: TS-119 board bottom
The top side of the board is mainly occupied by the hard drive, which slides into a board-mounted SATA power / data connector.
Features
The feature set of QNAP's product line continues to evolve and is quite extensive since QNAP's thinks of its NASes more as mini-servers than plain-old file servers. Craig Ellison did the last in-depth look at QNAP's feature set in his TS-409 review, so hit that if you want to read his flowing prose. Otherwise the getting-too-big-for-easy-comparison QNAP Feature Comparison Chart is the best place to match up the 119's feature set against your shopping checklist.
But because the Chart is rather unwieldy, I'll summary the key features in my favorite bullet-list style:
Network file sharing via SMB/CIFS, NFS, AFP
FTP and secure FTP with bandwidth control
HTTP / HTTPs file access
Joins NT Domain / Active Directories for account information
Attached Backup: Immediate or scheduled supporting FAT32, EXT3, NTFS drive formats (built-in formatter)
Network Backup: Immediate or scheduled via rsync w/ encryption and compression options
Client Backup: QNAP Netbak replicator (Windows only)
User quotas
Email alerts
Logging
USB print server
UPS shutdown synchronization
LAMP webserving with MySQL, SQLite databases, phpMyAdmin, Joomla
Root access via SSH and Telnet
Media servers: UPnP AV / DLNA (TwonkyMedia), iTunes
Web photo album
BitTorrent / HTTP / FTP download service w/ scheduling
IP camera recording and playback (two cameras)
This is a pretty extensive feature set with lots of room for customization and things to play with. While the backup features are good, the only NAS-to-NAS option is standard rsync. QNAP gets an attaboy for not customizing it like Thecus and for providing encryption and compression options. But NETGEAR still sets the standard for over-the-network backup with the ReadyNAS' ability to back up to and from any networked share.
In Use
QNAP is soon going to release its completely-redesigned, AJAX-based web admin interface for the TS-119 and 219. They sent me a copy of the Beta for the TS-119, but in keeping with the SmallNetBuilder policy of reviewing products only with publicly-available, released firmware, I stuck with the version that came loaded on the 119. Check out QNAP's short video if you want to see what the new interface looks like. To me, it looks very similar to Synology's interface.
I'm going to go into a little detail on the 119's Backup features, since we haven't done so previously. Figure 3 shows you what the external backup controls look like.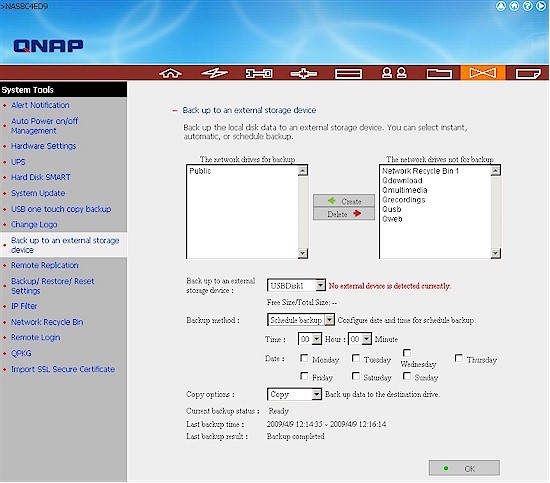 Figure 3: External backup
You can attach both USB and eSATA drives and can even format them in FAT32, EXT3 (the 119's internal format) and NTFS using a built-in utility. I formatted the Iomega UltraMax Pro that I'm using for attached backup testing successfully in FAT32 and NTFS. But I was unable to complete an EXT3 format, which hung at around the 70% completed point in multiple tries. I've asked QNAP to look into this and will post an update when it is resolved.
The External Storage Device page (Figure 4) also allows unmounting a partition and forcing a device removal. Note also the Q-RAID 1 option. This standard feature of single-drive QNAPs automatically mirrors data to a selected external drive. I would recommend only using an eSATA drive for this feature, unless you want to really slow down performance.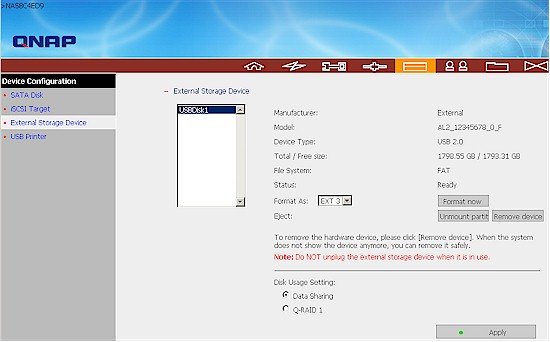 Figure 4: External storage configuration
Figure 5 shows the controls for the Remote Replication (rsync) option. I didn't try it out this time. But I'll be sure to test it as part of the TS-639 Pro review.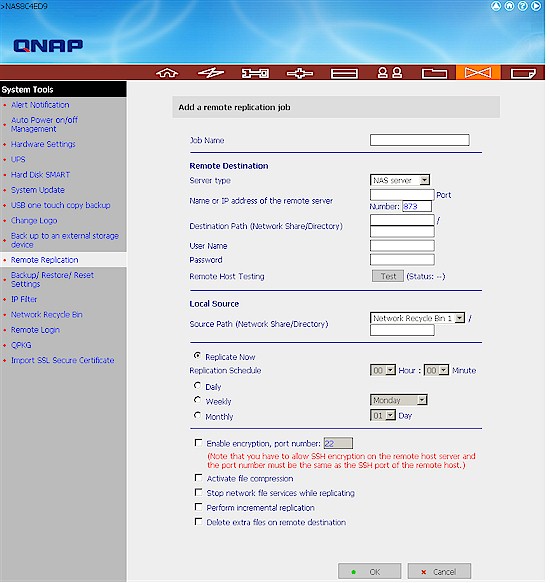 Figure 5: Remote replication
Performance
The 119 was tested with our new test process with the latest 2.1.4 Build 0317T firmware and a Samsung Spinpoint HD103UJ 1 TB, 7200 RPM, 32 MB drive supplied by QNAP. Tests were run with 1000 Mbps and 1000 Mbps with 4k jumbo LAN connections. I didn't test with a 100 Mbps connection, since Gigabit performance indicated that speed would be limited with the slower connection.
I first checked backup performance to an Iomega UltraMax Pro Desktop Hard Drive configured in RAID 0 attached via both USB 2.0 and eSATA. The test copies a 4.35 GB ripped DVD test folder that I use in the NAS Chart Vista SP1 file copy tests from the NAS to the attached drive. The results are summarized in Table 1.
| Product | Backup Throughput (MBytes/s) |
| --- | --- |
| USB – FAT32 | 20.67 |
| USB – NTFS | – |
| eSATA – FAT32 | 45.09 |
| eSATA – NTFS | 3.64 |
Table 1: Backup throughput test summary
This is the best direct-attached backup performance that I have seen yet, even higher than the Synology DS508's 16 and 40 MB/s for USB and eSATA drives, respectively. I didn't bother testing NTFS for the USB connection, since the speed was so slow using eSATA. This once again shows that if you want fast NAS attached backup, don't use an NTFS-formatted drive.
Figure 4 presents a summary of the benchmark tests run for the 119. Note that jumbo frames actually reduce performance for file sizes up to 512 MB and even beyond for reads. This is consistent with what I have found with my new testbed, i.e. jumbo frames do not provide performance improvement. With slower systems, however, you could see a positive effect.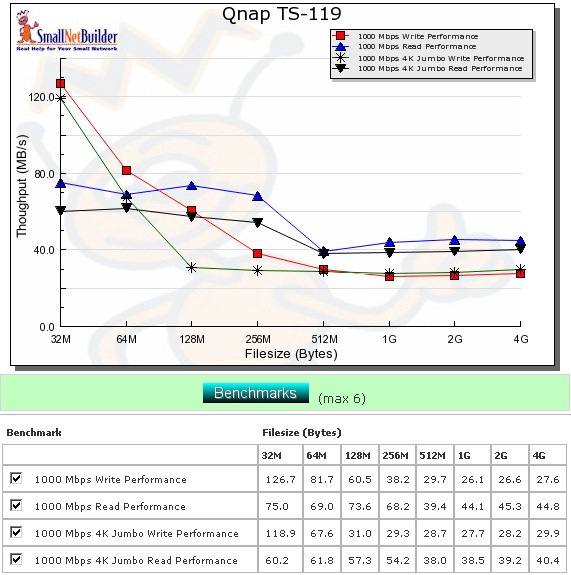 Figure 4: Performance benchmark summary
Performance with a 1000 Mbps LAN connection averaged over the 32 MB to 4 GB file sizes and with cached results above 125 MB/s removed from the average comes in at 41.5 for writes and 57.4 for reads.
Vista SP1 filecopy results yielded measuring 33.1 MB/s for write and a surprisingly high 70.8 MB/s for read. The results were reproducable over the three test runs that I performed. This is by far the fastest filecopy performance for a single-drive NAS, but only slightly higher than the Buffalo LinkStation Pro XHL.
For the competitive comparison, I took three other top-performing single-drive NASes—the Buffalo LinkStation Pro XHL, Western Digital MyBook World (white bar) and Iomega Home Media Network Hard Drive—and also included the TS-109 Pro, which is the only other single-drive QNAP NAS I had in the NAS Chart database.
The unusually-high cached performance of the WD and Iomega NASes compress the write performance plot in Figure 5 and make it hard to tell the winners from losers once you get past the 512 MB filesize point. But if you consult the numbers in the table, you see that the Iomega HMNHD and WD products fall off to equal that of the previous-generation TS-109 Pro in the mid-teens. Only the Buffalo stays up in the mid-to-high 20 MB/s range along with the TS-119.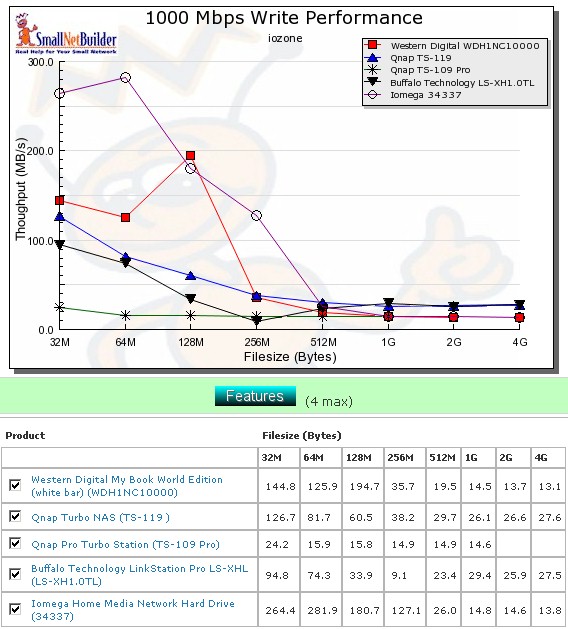 Figure 5: Competitive write comparison – 1000 Mbps LAN
Figure 6 compares the read performance, where it's much easier to discern the ranking. The TS-119 maintains a lead over the Buffalo until file sizes equal its internal 512 MB of memory. After that, both products are essentially equal in the mid-40 MB/s range. Then come the WD and Iomega drives with the old TS-109 Pro holding up the bottom position.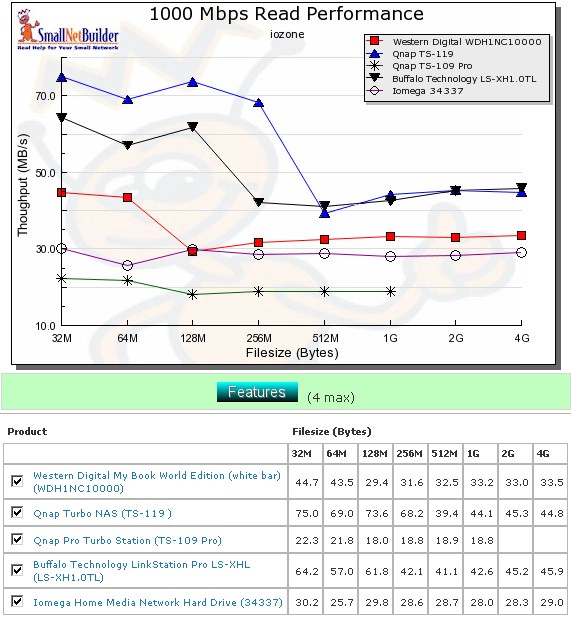 Figure 6: Competitive write comparison – 1000 Mbps LAN
Performance – File Copy
Vista SP1 1000 Mbps file copy write results in Figure 7 shows both the TS-119 and Buffalo XHL in the low 30 MB/s range.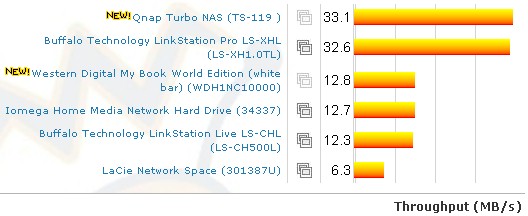 Figure 7: 1000 Mbps LAN Vista SP1 File Copy Write
Figure 8 shows the 1000 Mbps File Copy read, where the lower filesize boost is probably helping to goose the 119 up to 71 MB/s while the Buffalo comes in around 57 MB/s.
Figure 8: 1000 Mbps LAN Vista SP1 File Copy Read
Use the NAS Charts to further explore performance.
Closing Thoughts
The TS-119 is the third NAS I've seen using the new Marvell Kirkwood processor and I imagine we will be seeing many more. Marvell held a large market share in the previous generation of single-drive NASes and it looks like they'll edge out the competition once again. Although the Oxford / PLX OXE810 processor used in the refreshed WD MyBook World and Iomega HMNHD will give PLX more of a shot at getting designed in than their previous generation OXE800 did.
The TS-119 is a timely refresh for QNAP and keeps them competitive with the latest generation of similarly-updated products that have started to hit the shelves. But it also maintains QNAP's approach of charging a premium price.
The Price vs. Performance plot in Figure 9 appears to show the TS-119 and Buffalo LinkStation Pro XHL to be pretty close at the top of the plot (just hover over any icon to see see product name, price and performance). That is, until you realize that the Buffalo comes with 1 TB of storage for as little as $229 and the TS-119 has no storage and sells for almost $100 more. Add the 1 TB Caviar Green drive used in the XHL and the difference jumps to almost $200!
1000 Mbps Average Write Performance
The bottom line is that if you want a single-drive, high-performance NAS that you can also run a full-featured LAMP website on, then you probably won't mind paying the premium for a TS-119. But if your needs run more along the line of straightforward file sharing and backup, then the Buffalo LinkStation Pro XHL is a much more economical choice.