At a glance
Product
QNAP 2-bay SOHO NAS (TS-231P) [Website]
Summary
Dual-bay RAID 1 class NAS powered by dual-core Annapurna Labs AL-212
Pros
• USB 3.0 ports
• Hot swappable drive bays
• Can use 2.5″ or 3.5″ drives
Cons
• Nothing glaring
Typical Price: $0 Buy From Amazon
Introduction
If I had been paying attention, I should have pulled two drives from the four-bay TS-431P Craig recently reviewed, run RAID 1 tests and saved us all a separate review. But I didn't, so QNAP was kind enough to send a TS-231P for this brief separate review.
As you may have guessed, the TS-231P and TS-431P are cut from the same cloth, or more to the point, use the same main board. Both are powered by a dual-core 1.7 GHz Annapurna Labs Alpine AL-212 backed by 1 GB of DDR3 RAM and 512 MB of flash. There's also a single-bay TS-131P that's powered by the same platform, but has a different board with only one Gigabit Ethernet port.
The comparison table below, clipped from the TS-X31P series spec sheet, provides the vital specs of the three products. For more detail, check Craig's TS-431P review, linked above.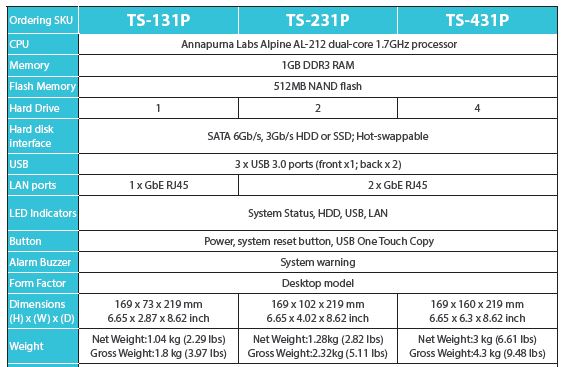 QNAP TS-431P callouts
The Table below shows the key components for the QNAP TS-431P.
| | QNAP TS-231P |
| --- | --- |
| CPU | Annapurna Labs Alpine AL-212 @ 1.7 GHz dual-core |
| RAM | 1 GB DDR3 Micron MT41K256M8DA-125 (x4) |
| Flash | 512 MB Macronix MX30UF4G18AB |
| Ethernet | Atheros AR8035A Gigabit Ethernet PHY (x2) |
| USB 3.0 | Etron Tech EJ188H USB 3.0 host controller |
Table 1: Key component summary
The TS-231P drew 15 W with two of our stock WD Red 1 TB (WD10EFRX) spun up and 9 W in power save mode with the drives spun down. Fan and drive noise was rated very low (mostly drive noise).
Performance
Firmware version 4.2.4 was loaded onto the TS-231P and performance tests were run using the Revision 5 NAS test process. All tests were run using Western Digital Red 1 TB WD10EFRX (x2 SNB supplied).
I periodically scan the Charts database, move discontinued products to the Archive and re-run the Ranker. I did that while preparing this review, with the result that Synology's DS216 is now the top-ranked RAID 1 class NAS.
The NAS Ranker performance summary for the two products is below, so you can see how the sub-ranks came out. Most everything is pretty dang close here, with the DS216 better in some areas, i.e. read benchmarks and the TS-231P better in others, i.e. directory copy writes.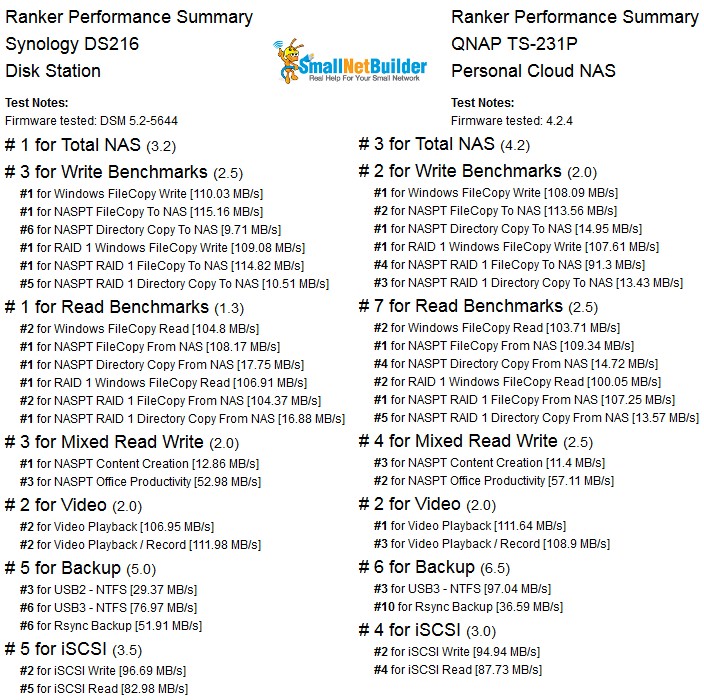 Ranker performance summary comparison
Closing Thoughts
Seems like it's hard for manufacturers to make inexpensive NASes these days that can't saturate a Gigabit Ethernet connection (or just about) when handling large sequential files. Of the 18 two-bay RAID 1 products tested with the latest Revision 5 process, all but eight can write to a RAID 1 volume at 100 MB/s or better and all but seven can read faster than 100 MB/s.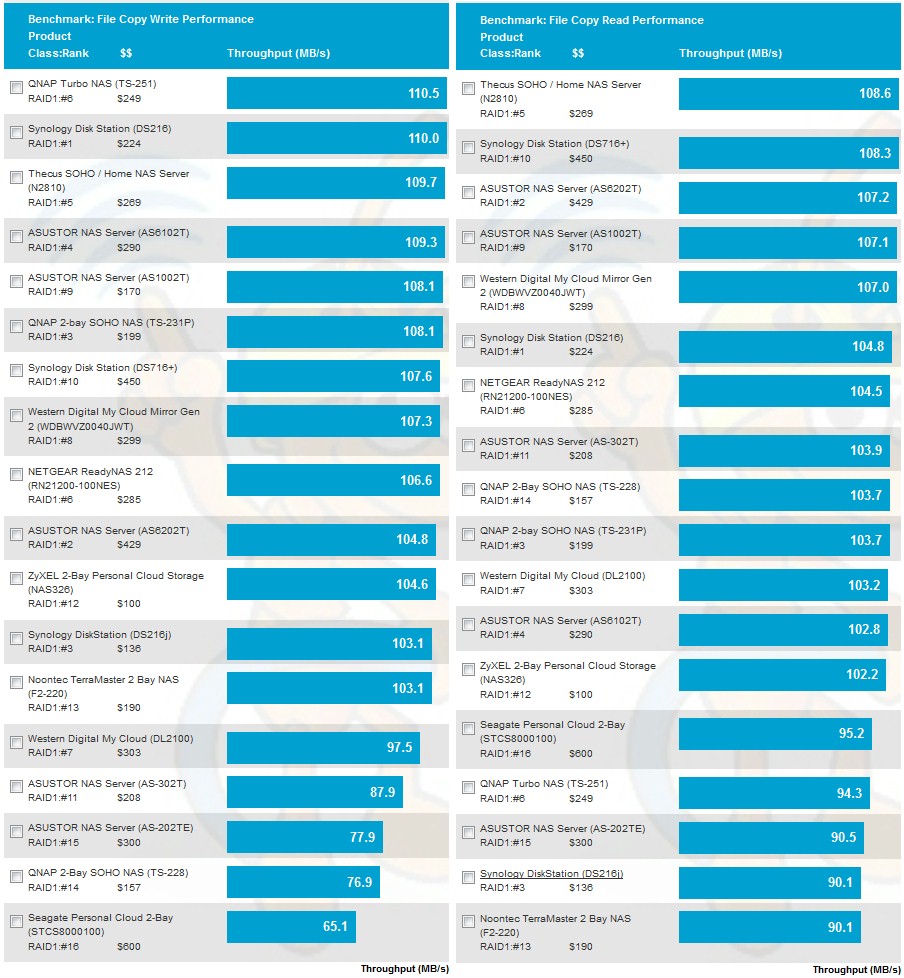 RAID 1 File copy write and read performance – RAID 1 NASes
So when choosing a NAS, don't get too hung up on having to get the #1 ranked product. In real life, you'd be hard pressed to see a performance difference from any NAS capable of 100 MB/s + large sequential file handling.
Although the TS-231P isn't the top-ranked NAS, with a #3 rank and around $25 cheaper, it's a better buy. But not as good as Synology's Marvell-powered DS216j, which is also ranked #3 and costs only $170.
Buy 2-bay SOHO NAS from Amazon