At a glance
Product
QNAP Turbo NAS (TS-412) [Website]
Summary
BYOD four-bay Marvell 1.2 GHz Kirkwood RAID SATA NAS with many serving options.
Pros
• Cloud backup to Amazon S3 & ElephantDrive
• Lots of features for the price
Cons
• No USB 3.0 ports
Typical Price: $389 Buy From Amazon
Updated 7/8/2011- Corrected component error
Rounding out my recent crop of QNAP reviews is the TS-412, four-bay sibling to the two-bay TS-212 and single-bay TS-112.
The 412 hews to QNAP's more traditional black case than the other two X12s. In fact, it would easy to mistake it for a TS-419P+, were it not that the 412 doesn't have an LCD display behind that expanse of dark plastic on the upper right case front. The drive trays are the same unlockable perforated style used on the 419P+.
The rear panel photo below shows dual Gigabit Ethernet ports that support up to 9K jumbo frames, failover and aggregation, three USB 2.0 ports (a fourth is on the front panel) and dual eSATA ports. Sorry, but for this price, you don't get USB 3.0..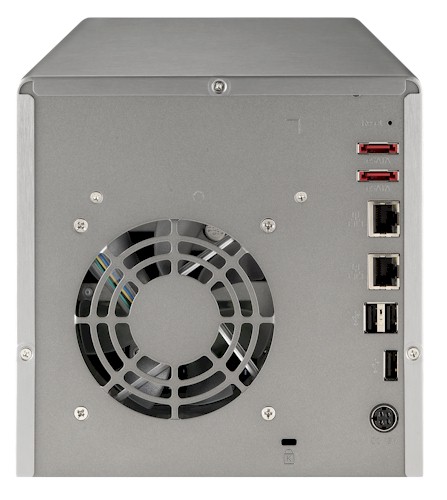 Inside
I didn't disassemble the TS-412 for its inner beauty shots because I already knew most of its parts. Like the TS-112 and 212, the 412 uses a Marvell 88F6281 Kirkwood SoC clocked at 1.2 GHz and has 256 MB of RAM and 16 MB of flash soldered to its motherboard.
Updated 7/8/2011- Corrected component error
The only thing I needed a peek inside for was to see what QNAP was using to get the additional SATA ports it needed. The mystery was solved when I spied a Marvell 88SX7042 PCI-e 4-port SATA-II controller on the drive bay motherboard. QNAP has used this SATA-multipliercontroller-on-the-drive-bay-board trick before.
I didn't visually confirm, but I suspect that a pair of Marvell 88E1310's are used for the dual 10/100/1000 Ethernet ports.
QNAP supplied the TS-412 with four 3.5" Samsung Spinpoint F3 1 TB (HE103SJ) drives that brought total power draw to 31 W with drives spinning and 13 W with them spun down. The TS-412 was very quiet, even during testing, with the fan staying down at a quiet speed.
Features
I upgraded to 3.4.3 Build 0520T firmware before testing. This version includes the newish MyCloudNAS feature and ElephantDrive cloud backup option. I've covered MyCloudNAS in the TS-112 review. For a run-through of V3's other features, see the review or the online demo.
Performance
I tested with 3.4.3 Build 0520T using our standard NAS test process.
The Benchmark summary below for the TS-412 shows Windows File copy write at 45 MB/s, with file copy read significantly higher at 74 MB/s. If you look at the File copy write and read charts, you'll see that all the TS-X12s measure 45 – 46 MB/s for RAID 0 write and 74 – 79 MB/s for RAID 0 read.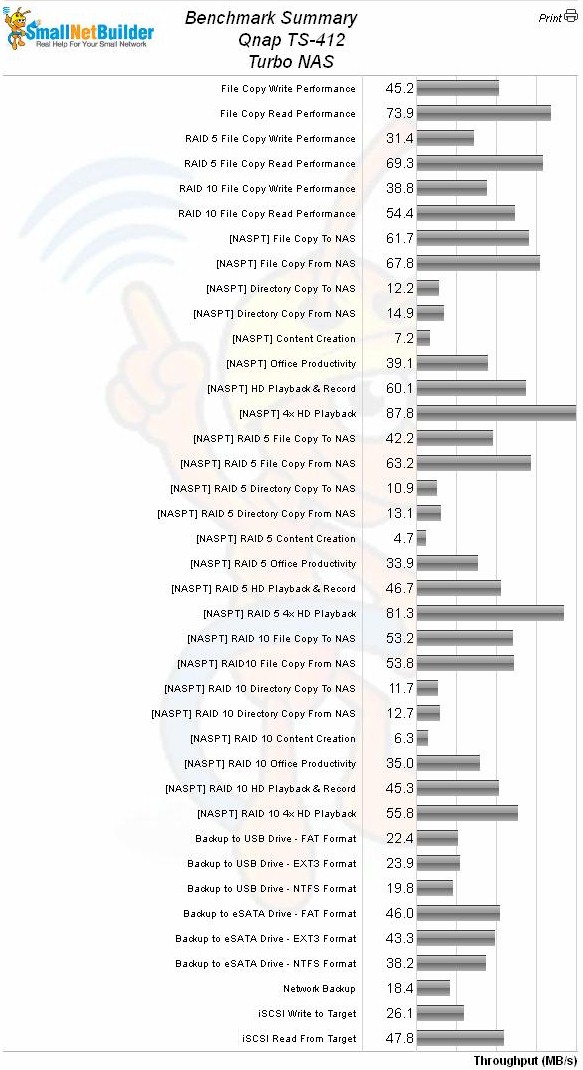 NASPT File Copy write benchmarks were higher and more evenly matched at 62 MB/s for write and 68 MB/s for read. As with all other tested NASes, the tougher NASPT Directory Copy tests didn't break out of the mid teens.
I ran backup tests to my standard Iomega Ultramax Pro in RAID 0 with USB 2 and eSATA connections and FAT, NTFS and EXT3 formats, courtesy of the 412's built-in formatter. Best throughput of 46 MB/s was with eSATA / FAT, while worst was 20 MB/s with USB 2 / NTFS.
Rsync network backup was even lower at 18 MB/s to the NAS testbed running Delta Copy.
iSCSI write and read to a 10 GB target on a RAID 5 volume produced 26 MB/s and 48 MB/s, respectively.
The RAID 5 File Copy Write and Read charts below are filtered to show only four-bay NASes. The 1.2 GHz Kirkwood is used by older NASes like the Buffalo TeraStation ES, Iomega ix4-200d and Seagate BlackArmor NAS 440. So QNAP is mainly trying to keep the TS-412's selling price down, its margins up or both by using it.
That said, the TS-412 seems to do well against these older NASes. But keep in mind they were tested on the previous-generation NAS testbed.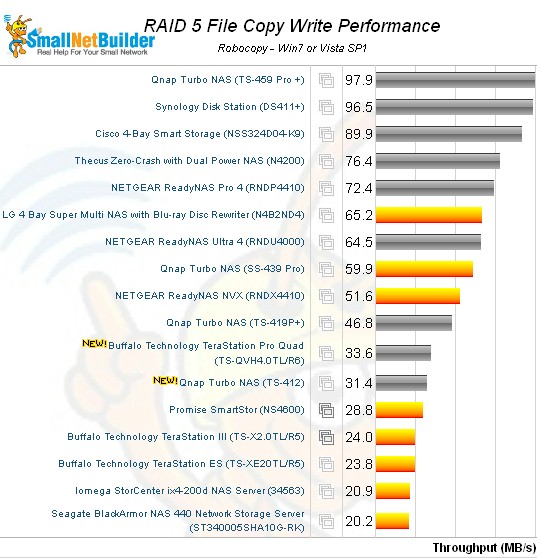 RAID 5 file Copy Write Comparison – four bay products
You can make an apples-to-apples comparison with the Buffalo TeraStation Pro Quad (D510 Atom) and QNAP TS-419P+ (1.6 GHz 88F6282 Kirkwood), since they were also tested on the same current-generation testbed.
While the TS-412 does pretty well against the Atom-powered Buffalo on RAID 5 write, it can't keep up on RAID 5 read. It's surprising that the 1.6 GHz Kirkwood TS-419P+ does so much better on RAID 5 read than the TS-412, but there you are.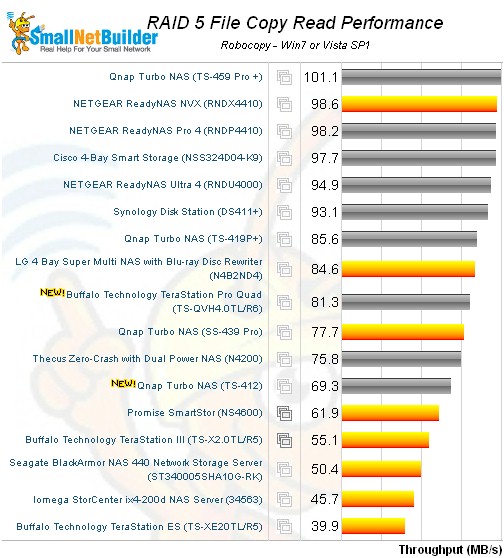 RAID 5 file Copy Read Comparison – four bay products
Conclusion
If your heart is set on a four-bay QNAP but your budget is tight, the TS-412 can save you almost $100 vs. the TS-419P+, the current high-end of QNAP's "Home and SOHO" line.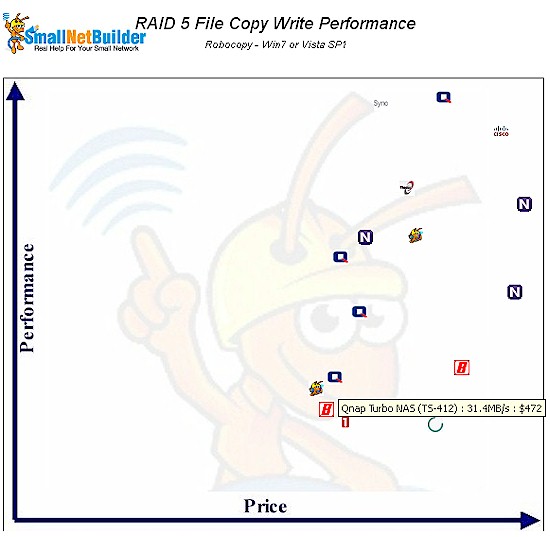 Price vs. Performance – four bay products – RAID 5 write
But you will sacrifice some performance to keep more money in your pocket. If you want 2 TB of storage for about the same price, you might consider the Buffalo TeraStation Pro Quad if it has the features you want. But it looks like Buffalo needs to do some tweaking to get more performance out of its D510 Atom.
Buy Turbo NAS from Amazon