At a glance
Product
QNAP Turbo NAS (TS-469L) [Website]
Summary
BYOD four-bay Intel D2700 Atom RAID SATA NAS with many serving options.
Pros
• Cloud backup to Amazon S3, ElephantDrive, Symform
• The usual extensive QNAP Feature Set
Cons
• Still relatively expensive
Typical Price: $551 Buy From Amazon
Introduction
Take a TS-569 Pro [reviewed], change the disk carriers for a slightly spiffier, but unlockable model, take out the display and drop the number of bays to four from five and you have the TS-469L.
The 469L sits atop the four-bay group in QNAP's "Home and SOHO" NAS family. The low end of QNAP's NAS families have traditionally used less-expensive architectures based on Marvell storage SoC's. But QNAP seems enamored enough with the Cedarview family of Intel Atom CPUs to be using them…a lot.
The focus for the 469L is lower cost, which QNAP achieves by sacrificing the disk tray locks and alpha-numeric display found in its "SMB" family products. I think the non-lockable trays give the Home and SOHO NASes a more updated look than the SMB family NASes with their lockable trays. While some might miss the ability to see the NAS IP address without firing up Fing or another network scanner, most home buyers would rather have the extra money in their pocket.
The front and rear panel callouts below show that the essential indicators remain, as well as a full complement of USB 2.0 (5), USB 3.0 (2) and eSATA (2) ports. And even though you also now get an HDMI port to use with QNAP's "HD Station" features including XBMC, QNAP still includes a VGA port if you prefer your display old-school style.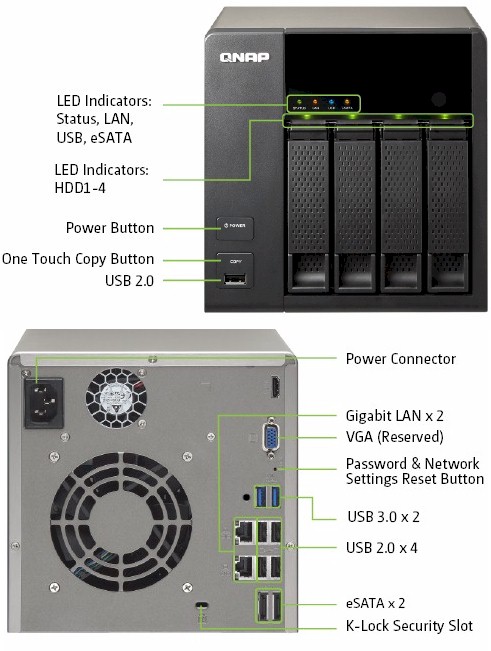 QNAP TS-469L Front and rear panel callouts
Inside
The too-smooth cover could use some indentations or other grippy features to make getting it off easier. But once off, the empty SoDIMM socket clearly awaits either a 1 GB or 2 GB DDR3 memory module, to bring the RAM complement to a total of 3 GB, fully blessed by QNAP.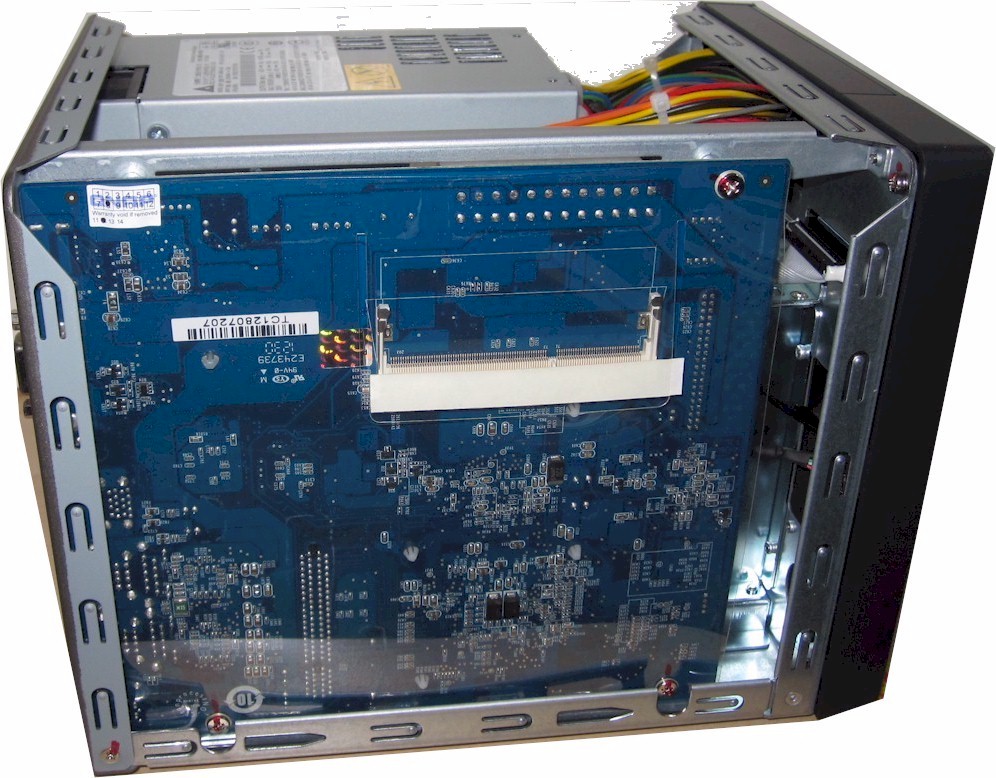 QNAP TS-469L inside showing empty SoDIMM socket
The TS-469L isn't designed for easy serviceability. Removing the fan requires removing the back cover and then nine screws before you can dismount the rear cover that holds the fan. Once you have the plate off, though, you can also easily get to the power supply.
Removing the board is another thing entirely. That lower side lip shown above prevents you from completely disengaging the board's SATA backplance connector. There is probably some trick, but I couldn't see a way to get the board free without also removing the drive backplane.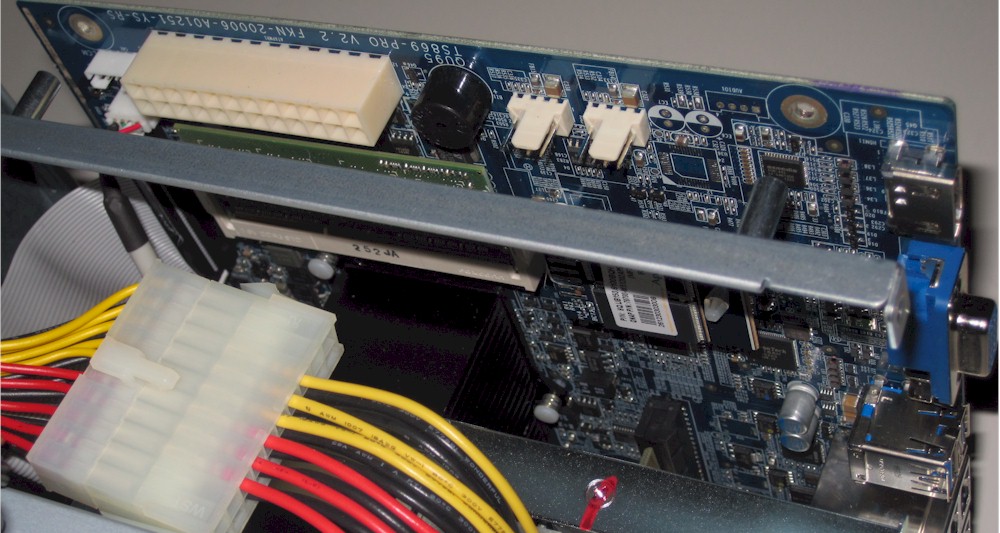 Partial main board view
I was able to get the board free enough to identify most of the components, which are sumarized in Table 1 along with the TS-569 Pro's components. There is clearly a family resemblance. The Intel processor companion device must have enough SATA channels to handle the four drive bays plus the two eSATA connectors, because I didn't see any SATA multiplexers either on the main board or drive backplane. I'll note that the backplane was marked as "TS-469 Pro BP" and the main board was also marked as "TS-869 Pro V2" as shown in the photo above.
| | TS-469L | TS-569 Pro |
| --- | --- | --- |
| CPU | Intel Atom Dual-Core D2700 @ 2.13 GHz | Intel Atom Dual-Core D2700 @ 2.13 GHz |
| RAM | 1 GB DDR3 1333 SoDIMM (expandable to 3 GB) | 1 GB DDR3 1333 SoDIMM (expandable to 3 GB) |
| Flash | 512 MB DOM | 512 MB DOM |
| Ethernet | Intel WG82574L (x2) | Intel WG82574L (x2) |
| Companion | Intel NM10 Express Chipset [guess] | Intel NM10 Express Chipset [guess] |
| USB 3.0 | Etron Tech EJ188G | Etron Tech EJ188G |
| SATA | None | Marvell 88SE9125 SATA 6Gb/s and PATA Host Controllers (x2) |
| I/O | ITE IT8721F temperature, fan and voltage monitoring controller | ITE IT8721F temperature, fan and voltage monitoring controller |
| Video | Asmedia ASM1442 HDMI level shifter | Asmedia ASM1442 HDMI level shifter |
Table 1: Key component summary and comparison
I told QNAP that I would use four 3 TB WD Red drives (WD30EFRX) loaned by WD for testing. Power consumption measured 36 W with the 4 drives spun up and 23 W with them spun down. Fan and drive noise could be classified as very low, since the NAS was quiet as a mouse in my quiet home office.
Features
Firmware at test time was 3.8.1 Build 20121205. When I first hit the 469L's IP address, I thought QNAP had made some major changes in the admin GUI given the view below that greeted me. But it turned out to be just a bit of window dressing. Once I clicked through to the Administration option after logging in, the same familiar interface was there.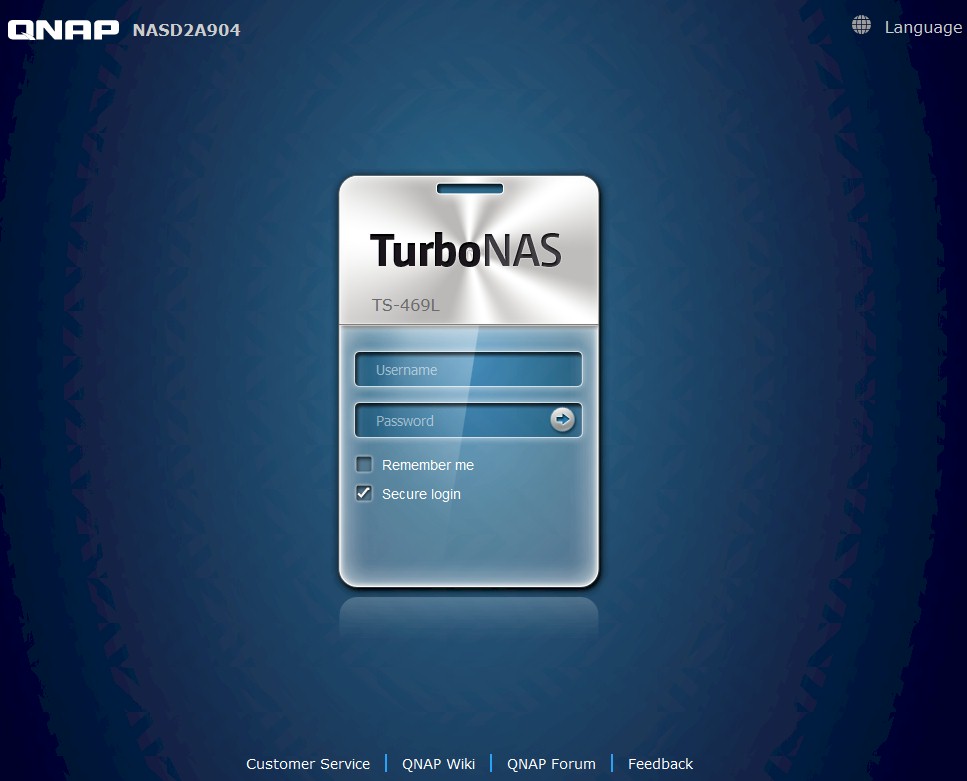 New login look
The big addition in 3.8.1 is support for the previously-mentioned HD Station. This is QNAP's entry into the use-your-NAS-as-a-HTPC sweepstakes that some NAS makers are running these days.
HD Station is a collection of modules that can be loaded to support various media playback features. The current modules are shown in the screenshot I pieced together below (that's why the two scrollbars), which appears when you mosey over to the Applications > HD Station section of the admin GUI.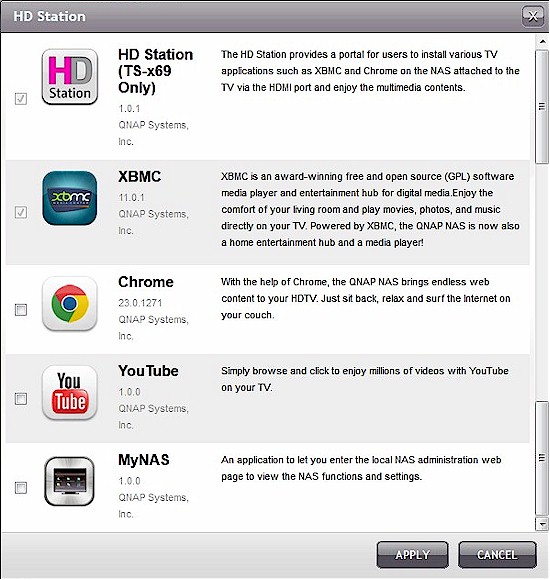 HD Station modules
As he has with ASUSTOR and Thecus, Scott will soon be putting QNAP's media playback features to the test in another article.
You can explore the V3 firmware's features in the review or online demo. We also covered MyCloudNAS in the TS-112 review.
Performance
The TS-469L Pro was tested with 3.8.1 Build 20121205 firmware using our standard NAS test process.
The Benchmark Summary below shows pretty consistent Windows File Copy performance for RAID 0, 5 and 10 modes. RAID 0 write shows the highest results at 108 MB/s, with 98 and 102 MB/s for RAID 5 and 10, respectively. File Copy read has a little more variance, but is still consistent at 104, 102 and 100 MB/s for RAID 0, 5 and 10, respectively.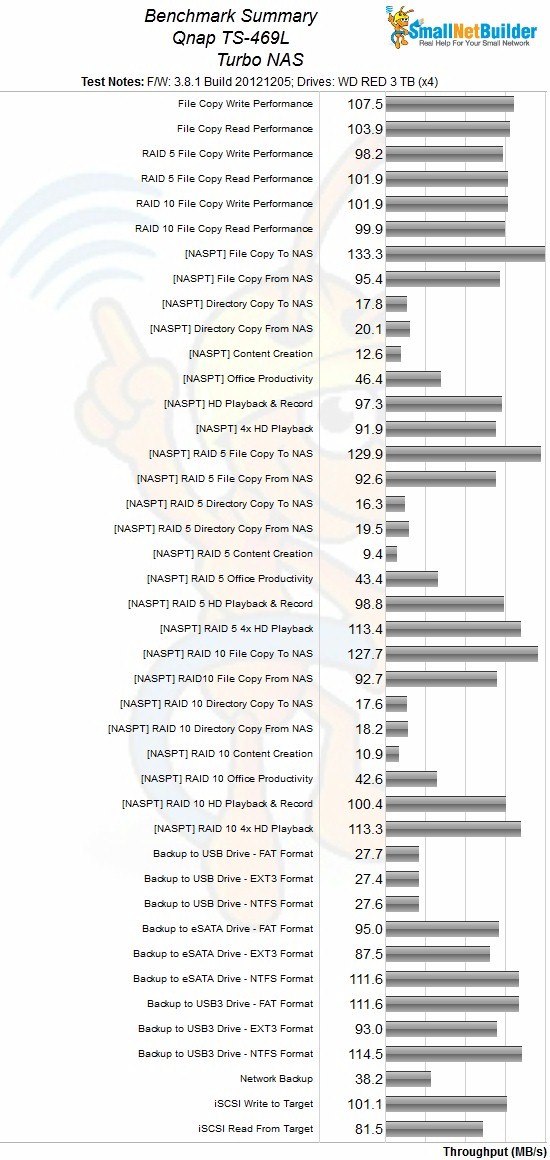 QNAP TS-469L Benchmark Summary
NASPT File copy results are higher than their Windows File Copy counterparts for write (133, 130, 128 MB/s) , but lower for read (96, 93, 93 MB/s) for RAID 0, 5 and 10 respectively.
iSCSI target write performance to target created on a RAID 5 volume came in at a very respectable 101 MB/s, with read much lower at 82 MB/s. As a test, I ran the full suite of benchmarks against an iSCSI volume, with surprising results described here.
Best attached backup performance of 112 MB/s was obtained with eSATA / NTFS and USB3 / FAT. The speed of the USB 2.0 connection limited the performance with all three formats to 27 – 28 MB/s.
Rsync backup to the NAS Testbed running DeltaCopy acting as an rsync target came in at a typically-measured 38 MB/s.
For a competitive look, I ran RAID 5 File Copy charts filtered for dual-core Atom processors and selected three other Intel Atom D2700-based NASes for comparison, i.e. the ASUSTOR AS-604T, Synology DS412+ and five-bay QNAP TS-569 Pro. Since all RAID 5 and 10 tests are run using four-drive volumes, the TS-569 Pro has no advantage (or disadvantage)
Although the competitors change positions from benchmark to benchmark, results are close enough that it would be difficult to detect a significant performance difference among the group in real-world use.

RAID 5 File Copy Performance comparison
Conclusion
QNAP seems to sprout new NAS models faster than dandelions in a spring rain. But this sometimes this can lead to buyer confusion. If you're considering a four-bay QNAP NAS, you have the five options shown in Table 2 to choose from.
| Model | Processor | Price |
| --- | --- | --- |
| TS-469 Pro | Intel Atom D2700 @ 2.13 GHz | $794 |
| TS-469L | Intel Atom D2700 @ 2.13 GHz | $629 |
| SS-439 Pro | Intel Atom N270 @ 1.6 GHz | $491 |
| TS-419P II | Marvell Kirkwood 88F6282 @ 2 GHz | $468 |
| TS-412 | Marvell Kirkwood 88F6261 @ 1.2 GHz | $370 |
Table 2: Four-bay desktop QNAP NASes
Unless you really, really, really want lockable drive trays and a display screen, at least among this group, the TS-469L is the obvious choice.
Buy Turbo NAS from Amazon