At a glance
Product
QNAP Turbo NAS (TS-569 Pro) [Website]
Summary
BYOD five-bay Intel D2700 Atom RAID SATA NAS with many serving options.
Pros
• Cloud backup to Amazon S3, ElephantDrive, Symform
• The usual extensive QNAP Feature Set
Cons
• Expensive
Typical Price: $869 Buy From Amazon
Introduction
QNAP's TS-569 Pro is a five-bay version of the dual-drive TS-269 Pro I reviewed a few weeks ago. Like its smaller sibling, the TS-569 Pro is a based on Intel's dual-core D2700 Atom processor.
From the front side, the TS-569 Pro is almost identical to every other five-bay QNAP NAS, with only the front LCD display giving a clue as to the true nature of the box. A sharp eye might notice that the front panel now has a USB 2.0 port vs. the blue USB3.0 port found on the QNAP TS-559 Pro II.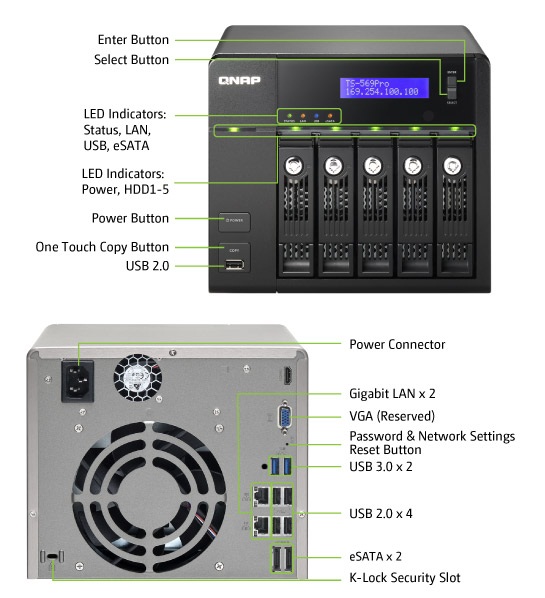 Figure 1: QNAP TS-569 Pro Front and rear panel callouts
On the rear, things change just a little bit, with the inclusion of an HDMI port (for console access), shuffling around of some ports and that missing blue USB 3.0 port appearing in the rear for a total of two.
Inside
Removing the cover, the first thing noticeable is the empty SoDIMM socket (Figure 2 below) which can be populated with either a 1 GB or 2 GB DDR3 memory module, bringing the TS-569 Pro RAM complement to a total of 3 GB, fully blessed by QNAP.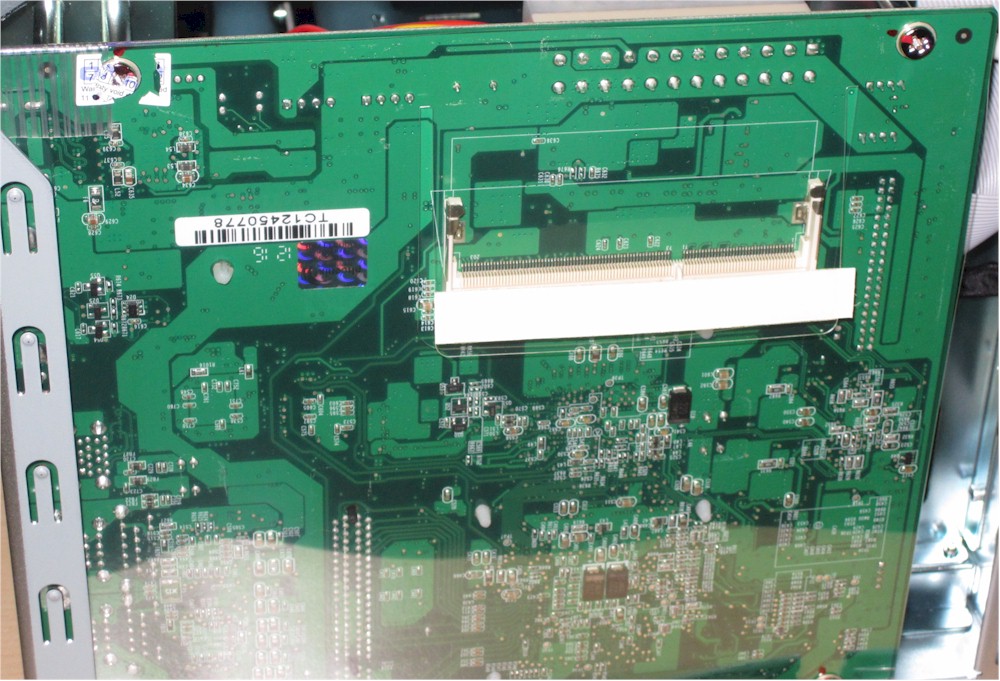 Figure 2: QNAP TS-569 empty SoDIMM socket
Like other QNAP NASes, the board is mounted component side in and disassembly required more than what was comfortable. However, a peek down the backside (Figure 3) does reveal the SoDIMM module, which appears to be glued in somehow, seeming to indicate that they don't want you messing with it. You can also see the Flash (Disk On Module) to the right of that.
It's not easy to see, but the 2.13 GHz Intel Atom Dual-Core D2700 processor is down there under a black heatsink as are two Intel WG82574L Ethernet phys. We took a logical guess that the Intel NM10 Express chipset is the companion chip to the D2700 that also sits under the same heatsink. USB 3.0 functions are provided by an Etron Tech EJ188G.

Figure 3: A peek inside the QNAP TS-569 Pro
A look at the TS-569 Pro backplane (Figure 4) reveals the five SATA connectors, which are supported by two Marvell 88SE9125 SATA 6Gb/s and PATA Host Controllers mounted right on the backplane.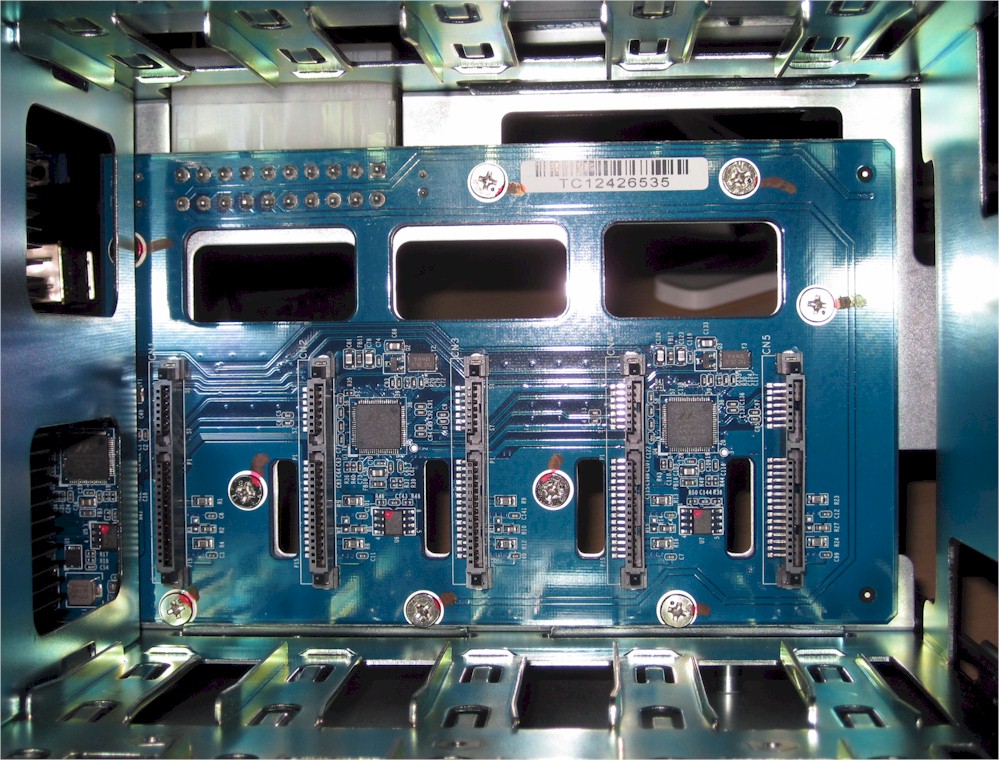 Figure 4: A look at the QNAP TS-569 Pro's backplane with its hot-swappable SATA connectors
Table 1 summarizes all the TS-569 Pro's key components.
| | |
| --- | --- |
| CPU | Intel Atom Dual-Core D2700 @ 2.13 GHz |
| RAM | 1 GB DDR3 1333 SoDIMM (expandable to 3 GB) |
| Flash | 512 MB DOM |
| Ethernet | Intel WG82574L (x2) |
| Companion | Intel NM10 Express Chipset [guess] |
| USB 3.0 | Etron Tech EJ188G |
| Audio | None |
| SATA | Marvell 88SE9125 SATA 6Gb/s and PATA Host Controllers (x2) |
| I/O | ITE IT8721F temperature, fan and voltage monitoring controller |
| Video | Asmedia ASM1442 HDMI level shifter (console access) |
Table 1: Key component summary and comparison
The NAS was equipped for testing with four Seagate ST1000DM005 HD101AJ1 1 TB drives supplied by QNAP. Power consumption measured 46 W with the 4 drives spun up and 27 W with them spun down. Fan and drive noise could be classified as medium-low, with most of the noise coming from the drives.
Features
Firmware at test time was 3.7.3 Build 20120801. This version includes the MyCloudNAS feature and ElephantDrive cloud backup option. This version has added another cloud-based storage feature: Symform. Symform lets you allocate a portion of your QNAP NAS in return for free cloud storage. It's also available for Windows, MacOS and Linux (beta) systems so you can share some of your storage there. Synology also recently added support for Symform. We'll be doing a review of standalone Symform shortly.
We covered MyCloudNAS in the TS-112 review. For a run-through of V3's other features, see the review or the online demo.
Performance
The TS-569 Pro was tested with 3.7.3 Build 20120801 firmware using our standard NAS test process.
The Benchmark summary (Figure 5) shows pretty consistent Windows File Copy performance for RAID 0, 5 and 10 modes. RAID 0 write shows the highest results at 107 MB/s, with 98 and 100 MB/s for RAID 5 and 10, respectively. File Copy read has a little more variance, but is still consistent at 96, 93 and 100 MB/s for RAID 0, 5 and 10, respectively.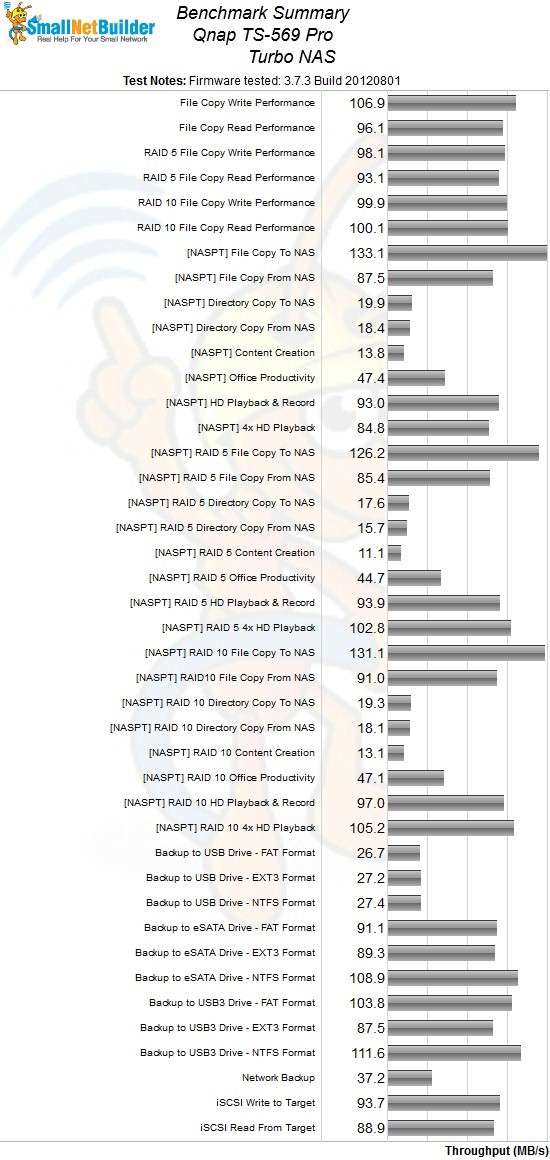 Figure 5: QNAP TS-569 Pro Benchmark Summary
NASPT File copy results are higher than their Windows File Copy counterparts for write (133, 126, 131 MB/s) , but lower for read (88, 85, 91 MB/s) for RAID 0, 5 and 10 respectively.
iSCSI target write performance to target created on a RAID 5 volume came in at 93 MB/s, with read slightly lower at 88 MB/s.
Attached backup tests were run with our new higher performance Startech USB 3.0 eSATA to SATA Hard Drive Docking Station (SATDOCKU3SEF) containing a WD Velociraptor WD3000HLFS 300 GB drive. Best attached backup speeds were attained with eSATA and NTFS, clocking in at of 109 MB/s, worst was 26 MB/s on USB 2.0 with FAT.
Rsync backup to the NAS Testbed running DeltaCopy acting as an rsync target came in at a typically-measured 37 MB/s.
For a competitive look, I ran RAID 5 File Copy charts filtered for dual-core Atom processors. Note that RAID 5 (and 10) tests are run with four drives so as not to give an unfair advantage/disadvantage to NASes with more than four bays.
As we have seen previously, the latest-generation Dual-Core Atoms (D2700, D2550) don't seem to provide a significant performance boost over previous-generation D525 Atoms. The write comparison in Figure 4 shows the TS-569 Pro having comparable performance to the D525 1.8 GHz Atom-based QNAP TS-559 Pro II. The other similarly-performing NASes (Synology DS2411+ and Thecus N4800) use the dual-core 1.8 GHz D525 Atom and dual-core 2.13 GHz D2700 Atom, respectively.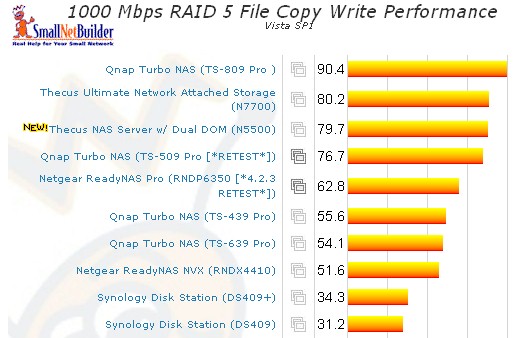 Figure 6: QNAP TS-569 Pro RAID 5 File Copy Write Comparison
RAID 5 File Copy Read falls just a bit, with the TS-569 Pro as much as 10% lower than some other Dual-Core Atom NASes, but still turning in respectable numbers.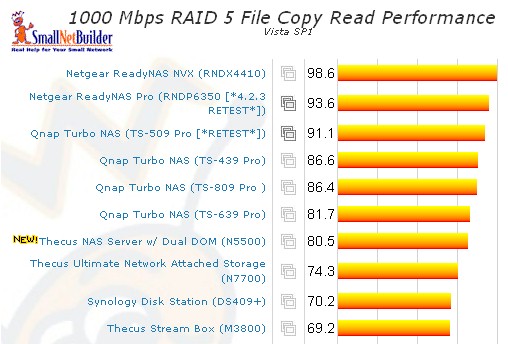 Figure 7: QNAP TS-569 Pro RAID 5 File Copy Read Comparison
Conclusion
As always, QNAP delivers a high quality NAS, packed with performance and features. But they also are not afraid to ask top dollar for them. Since we have seen very little performance difference between the D510, D525, and D2700 Atom variants, it would be reasonable to suggest that if you are able to find a good deal on an earlier model based on the D5xx processors, you should jump on it. At any rate, whatever your decision, you'll be getting a five-bay NAS that is one of the best out there. Just not one of the most inexpensive ones.
Use the new NAS Finder and NAS Charts to compare the TS-569 Pro with other products.
Buy Turbo NAS from Amazon