Introduction
Updated 4/23/2009: Fixed reference to link aggregation.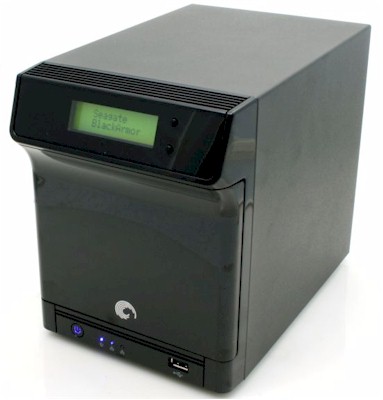 At a Glance
Product
Seagate BlackArmor NAS 440 (ST340005SHA10G-RK)
Summary
Four drive NAS that supports multiple RAID configurations, DLNA server and remote web access
Pros
• Lots of storage for the money
• Hot swappable drives

• Dual Gigabit Ethernet ports

• 10 Windows client licenses for full-featured backup software
• Remote web-based access easy to setup and worked well
Cons
• No Logging
• No MacOS backup client or Time Machine support
• No RAID migration / expansion
• Slow USB backups
• No eSATA support
Recently, we reviewed Buffalo Technology's new TeraStation Pro III, the latest addition to Buffalo's family of NASes targeted at the small office market. Now, Seagate has entered the market with its first family of four-drive NAS products aimed at the same buyers. But in its first attempt at a business-focused product, Seagate has neglected to include some obvious features for this market.
The BlackArmor family consists of four products: the 2 TB BlackArmor NAS 420 (2 X 1 TB), and three models of the NAS 440 with capacities of 4 TB (4 X 1 TB), 6 TB (4 X 1.5 TB), and, "coming soon", (according to their website) 8 TB (4 X 2 TB). The NAS 440 is shipped from the factory configured for RAID 5 to provide the maximum amount of fault-tolerant storage. Other possible configurations include JBOD, RAID 0, RAID 1 and RAID 10. Unlike the TeraStation III, the BlackArmor 440 does not support RAID 5 with a hot spare. However, the SATA drives are hot swappable – a feature you really need if you want to minimize downtime.
Figure 1 shows the features of the front panel of the BA 440. It contains a small two-line LCD panel that displays information such as the IP addresses of each of the two LAN interfaces, date, time, disk status, volume usage, temperature, fan speed, etc., as well as alerts.
Figure 1: Front panel of the BlackArmor 440
There are also LEDs for each of the LAN ports, system status LED, power button and one of the three USB 2.0 ports. If you're interested in seeing disk activity, however, you'll have to open the door to expose the drives – the drive status activity LEDs are on the tray for each drive.
Noticeably missing is the ability to secure the drives against theft or mischief. Neither the drive bay door nor the drives have locks and the drive trays can be easily removed without tools.
Figure 2: Rear panel of the BlackArmor 440
The rear panel (Figure 2) has two Gigabit Ethernet ports that can be configured for port failover or for NAS to NAS replication. You'll also find a reset button, Kensington lock slot, case locking tab and the remaining of three USB 2.0 ports.
The USB ports can be used to connect external drives for capacity expansion or backup, UPS shutdown synchronization or to connect a USB printer for sharing. Note that the reset button will reset the administrator's password, but will not set the device back to factory default – a design decision made to "protect data", according to Seagate.
On The Inside
All of the BlackArmors use the new Marvell "Kirkwood" 88F6281 NAS processor clocked at 1.2 GHz and have 256 MB of soldered-on-board RAM. Dual Marvell 88E1116Rs provide two Gigabit Ethernet ports that can be used separately or arranged in failover mode. Note that jumbo frames are not supported.
Power consumption is 45 W with four Seagate 7200.11 Barracuda 1TB drives used in the NAS 440 4 TB model that Seagate sent for review. Fan and drive noise are low, meaning the NAS is barely audible in a quiet room. A recent firmware change has added a HDD standby mode, but there are no configuration options to set drive spin down times. Figure 3 shows a view of the main board.
Figure 3: Main board
Setup
There's really not a lot of work involved with setting up the BlackArmor. It comes with a CD containing a discovery utility that can be installed either on a Windows or Mac OS system. The CD also contains the BlackArmor Backup Software (more on that later).
You don't really need to use the discovery tool, however. It's probably easier to just check the LCD screen for the IP address of the device and log into the web-based console using the default administrator's credentials. (admin/admin).
The BA arrives pre-configured as a RAID5 device with all of the space allocated to a single volume. Default shares include Download and Public with the public share having subdirectories used by the DLNA and iTunes server. Both shares are public for read/write and quotas are disabled.
When you first log into the administrator's console, you are intercepted by a setup wizard (Figure 4) that prompts you for the device name, a new admin password and LAN settings. With just a few clicks, you're ready to start using the BlackArmor.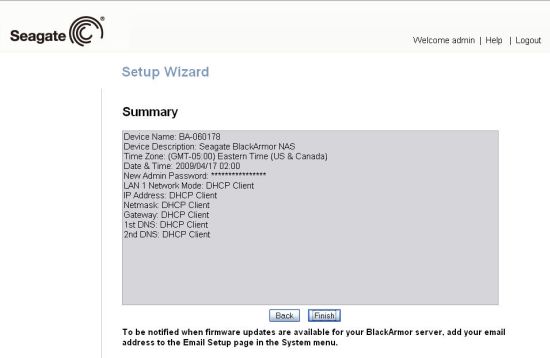 Figure 4: Setup wizard summary
Figure 5 shows the system status page which is the default login landing page.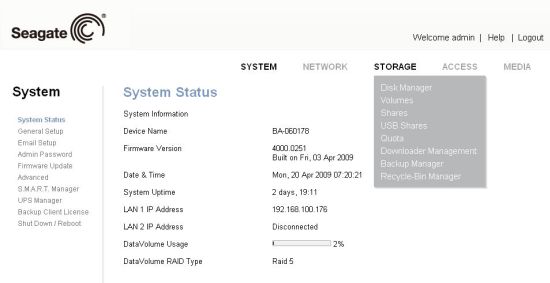 Figure 5: Status page
Feature Tour
The menu system on the BlackArmor is quite straightforward to use. The main menu categories are arranged across the top of the screen with sub-menus displayed under the selected menu item on the left. To help you determine which top level menu item to select, a drop down menu appears as you hover over a menu entry at the top of the screen. You can navigate directly to a function by clicking on it from the drop down menu.
For each of the five main menu items, I'll highlight several of the more important features.
System
This menu has the most entries, but fortunately, each screen has only a couple of options. You can configure the name of the device, time zone and NTP server. You have the option of selecting HTTP or secure HTTPS for web management and can either paste in an existing key, or auto generate an SSL key as shown in Figure 6.
This Advanced menu also includes a HDD standby feature – added in the latest firmware update. Your option is to enable or disable HDD Standby. You don't have control of drive spin-down times, however.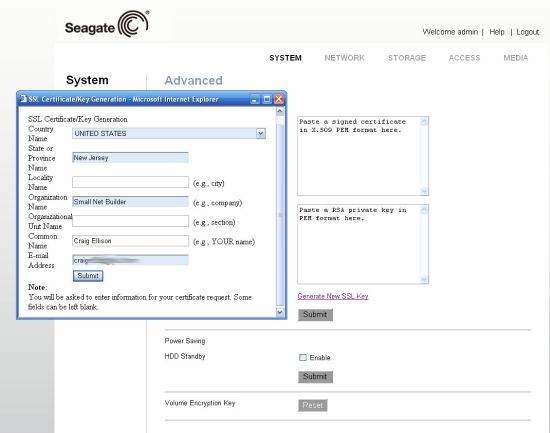 Figure 6: SSL key generation
The BlackArmor supports email notifications of "certain" events as the help screen says. Seagate has attempted to simplify email alert setup by having the BA use Seagate's own SMTP server. You only need to enter an email address (up to 5 supported). On the downside, however, you really have no control, or idea, for that matter, which events will generate a notification. Major events, such as a drive failure or system power down, I learned, do generate email notifications. This is one of the many areas where the BA doesn't quite live up to its billing as a business-class NAS. another is the BA's complete lack of logging.
The System menu will also let you configure the BlackArmor for manual or automatic firmware updates. If you select Automatic, you can specify that the updates be applied at a specific time or be prompted to apply the updates. In addition, the system menu will let you manage an attached UPS, change the admin password, shutdown/reboot the device or access the S.M.A.R.T drive status menu.
The Backup Client license sub menu displays the status of your backup software licenses. The licenses are tied to the MAC address of the computer using the license, but there's no way to reclaim a license for a system pulled out of service. BlackArmor comes with 10 licenses for Windows systems only, and, of course, you can buy more.
Network
Updated 4/23/2009: Fixed reference to link aggregation.
There really aren't too many options available on the network menu. For each of the two Gigabit Ethernet interfaces, you can choose DHCP (default) or assign a static address. The firmware we had included the option of aggregating the ports for better throughput, though the BlackArmor's performance doesn't come anywhere near fully utilizing the speed of a single Gigabit connection (more later).
In fact, just before posting this review, Seagate told us that the link aggregation feature is listed in the GUI, but is not functional and will be removed in a future firmware release. There were no settings for jumbo frames either, because the BA does not support them.
You can also set the workgroup name or join a Active Directory for use in larger networks (we didn't test this). If you have a printer attached to one of the USB ports, this menu lets you manage the print queue. The BlackArmor supports Dynamic DNS (DDNS), but only one DDNS provider, dyndns.org, is supported.
The most interesting Network sub menu is Services, shown in Figure 7.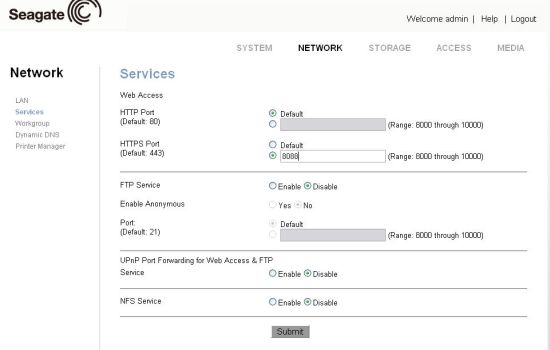 Figure 7: Network > Services menu
This menu lets you change ports for HTTP and HTTPS web access. But if you change from the default ports (80 and 443 respectively), you must choose ports in the range of 8000 to 10000. Similarly, you can choose to enable FTP and as well as change the default FTP port to be in the same range as the web access ports. Seagate wisely chose to disable FTP and UPNP port forwarding as the default settings. Note the last item, an NFS enable.
Storage
This menu lets you manage your disks, create/delete disk volumes, create/delete shares, manage USB shares for devices attached to the USB ports and enable quotas on the volumes created on the BlackArmor's internal disks. For each share, you can enable a recycle bin as well as Drag&Sort, a Seagate feature that automatically sorts drag-and-dropped files into directories based on file extension.
The BlackArmor is configured as RAID 5 by default, with all of the available space allocated to a single "DATAVOLUME". Making any changes to either would result in losing data already on the default volume. As mentioned, the BlackArmor also supports RAID 0, 1, 10 and JBOD, but there is no provision for RAID level migration or volume expansion.
Other submenus include a download management menu (Figure 8). The download is limited to HTTP and FTP with BitTorrent downloads not supported as they are in some competing devices.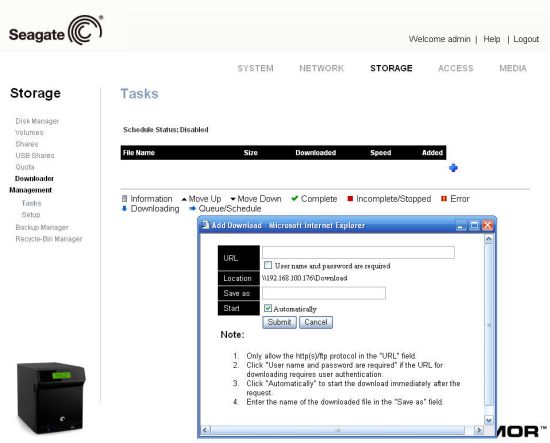 Figure 8: Downloader
The Backup Manager lets you back up and restore files to/from an attached external USB drive or a network device. You can either perform the task one time, or you can schedule a task as shown in Figure 9, with once daily being the most frequent backup. NAS-to-NAS backup is supported, but only to another BlackArmor and without compression or encryption options.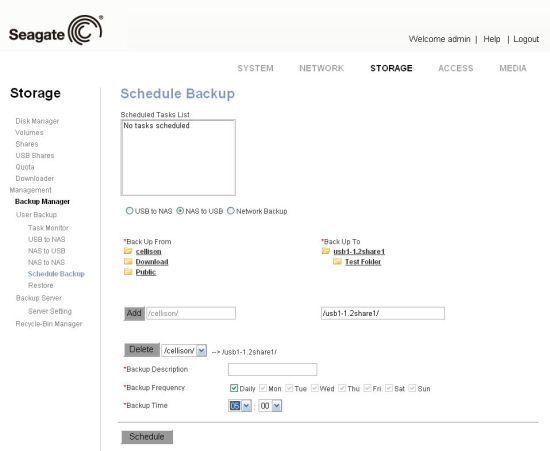 Figure 9: Backup scheduler
Access
This menu allows you to create users and groups, manage folder share permissions, USB share permissions, and enable the Global Access remote access feature. When you create a new users, you can assign them to groups as well as create private shares for them. Creating a private share automatically creates a share with the user's login name and sets access rights so that only the user has RW rights to the share. Figure 10 shows how you manage access rights for the private share cellison. If you click on Public, all of the configuration options disappear.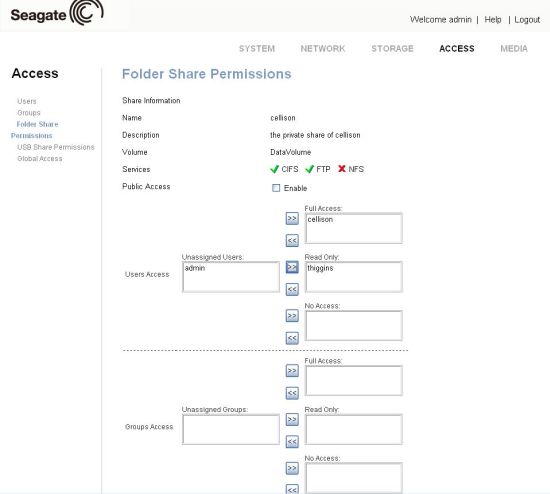 Figure 10: Share permissions
Global Access, if enabled, allows users to access their files from anywhere on the web using Seagate's free Global Access service It's easy to set up and worked exactly the same way as it did when I covered the feature in the Maxtor Central Axis review. In fact, the remote access user guide, supplied on CD, was actually the remote access guide from the Central Axis.
Media
This menu controls the UPnP AV / DLNA media and the iTunes servers. The iTunes server configuration allows a choice of 8 time increments, ranging from 5 minutes to 1 day, for the iTunes server to check for new music. The iTunes server worked as expected in both Windows and Mac OS versions of Itunes.
Drive Fail Test
In order to test the fault tolerance of the BlackArmor, I initiated a file copy of about 4.5GB of data to the public share. While the data was copying, I pulled drive #2. Within 2 seconds, the status light on the front panel turned red, and an alert on the LCD screen appeared.
About 46 seconds later, a second alert appeared indicating that the volume was running in a degraded mode. I also received an email alert for both of the events the same minute I pulled the drives. When I logged into the admin console, I was pleased to see alerts for both events highlighted in yellow (Figure 11).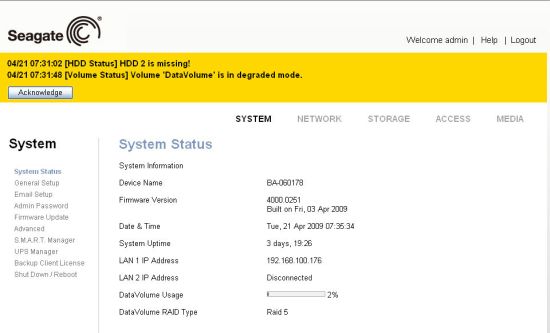 Figure 11: Drive fail alert
This alert remains in the admin console until you click the Acknowledge button.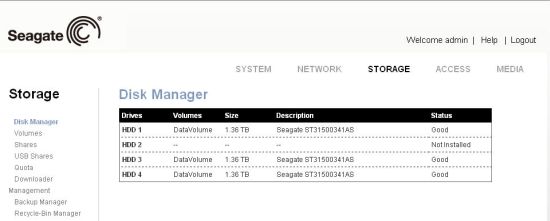 Figure 12: Disk manager showing pulled drive
The Disk Manager, shown in Figure 12, as well as the Volume menu, shown in Figure 13, also reflected the pulled drive and the degraded mode of the RAID.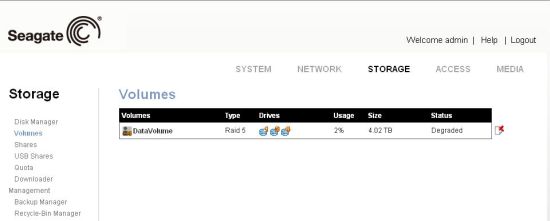 Figure 13: Volume page showing degraded RAID
Even though the RAID was operating in a degraded mode, the file copy process continued without a hitch. I let the file copy continue for about 10 minutes or so, and then plugged Drive 2 back in. I checked Disk Manager again, and this time, Drive 2 was recognized as a "foreign" drive (Figure 14).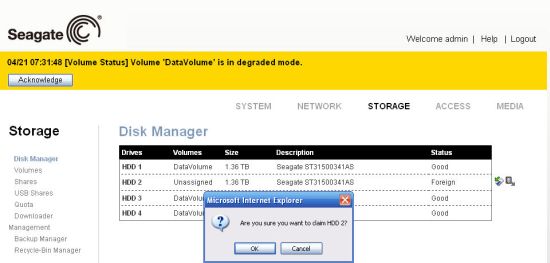 Figure 14: Reinstalled drive shown as foreign
After "claiming the disk" from the volume page, you need to click on a small icon to recover the drive as shown in Figure 15.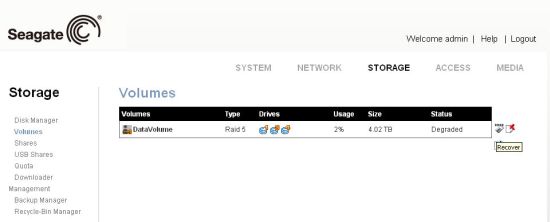 Figure 15: Click to recover the drive
Once you click on recover, you are prompted to confirm that you want to add the reclaimed disk to the volume. When you click OK, the re-synchronization process begins and an email is generated indicating the beginning of the rebuilding process.
I should note that the successful drive fail test was done with a second 6 TB BlackArmor, loaded with updated firmware, which Seagate shipped to replace the original 4 TB unit. Long story short, the first BA exhibited multiple problems during the drive pull test including the loss of the RAID 5 array on the first attempt and problems getting the BA to recognize all the drives after the failure.
Seagate replaced the unit with a 6TB unit, and the replacement device was able to recover from losing a drive in the array without the loss of data. I was able to successfully insert a drive, and add it to the array without powering down the BlackArmor. As a point of information, the rebuilding process on a 4TB device is approximately 6 hours and the time to rebuild a 6TB device is approximately 9 hours. During the rebuild process, the volume remains mounted and available for users.
Although the RAID recovery process isn't that difficult, neither the instruction manual, nor the local help system for the BlackArmor provide step by step directions for installing and recovering a volume. Instead, you are prompted to contact Seagate at www.seagate.com/support. For a device aimed at a small office environment, the RAID recovery process either needs to be more automated, or better documented and not require vendor contact.
Client Backup
In addition to the built-in back up features, the NAS 440 also ships with client-based backup software for Windows machines. Unlike a growing number of NAS products, the BA doesn't bundle backup software for Mac OS machines. (It also doesn't let the BA be configured as an Apple Time Machine store.)
The BlackArmor Backup software's splash screen shows that it's "powered by Acronis", a well-respected name for backup and imaging software. The BlackArmor ships with licenses for 10 client installations, but you can purchase more licenses in increments of 2 or 5. During the installation of the client software, the installer searches for a license server (the NAS 440) and installs an available license.
BlackArmor Backup is a fully-featured backup program that supports scheduled and unscheduled tasks and gives you a great amount of control over what you want to back up and when. Wizards help you through creating the various backup tasks.
Figure 16 shows the types of data you can backup. In addition to backing up data, the BlackArmor software supports creating disk images of your system for "bare metal" recovery.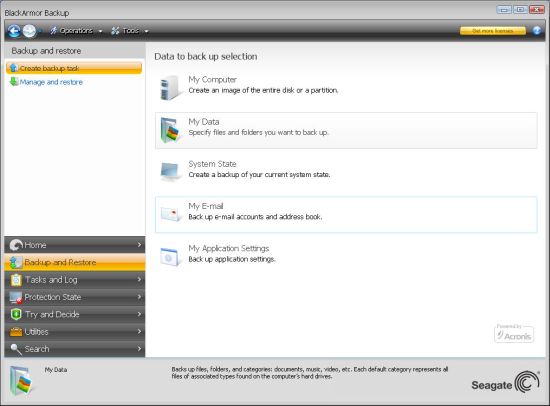 Figure 16: BlackArmor Backup
BlackArmor Backup also supports full, incremental or differential backups, provides the option of creating a new full backup after a specified number of differential backups and lets you consolidate backups as shown in Figure 17. The software also prompts you to create a bootable CD so that you can recover your system in the event that you need to restore from an image.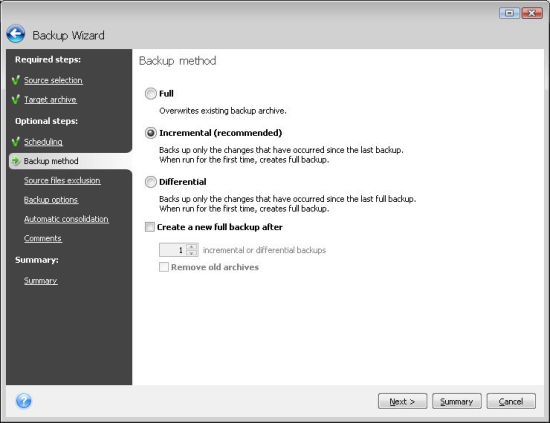 Figure 17: BlackArmor Backup Types
I installed the BlackArmor Backup software on three different systems and ran various types of backups, both scheduled and unscheduled. I noted that on systems that had Diskeeper running in the background, the CPU utilization shot up and remained at or close to 100% rendering the system very sluggish and non-responsive to user input.
However, on my least powerful system, I ran backups without Diskeeper installed. While the CPU utilization still hovered in the 80-90% range, BlackArmor Backup gave up resources so that the system was still usable when I launched a new task, such as opening another browser window. While it's difficult to be sure that there's a problem caused by Diskeeper, both Diskeeper and BlackArmor Backup use scheduled background tasks.
The BlackArmor backup software is probably the best backup software I've seen bundled with a NAS. It has a rich feature set and enough options that it could easily justify a review of its own. Just be aware that on heavily loaded systems with other background tasks running, high CPU utilization could be an issue.
Performance
Testing and analysis by Tim Higgins
The BlackArmor 440 was tested with our standard NAS test process with 4000.0181 firmware and four 1 TB Seagate ST31000333AS Barracuda 7200.11, 7200 RPM, 32 MB drives. Tests were run with 100 and 1000 Mbps LAN connections in RAID 0, 5 and 10 modes.
I first checked backup performance to an Iomega UltraMax Pro Desktop Hard Drive configured in RAID 0 attached via USB 2.0. The test copies a 4.35 GB ripped DVD test folder that I use in the NAS Chart Vista SP1 file copy tests from the NAS to the attached drive. The results are summarized in Table 1, which show very slow backup performance.
| Product | Backup Throughput (MBytes/s) |
| --- | --- |
| USB – FAT32 | 4.98 |
| USB – NTFS | 1.95 |
Table 1: Backup throughput test summary
It's not surprising to see low performance with NTFS, since most NASes use a free open source driver that limits performance with that format. But a business class NAS, especially one with up to 8 TB of storage, needs to do better than 5 MB/s for backup! For comparison, the single-drive QNAP TS-119, which uses the same Marvell processor and half the memory, measured just shy of 21 MB/s on the same test!
Figure 18 presents a summary of the write benchmark tests run for the BA 440. The combined striping and mirroring provided by RAID 10 really help boost performance back up toward the highest RAID 0 line, but at the cost of less usable storage. Write performance with a 1000 Mbps LAN connection averaged over the 32 MB to 4 GB file sizes and with cached results above 125 MB/s removed from the average comes in at 29.8, 22.3 and 28.1 MB/s for RAID 0, 5 and 10 writes, respectively.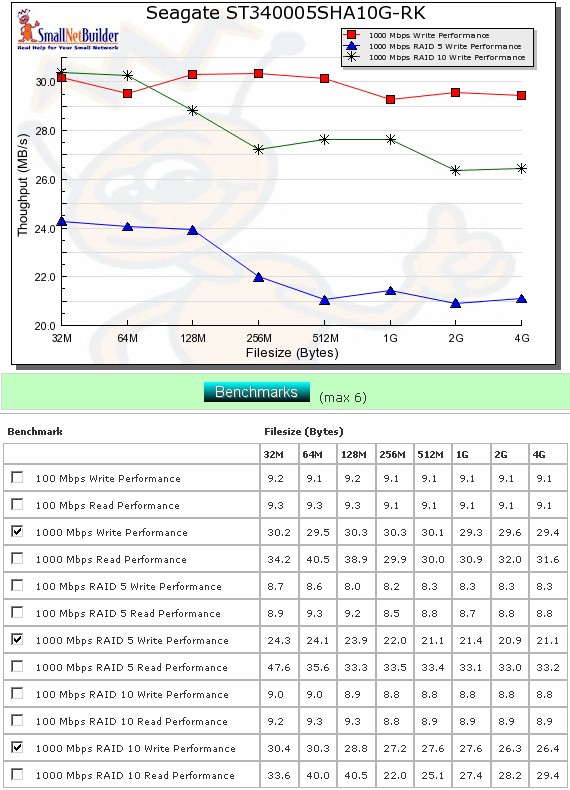 Figure 18: Performance benchmark summary – write
Figure 19 shows the average read performance for the same test configurations which came in higher at 33.5, 35.3 and 30.8 MB/s for RAID 0, 5 and 10, respectively.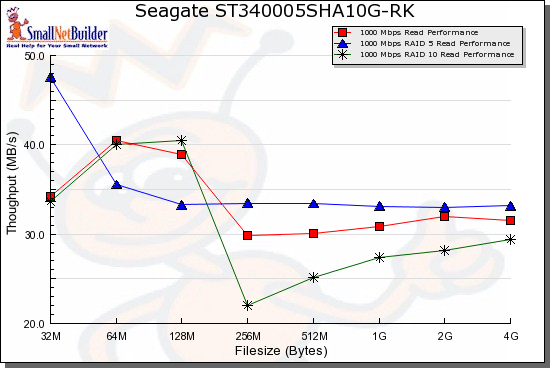 Figure 19: Performance benchmark summary – read
Vista SP1 filecopy results measured 27.2, 20.2 and 23.9 MB/s for RAID 0, 5 and 10 writes and 47.5, 50.4 and 39.4 MB/s for reads.
For the competitive comparison, I took chose the Buffalo TeraStation III, another recently-released four-drive business focused NAS and Thecus' three-drive N3200 Pro, a new three-drive product. Figure 20 shows that the RAID 5 write performance converges toward the low 20 MB/s range for all three products, once file size gets out beyond NAS RAM size. Note that each product uses a different processor, the Buffalo a Marvell MV78100-A0 C080 and the Thecus an AMD LX800. The Buffalo has 512 MB of memory and the other two have 256 MB.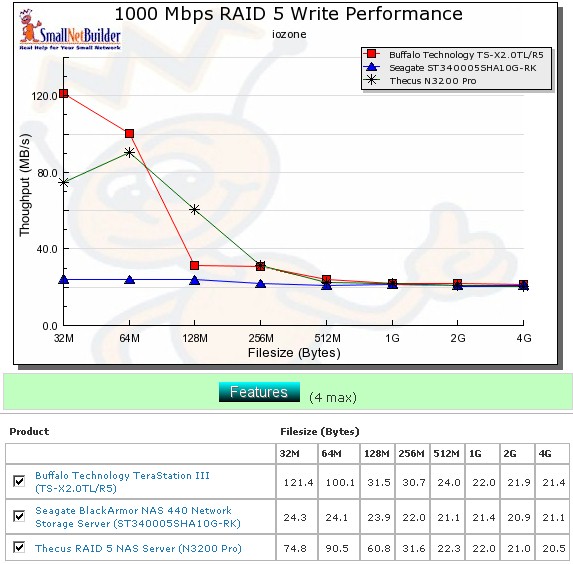 Figure 20: Competitive write comparison – RAID 5, 1000 Mbps LAN
Figure 21 compares the RAID 5 read performance, which shows a wider range. The BA 440 is the most consistent, settling in around 33 MB/s at the larger file sizes. The Buffalo and Thecus read speeds rise until file sizes equal their RAM sizes, then fall back into the 40 to 40 MB/s range. At any rate, both the Thecus and Buffalo have higher RAID 5 read speed.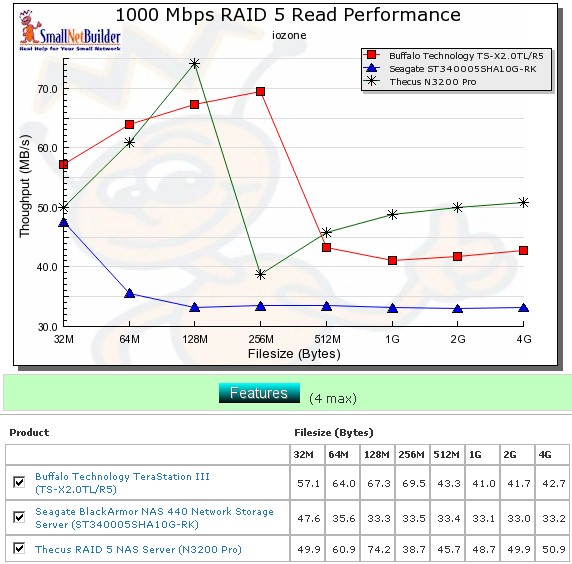 Figure 21: Competitive read comparison – RAID 5, 1000 Mbps LAN
Use the NAS Charts to further explore performance.
Closing Thoughts
For a diskful four-drive NAS, the closest competition to the BlackArmor NAS440 is probably Buffalo's new TeraStation III. We reviewed the 2 TB model (4 X 500 GB), but a more direct price comparison would be the 4 TB model. Seagate is slow getting the BA into distribution and keeping it there, but Amazon recently had it for $1140. The 4 TB TeraStation III is more widely available, but it's around $300 more expensive.
Both devices support multiple RAID configurations, but I have to give the edge to Buffalo for supporting a RAID 5 with hot spare that seamlessly rebuilt after a drive pull test. Both feature Active Directory support, have dual Gigabit Ethernet ports, and support both USB printing and capacity expansion by external USB drives. Seagate gets a slight edge there with four USB ports, compared to Buffalo's two.
For some higher end features, Buffalo also gets the nod for supporting jumbo frames as well as DFS (distributed file system). But for the most part, users in small offices probably won't perceive any benefit of those features.
For raw performance, the TeraStation III also has an advantage, in part because of its faster processor, more memory and perhaps the use of the XFS file system, as compared to the more common Linux EXT3 system found on the 440 NAS and many other NAS products.
For client backup, Seagate is the clear winner with their Acronis-powered BlackArmor backup software. The inclusion of 10 client licenses adds significantly to the value of the NAS 440, as does the Backup client's bare metal restore feature. By creating an image of a client's hard disk and storing it on the NAS 440, it's a simple matter to completely restore not only the user's data, but the entire system in the event of a hard disk failure. If only the BlackArmor had Time Machine support for the Macs, as the TeraStation III has.
It seems like every NAS vendor is after the "business" market today. But their definitions vary widely and are reflected in their feature sets. For Seagate, "business" appears to mean providing a good value in storage vs. $, a flexible selection of RAID volume types, remote access and an excellent bundled Windows client backup program with plenty of copies. But businesses also need fast NAS backup to attached or networked drives, complete and informative logging and online RAID migration and expansion.
That said, if your business needs fall more toward centralized storage of Word, Excel and other document files, you aren't constantly moving multi-gigabyte files around, are looking for a RAID 5 / 10 NAS with decent, but not top performance and want good value for your money, the Seagate BlackArmor NAS 440 deserves a look.