At a glance
Product
Western Digital My Cloud EX2 (WDBVKW0040JCH) [Website]
Summary
Two-drive home NAS with personal cloud, media serving & business features
Pros
• USB 3.0 & Gigabit ports
• Easy remote access without port forwarding
• 10 licenses for Smartware Pro backup software
• Apple Time Machine backup
Cons
• Can't schedule attached backups
• No logging
• Lower read performance vs. other similar class products
Typical Price: $0 Buy From Amazon
Introduction
Western Digital is continuing to expand its WD My Cloud line of "personal cloud" NASes. Last fall, they introduced the single drive WD My Cloud and Tim reviewed the four bay WD My Cloud EX4 in December. This week, Western Digital is rounding out the product line with the dual-drive My Cloud EX2. The EX2 features an upgraded processor, which helped earn it a higher position on the NAS Ranker than its larger EX4 sibling.
Our review unit, a 4TB My Cloud EX2, lists for $369.99. The EX2 will also be available with three additional configurations: diskless (BYOD) @ $199.99; 6 TB at $469.99 and 8 TB at $569.99.
For SKUs that ship with storage, WD uses its"Red" series of NAS-optimized hard drives. For the diskless model, WD has a fairly short drive compatability list.
Though the EX4 has an LCD status display, the EX2 relies on multi-colored LEDs to provide status. The front panel has only three indicators: Power and one indicator for each drive. The chart below summarizes the LED behavior.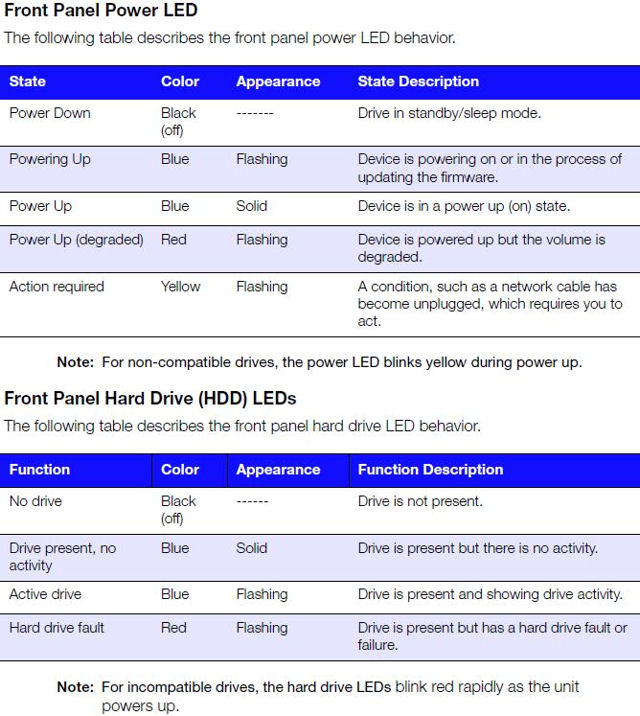 WD My Cloud EX2 front panel status indicator chart
The callout image below shows the EX2's rear panel.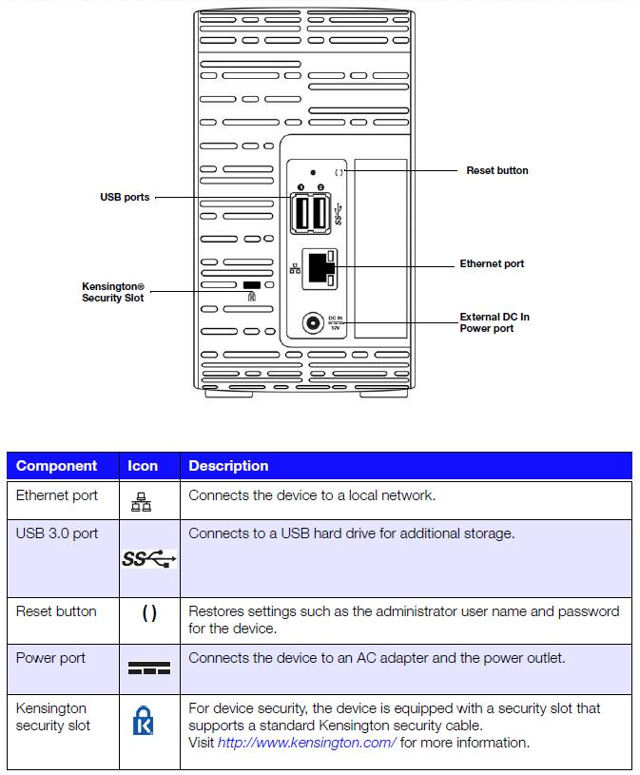 WD My Cloud EX 2rear panel callout
As with the other My Cloud products, the Ethernet port on the EX2 has both an activity indicator as well as a multi-color LED to indicate link speed. The indicators are summarized in the table below: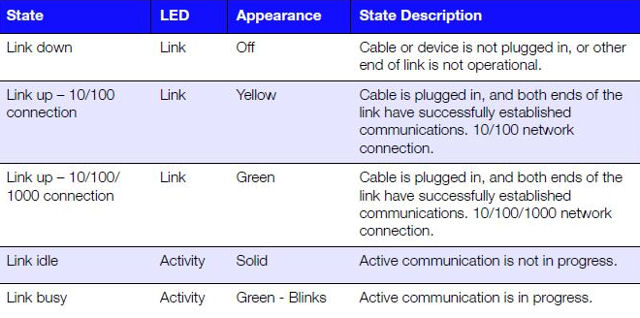 WD My Cloud EX2 Ethernet LED indicators
If you need to install or replace one or more drives, they install from the top. All you need is a Phillips screwdriver to add / remove plastic pull-tabs on each drive. The drives just slip into the drive bay – no tray is needed. The drives are held in place by a simple hold-down bracket.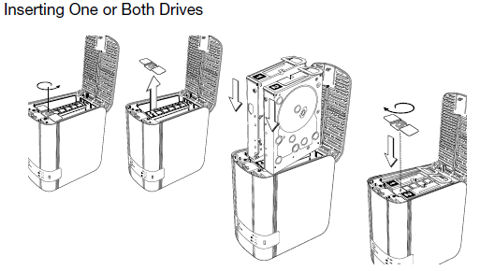 WD My Cloud EX2 drive insertion
Inside
The My Cloud EX2 is powered by a Marvell Armada 370 running at 1.2 GHz. Other key components are summarized in Table 1 along with components for the other two My Clouds. Note there is no beeper for alerts.
| | MY Cloud EX2 | My Cloud EX4 | My Cloud |
| --- | --- | --- | --- |
| CPU | Marvell Armada 370 @ 1.2 GHz | Marvell Kirkwood 88F6282A1 @ 2.0 GHz (single-core) | Mindspeed Comcerto 2000 (M86261G-12) dual-core ARM @ 650 MHz |
| RAM | 512 MB | 512 MB DDR3 | 256 MB DDR3 |
| Flash | 128 MB | 256 MB | 512 MB |
| Ethernet | Marvell 88E1518 | Marvell 88E1518-NNB2 (x2) | Broadcom BCM54612E |
| SATA | In Armada 370 | Marvell 88SX7042 PCI-e 4-port SATA-II controller | In Comcerto SoC |
| USB 3.0 | NEC D720202 | Etron Tech EJ168A | In Comcerto SoC |
Table 1: Component summary
My Cloud relies on a cleverly-placed small internal fan for cooling. That's it in the photo below located at the bottom front of the chassis. This location helps mask airflow noise. Fan noise and noise from the WD Red 2TB (WD20EFRX) drives was rated as very low. It drew 13 Watts with its two factory-installed WD RED WD30EFRX 2 TB drives spun up and 5 W when the drive spun down after the programmed idle drive time.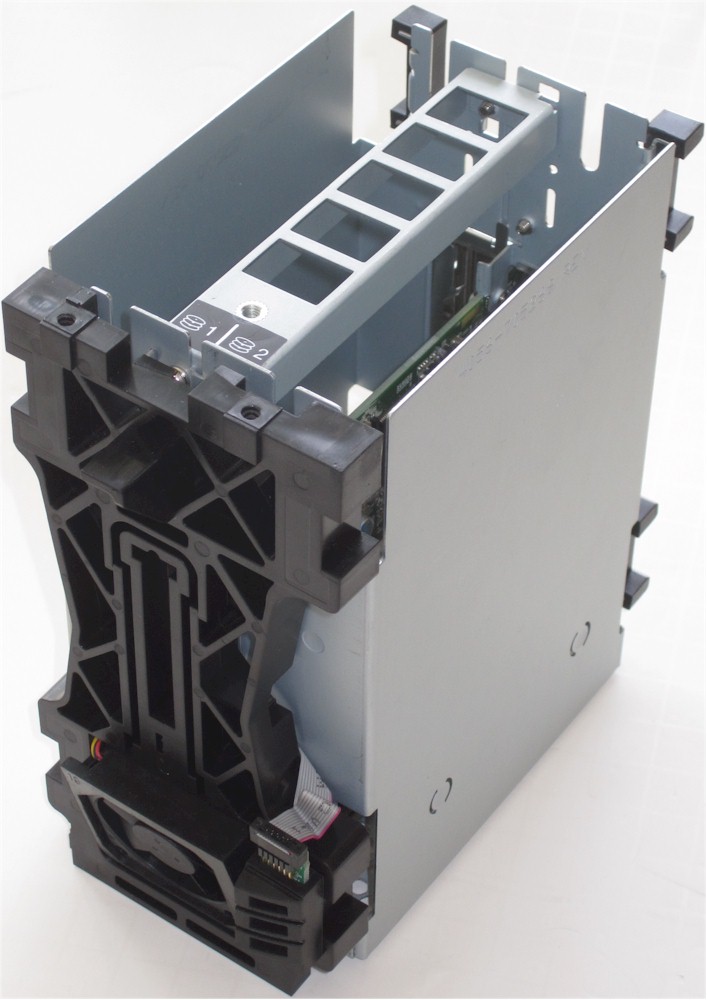 WD My Cloud EX2 chassis with cover removed
For those of you who like the circuit board image, the photo below shows the component side of the PCB. Unlike the EX4, the Armada 370 processor, located in the middle of the board, has a heat sink.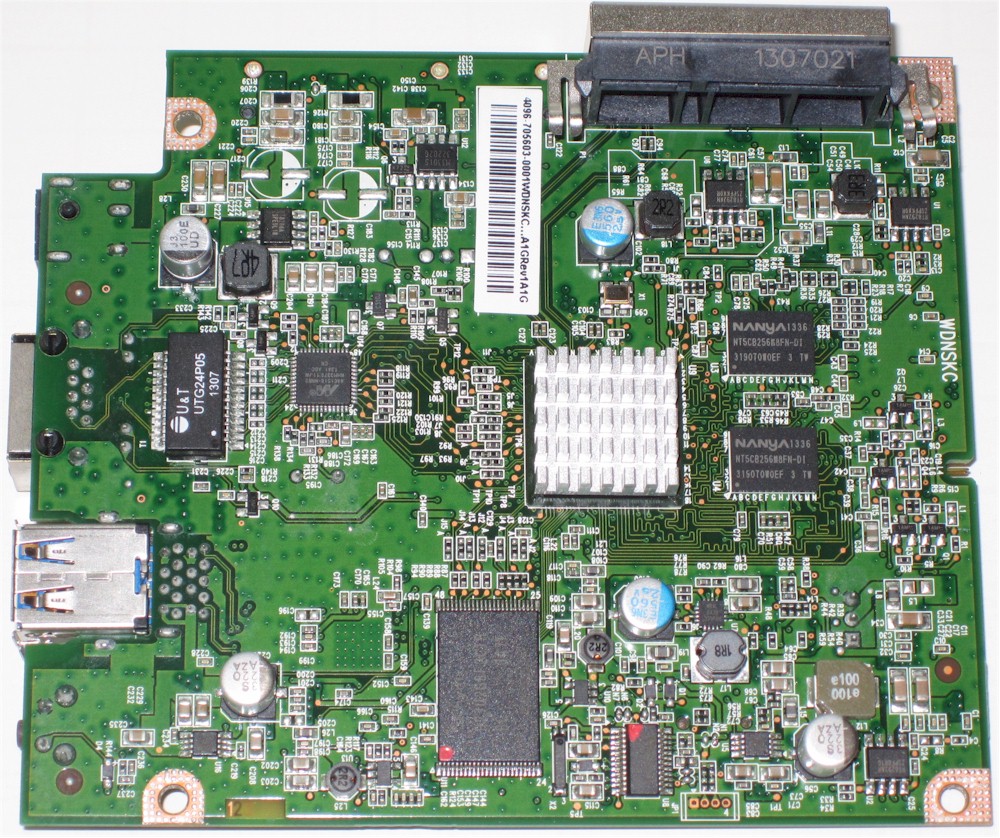 WD My Cloud EX2 PCB component side
Features
The feature set for the EX2 is almost identical to what you find on the EX4. The information below originally appeared in the EX4 review, but I've updated it, as appropriate to reflect the EX2's features.
Features common to My Cloud / MY Cloud EX2 / My Cloud EX4:
SMB/CIFS network filesystems
AFP ( for Apple Time Machine)
NFS (only to default Public mount)
FTP server
Apple Time Machine target
UPnP Certified AV/DLNA 1.5 Media Server (Twonky 7)
iTunes Server
SmartWare for Windows bundled client backup application, unlimited licenses (local network). 3 licenses for SmartWare Pro also included (WD My Cloud) and 10 user licenses for EX2/EX4
User level permissions (no groups, no quotas)
HTTP web administration (no HTTPS)
Email alerts (w/ built-in SMTP service for no-hassle setup)
Remote access to shares via WDMycloud service
My Cloud Mobile App for iOS, Android and Windows Phone
EX2/EX4 additional features:
Single drive, Span, JBOD, RAID 0, 1 volumes. RAID 5 and 10 – EX4 only)
RAID level expansion: JBOD to RAID 1 & 5; RAID 1 to 5 (EX 4 only)
RAID auto-rebuild enable/disable
Multiple volume support.
Volume level encryption
User groups and storage quotas
WebDav support
FTP server with max user, bandwidth, SSL/TLS and IP blocking
DFS support
Active Directory support
ISO mounts
Dual Ethernet LAN ports with jumbo frame, IPv6, link aggregation and failover (EX4 only)
USB and Network UPS support
Real-time resource monitoring (CPU, Memory, Network, Processes)
Disk and system diagnostics
Email and SMS notifications (built-in SNMP service)
Backup to/from USB drive
Network backup (only to other My Clouds)
Internal drive-to-drive backup
Cloud backup to Amazon S3 and ElephantDrive
iSCSI targets
iSCSI initiator
HTTP, FTP, BitTorrent downloaders
Web File viewer (Web browser) with upload / download
Add-in Apps (aMule, IceCast, Joomla, phpBB, phpMyAdmin, SqueezeCenter, WordPress, Git, NZBGet, Transmission
NFS, SMB2, LLTD, SNMP, SSH protocols
Dynamic DNS (DynDNS.org, no-ip.DDNS, tzo.com)
Not supported:
RAID expansion and level migration
RAID auto-rebuild enable/disable
Print server
The admin GUI for the My CLoud EX2 more closely resembles what you find in the My Cloud EX4. As compared to the original My Cloud (single drive), the UIs for both EX2 and EX4 reflect additional features such as iSCSI, RAID configurations and downloadable apps that weren't included in the original product. In addition, the multi-drive models both include a much more robust set of backup tools as compared to the whole volume "Snapshot" feature found on the single drive My Cloud. Jump to Tim's review of the EX4 for more details on the backup features.
The image below shows the landing page for the My Cloud EX2. I especially like the Network Activity and CPU/RAM monitor in the lower left corner – another new addition on the EX4 and EX2.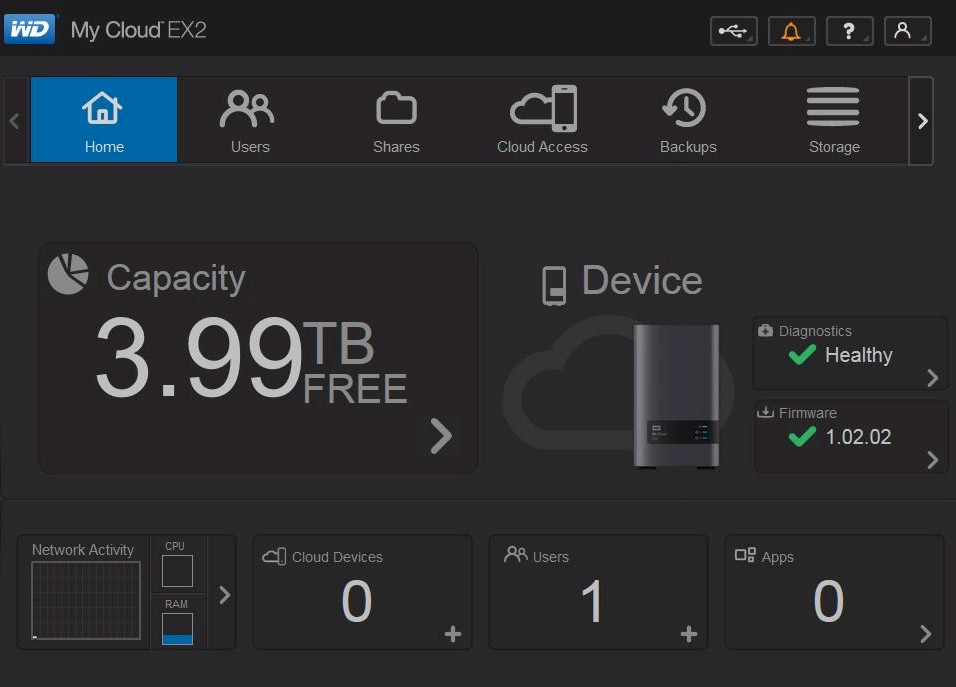 WD My Cloud EX2 home page
Performance

The My Cloud was tested with its factory-installed 1.02.02 firmware using our standard NAS test process to run tests. Results are shown below in the Benchmark Summary. File Copy Write performance was fairly consistent between RAID 0 and RAID 1. However, RAID 1 File Copy Read Performance was 33% faster than RAID 0. In addition, the NASPT Directory Copy to and from NAS as well as NASPT Content Creation results placed the EX2 at the bottom of comparative charts.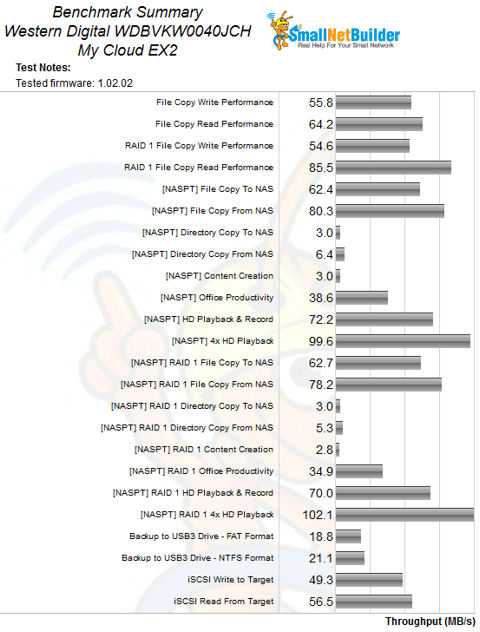 WD My CloudEX2 Benchmark Summary
To see how the My Cloud NAS fared against other dual drive NASes, I filtered the results for two drive devices and single-core SoC (SoC-1) and then generated charts for File Copy Read and File Copy Write performance. The composite chart below yields some interesting results.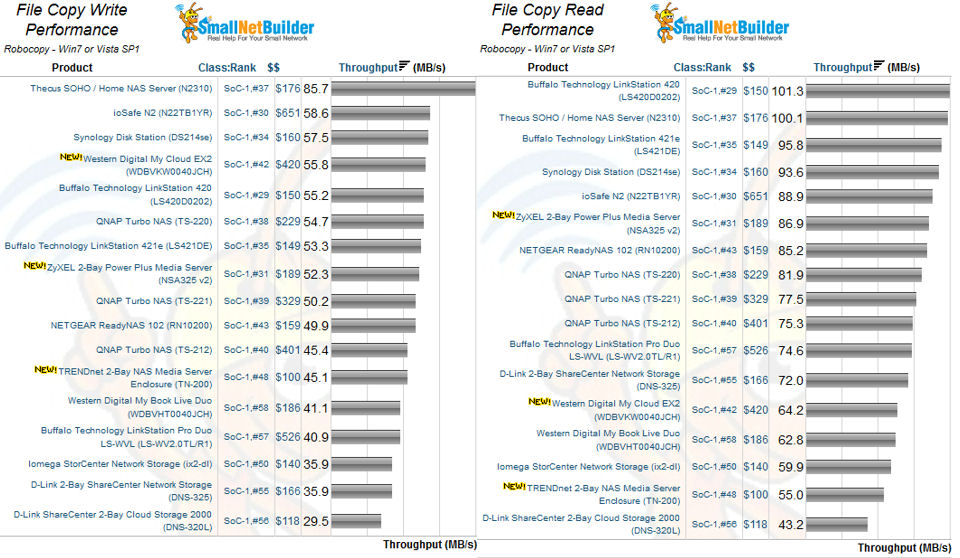 File Copy Read & Write Performance Comparisons
For the File Copy Write test, the My Cloud EX placed fourth with 55.8 MB/s as compared to the chart topping Thecus N2310 at 85.7 MB/s. Still, the EX2 was clustered with eight other products that had performance in the 50 MB/s range.
File Copy Read results were a different matter. The EX2 ranked 13th at only 64.2 MB/s as compared to the Buffalo LinkStation 420 at 101.3 MB/s. Only four devices turned in poorer read performance. These results caused me to dig a little deeper to compare other tests.
I created the table below to compare the EX2 with Buffalo's LS421e, Buffalo's LS420, and Synology's DS214se. All four of these devices are powered by the Marvell Armada 370. All are running at 1.2 GHz except the Synology DS214se, which is running at 800MHz.
The Synology is also running with another hardware handicap – it only has 256 MB of RAM, while the other three devices all have 512 MB. Also, for comparison, I included the EX2's siblings, the EX4 as well as the original My Cloud. All performance reported in MB/s.
| Test | Western Digital My Cloud | Western Digital My Cloud EX4 | Western Digital My Cloud EX2 | Buffalo LS421e | Buffalo LS420 | Synology DS214se |
| --- | --- | --- | --- | --- | --- | --- |
| File Copy Write | 50.6 | 54.5 | 55.8 | 53.3 | 55.2 | 57.5 |
| File Copy Read | 62.5 | 66.1 | 64.2 | 95.8 | 101.3 | 93.6 |
| RAID1 File Copy Write | N/A | N/A | 54.6 | 51.4 | 53.6 | 56.1 |
| RAID 1 File Copy Read | N/A | N/A | 85.5 | 88.1 | 102.8 | 92.3 |
| USB3 Backup – FAT | N/A | 15.2 | 18.8 | 17.5 | N/A | N/A |
| USB3 Backup – NTFS | N/A | 16.6 | 21.1 | 20.0 | N/A | N/A |
| iSCSI Write | N/A | 37.9 | 49.3 | N/A | N/A | 47.9 |
| iSCSI Read | N/A | 49.8 | 56.5 | N/A | N/A | 53.7 |
Table 2: Performance Comparison
Several interesting results pop out of this table.
The EX2 File Copy Write is slightly better than the EX4 and is in line with the rest of the Marvell Armada 370 NASes.
At 64.2 MB/s, EX2 File Copy Read is significantly slower than the other Armada 370 based devices with Buffalo's LS420 running almost 58% faster (101.3MB/s).
While RAID 1 File Copy Write results were fairly well clustered, again, the EX2 was at the bottom of the pack with 85.5 MB/s for RAID 1 File Copy Read. Apparently Synology's slower clock speed and half the RAM didn't hurt its performance too much.
The EX2 outperformed both the EX4 and the DS214se for iSCSI reads and writes.
The EX2 also outperformed the EX4 as well as the LS421e for both USB 3.0 backup tests.
Ranking
Below is the Ranker Performance summary for the EX2. Note that this ranking is for all products tested and doesn't relate to a particular class of processor or number of drives. For the Total NAS ranking it ranked #42 out of a total of 72 products tested. Relatively low read scores undoubtedly dragged down the overall ranking.
The EX2 ranked #41 for write benchmarks. But relatively poor performance (#65) on the NASPT Directory Copy Write test undoubtedly offset some of the better scores. Similarly, for read benchmarks and mixed read/write benchmarks, the EX2 had several rankings below its #42 total rank.
WD My Cloud NAS Ranking
Filtering the NAS Ranker for dual drive devices with a SoC-1 processors, the EX2 came in 10th out of 17. Not surprisingly, the other three Armada 370 based NASes that I included in the comparison above all ranked higher. Ranked at #29 overall, the Buffalo LS420 was the best-ranked two-drive NAS. Ranked at #34 overall, the Synology was the #4 two-drive NAS followed by the Buffalo LS421e (#35 overall) as the fifth place two-drive NAS.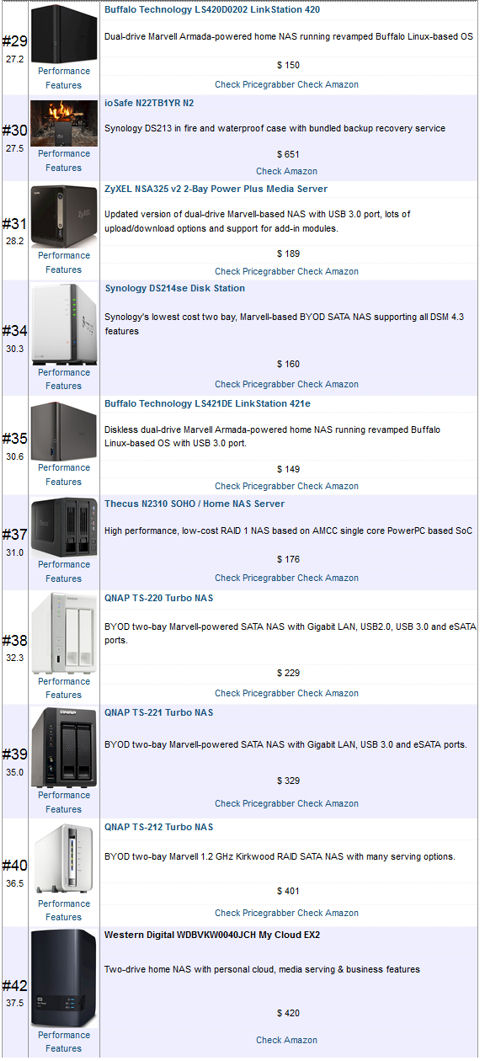 NAS ranker filtered for single drive systems
Closing Thoughts
Even though the My Cloud EX2 uses slightly beefed up hardware, the performance results don't really show too much of a difference compared to the EX4. The EX2 does have a slight edge over the EX4 on USB 3.0 backup and on iSCSI, but those aren't really the features that most buyers care about. Since the EX2 is feature identical to the EX4 with the exception of additional RAID configuration options and storage capacity, my conclusion on the EX2 echoes Tim's thoughts on the EX4: Great features; disappointing performance.
One of the ways that I like to look at products is to use the NAS Ranker to filter the products down to a comparable set. Then I sort the results by ascending price. If a cheaper product has an overall NAS ranking low (better) than a device that's more expensive, it's probably worth taking a second look at those products. The problem with sorting by price is that some of the NAS products are BYOD, and others include some type of storage, so ranking by price may yield some misleading comparisons. In the case of the EX2, it was populated with 2 X 2TB, so the price in the charts was $369. If, instead, you look at the BYOD version that has a list price of $199.99, you might get a better idea of overall value. Assuming that the EX2 should be in the Ranker at $200 to be comparable to the BYOD devices, there were 11 NAS products that had cheaper prices. Of those 11, five of them had rankings that were lower (better) than the EX2's #42 ranking.
The NAS Ranker is primarily about performance. But there are some intangibles that are hard to measure. How good is the phone tech support? How easy is the device to set up? What kind of remote access does the NAS have? If remote access is important to you, you'll find WD My Cloud products are hard to beat. But if remote access and having your "personal cloud" isn't of primary importance to you, there are a number of two-bay NASes that offer better performance for less money.
Buy My Cloud EX2 from Amazon