At a glance
Product
Seagate Business Storage 8-Bay Rackmount NAS (STDP8000100) [Website]
Summary
High capacity, fast, quiet rackmount NAS in a slim 1U chassis.
Pros
• 8 drives in 1U rackmount space
• High performance
• Included chassis mount kit includes cable mgmt.
• Surprisingly quiet for a rackmount NAS
Cons
• No 10 GbE option
• Pricey
• Remote access requires UPNP or port forwarding
Typical Price: $2354 Buy From Amazon
Introduction
Updated 12/16/2013: Corrections from Seagate
It has been quite awhile since we reviewed a rackmount NAS. The main reason is that SNB readers don't seem to be much interested in them, judging from review pageviews. But when Seagate asked us to review the new Seagate Business Storage 8-Bay Rackmount NAS, I agreed for two reasons.
First, I felt I owed them one since we could not solve the issue that kept causing its desktop Business Storage 4-Bay NAS to chew through all of our NAS testbed's RAM while running the Intel NASPT Directory Copy from NAS test.
Since we couldn't get the test to complete, I couldn't post full test results and returned the product without reviewing it. Please note that Seagate had no problem running the test and has had no problems of a similar nature reported from users. I chalk this one up to subtle differences in testbeds.
The second reason is that the Seagate Business Storage 8-Bay Rackmount NAS (SBS-R8 for short) is the first product produced under a reorganized design team since the LaCie buyout early this year. Since I haven't been that impressed by past LaCie or Seagate efforts, I wanted to see what the new design team came up with. While the result isn't the perfect NAS, I have to say that I'm impressed by what they produced in the SBS-R8.
It's obvious that the product is designed for server room use, not only because of its high cost, but what you get for the money. The SBS-R8 comes with everything you need to install it into a full-depth rack, including slide rails and cable-management arm. Dual, easily removable power supplies are also included in all models.
The unit itself takes up only one rack unit (1U), but manages to house up to eight hot-swappable 3.5" hard drives in that narrow space. This trick depends on being able to easily slide the SBS-R8 in and out of the rack, hence the supplied slide rails and cable management hardware.
The other things that are easily replaceable are the three miniature fans and each of the hard drives. The fans are plug-in modules and the drives are mounted on brackets that cleverly click into a sole-plate on the chassis bottom. The photo below shows a fan and drive removed.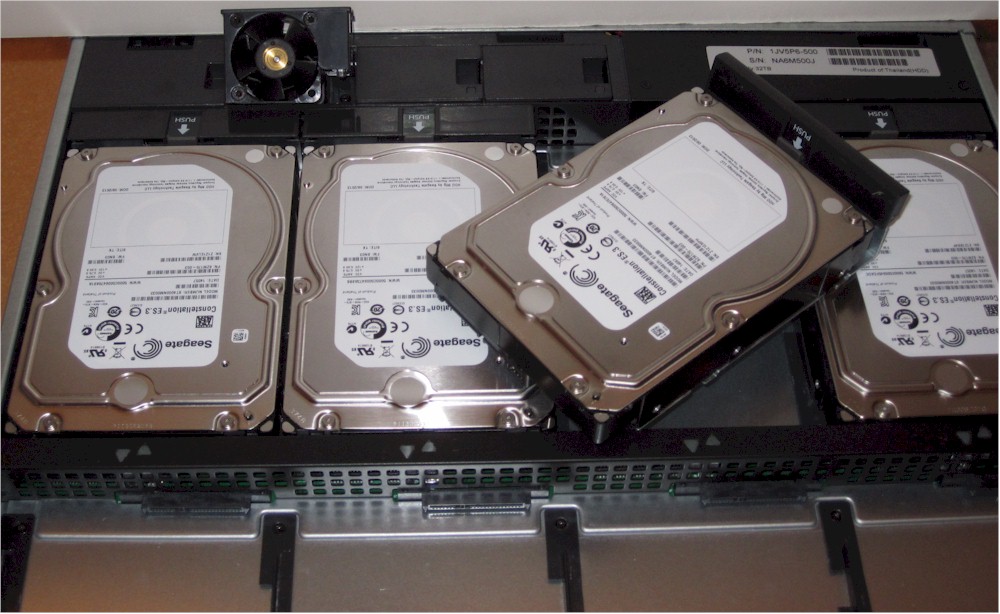 Fan module and drive on tray
A picture (video in this case) is better than a bunch more of my words to convey the key serviceability features baked into this product.
The callout diagram below identifies the SBS-R8's ports, switches and indicators. Note there is no LCD panel. It's a bit disappointing that the three USB ports are 2.0 not 3.0. But they are more intended for quick file tranfers (front port) and keyboard/mouse connection (rear) for maintenance, than for storage expansion or keeping a USB backup drive attached.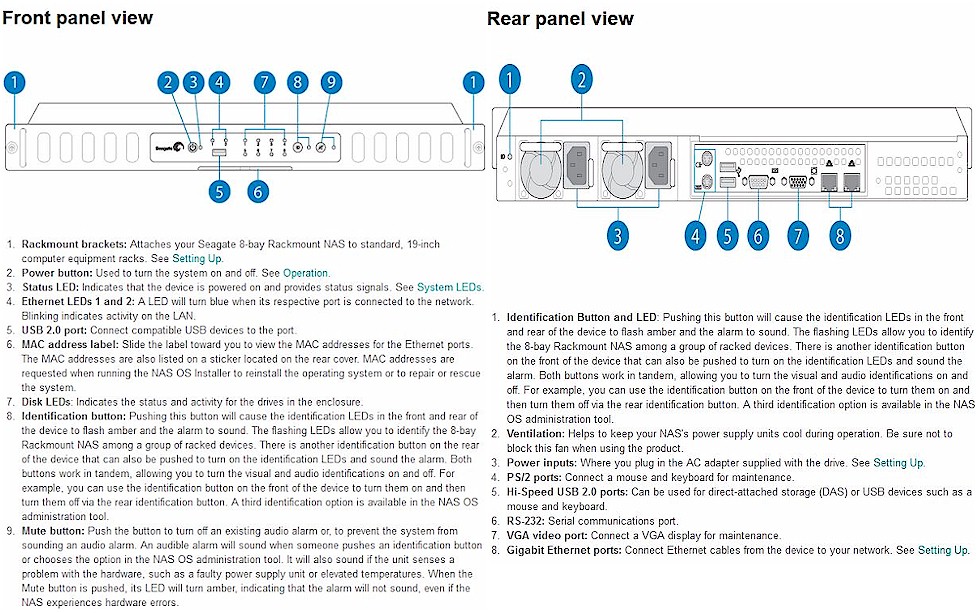 Seagate SBS-R8 feature callouts
Seagate sent its priciest 32 TB SBS-R8 version for review (STDP32000100), which lists for a whopping $5,100 (I rounded up a penny). The cheapest way you can get the SBS-R8 into your rack is the 8 TB version for $3,000 (there's that extra penny again). There is no diskless configuration, but you can also opt for 12, 16 and 24 TB flavors All versions come with 4 TB Seagate Constellation ES.3 (ST4000NM0033) drives installed. Since the entry-level model has only two drives, it can't do RAID 5 or higher without adding drives.
Inside
The SBS-R8's hardware platform is based around an ASUS P8B-M Micro-ATX server motherboard. Its LGA1155 socket is loaded with a 2.3 GHz Intel Celeron G1610T, which I haven't seen powering a NAS before. The internal photo below shows a total of four UDIMM slots, with only one occupied by a 4 GB DDR3 ECC UDIMM. Nowhere on Seagate's website does it say that RAM can be expanded. So if you choose to do so, you're on your own.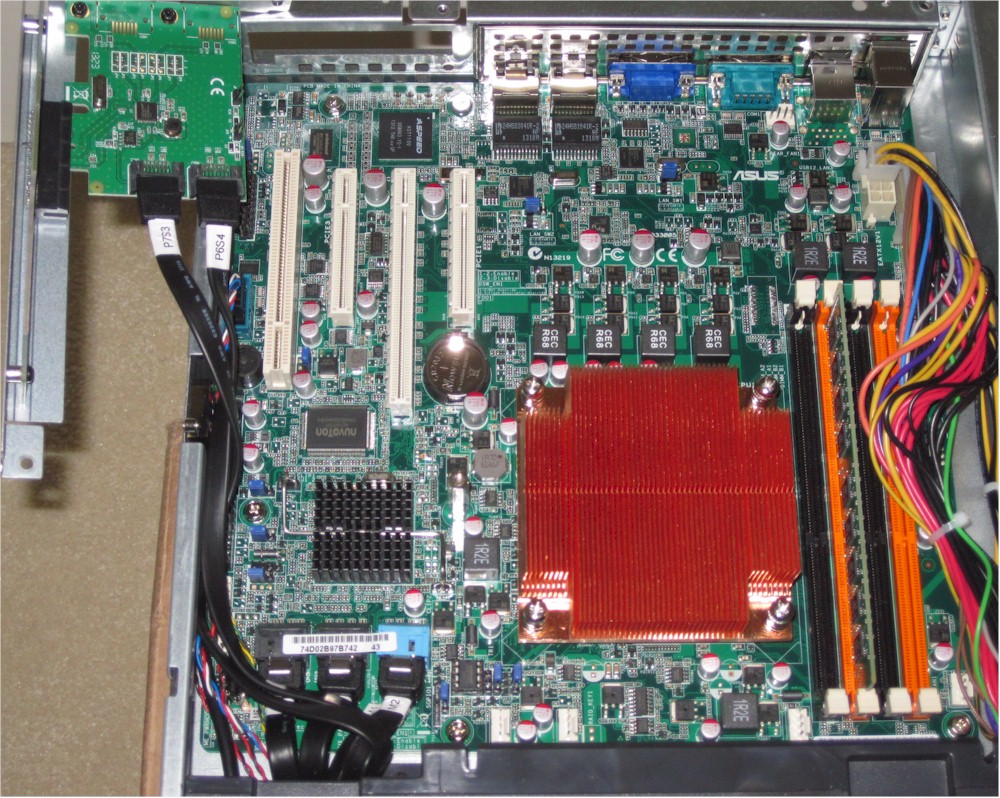 Seagate Business Storage 8-Bay Rackmount NAS board
The SATA configuration is interesting. The Intel C204 companion chipset supports two x SATA3 6Gb/s ports and four x SATA2 3Gb/s ports. The other two SATA ports are lit up by an ASMedia ASM1061 PCIe SATA3 6Gb/s SATA host controller that resides on the small PCIe board I unplugged from its socket and flipped over. So that's why the SBS-R8's spec says "8 hot-swappable 3.5-inch SATA II/SATA III" for the drive bay spec.
The other PCIe slots are obviously not meant to be used because there are no back panel cutouts for them. The ASMedia board also covers them all when it is plugged in. Table 1 summarizes all the key components. By the way, getting at the motherboard to take the photo involved removing two top-accessible screws and sliding the panel off. So you could even swap out the motherboard without removing the NAS from its rack.
| | Seagate Business Storage 8-Bay Rackmount NAS |
| --- | --- |
| CPU | Intel Celeron G1610T @ 2.3 GHz |
| Companion | Intel C204 Chipset |
| RAM | 4 GB ECC DDR3 UDIMM |
| Flash | 8 MB |
| Ethernet | Intel WG82547L (x2) |
| SATA | In Intel companion device + ASMedia ASM1061 PCIe SATA host controller |
| uC | ASPEED AST1100 PCI Graphics & Remote management Processor |
| I/O | Nuvoton NCT6776F Super I/O |
Table 1: Key component summary
In keeping with our standard practice of testing with four-drive volumes, I loaded only four of the eight 4 TB Seagate Constellation ES.3 drives that came with the NAS. This brought power draw to a comparatively high 73 W when the NAS was active. I wasn't able to measure power consumption with drives powered down, because the 5 minute idle drive spindown period set seemed to have no effect.
I was ready to banish the SBS-R8 to my back lab for testing since the small fans used in rackmount gear usually scream like banshees. I was very pleasantly surprised to find, however, that system noise was quiet enough to earn it a medium rating. You could definitely hear the fans and even a bit moreso when tests were being run. But I was able to run all of the SBS-R8's tests with it sitting in my office and not have a headache at the end of the day.
Feature Summary
The SBS-R8 has a decent set of features that should satisfy the basics and then some for its target business users. Let's start with our usual feature summary for an overview:
Storage and Services
Volume Types: Single drive, JBOD, RAID 0/1/5/6/10.
Volume Spares supported in RAID 5, 6, 10
Multiple volume support
SimplyRAID automatic volume management
User and groups with quotas
Network file systems supported: SMB/CIFS; AFP; NFS
FTP / SFTP servers
Active Directory support
iSCSI targets
UPnP/DLNA server
iTunes Server
Administration and Remote Access
HTTP / HTTPS web administration
Email alerts
Real-time resource monitoring (CPU, Memory, Network)
Disk diagnostics and S.M.A.R.T data access
Wuala Hybrid Cloud
Web File viewer (Web browser) with upload / download
Backup:
Backup to/from USB drive
Network backup to rsync and other Seagate NASes
Internal share-to-share backup
Apple Time Machine target
HTTP, FTP, BitTorrent downloaders
Other features:
Dual Ethernet LAN ports with link aggregation and failover
Proxy server support for web access
UPS support
Dynamic DNS (DynDNS.org, Seagate MyNAS)
No product is perfect. But the Seagate OS is missing a few things you'll find on similar-class products. Namely:
Jumbo Frames
WebDav
DFS
ISO mounts
iSCSI initiator
IPv6
Add-in apps
SSH / Telnet access
Virtualization certifications, i.e. VMware, MS Hyper-V, etc.
Updated 12/16/2013
Seagate says that the R8 is now VMReady Certified. Citrix Ready testing has been done and certification paperwork is in progress.
The missing SSH/Telnet support also means that Seagate doesn't enable root access as other vendors do. So don't expect to be fiddling with Linux configuration files or logging in to see which processes are eating up memory.
Hands On
The reviewer's guide Seagate provided says its Linux-based Seagate NAS OS is new and so it appears to be…sorta. It doesn't look like either the OS on the BlackArmor or the one on the more recent Small Business Desktop server.
But if I had to choose where the new OS took its design cues from, I'd have to say the LaCie OS. The Welcome screenshot below shows the pale motif that I was never a fan of on LaCie NASes. The color has changed a bit from light blue to light grey. I find this difficult to read and sometimes hard to tell where the clickable links are, since bolding in this color scheme tends to be too subtle for my eyes.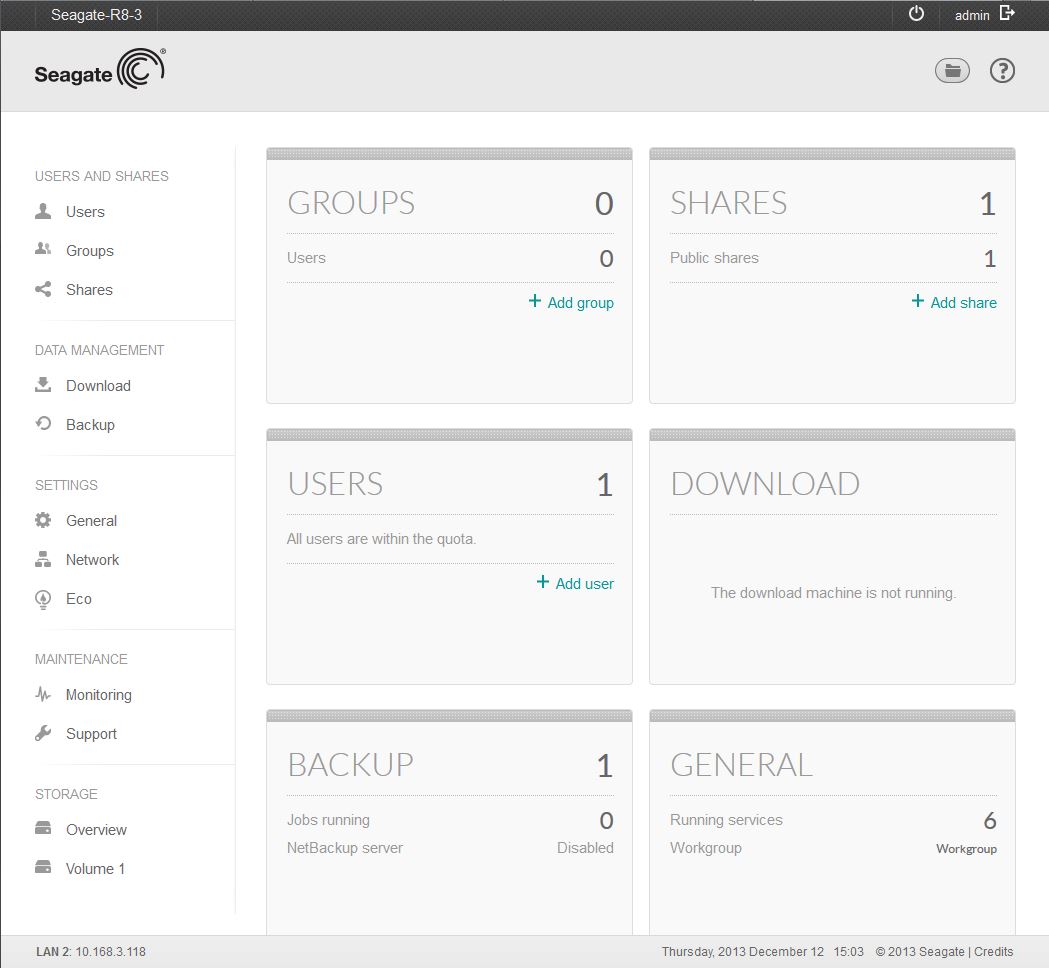 SBS-R8 Welcome page
For reference, here is the LaCie "Dashboard" from the 5big NAS Pro. The icons are a dead giveaway.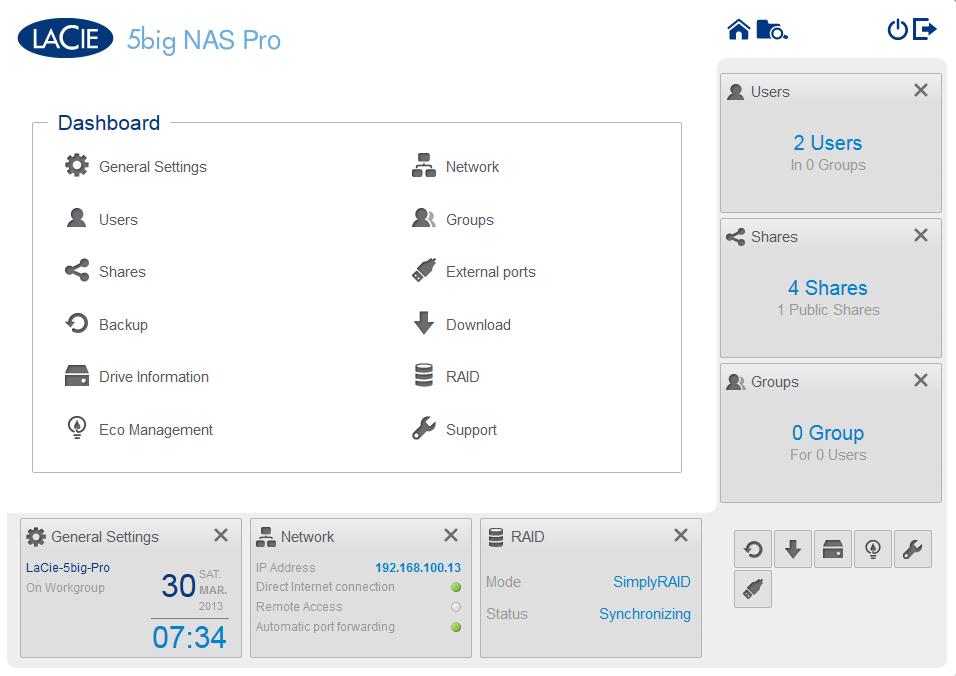 LaCie 5big Pro Dashboard
The Seagate OS is plenty peppy, letting me move among screens quickly. I wish Seagate copied the LaCie OS' ability to delete "widgets" from the Welcome page, though. You can only move them around. They're also pretty big and can't be collapsed. On a positive note, each one is clickable to take you to its related admin page. Some, like Groups, Shares, Users and Download, let you pop up windows to do what you need to do without leaving the Welcome page.
Functions are logically grouped, but you sometimes need to go digging in submenus to access some functions. In general, however, I could find what I needed and get done what I needed to do without too much head-scratching. Info and help icons seemed to appear when I needed them and provide useful information when hovered over. Online help is available for the hardware and OS and there are how-tos and other documents, too. But online is the only form of documentation. There are no PDF manuals to download and the online files can't be downloaded easily for offline use, either.
On the downside, sometimes I felt like I was playing an adventure game when using the interface. In an effort to keep things uncluttered, controls and text entry areas aren't always obvious and many times don't appear until you hover over them (or tap them, if you are using a tablet).
Hands On – more
Protocol and service support is pretty decent as evidenced by the Services page below. It seems to be standard practice to include features like iTunes and UPnP/DLNA servers and download managers on business class NASes. I think this is more a byproduct of the trend toward one-OS-fits-all in current NAS design. Or maybe busy sysops need entertainment at the ready, too.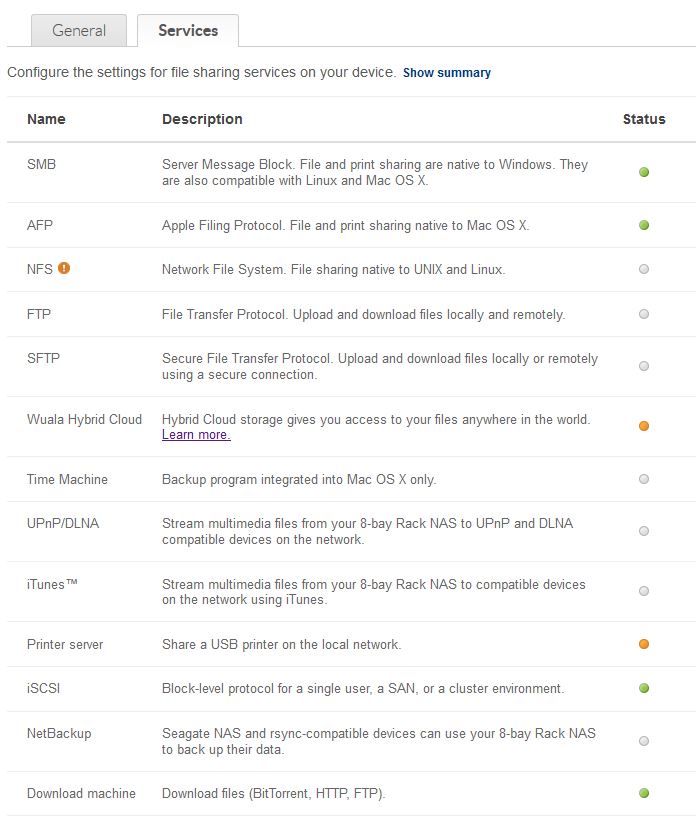 SBS-R8 Services
Backup fans will be happy to know that the SBS-R8 supports backup to and from attached drives, over the network to both standard rsync and other Seagate SBSes and even internally folder to folder. MacOS users get Time Machine support as their main backup option.
Seagate doesn't bundle any backup clients, but instead provides Windows and MacOS Wuala Desktop clients. These programs don't perform backup, but instead provide easy access to Wuala cloud storage by providing a mapped drive. The inclusion of Wuala is another indication of the Seagate OS' LaCie roots.
We have reviewed Wuala both as a standalone app and Craig gave it a good going-over in his 5big NAS Pro review. So I didn't poke at it this time. You get 5 GB of free Wuala cloud storage for each SBS-R8 user. You also get a three-month trial for Wuala Business, which bumps you to 100 GB of storage and adds other management features.
Updated 12/16/2013
Wuala provides remote access via its folder sync feature that ensures that selected folders are available from the cloud, any web browser or via iOS and Android apps. Sync doesn't require setting up dynamic DNS or opening router ports and works through double NAT, too.
Files can also be remotely accessed via the admin interface's file browser. But since you'd need to set up some form of dynamic DNS to reliably remotely access your NAS anyway, you might as well use Seagate MyNAS. It's basically a Seagate DDNS that gives your SBS-R8 a home on the internet in the form of http://mynas.seagate.com/YOURNAMEHERE. Since the R8 supports HTTPS access, you can make this a secure connection. The downside is that MyNAS relies on your router supporting UPnP or you manually opening ports in your router firewall. And if you have double-NAT to deal with, this method won't work at all.
Setting up volumes is easy-peasy. Once created, each volume gets a page like the one shown below. The Manage button presents options available, which can include adding drives, volume repair and optimizing storage. As noted in the Feature rundown, you can create multiple volumes choosing from single drive, JBOD and RAID 0/1/5/6/10. You also get Seagate's form of automatic volume management, dubbed SimplyRAID and can designate a standby spare drive for RAID 5, 6 and 10 volumes.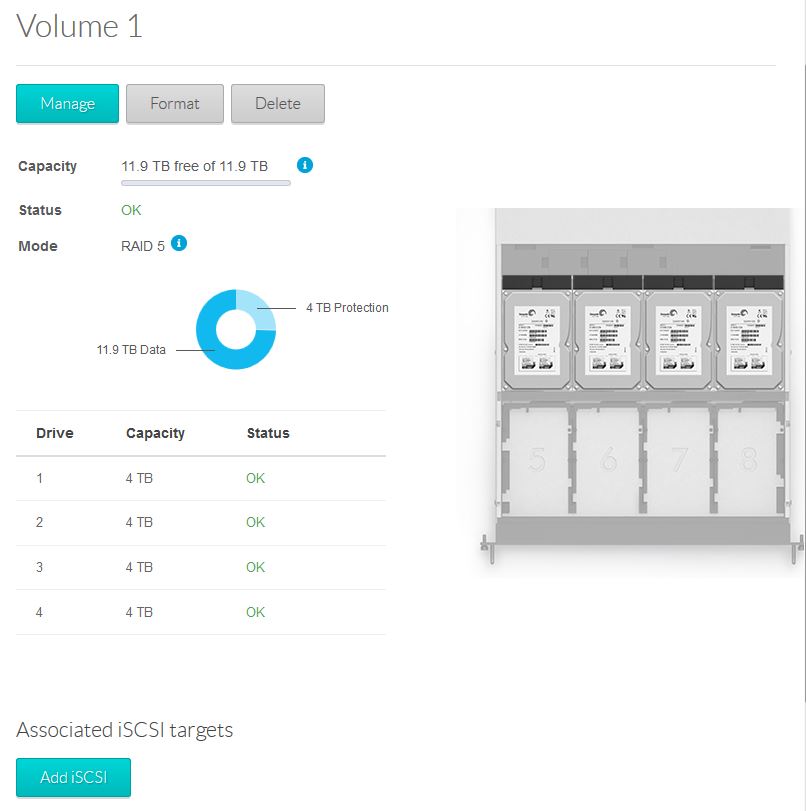 SBS-R8 Volume manager
Volume creation time was in line with similar products, if not a bit faster, considering the 4 x 4 TB volumes created. RAID 0 and 10 volumes were ready within a few minutes. The initial SimplyRAID creation (the default) took around 13 1/2 hours and a RAID 5 volume took 12 hours, 45 minutes.
That's it for the feature highlights. The gallery below has screenshots and commentary for screens and features I haven't mentioned.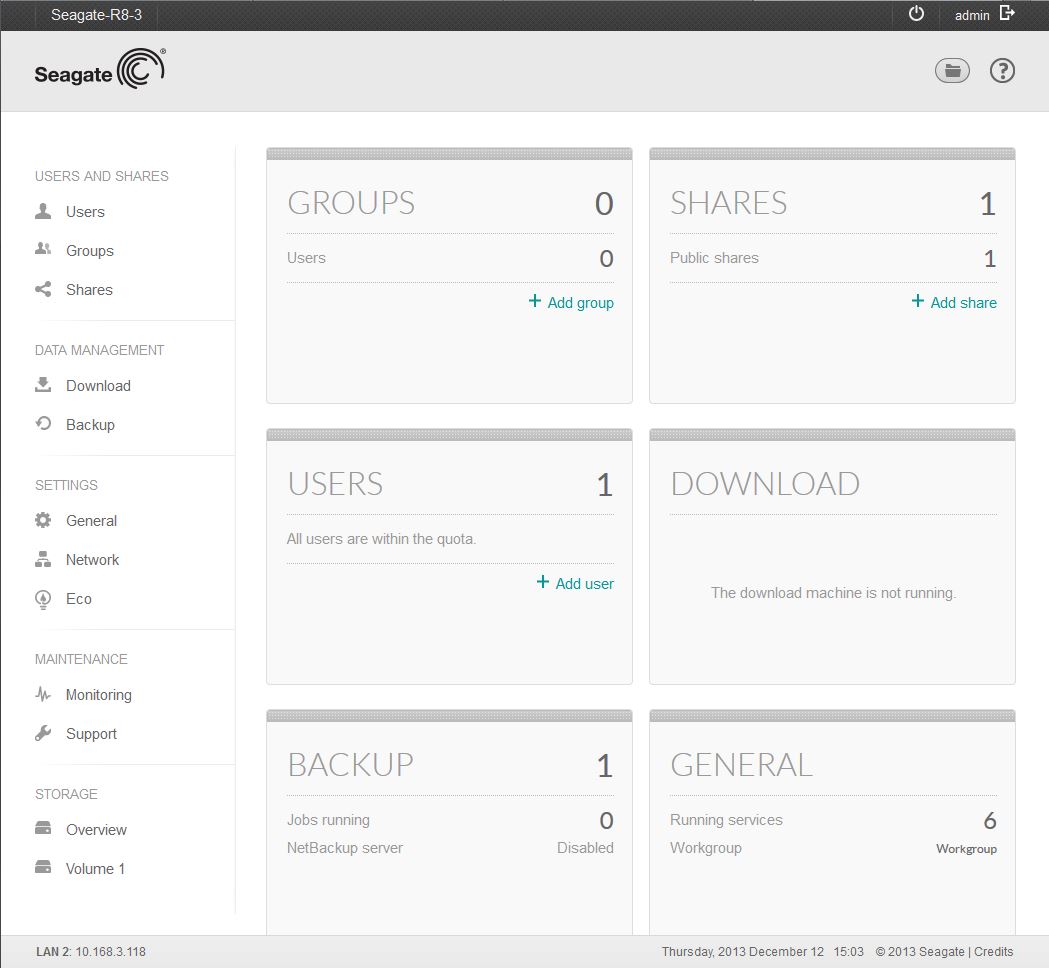 Login lands you at the welcome page. Each major function has a widget that can be moved, but not resized or deleted.
The other widgets on the Welcome page
This is the User menu with the edit menu exposed. Note that quotas can be set per user.
Group menu with the edit menu exposed.
Shares menu eith edit menu exposed.
You can enable/disable services right from the Share edit page via this handy menu.
Beats me why an HTTP/FTP/BT downloader is included in a business rackmount NAS. Here are the general settings. Downloads can come from a URL or a LAN source. But they can't be scheduled.
Local and network (rsync) backups can be scheduled.
Here are the options for network backups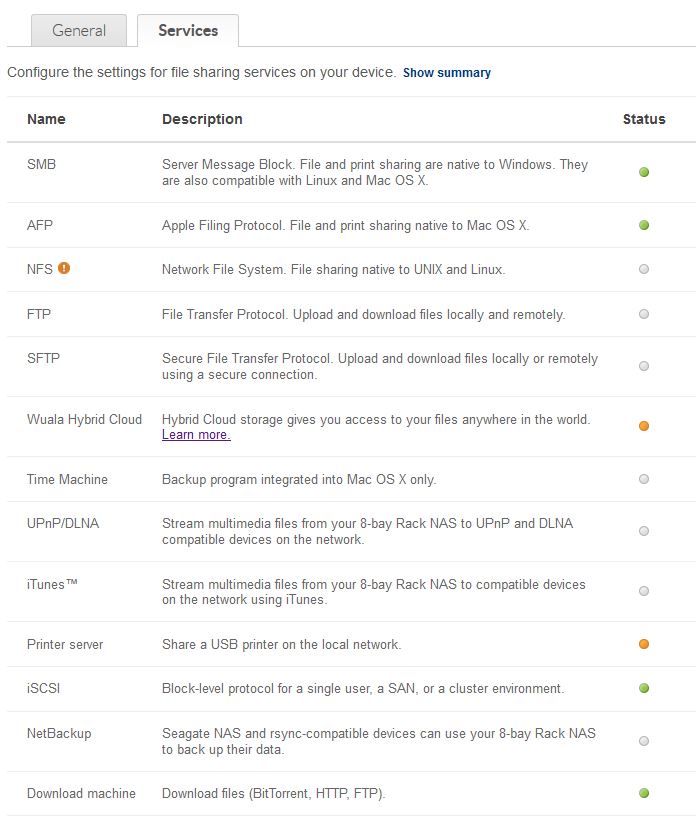 Here is a list of all the services available.
These ports are needed for remote access. You can change the Router port to avoid conflicts with other devices.
This page provides a good overiew of NAS status.
This screen lets you drill down into drive status. You can pull up S.M.A.R.T info on each drive and run tests.
This is where logging and email alerts are controlled. Note that you need to provide an SMTP server for email alerts.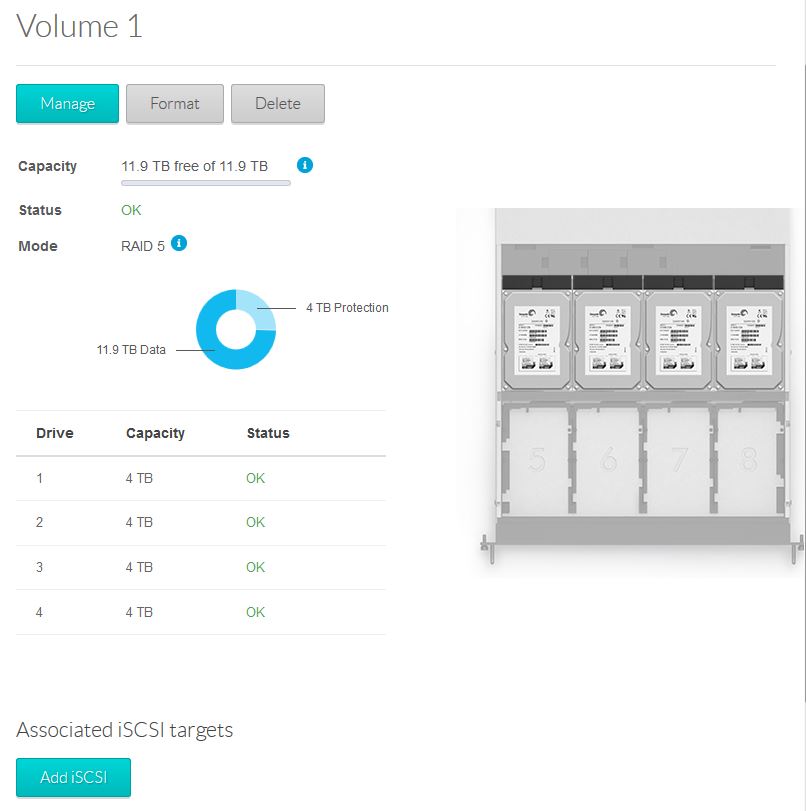 This screen provides all storage volume management.
Drive Pull
With the system operating normally and with email alerts set up, I popped drive 1 out. Within 5 seconds the beeper started up and the front panel Status LED started blinking red. Within a minute, I received two emails, the first telling me drive 1 was missing and the second letting me know that the volume was degraded. After another minute or so, I popped drive 1 back in.
When I logged into the admin interface, the Storage widget showed Degraded and an alert let me know that the buzzer was sounding and also let me clear it remotely (nice touch!). Clicking on the Storage widget took me to the Storage Overview where I found a resync already in progress. During all of this the volume kept on working, letting me copy, delete and access files normally.
Drive pull result
Interesting to note that I did not receive an email telling me that the NAS lid had been opened, nor did I receive one telling me that drive 1 had been reinserted and that volume rebuild had begun. Upon checking the Monitoring page and hovering over the Casing indicator (could you please make these larger for the color-challenged among us? ), I found it reported "Casing closed". So something ain't right there.
Performance
The SBS-R8 was tested with 3.2.4.3 firmware using our standard NAS test process. Results are shown below in the Benchmark Summary below.
Benchmark Summary
Like other top-end NASes, the SBS-R8 bumps up against the limits of a single Gigabit Ethernet connection. Seagate says the NAS "delivers incredible file transfer performance of up to 200MB/s" and it just may be able to to that with both Ethernet ports aggregated and a few machines moving data. Like other machines in its class, the SBS-R8 could benefit from a 10 GbE option, but Seagate doesn't offer one for now.
All the Windows File Copy tests checked in at over 100 MB/s both write and read. NASPT File Copy writes for RAID0, 5 and 10 all came in over 130 MB/s, some of which is obviously caching. NASPT File Copy reads were more like Windows File Copy, coming in around 100 MB/s.
The attached backup results are very good—chart-topping in fact. Both FAT32 and NTFS results set new USB 2.0 backup chart hights of around 50 MB/s!
iSCSI performance was also impressive with 103 MB/s write and 94 MB/s read. Although these are not chart highs, both are within four places of their respective chart tops.
Closing Thoughts
The NAS Ranker slots the Seagate Business Storage 8-Bay Rackmount NAS in the #7 slot out of 70 products tested. If you narrow the field to NASes with general-purpose dual-core processors, the SBS-R8 ranks fourth, just below NETGEAR's Intel's i3 powered ReadyNAS RN51661E. In fact, three of the four NASes (two are tied) ranked above the Seagate use Intel i3 processors. But the top-ranked Thecus N6850 Top Tower uses an Intel Pentium G620.
The Ranker Performance Summary clearly shows that the NASPT Directory Copy tests indicate a weakness in handling multiple folders containing smaller files. The Content Creation benchmark that uses a mix of reads and writes with smaller file sizes also tested the Seagate's mettle. On the other hand, the SBS-R8 had two first-place sub-rankings in the Video and iSCSI benchmarks.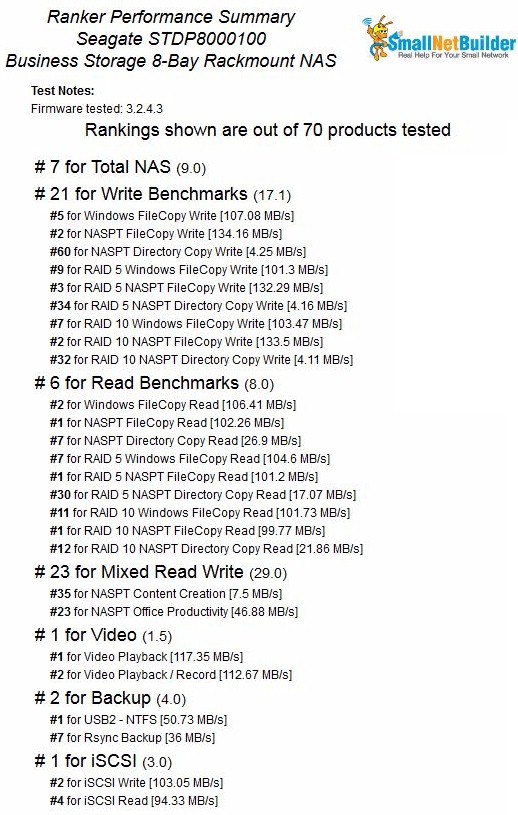 NAS Ranker Performance Summary
This NAS makes me optimistic that the sum of Seagate and LaCie may be greater than its parts. If they could produce a NAS this good in a desktop package, add a diskless configuration and knock about $1000 off the price, Seagate might finally be ready to give the other guys some serious competition in that category. In its current form as a rackmount, however, the Seagate Business Storage 8-Bay Rackmount NAS may already be there.
Buy Business Storage 8-Bay Rackmount NAS from Amazon