At a glance
Product
Seagate Personal Cloud (STCR4000101) [Website]
Summary
Marvell Armada based single drive "personal cloud" NAS focused on media storage and playback from anywhere on any device
Pros
• DLNA server
• Very good backup and sync apps
• Easy remote access setup
Cons
• Nothing glaring
Typical Price: $240 Buy From Amazon
Introduction
Update 5/4/15 – Added Link to performance retest.
This products was retested with newer firmware.
See this article
for the results.
Seagate's Personal Cloud replaces the Seagate Central I reviewed a few years ago. As noted in the review, the Central was aimed squarely at folks who don't know, or even want to know, what a "NAS" is.
Spin forward two years and we now have Seagate's Personal Cloud. The PC is once again intended for non-tech folks who just want a simple way to centrally store and or back up all the digital stuff we have sitting on our phones, tablets and other mobile devices. This time, however, Seagate is taking a slightly different tack and has risked increasing features, most notably providing easy remote access to the PC.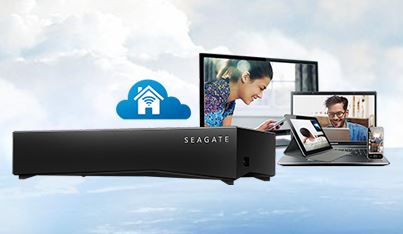 Seagate Personal Cloud
The Personal Cloud comes in one and two bay configurations. The single bay is available in 3 TB, 4 TB and 5 TB capacities, with the two bay coming in 6 TB and 8 TB flavors. Seagate sent the 5 TB STCR5000101 single-bay model for review, which runs around $250. If you're pressed for budget or need less capacity, the 3 TB model is only around $170. There are no diskless models. The two-bay version comes configured in RAID 1. But Seagate supports combining both drives into an unprotected RAID 0 volume.
Inside
The Personal Cloud is powered by a Marvell ARMADA 370 SoC running at 1.2 GHz, backed by 512 MB of RAM. The single Gigabit Ethernet port is formed by a Marvell Alaska 88E1518 Gigabit Transceiver. The table below summarizes the key components with a comparison to the Seagate Central it replaces.
| | Seagate Personal Cloud | Seagate Central |
| --- | --- | --- |
| CPU | Marvell ARMADA 370 88F6707 A1 SoC @ 1.2 GHz | 700 MHz Cavium Econa CNS3420-700BG ARM SoC |
| RAM | 512 MB Samsung K4B4G1646D | 256 MB |
| Flash | 1 MB Macronix MX25L8006E | |
| Ethernet | Marvell Alaska 88E1518 Gigabit Transceiver | |
| HDD | Seagate Desktop HDD 5 TB (ST5000DM000) | Seagate Pipeline 2 TB (ST2000VM003) |
| USB 3.0 | Asmedia ASM1042A dual-port USB 3.0 PCIe host controller | |
The photo below shows the top side of the Personal Cloud board. You can see the two USB ports (USB 3.0 on the top left), Ethernet and Power. Apologies that this shot isn't more interesting; most devices are mounted on the other side of the board, which we didn't remove from the chassis plate.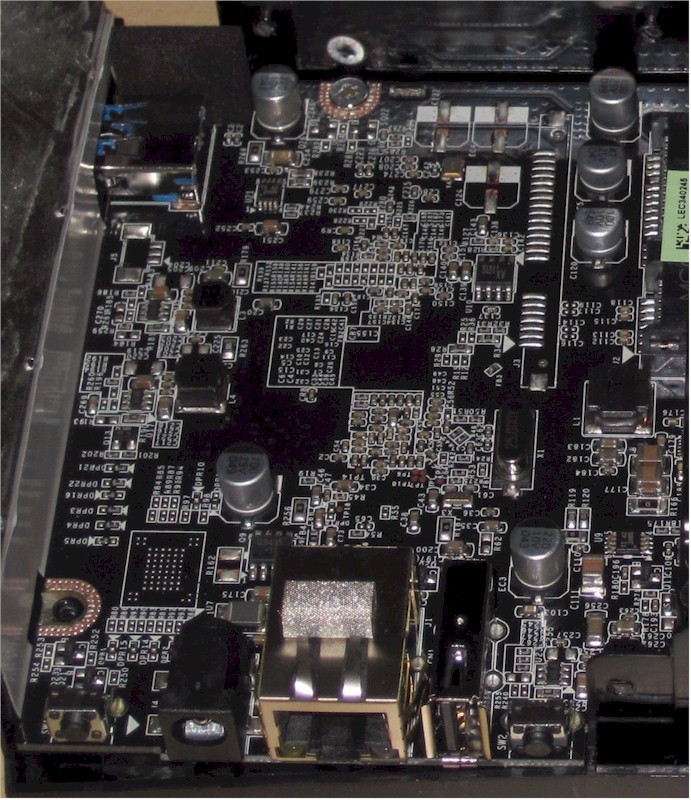 Seagate Personal Cloud board
Here's a shot of the view that greets you when you remove the black plastic outer shell. That appears to be conductive tape joining the hard drive case to the board's RF shield.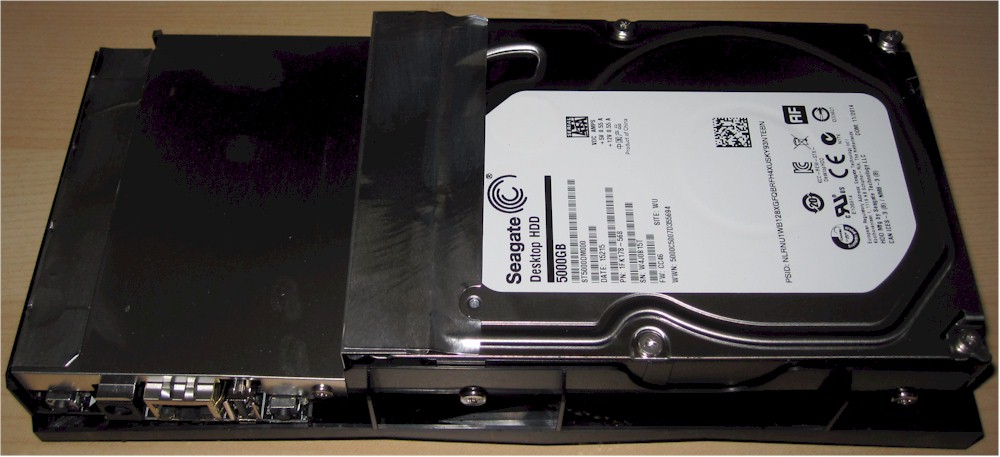 Seagate Personal Cloud drive
Noise from the Seagate Personal Cloud was rated as Very Low; you really had to listen for it in a quiet home office environment. Power consumption for the external "brick" power supply was 11 W when in use. The drive did not power down at the programmed time, so no spindown consumption was measured.
Setup
Inside the box you get the Personal Cloud, a wall wart power adapter, Ethernet cable and QuickStart Guide. The NAS is very unassuming, with one LED light almost unnoticable on top, a subtle "Seagate" on front, a USB 3.0 port on the side, and power, Ethernet and a USB 2.0 port on back. Nothing screams out "I'm a NAS" like we might be used to with other products. This is clearly an appliance designed to fit quietly into a home media center cabinet and draw no attention to it.
Setting up the Personal Cloud was easy. Unbox the Personal Cloud, plug in the medium-sized wall wart power adapter, plug in the Ethernet cable and follow the enclosed printed QuickStart Guide.
My Windows setup entailed navigating to "Network" within My Computer and clicking on PersonalCloud. This opened a setup wizard that you see below. To be honest, I got sort of confused reading the QuickStart Guide, because I didn't expect setup to be so simple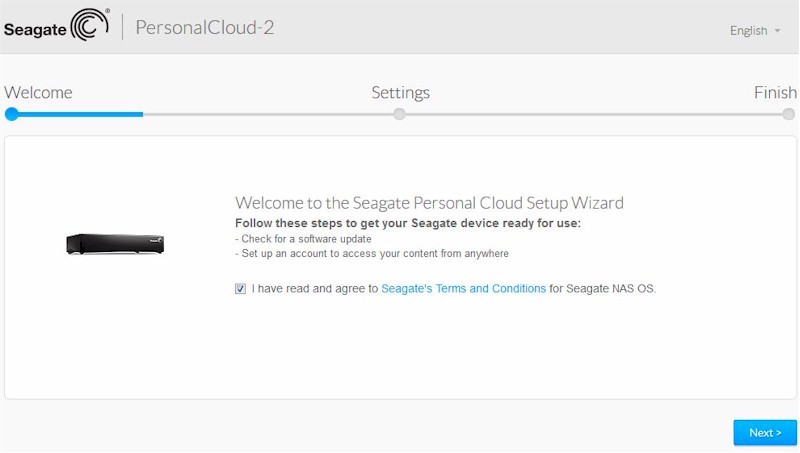 Seagate Personal Cloud setup wizard
As with the Seagate Central setup, the wizard checks for latest firmware and installs it if needed. Although Tim had previously used the PC to run Performance tests, he reset it to factory default before sending it to me. So it once again installed the latest firmware. Once the firmware update was complete, the setup wizard asked for the owner information shown below, sends you an email to confirm and finishes setup. Easy peasy.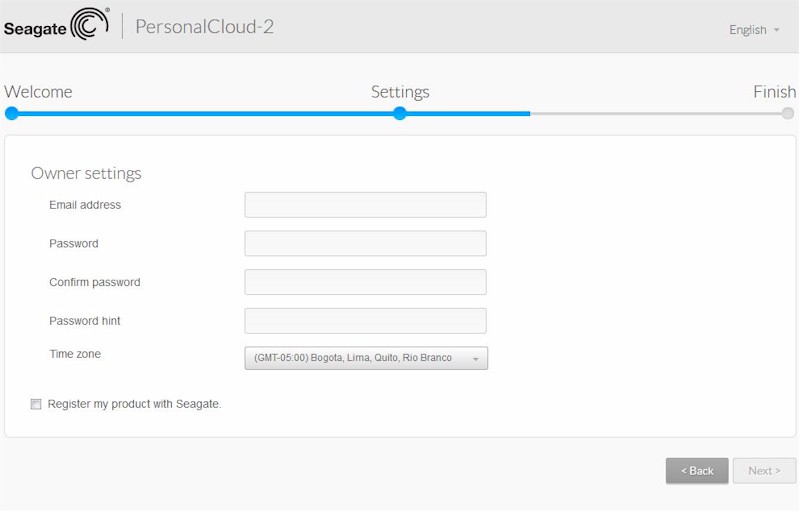 Seagate Personal Cloud setup wizard owner setup
Features
There were a few things I really appreciated about the Personal Cloud. Many NASes today come with lots of apps, enough to be server replacements in some instances. The Seagate Personal Cloud also have apps, but the selection is geared almost entirely to backing up and media sharing and those apps were surprisingly good.
The general list includes:
BitTorrent Sync
ElephantDrive
SDrive
Seagate Media
WordPress
ownCloud
Take for instance, SDrive. SDrive is a Seagate application for for Windows and MacOS for accessing the Personal Cloud (and other Seagate devices) remotely using a mapped drive letter. It's much like the Google Drive app if you are familiar with it.
Setting it up was cake. You download it from the Personal Cloud support page and install on your Mac or PC. The only hitch was I had uPnP disabled on my router and the Personal Cloud uses that to open the port for remote access. Luckily, the management pages of the Personal Cloud have a nice uPnP status indicator that showed me uPnP wasn't enabled, which you see below.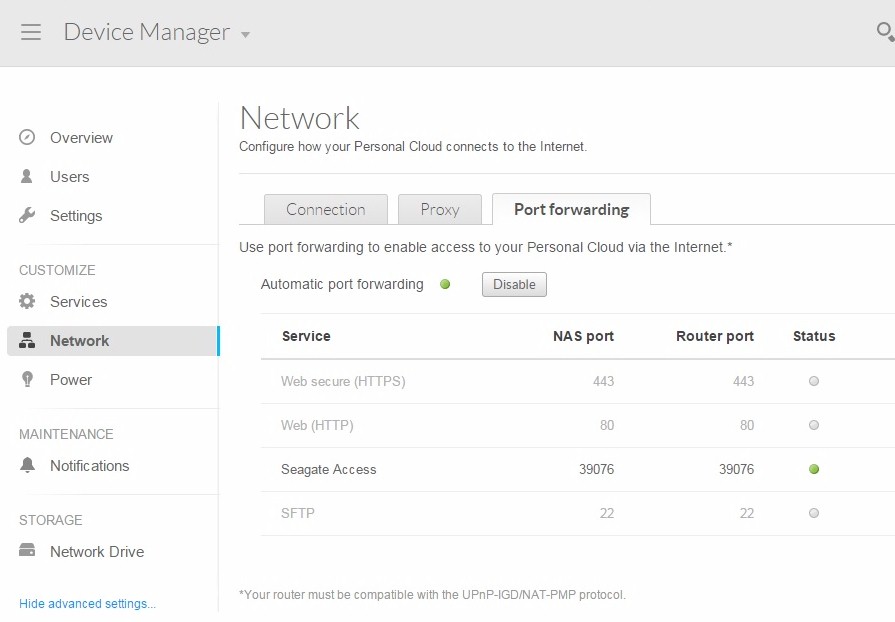 Seagate Personal Cloud Port Forwarding Status page
We usually ding products that rely on UPnP for remote access, so the PC gets a demerit for this. Relying on opening ports in your router's firewall, whether done automatically or manually, means one more attack vector for the bad guys and also inability to work through nested NATs. You will encounter nested NATs if your ISP's modem is actually a router that can't be bridged and you have added your own router.
Once I enabled uPnP, I was able to copy files back and forth to the Personal Cloud remotely with the ease of copying to a local drive. You can see the taskbar icon with its options below. The app makes an S: drive on your computer (or asks for a different letter if S: is used) and from there you just drag and drop.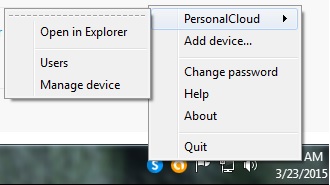 Seagate Personal Cloud SDrive
Note that Seagate has two versions of SDrive and only one works with the Personal Cloud. To be fair, Seagate lays this out in this note on the download page:
This version only works for Seagate NAS, Seagate NAS Pro, Business Storage 4-Bay and 8-Bay Rackmount. If you need SDrive for Personal Cloud click here.
The Personal Cloud's Backup Manager includes options to back it up or sync to an attached drive, another Personal Cloud or rsync server or to cloud services including Google Drive and Dropbox.
Personal cloud backups are done via an easy sync wizard, which you see below.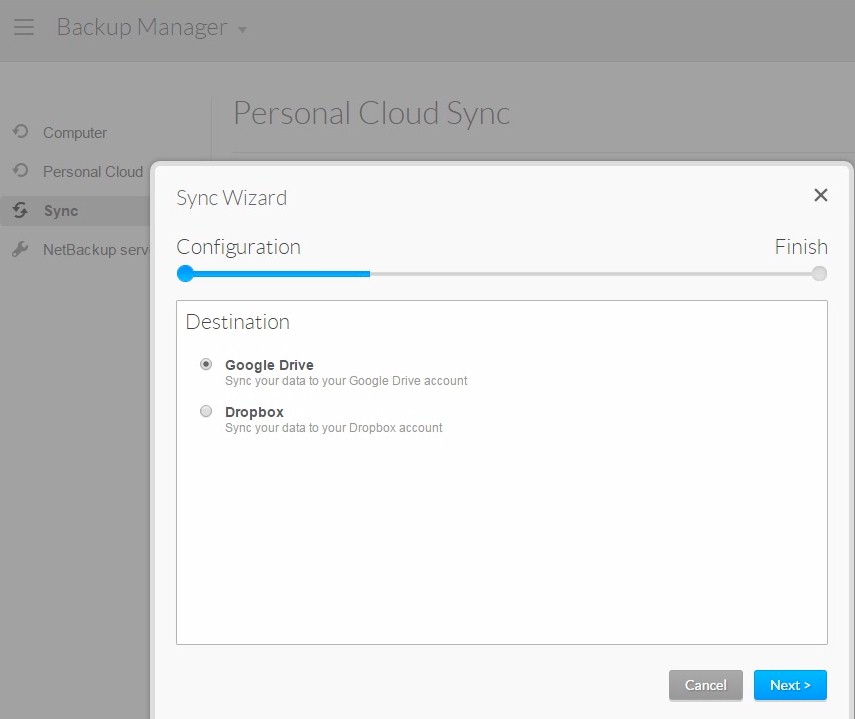 Seagate Personal Cloud Sync wizard
Client backup is supported by the Seagate Dashboard for Windows and via Time Machine for MacOS. Options within the Seagate Dashboard include normal backup, Smart copy where you make selections and the software keeps it synced, mobile backup and social media backup. The Social Media backup saves pictures and video from your social media accounts right to the Seagate Personal Cloud.
Mobile device backup is also supported via Android and iOS apps that are handily linked from Seagate's Mobile Backup App page.
Media options include a Download Manager for downloading Torrents and UPnP / DLNA Media, iTunes and Seagate Media servers.
File security is accomplished by public and private folders for specific users. Users are set up within the management pages and can be given just local, or local and remote access.
Lastly, the Seagate Personal Cloud includes a plethora of file and media sharing services which can be easily enabled or disabled at the push of a button on the management pages. You can see all of the services below.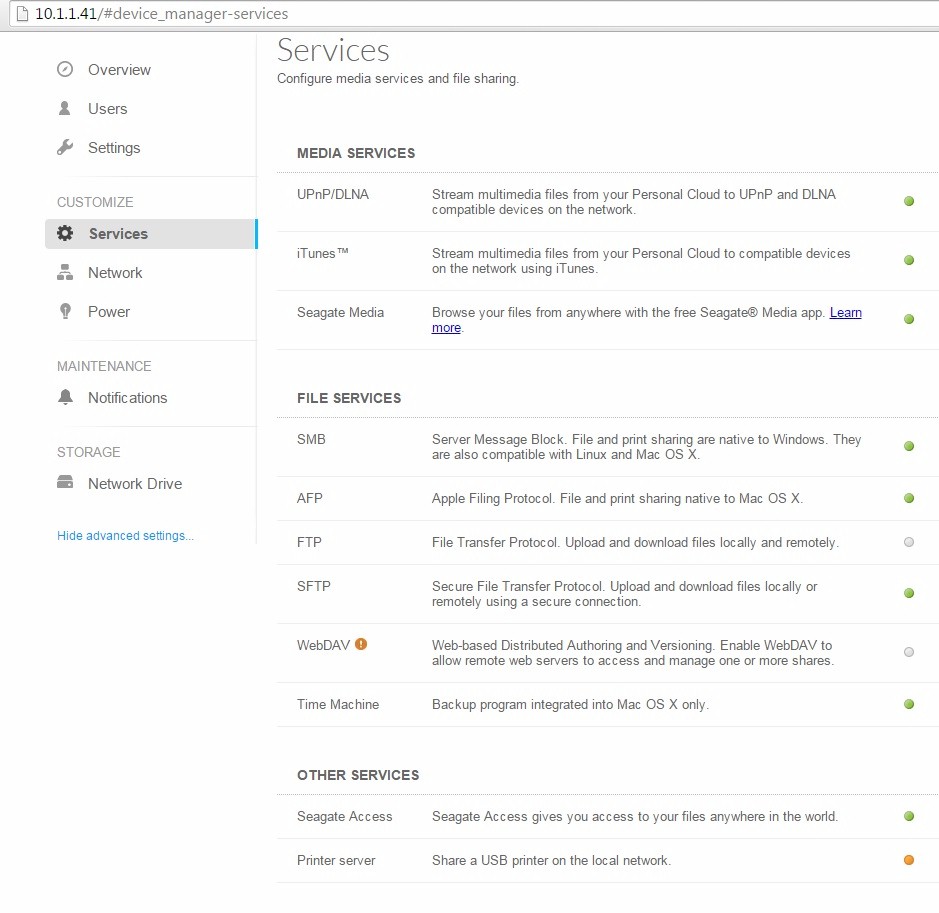 Seagate Personal Cloud Services page
In all, I was fairly impressed with the applications and management for the Seagate Personal Cloud. The product has really matured over the Seagate Central. The gallery below has screenshots of some of the apps and features I've mentioned.
The apps are mainly focused on backup and media management. Other apps can be installed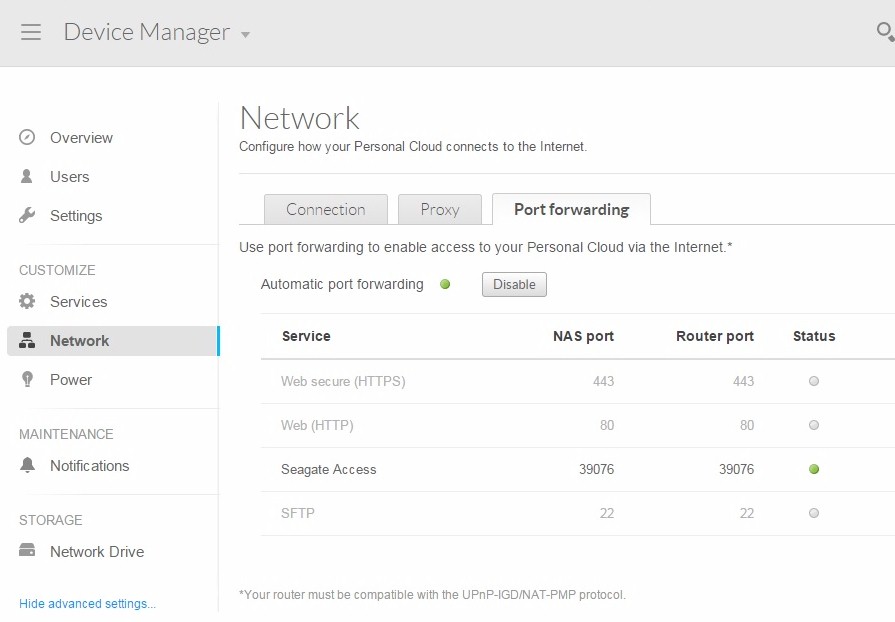 Remote access requires router port forwarding. UPnP is used if it is available. The Proxy setting refers to your proxy server, not a relay server run by Seagate.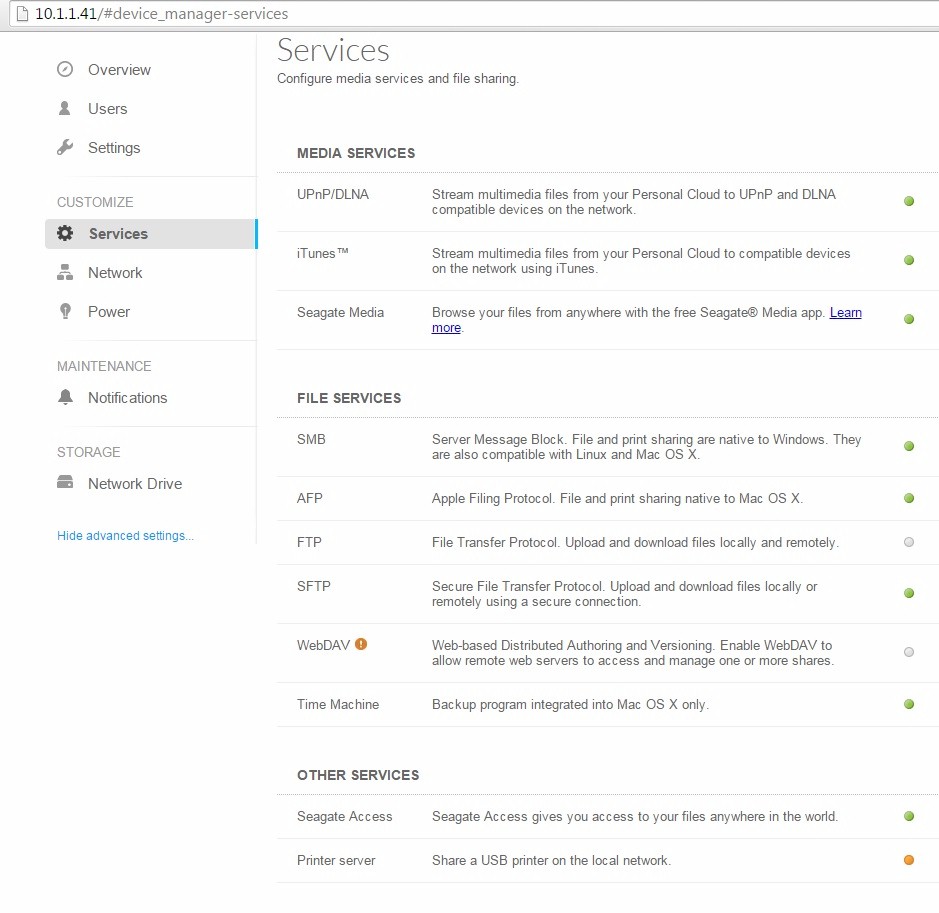 The services include secure FTP (SFTP), WebDAV and USB print serving.
You can schedule backups to attached drives, other Personal Clouds or Google Drive or Dropbox.
The Storage menu lets you view drive status and format it.
Drive spindown didn't work in our testing. We didn't test UPS sync.
User account setup includes emailed confirmation.
Performance
This products was retested with newer firmware.
See this article
for the results.
The Personal Cloud was tested with 4.1.5.13 firmware using our Revision 5 NAS test process. The test used the single 5 TB ST5000DM000 review sample as supplied.
We get our first indication of how a NAS is going to stack up by filtering the default NAS chart for the number of drives (1) and looking to see where the NAS currently being reviewed appears. Below I've shown both File Copy Write Performance and File Copy Read Performance for single drive NASes. While the Seagate Personal Cloud is on the lower end of the list, it has much improved performance over its predecessor the Seagate Central.
The 52 MB/s Read performance was just over half that of the top position Synology DS115j, but nearly double that of the Central. Write performance the Personal Cloud came within about 50% of the top performer, while more than doubling its predecessor. The interesting note here is that the DS115j outperforms the PC using an 800 MHz version of the same Marvell SoC vs. the PC's 1.2 GHz and has half the PC's RAM.

Single drive NASes – File Copy Write and File Copy Read Performance
Detailed results are shown below in the Benchmark Summary. Numbers were fairly consistent across all benchmarks showing stable, yet not particularly fast performance.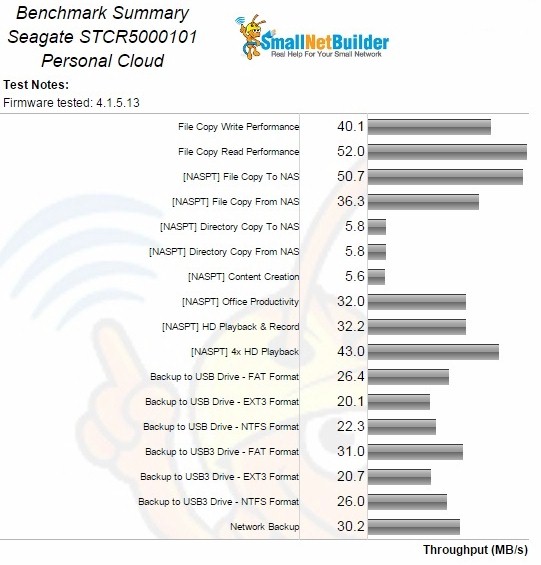 Seagate Personal Cloud Benchmark Summary
Performance Ranking
There are only two single-drive NASes tested with the current NAS test process, so the NAS Ranker shows only the Personal Cloud and aforementioned Synology DS115j. The File Copy Performance mentioned above is a good indicator of the PC's overall performance. The Ranker Performance Summary details below show it beat the Synology only in the Backup benchmarks.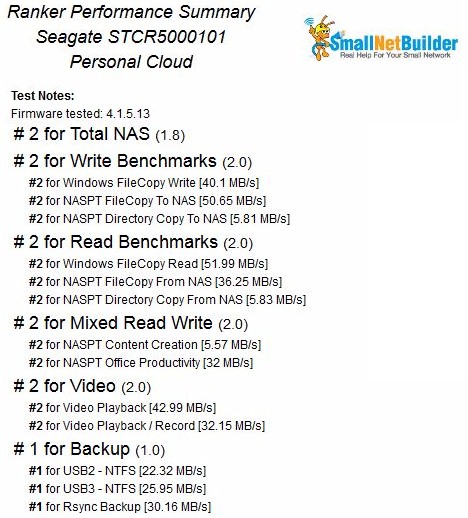 NoRAID NAS Ranking
Closing Thoughts
The Seagate Personal Cloud should be very attractive to the home user who wants centralized storage with simple setup, wide selection of backup options, flexible media serving and the ability to easily grab files when away from home. It may not have the performance or larger list of features of its proud-to-be-called-a-NAS competitors. But it's perfectly fine as a no-nonsense NAS for someone like my retired parents, who like their technology simple and to just work.
Buy Personal Cloud from Amazon