At a glance
Product
Synology Disk Station (DS415play) [Website]
Summary
Four bay dual-core Intel Evansport CE Atom based NAS with hardware video transcoding engine
Pros
• 5 USB ports (2 USB 3.0 and 3 USB 2.0)
• Wide range of downloadable apps
• Extremely quiet
Cons
• Muy expensivo
• No HDMI or optical audio ports
Typical Price: $415 Buy From Amazon
Overview
Last month, Synology announced the DiskStation DS415play, a four-bay version of its two-bay DS214play announced last October. The "Play" part of the name connotes that this product is optimized for media. In fact, it is the second DiskStation to support hardware video transcoding to provide 1080p HD video to most media streaming devices.
The DS415play is also the first Synology product to come through the SNB lab with Synology's latest DSM 5.0 (DiskStation Manager). DSM 5.0 focuses on "Private Cloud" features as well as expanded capabilities from applications that you can download from Synology's Package Center and run on the NAS. Also included in DSM 5.0, QuickConnect promises hassle free remote access without the need for network configuration and port forwarding.
Since DSM 5.0 will be the operating system for all Synology products going forward, I will be doing a separate in-depth look at the upgraded OS shortly. In the meantime, here's the main menu to give you a taste of DSM 5.0. If you can't wait for our DSM 5.0 review, Synology has a live demo that allows you to explore the menus and features.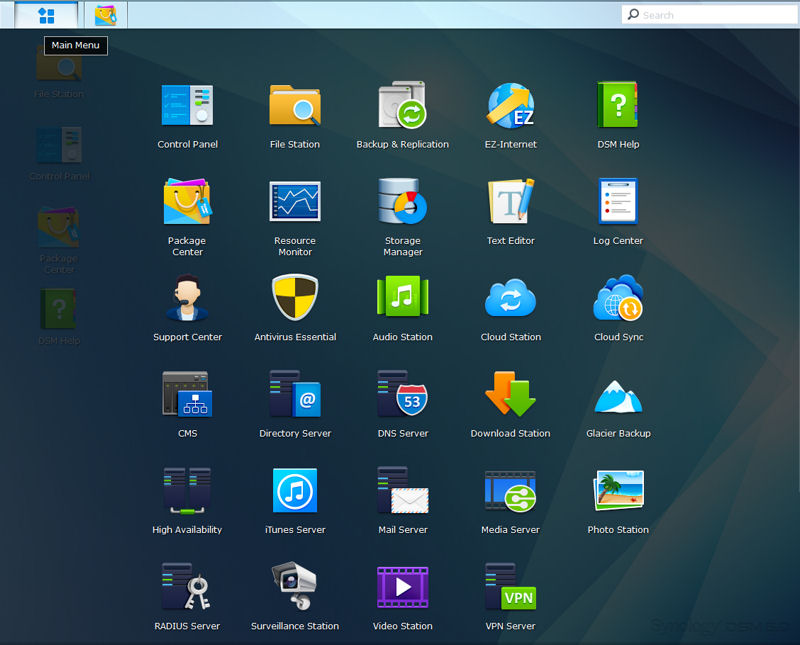 Synology DiskStation DSM 5.0 Main Menu
The table below, generated from Synology's website, compares Synology's 4-bay DiskStations. Of all the 4-bay DiskStations, only the DS415play has a hardware transcoding engine.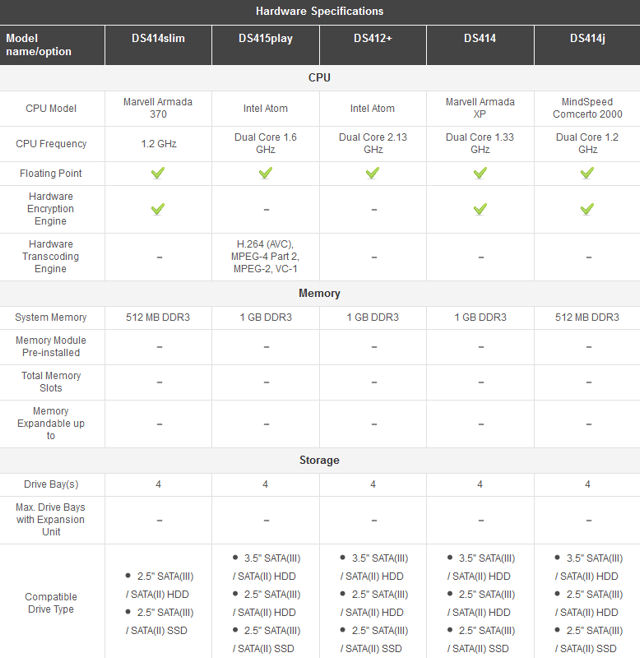 Synology DiskStation four-bay product comparison
Using the NAS Finder, I selected the DS415play along with two other Evansport-based NASes (the ASUSTOR AS-304T and Thecus N4560) for comparison. All three use the same Intel Atom CE5535 processor running at 1.6 GHz. Both the Synology and the ASUSTOR devices have 1 GB of memory; the Thecus has 2 GB. However, looking at the ranking and the File Copy Write performance, you'll note that the DS415play manages to squeeze a lot more out of the hardware. We'll discuss performance in depth later in the review.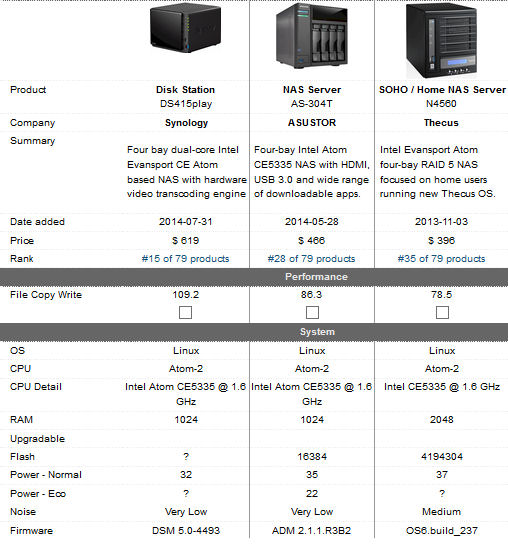 Comparison of three Evansport-based four-bay NAS products
Below is a screenshot showing the callouts for the front and rear panels. The front has LED indicators for each disk, a power button and a single USB 2.0 port. The rear panel has a power connector, Gigabit LAN port, a reset button, 2 USB 2.0 and 2 USB 3.0 ports, a security slot and dual fans.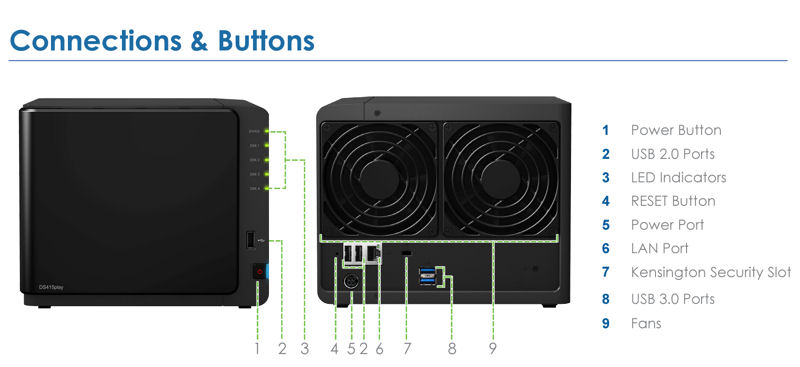 Synology DiskStation DS412play callouts
Inside
There are no inside photos because there wasn't an obvious way to get the plastic outer shell off without the risk of cracking it. The main board is screwed to the drive bay chassis on the right side (facing front of the product). So all we have for internal details is what has already been mentioned, i.e. dual-core 1.6 GHz Intel Atom CE5535 Evansport processor and 1 GB of RAM (DDR3 most likely).
Despite their similarities, the DS214play and 415play do not use the same board. The DS214 play has one USB 2.0 and two USB 3.0 ports vs. the 415play's three and two. The 214play also sports an SD card slot and eSATA port that the 415play lacks. Both have a single Gigabit Ethernet port and, in keeping with Synology's current design philosophy, don't have HDMI or VGA ports.
We used four 3 TB WD Red (WD30EFRX) drives to test the 415play. Total active power consumption with the drives spun up was 32 W, which dropped to less than 9W with the drives spun down for power save.
The power supply is external, which reduces heat inside the case. Although the DS415play has two fans, it wasn't audible in the quiet home office setting of the SNB lab. So we rated its noise level as very low.
Features
Synology has summarized their features fairly well in the data sheet for the product. Table 1 below is from the DS415play data sheet.
General
Networking Protocols
CIFS, AFP, NFS, FTP, WebDAV, CalDAV, iSCSI, Telnet, SSH, SNMP, VPN (PPTP, OpenVPN™, L2TP)
File System
– Internal: EXT4
– External: EXT4, EXT3, FAT, NTFS, HFS+
Storage Management
– Max File System Size: 16TB
– Max Internal Volume #: 256,
– Max iSCSI Target #: 10
– Max iSCSI LUN#: 10
– RAID Clone/Snapshot support
– Supported RAID Type : Synology Hybrid RAID, Basic, JBOD, RAID 0, RAID 1, RAID 5, RAID 6, RAID 10
File Sharing Capability
– Max User Account: 2048
– Max Group: 256
– Max Shared Folder: 256
– Max Concurrent CIFS/AFP/FTP Connections: 256
Privilege
Windows Access Control List (ACL)
Directory Service
Windows AD Integration: Domain Users login via Samba (CIFS)/AFP/FTP/File Station, LDAP Integration
Applications
Backup Solutions
– Network Backup, Local Backup, Desktop Backup
– Shared Folder Sync – Max Task Number : 4,
– Configuration Backup
Mail Server
Supported Mail Server Protocols: POP3, SMTP, IMAP
File Station
Virtual Drive, Remote Folder
FTP Server
Bandwidth Control, Custom FTP Passive Port Range, Anonymous FTP, Transfer Log
Web Station
Virtual Host (up to 30 websites), PHP/MySQL, 3rd-Party Applications Support
Printer Server
– Max Printer #: 2
– Printing Protocols: LPR, CIFS, IPP, Apple iOS Printing, Google Cloud Print, Multi-Functional Print Server(MFP functions are for Windows PC only)
Log Center
– SSL Connection, Log Rotation: 6 months, 1 year, 2 years, 3 years, Email Notification
iOS/Android Applications
DS audio, DS cam, DS cloud, DS download, DS file, DS finder, DS photo+, DS video
Windows Phone Applications
DS audio, DS download, DS file, DS finder, DS photo+, DS video
Add-On Packages
Surveillance Station
– Default IP cam #: 2
– MAX IP cam # (licenses required): 15 (with two free licenses to install two IP cameras. Additional licenses can be purchased to expand the license quota.)
VPN Server
Maximum Connections: 15, VPN Method: PPTP, OpenVPN, L2TP
Mail Station
-Webmail Interface for Mail Server, Receiving Mails from Multiple POP3 Mailboxes, Customizable SMTP Server
Antivirus Essential
Full System Scan, Scheduled Scan, White List Customization, Virus Definition Auto Update
Cloud Station
– Maximum Concurrent File Transfers: 256
– Retain Historical and Deleted File Versions
Cloud Sync
Data Sync with Public Cloud Services: Dropbox, Google Drive, Baidu
DLNA/UPnP Media Server
DLNA certified, PS3/Xbox 360 Support
Download Station
– Supported Download Protocols: BT/HTTP/FTP/NZB/eMule
– Maximum Concurrent Download Tasks: 50
Other Packages
Photo Station, Audio Station, iTunes Server, 3rd-party packages
Table 1: Feature summary
Performance
Performance tests were run using our Revision 5 NAS test process on four-drive unencrypted RAID 0, 5 and 10 volumes using WD Red 3 TB (WD3000FYYZ) drives with a 1 Gbps LAN connection. The firmware installed was DSM 5.0-4493 Update 3.
The DS415play's Benchmark Summary below shows Windows File Copy read and write performance slightly above 100 MB/s for RAID 0 and RAID 5. However, the RAID 10 file copy write performance was only about 75% of the RAID 0 file copy write performance. In all cases, RAID 10 performance was lower than the corresponding RAID 0 and RAID 5 performance.
For all RAID levels, NASPT File Copy Write Performance was faster than the corresponding File Copy Write Performance. NASPT reads were slower than the corresponding File Copy reads.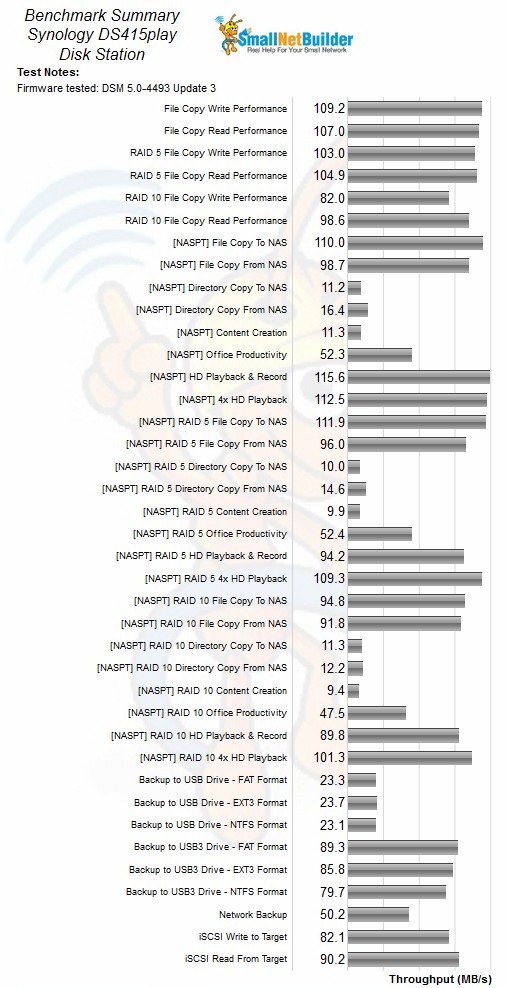 Synology DiskStation DS415play Benchmark Summary
Table 2 shows summarized comparative data for the three different volume types.
| Benchmark | RAID 0 | RAID 5 | RAID 10 |
| --- | --- | --- | --- |
| File Copy Write Performance | 109.2 | 103.0 | 82.0 |
| [NASPT] File Copy To NAS (write) | 110.0 | 111.9 | 94.8 |
| File Copy Read Performance | 107.0 | 104.9 | 98.6 |
| [NASPT] File Copy From NAS (read) | 98.7 | 96.0 | 91.8 |
Table 2: File Copy and NASPT File copy comparison
Performance – Backup
The table below compares attached and network backup performance of the DS415play, ASUSTOR AS-304T and Thecus N4560 – the same Evansport-based NAS products we used in the component comparison above.
For USB 2.0 performance, the Synology and ASUSTOR ran neck and neck with the Thecus significantly slower backing up to an NTFS formatted volume. For USB 3.0 , the Synology DS415play held a clear edge over both of the other products in the comparison. For network (rsync) backup, the ASUSTOR had about a 10% edge over the Synology.

| Benchmark | Synology DS415play | ASUSTOR AS-304T | Thecus N4560 |
| --- | --- | --- | --- |
| Backup to USB Drive – FAT Format | 23.3 | 23.4 | 21.5 |
| Backup to USB Drive – EXT3 Format | 23.7 | 23.1 | N/A |
| Backup to USB Drive – NTFS Format | 23.1 | 22.9 | 17.0 |
| Backup to USB3 Drive – FAT Format | 89.3 | 42.5 | 45.5 |
| Backup to USB3 Drive – EXT3 Format | 85.8 | 43.3 | N/A |
| Backup to USB3 Drive – NTFS Format | 79.7 | 48.0 | 16.8 |
| Network backup | 50.2 | 55.1 | N/A |
Attached drive and network backup performance comparison
Performance – File Copy Read/Write comparisons to other products
To compare the DS415play to other similar products, I filtered the NAS Charts for four drives and dual-core processors (Atom-2). The three composite shots below show how the DS415play stacks up for RAID 0, RAID 5 and RAID 10.
The DS415play came out on top for read and write performance for both RAID 0 and RAID 5. However, for RAID 10, it dropped to third place for File Copy Read Performance and sixth place with the relatively slow File Copy Write Performance.

Atom-2 4-bay RAID 0 File Copy Read and Write Comparison

Atom-2 4-bay RAID 5 File Copy Read and Write Comparison

Atom-2 4-bay RAID 10 File Copy Read and Write Comparison
Performance – Ranking
If you look at the NAS Ranker and filter the results for four drives and dual core Atom processors you'll see the DS415play ranks third in this filtered ranking. The higher-ranked QNAP TS-469L and ASUSTOR AS-604T both have D2700 Atom processors compared to the CE 5335 Atom found in the DS415play. The DS415play is, however, the best ranked Evansport-based NAS.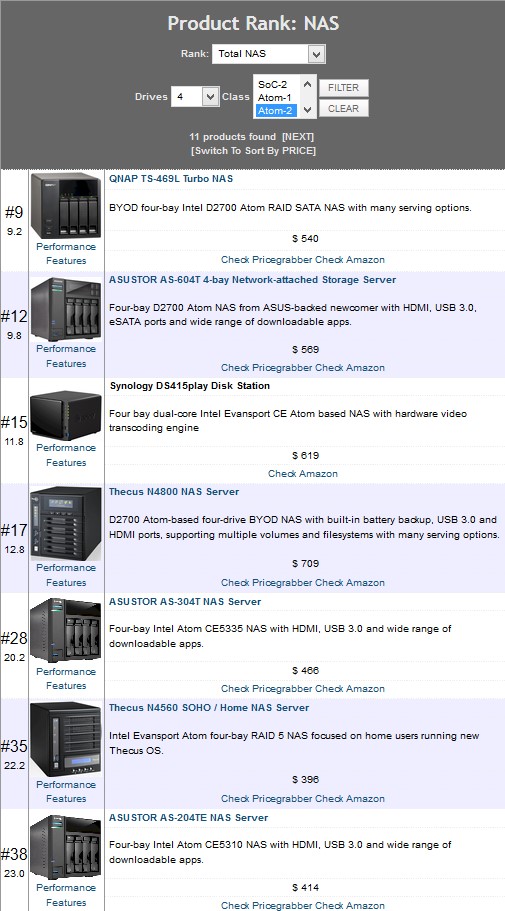 NAS Ranker for dual core Atom 4 bay NASs
To understand the differences between the DiskStation DS415play and the two four-bay Atom-2 NAS products that had better overall "Total NAS" scores, I created the composite ranker chart below.
The biggest reason that the DS415play ranks third is the relatively low scores on the Write Benchmarks. The DS415play had the best throughput in only two of the nine write benchmarks. (RAID 0 and RAID 5 File Copy Write). It also lost some ground to the two leaders for slower iSCSI write performance. However, the DS415play ranked very well for video performance ranking #2 of all 79 NAS products tested.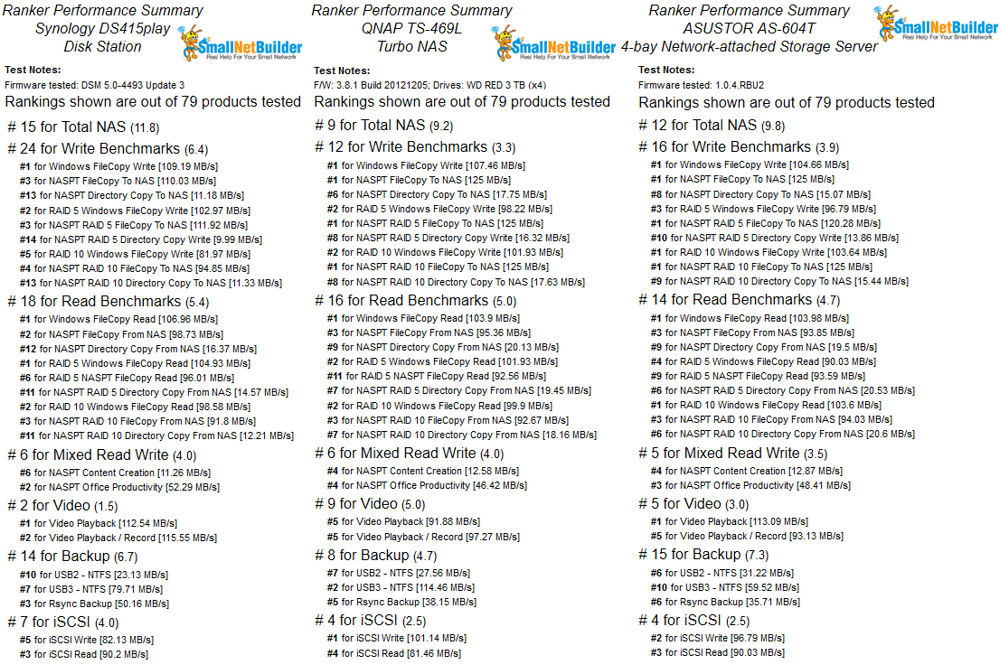 Ranker Performance Summary comparison of the Synology DS415play, QNAP TS469L, and ASUSTOR AS-604T
Closing Thoughts
At $629, the DS415play is the most expensive four-bay diskless dual-core Atom NAS you can buy right now. It is slightly outperformed on some benchmarks by the QNAP TS-469L ($540) and ASUSTOR AS-604T ($588). However, the 415play's weaknesses are so few and in benchmarks that may not matter to you (RAID 10 write, iSCSI), that they shouldn't be a major factor in your buy decision.
Synology says the 415play's MSRP is $539, but the lowest price right now on Amazon, which is our pricing source for the Charts, Finders and Rankers, is $629. When the product actually becomes available at MSRP, then the ASUSTOR will take the top-priced spot and the QNAP and 415play will be at par.
More likely to be a deal-killer is the lack of HDMI port for buyers looking to use the 415play to replace an aging HTPC. But again, that use is so niche that it isn't likely to be the deciding factor. I've tried XBMC on several NASes and a missing HDMI port isn't a deal breaker for me. The Synology mobile apps supposedly have ChromeCast support built in as well as support for Roku and Synology says its Plex support is a also a very popular media option.
For many buyers, the decision comes down to features and user interface, which I'll be looking at shortly along with transcoding capabilities. Stay tuned.
Buy Disk Station from Amazon