At a glance
Product
Synology Disk Station (DS214se) [Website]
Summary
Synology's lowest cost two bay, Marvell-based BYOD SATA NAS supporting all DSM 4.3 features
Pros
• Very aggressive price (for Synology)
• Runs full suite of DSM 4.3 applications
• Mobile Apps for iOS and Android
• iSCSI target support
Cons
• No USB 3.0 ports
• 2.5″ drives require optional ($) adapter
• Drives not hot swappable
Typical Price: $175 Buy From Amazon
Are you thinking of doing some holiday shopping for that favorite geek of yours? You're in luck, since Synology recently announced two new 2-bay BYOD NASes. The subject of today's review—the DS214se—is its lowest-priced dual-bay NAS that's only $10 more than Synology's entry-level single-bay DS112j. Synology sent its first review sample to us, so let's get going.
Synology's announcement said the "se" stood for "single-role edition", but there is no mention of this on the product's page. Instead, you find "A Budget-Friendly, Personal Cloud" as the product's catchphrase, which perhaps suits it better.
The se's material cost has been trimmed to the bone by using a single-core Marvell Armada 370 SoC with only a minimal 256 MB of DDR3 RAM and 8 MB of flash. Priced at only $160, you can't expect it to burn up the performance charts, but it's not a totally stripped-down NAS, either. It runs the Synology's standard DSM 4.3 operating system including all add-in apps.
The front and rear panels are relatively simple, so I've combined both of them into a single screenshot along with the LED status indicator chart. I like that Synology uses a combination of color and blink/static states to show you what's happening at a glance. An orange LED for either of the Disk indicators means that you have a disk failure. The front LAN indicator shows connectivity and activity.
Synology DS214se front and rear panels with LED indicator chart

The rear panel has a single Gigabit Ethernet port with two LED indicators, two USB 2.0 ports, a reset hole, power jack and a Kensington lockdown hole. Note the lack of USB 3.0 and eSATA ports.
Inside
The image below shows the top of the DS214se's PCB. You can clearly see the Marvell SoC in the center of the board.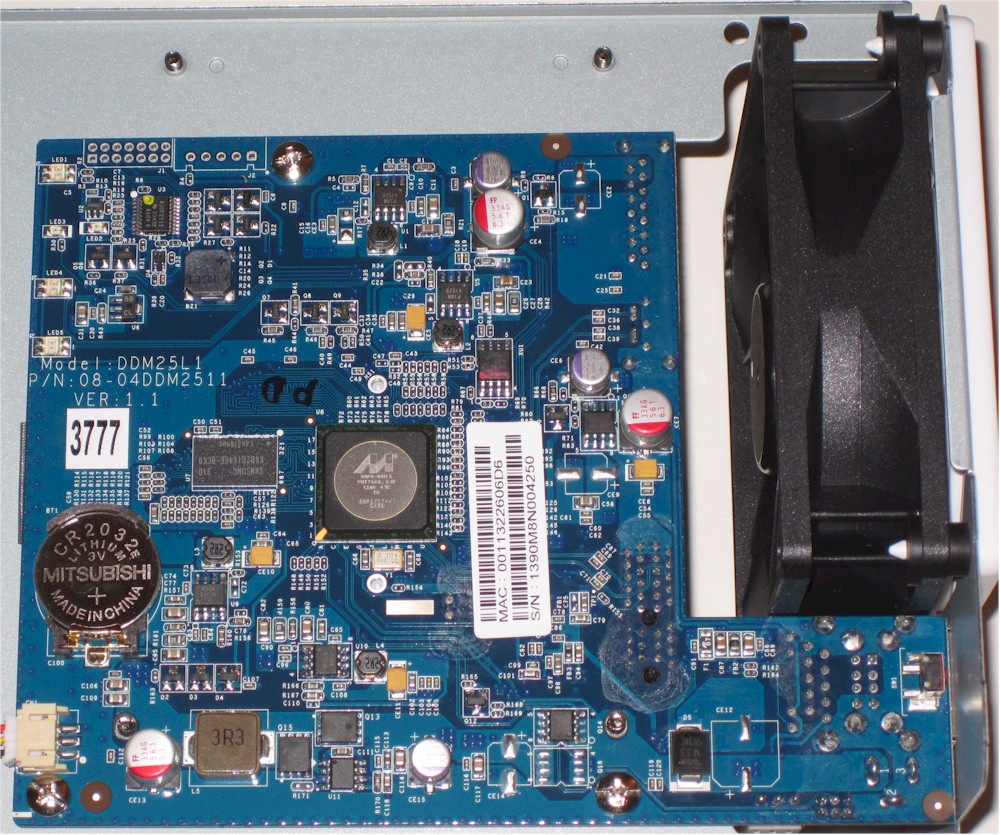 Synology DS214se PCB top
The image below shows the two 2 TB WD Red (WD20EFRX) drives that Synology supplied in the review sample, mounted over the PCB. Since the se isn't a hot-swappable design, you remove two screws on the rear panel, then slide the case apart to mount the drives.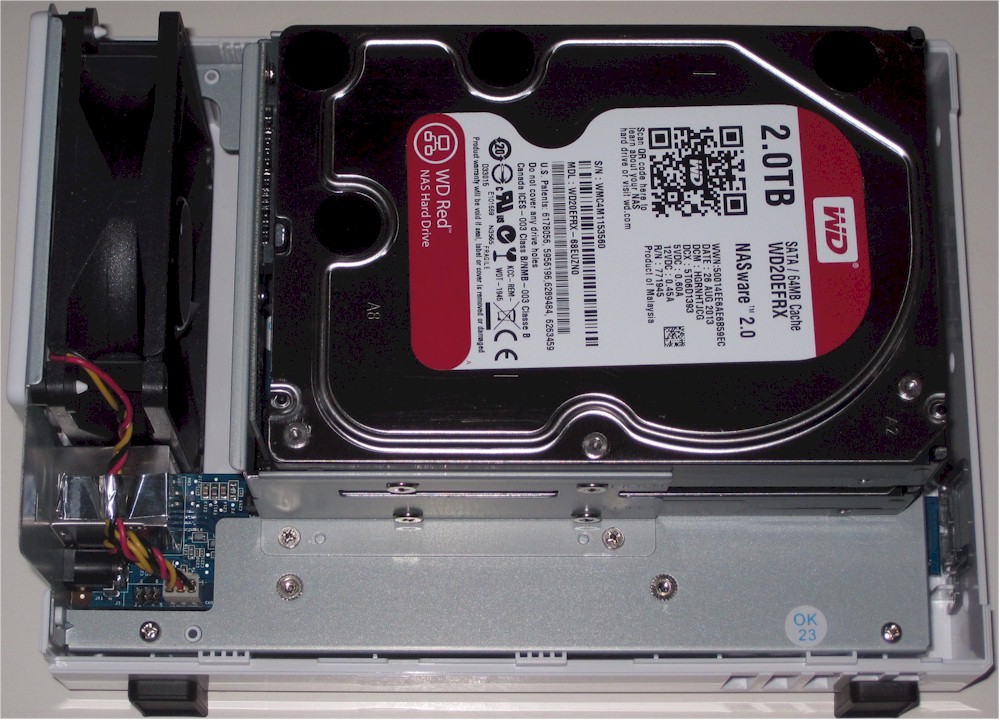 Synology DS214se with cover removed
The integrated drive brackets support 3.5" drives only. If you want to mount 2.5" drives, you'll need to purchase special brackets for those.
The se drew only 14 W with the two WD Red drives spun up and 7 W when the drives reliably spun down after the programmable idle time elapsed. Noise level was judged as low since it was barely audible in the quiet home office test area. The fan never spun up to a higher level even under load during testing.
The table below summarizes the se's key components. I've included the key components for the $150 Buffalo LinkStation LS421e and the $140 Zyxel 2-Bay Power Plus Media Server NSA325 for comparison. As you can see, the DS412se is running at the slowest clock speed of the three devices and has half the RAM. It's also missing the USB 3.0 chipset, as the DS214se only supports only two USB 2.0 ports.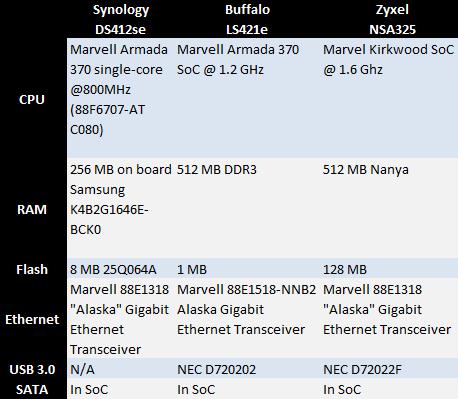 Key component summary and comparison
Features
As I mentioned earlier, the se supports all the features in Synology's current DSM 4.3 OS. Our most recent look at the DSM feature set is Scott's DS713+ review. We'll will be doing a full review of the DSM 4.3 operating system in the near future. In the meantime, here are a few screenshots to give you an idea of what DSM 4.3 looks like.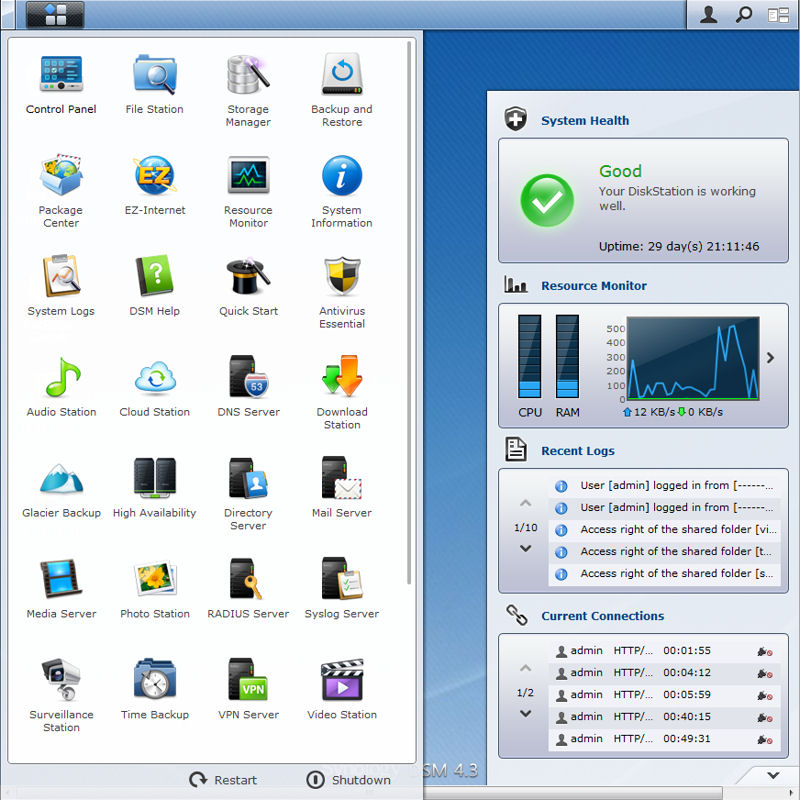 Synology DSM 4.3 showing installed modules
You can also give it a test drive using Synology's read-only Live Demo.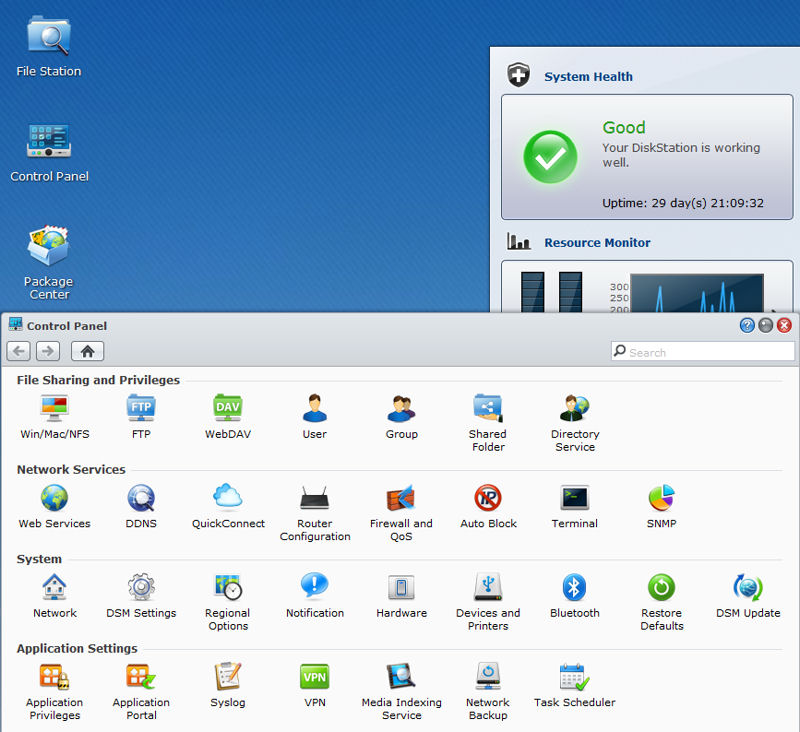 Synology DSM 4.3 control panel
Performance
The DS214se was tested with its factory-installed DSM 4.3-3781 firmware using our standard NAS test process to run tests with two-drive RAID 0 and RAID 1 volumes. The drives used for testing were the two 2 TB WD Reds (WD20EFRX) that Synology supplied.
The benchmark summary below shows very evenly-matched Windows File copy performance between RAID 0 and 1 volumes with mid 50 MB/s writes and low 90 MB/s reads. Switching to the NASPT File Copy benchmarks moved writes up to 90 MB/s or so and reads down to 80 MB/s. But once again, there was little difference between RAID 0 and 1.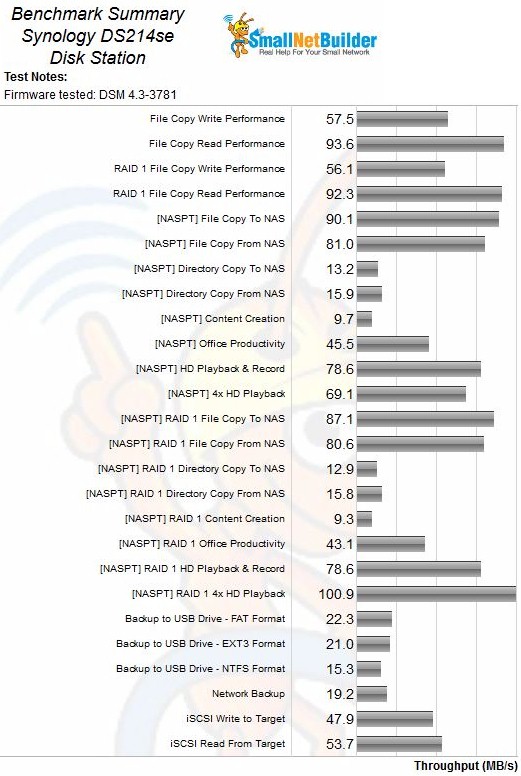 Synology DS412se benchmark summary
Synology didn't like our initial performance results since they fell far short of their specified 58 MB/s write and 102 MB/s reads. After a few rounds of test runs, Synology found the source of the difference.
It turned out that we ran our tests with a browser logged into the Synology admin "desktop". Even with the System Health / Resource Monitor widget closed, there apparently is enough processor load to limit read throughput to the mid 80 MB/s range. So if you want top performance, stay out of the admin interface! That's what we did when we retested to post updated results that now reside in the NAS Charts.
It's somewhat hard to believe that you'd find two-bay NASes in this price class that support iSCSI, but there are several of them. The filtered chart below summarizes iSCSI write performance for two-bay NASes with single-core application-specific processors. The DS214se does pretty well with 48 MB/s writes. The se does a little better in the filtered iSCSI read chart, coming in at the #2 slot with 53.7 MB/s.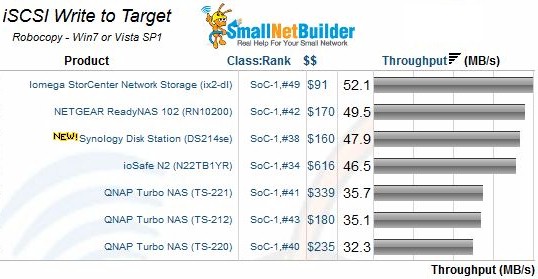 iSCSI write performance (MB/s) for 2-Bay BYOD NASes
Attached backup tests yielded a best backup throughput of 22.3MB/s using a FAT-formatted drive and worst throughput of 15.3 MB/s with a NTFS formatted drive. These tests were run on USB 2.0. Unlike the $140 Zyxel NSA320 and the Buffalo LS421e, which have USB 3.0 ports, the DS214se has only USB 2.0 ports. Network backup to our standard rsync target clocked in at 19 MB/s.
Ranking
Below is the NAS Ranker Performance summary for the se. Note that this ranking is for all products tested and doesn't relate to a particular class of processor or number of drives. The weakest scores are for NASPT Directory copy read and NASPT Video Playback (four simultaneous HD streams), while the se ranked highest for RAID 1 NASPT File Copy and Directory Copy writes and reads.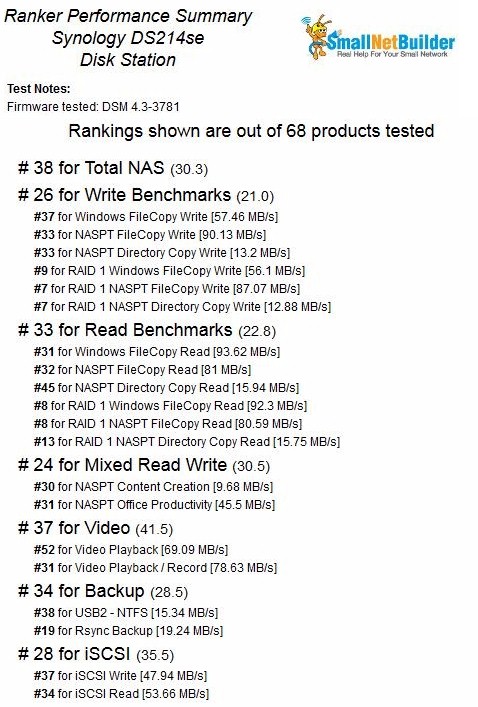 Synology DS214se NAS Ranker performance summary
To home in on RAID 1 NASes, I filtered the Ranker for two-bay NASes and sorted by ascending price, The chart below shows the results.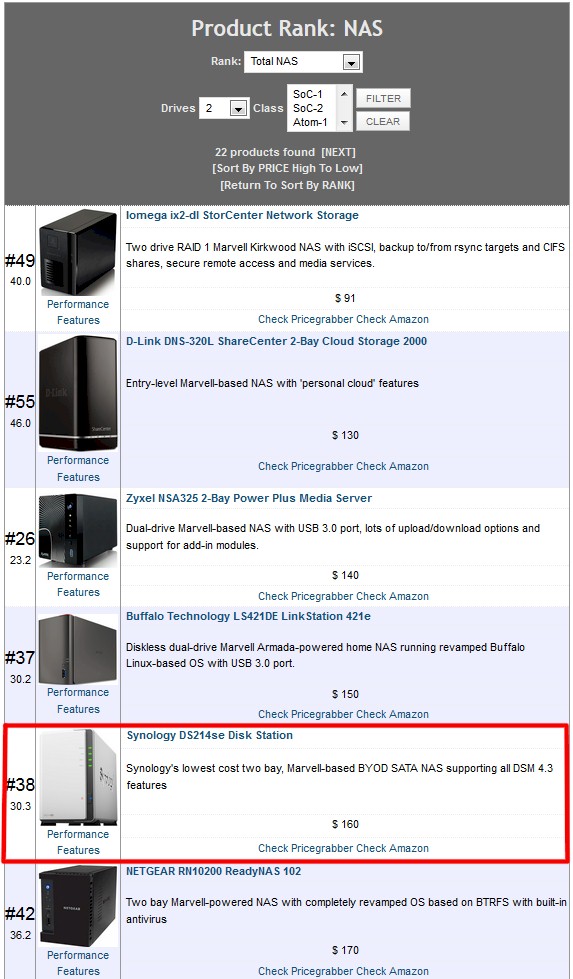 NAS Ranker filtered for 2 bay NAS, sorted by price
It turns out that there two cheaper two-bay NASes than the DS214se with higher rankings: the $140 Zyxel NSA235 (ranked #26) and the $150 Buffalo LS421DE (ranked #37). Looking at the actual ranking score, the Buffalo's 30.2 is essentially the same as the 214se's 30.3, so consider them tied. The ZyXEL's rank score of 23.2 is significantly higher and so has the best price performance of the bunch.
Here's its Ranker Performance summary so that you can compare to the 214se. Its strengths are overall Read, Video streaming and Backup. Keep in mind that the ZyXEL has a USB 3.0 port, but doesn't support iSCSI.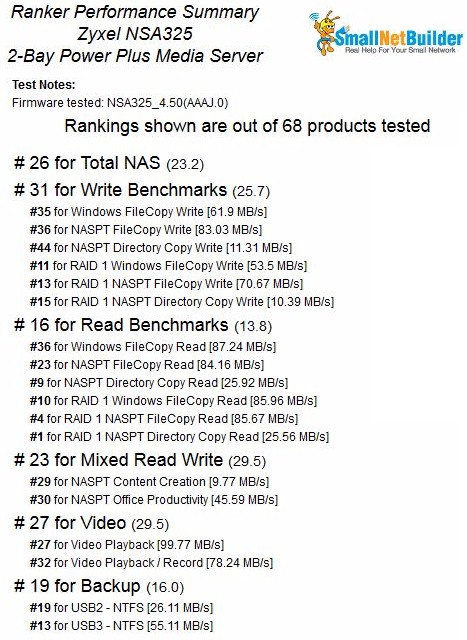 ZyXEL NSA325 Ranker Performance Summary
Closing Thoughts
RAID 1 NASes are for folks who want a bit more insurance against inevitable drive failure. With a single bay NAS, you'll be without your data until you replace the drive and restore from your backup. But with RAID 1, you can keep on going while the volume rebuilds.
Synology hasn't made its bones by being a low-cost NAS producer and it's doubtful that the DS214se represents a major change in company direction. Think of it more as a marketing experiment, perhaps to test the waters for other products focused more on the price factor in the price / performance equation.
Though we haven't done an in-depth review of the DSM 4.3 feature set, from what I've seen, the features and the available add-ins would seem to put Synology at or near the top of the features heap. I was impressed that there are add-on modules for mail , RADIUS and DNS servers as well as a VPN gateway.
But the DS412se is being marketed as a "single-role edition" , which is a hint that you shouldn't be running too many CPU-intensive services on it concurrently. Although Synology has wisely not crippled the DS214se's feature set, there is simply not enough horsepower to handle file services while also transcoding video, generating thumbnails, servicing VPN tunnels, acting as a mail server and streaming video!
If your NAS needs are simple, the $160 Synology DS214se has all of the features you could want and enough performance for many SOHO users. But before you plunk down your money, be sure to check out the Zyxel NSA235 and Buffalo LS421DE and see if their more limited feature sets meet your needs.
Buy Disk Station from Amazon