At a glance
Product
Synology Disk Station (DS412+) [Website]
Summary
Four bay, high-performance BYOD SATA NAS with many features based on a dual-core Intel Atom D2700 processor.
Pros
• Many features
• Quiet for a four-bay NAS
• Very fast attached backup via USB 3.0 & eSATA
Cons
• Mostly plastic construction
Typical Price: $1317 Buy From Amazon
Overview
As much as Synology likes its expandable/scalable NAS business, some folks like to save some dough and take their four-bay NASes without the option for adding expensive expansion cabinets. For them, Synology has its new DS412+, which is positioned one step from the bottom in its "Standard Business" NAS line.
As noted in the article teaser, you can think of the 412+ as a non-expandable four-bay version of the DS1512+ [reviewed], at least from a hardware architecture point of view. Construction-wise, the two are very different animals, however.
Where the DS1512+ comes in a metal case with lockable drive trays, Synology has turned to plastic for all of the 412+' external construction. While this might help to keep cost and vibration-related noise down, it seems a bit chintzy for a ~ $625 NAS designed for business use.
The front cover attachment method using four rubber "packs" and a friction-fit is novel and should be buzz-free. But it again smacks of design-for-reduced-manufacturing-cost vs. long-term robustness. Like the DS1512+, the 412+' drive trays are plastic, but they can't be key-locked in place. 2.5" or 3.5" solid state or hard SATA drives are screwed to the trays and the trays themselves are held in place by plastic latching mechanisms. You can see photos of the cover, drive tray and construction details in the gallery.
View of drive bay with cover removed. The plastic drive trays slide right on the drive bay metal floor and top.
View of the front cover being installed. The cover stays on with a friction fit from four rubber bushings.
The plastic drive trays have mounting holes for 2.5 and 3.5 inch drives. They are held in place by the plastic latches shown in the first picture.
The callout view below provides the rundown on ports, indicators and switches.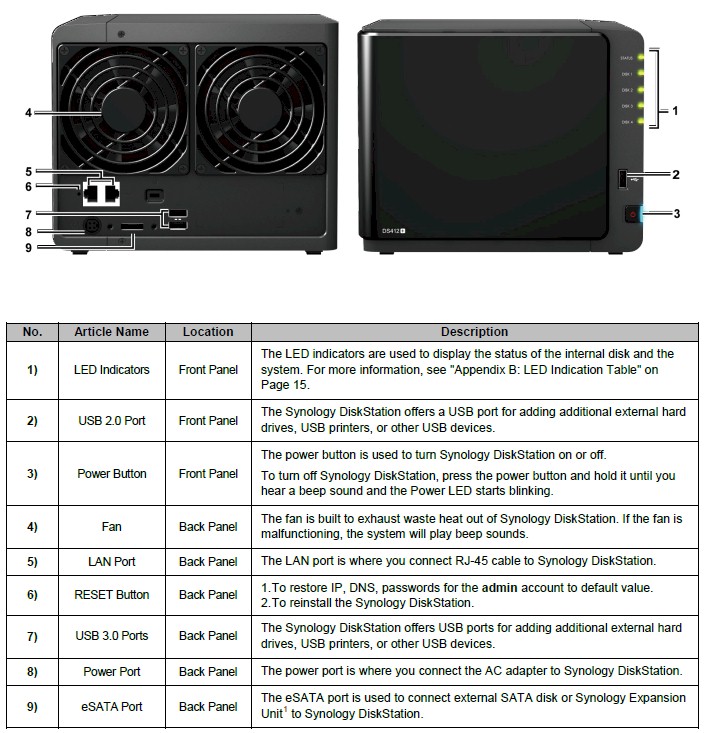 DS412+ panels and callouts
Like the 1512+, there are no VGA or HDMI ports to support an attached console, nor is there an LCD status panel on the front. You'll have to get any information you want via the front panel LEDs or logging into the web-based admin. The two 10/100/1000 Ethernet ports on the rear do not have built-in link/status LEDs, either.
For drive and printer attachment you get two USB 3.0 and one eSATA ports on the rear panel, one USB 2.0 port on the front.
Inside
The 412+ is the polar opposite of the 1512+ for serviceability. The two fans look like they can be removed without opening the case. But if you remove the four screws holding one on, you'll find that you just removed a (yes, again) plastic grill and the fan falls off the plate into the box interior.
You can remove most of the cover in one large C-shaped section by removing two rear-mounted screws. But the cover requires a tricky slide movement before you can get it off, which I discovered by accident after futzing with it for about 15 minutes. Once you get the cover off, however, good luck getting at the processor board. I couldn't get at one last screw securing the other cover and gave up before I broke something.
It seems other reviewers were more skilled than I in getting the other cover off. techPowerUp has a nice set of inside pictures in their review, which is where most of the information in Table 1 comes from.
| | |
| --- | --- |
| CPU | Intel Atom D2700 @ 2.13 GHz |
| Ethernet | Intel WG82574L (x2) |
| RAM | 1 GB DDR3 SoDIMM (expandable to 3 GB) |
| Flash | 128 MB DOM (Samsung K9F1G08U0C & USBest UT165-L46 controller) |
| Southbridge | Intel 82801JIR (ICH10R) |
| eSATA | Silicon Image SiI3531 |
| I/O | ITE IT8728F |
| uC | Microchip PIC16F883 8 bit microcontroller |
Table 1: DS412+ key components
Here is one of their photos of the 412+ main board.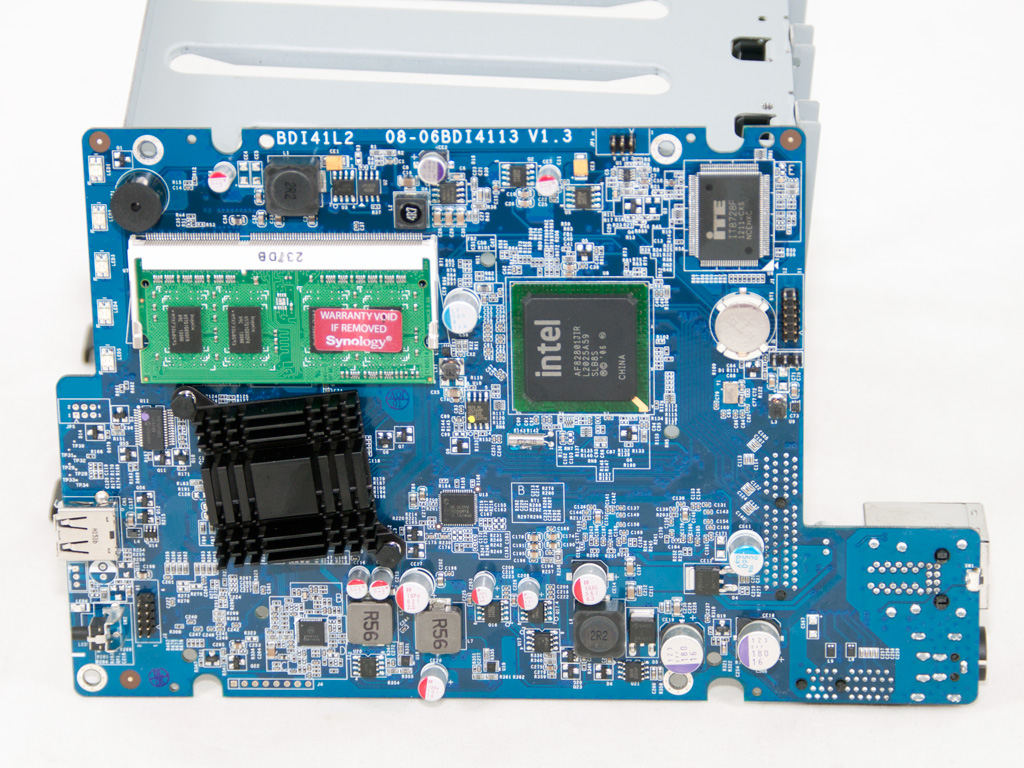 DS412+ main board
(Photo credit, techPowerUp. Used by permission)
The two Gigabit Ethernet ports supplied by a pair of Intel WG82574L controllers can be set to aggregation, failover and separate LAN modes. The Silicon Image SiI3132 PCI Express (1x) to 1 Port SATA300 services the rear eSATA port. Two USB 3.0 ports are provided via an NEC D720200AF USB 3.0 controller.
Power consumption measured 55 W with four WD RE4 2 TB 7200 RPM (WD2003FYYS) drives Synology supplied spun up and 18 W when the programmable drive spindown kicked in. Fan noise, in the default "Quiet" mode (the other two modes are "Cool" and "Low-Power") was barely audible and there was little idle drive noise in my quiet home office environment. So I rated the 412+' noise as low.
Features
The 412+ supports all the features in Synology's DiskStation Manager (DSM) 4.1 OS. DSM is probably the most graphically ambitious of the current NAS OSes, using a multi-windowed interface illustrated in the screenshot below.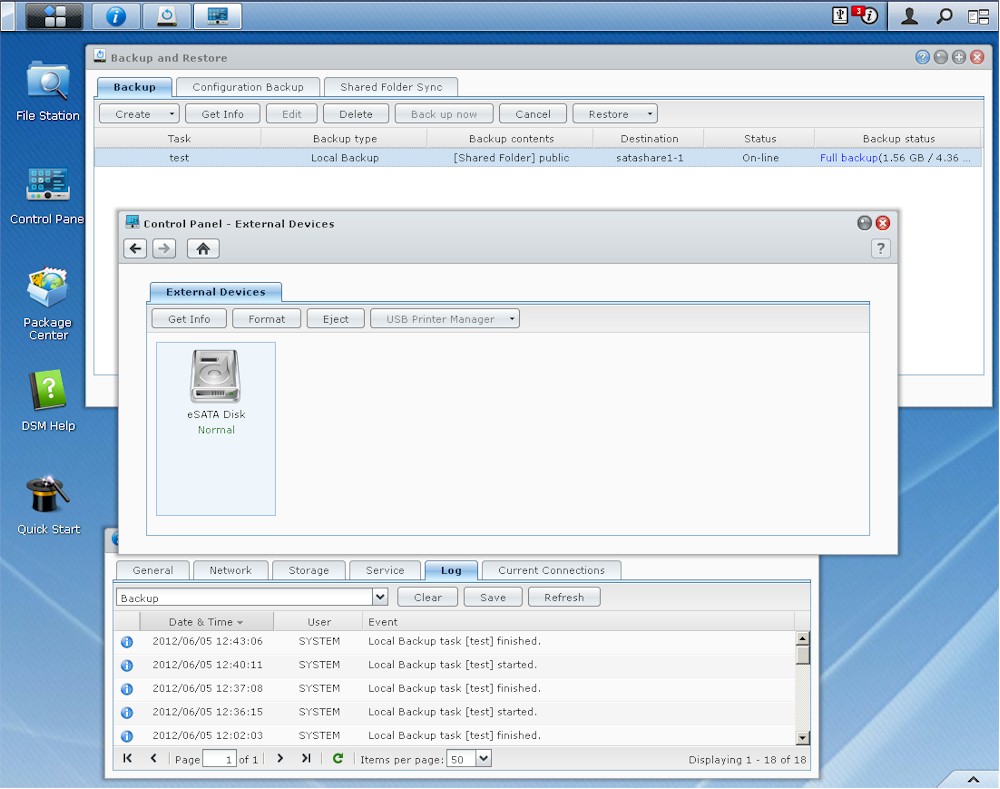 The DSM 4.1-2647 build used for testing has a very extensive feature list, which is described in Synology's DSM Highlight pages. See the DS1512+ review for a feature summary.
You can also check out Synology's product datasheet.
Performance
I tested the DS412+ with DSM 4.1-2647 firmware, using our NAS test process with RAID 0, 5 and 10 volumes. As is our standard practice, four drives were configured in each volume type.
Windows File Copy tests were very consistent for RAID 0, 5 and 10, with the lowest result of 102 MB/s for RAID 5 read. Highest filecopy throughput was 107 MB/s from RAID 0 write.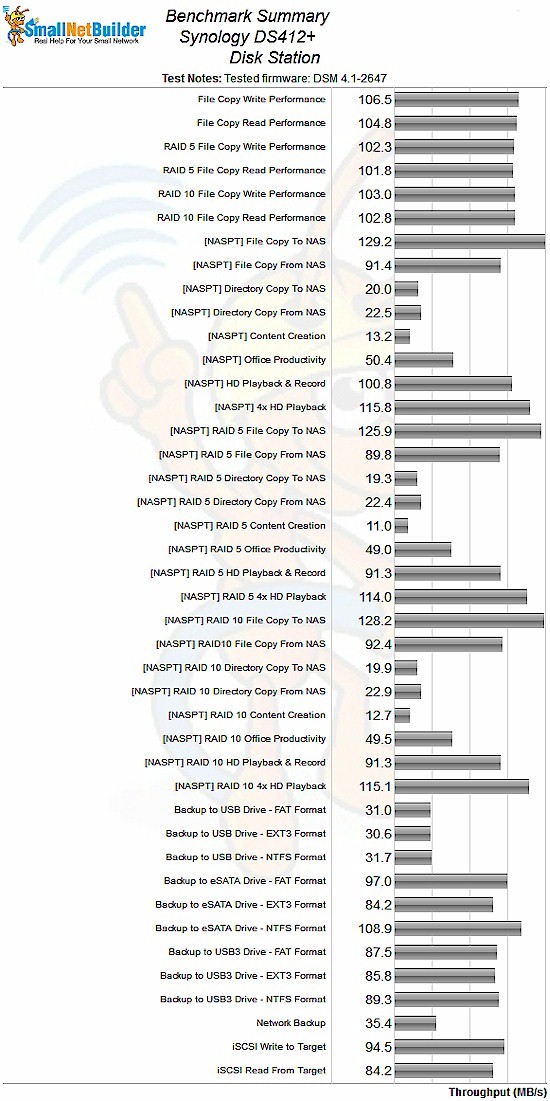 Synology DS412+ DiskStation benchmark summary
Intel NASPT File Copy results were about 20 MB/s higher for writes across the RAID modes, but about 10 MB/s lower for reads. Highest NASPT write throughput was 129 MB/s for RAID 0 write and lowest read was 90 MB/s in RAID 5. Note that the highest possible throughput from a Gigabit connection is 125 MB/s, so some write cache effects are in the results.
iSCSI performance of 95 MB/s for write and 84 MB/s for read places the 412+ among the top 10 of all RAID 5 capable NASes tested for these benchmarks.
Attached backup tests were run with our new higher performance Startech USB 3.0 eSATA to SATA Hard Drive Docking Station (SATDOCKU3SEF) containing a WD Velociraptor WD3000HLFS 300 GB drive. Since Synology NASes have built-in FAT, EXT3 and EXT4 formatting for external drives, I was able to run a full set of backup tests.
The 412+ produced some of the highest attached backup throughputs measured to date, especially with the USB 2.0 connection. USB 2.0 usually produces results in the mid 20 MB/s range. But 31 MB/s was the lowest measured in that group. Highest attached backup throughput of 109 MB/s was obtained using eSATA and an NTFS formatted drive.
By comparison, Network backup to a DeltaCopy target on our NAS Testbed system was pretty slow at only 35 MB/s.
For a competitive look, I ran NASPT RAID 5 File Copy charts filtered for dual-core Atom processors. Note that RAID 5 (and 10) tests are run with four drives so as not to give an unfair advantage/disadvantage to NASes with more than four bays.
As we have seen previously, the latest-generation Dual-Core Atoms (D2700, D2550) don't seem to provide a significant performance boost over previous-generation D525 Atoms. In the chart below, the top three products and Thecus N4800 use the D2700, the Thecus N5550 uses the D2550 and the rest use the older D525.
With a 10% performance difference from the Thecus N4200PRO to the Synology DS1512+, you would probably not notice the difference in real world use. The outlier is the D525-powered Iomega px6-300d, which significantly lags in performance, as Iomaga NASes have consistently tended to do.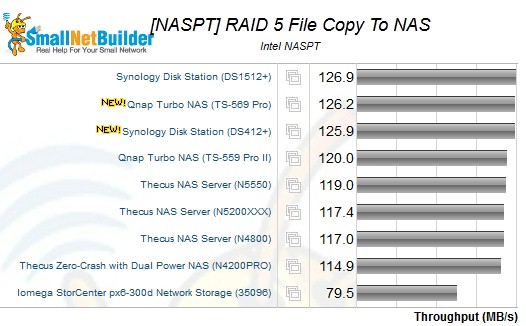 Synology DS412+ NASPT RAID 5 File Copy Write comparison
RAID 5 NASPT read throughput is slower across the group, with a 14% performance spread among all products except, again, the Iomega.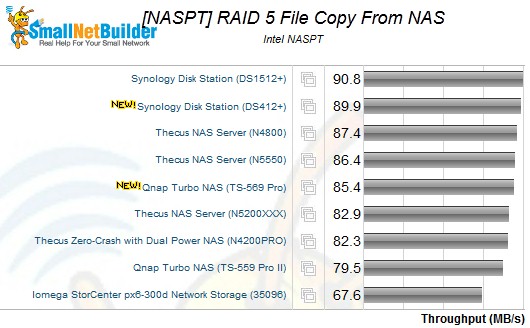 Synology DS412+ NASPT RAID 5 File Copy Read comparison
Use the NAS Charts to further explore and compare the DS412+'s performance
Closing Thoughts
If you're shopping for the latest-generation high-performance four-bay NASes, it looks like you're going to spend at least $600 and that's without drives. The closest in performance and price to the DS412+ that we've tested is Thecus' N4800, which is currently only best-priced around $30 cheaper. But pricing varies all over the map, so shop carefully.
If you're looking to spend less, you're going to need to step down in processor power or look for discontinued models. But you'll also step down below 50 MB/s for read/write performance, too.
If you're looking to stay with Synology, but want to spend less, the new DS413 would be the logical choice, priced around $100 less. But we haven't been able to get one from Synology yet, so can't say what you'll be sacrificing for performance with the dual-core Freescale QorIQ P1022 PowerPC processor that powers it.
Buy Disk Station from Amazon