At a glance
Product
Synology Disk Station (DS413) [Website]
Summary
High performance value-priced four-bay NAS based on dual-core Freescale QorIQ CPU
Pros
• High Performance for a non-Atom NAS
• Quiet
• Fast attached backup via eSATA
Cons
• Big throughput hit for encrypted folders
• Mostly plastic construction
Typical Price: $860 Buy From Amazon
Overview
I'm cranking through four Synology NASes that recently came in. The DS413 is number three of four and it's an interesting one, too.
The DS413 is the four-bay offering in Synology's "Workgroups & Small Business" line. It most closely compares to the DS412+ that fills the same role in the company's "Standard Business Line". That's Synology's way of differentiating NASes built on lower-power Marvell and other processor platforms from those based on Intel archtectures.
At first glance, you might mistake the DS413 for the DS412+. Both are four bay NASes packaged in the same mostly-plastic enclosure that I'm not so big a fan of. I laid out the reasons in the 412+ review, so won't repeat them here. But when you check the back panel, you'll see a key difference between the two; one Gigabit Ethernet port on the DS413 vs. two on the 412+, with link/status lights, even! The other ports are the same, i.e. two USB 3.0, one USB 2.0 and a single eSATA.
The callout view below provides the rundown on the DS413's ports, indicators and switches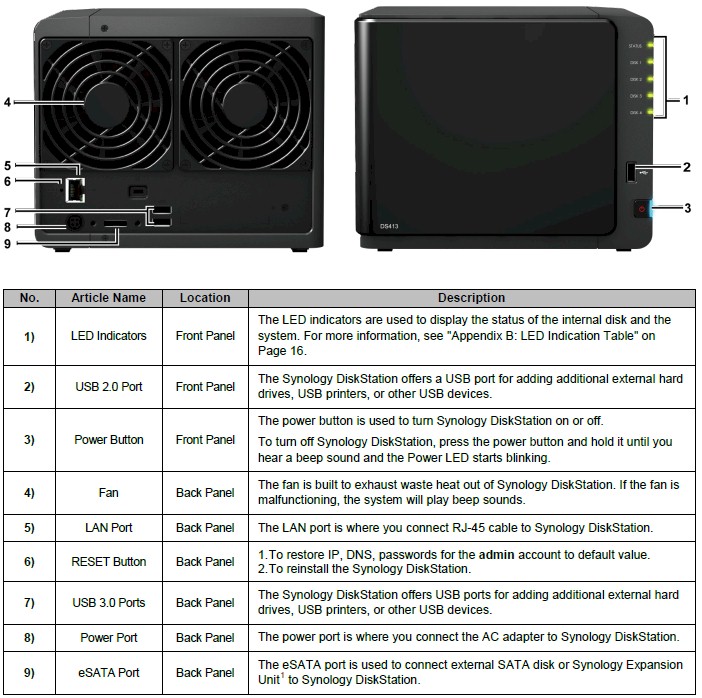 DS413 lights and ports
In keeping with the 412+' cost-saving, no frills approach, there are no VGA or HDMI ports to support an attached console, nor is there an LCD status panel on the front. You'll have to get any information you want via the front panel LEDs or logging into the web-based admin.
Inside
Since I didn't have a lot of luck getting at the DS412+' board, I didn't attempt it for the DS413 and it looks like no other reviewers did, either. So I have put what I component info I have into the comparison table below.
| | DS413 | DS412+ |
| --- | --- | --- |
| CPU | Freescale QorIQ P1022 @ 1.067 GHz | Intel Atom D2700 @ 2.13 GHz |
| Ethernet | ? | Intel WG82574L (x2) |
| RAM | 1 GB DDR3 | 1 GB DDR3 SoDIMM (expandable to 3 GB) |
| Flash | 4 MB | 128 MB DOM (Samsung K9F1G08U0C & USBest UT165-L46 controller) |
| Southbridge | N/A | Intel 82801JIR (ICH10R) |
| SATA | ? | Silicon Image SiI3531 |
| I/O | ? | ITE IT8728F |
| uC | ? | Microchip PIC16F883 8 bit microcontroller |
Table 1: DS413 component comparison
The processor is the dual-core version of Freescale's "family of processors is designed to deliver complex application processing performance with exceptional feature integration and high-speed connectivity for IP networking and advanced media processing applications".
Power consumption measured 31 W with four WD Red 3TB 7200 RPM (WD30EFRX) drives I supplied spun up and 16 W when the programmable drive spindown kicked in. Fan noise, in the default "Quiet" mode (the other two modes are "Cool" and "Low-Power") was barely audible and there was little idle drive noise in my quiet home office environment. So I rated the 413's noise as low.
Features
The 413 supports all the features in Synology's DiskStation Manager (DSM) 4.1 OS. The DSM 4.1-2657 build used for testing has a very extensive feature list, which is described in Synology's DSM Highlight pages. See the DS1512+ review for a feature summary.
Performance
I tested the DS413 with DSM 4.1-2657 firmware, using our NAS test process with RAID 0, 5 and 10 volumes. As is our standard practice, four drives were configured in each volume type.
Windows File Copy tests show read throughput significantly higher than write and lower throughput for RAID 5 and 10 than for RAID 0 when writing. When reading, throughput is essentially the same for the three modes at around 100 MB/s. Lowest write throughput was 70 MB/s, measured in RAID 5.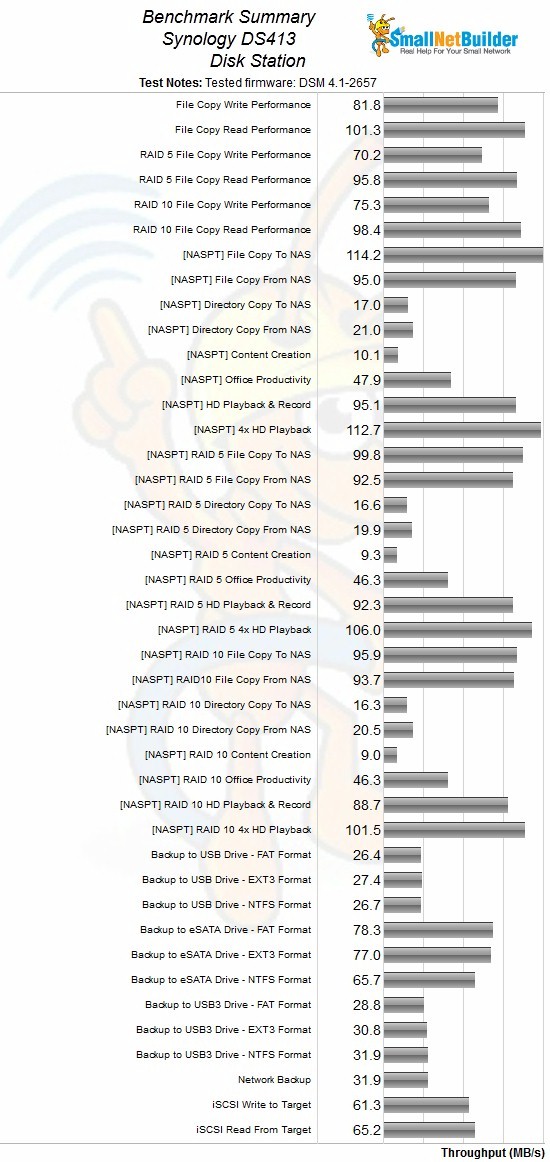 Synology DS413 DiskStation benchmark summary
Intel NASPT File Copy results were about 25 – 30 MB/s higher for writes across the RAID modes, but only about 5 MB/s lower for reads. Highest NASPT write throughput was 114 MB/s for RAID 0 write and lowest read was 93 MB/s in RAID 5. Despite the variation in benchmark results, this is a pretty high performance NAS for one not based on Intel Atom!
iSCSI performance of 61 MB/s for write and 65 MB/s for read is pretty good, but no match for its DS412+ Atom-powered sibling that performs 20 to 30 MB/s higher.
Attached backup tests were run with our standard Startech USB 3.0 eSATA to SATA Hard Drive Docking Station (SATDOCKU3SEF) containing a WD Velociraptor WD3000HLFS 300 GB drive. Throughput via the USB 3.0 port was disappointing since results were closer to those with the USB 2.0 connection. Best backup throughput of 78 MB/s was obtained using eSATA and a FAT-formatted drive.
Network backup to a DeltaCopy target on our NAS Testbed system measured around 32 MB/s, which is not that much different than the 35 MB/s measured for the DS412+. But it significantly out-performs the Marvell-powered DS413j's 17 MB/s.
Performance – Comparative
To put the DS413's performance in perspective, I created a set of custom performance charts using the NAS Finder to compare Synology's latest three four-bay NASes, i.e. the DS413, DS413j and DS412+.
The plot composite below shows Windows and NASPT RAID 5 file copy write and read results for the group. Except for NASPT read, the rankings come out as you might expect, Atom-powered DS412+ on top, Marvell-powered DS413j on the bottom and the Freescale-based DS413 in the middle.

RAID 5 file copy performance comparison
I also compared NASPT directory copy performance for this group of products. The rankings again sort out Atom, Freescale, Marvell. The results, however, are so close that it's doubtful that you would detect a difference among the products in real-world use.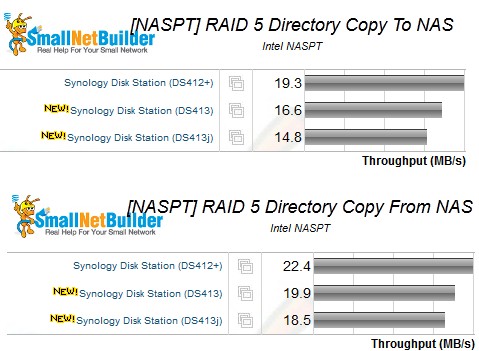 RAID 5 NASPT directory copy performance comparison
I checked the performance hit for encryption, creating a test folder on a RAID 5 volume, then running our standard benchmark suite using the folder as a mapped drive. The results are summarized in Table 2 below. As we found in our recent EonNAS Pro 500, review, using an encrypted folder definitely takes its toll on performance.
| | Normal | Encrypt | % Diff |
| --- | --- | --- | --- |
| FileCopyToNAS | 99.84 | 30.66 | -69 |
| FileCopyFromNAS | 92.51 | 42.53 | -54 |
| DirectoryCopyToNAS | 16.62 | 4.66 | -72 |
| DirectoryCopyFromNAS | 19.91 | 13.70 | -31 |
| ContentCreation | 9.27 | 3.02 | -67 |
| OfficeProductivity | 46.27 | 32.56 | -30 |
| HDVideo_1Play_1Record | 92.31 | 46.68 | -56 |
| HDVideo_4Play | 106.04 | 46.68 | -56 |
| | | | |
| Win File Copy Write | 70.19 | 22.2 | -68 |
| Win File Copy Read | 95.75 | 42.63 | -55 |
Table 2: Encrypted folder performance comparison
Use the NAS Charts to further explore and compare the DS413's performance
Closing Thoughts
If you're looking at Synology's latest crop of four-bay NASes, but want to spend $100 less than the Atom-powered DS412+, the DS413 would be a logical choice. The main risk I see is Synology's long term commitment to the Freescale platform. If they decide it's not worth keeping up three versions of their NAS OS, development is going to stop on one. And I'm betting it won't be Intel's.
Buy Disk Station from Amazon