At a glance
Product
Thecus SOHO / Home NAS Server (N2310) [Website]
Summary
High performance, low-cost RAID 1 NAS based on AMCC single core PowerPC based SoC
Pros
• High performance for little $
• USB 3.0 port
Cons
• No iSCSI
• Does not support all Thecus add-in modules
• rsync backup didn't work
• Slow attached backup
Typical Price: $0 Buy From Amazon
Introduction
There seems to be more interest in two-bay NASes lately, particularly in the under $200 space. Buffalo fielded two strong entries in its LinkStation 420 and 421e earlier this year. And even Synology joined the party more recently, departing from its usual stratospheric pricing with the DS214se. Thecus apparently decided it was time to jump into the pool and recently sent us its new entry-level N2310.
The N2310's all-plastic black enclosure might put off those who insist on lots of metal in their NASes. Even the drive trays (with holes for both 2.5" and 3.5" drives) are all plastic, except for the metal spring that pops up the ejector lever. My 3.5" WD Red drives fit snugly enough in the trays that I didn't even bother screwing them down.
The front and rear panel callout diagram below shows a basic set of indicator lights on the front panel and power, USB 2.0, 3.0 and Gigabit Ethernet ports on the rear. You can't see the internal buzzer / beeper, which I think all NASes should have.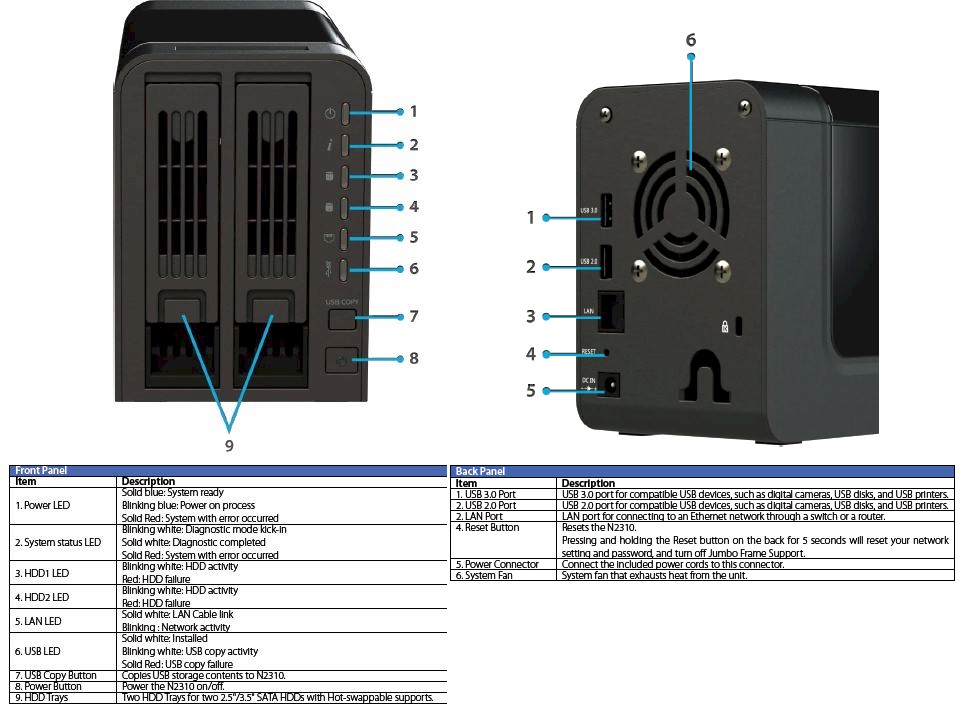 Thecus N2310 callouts
Inside
Sorry to disappoint, but I couldn't get a picture of the N2310's innards. I got as far as removing the two screws on the rear panel. But then trying to pry or slide the cover off only resulted in so much creaking and popping that I didn't want to risk cracking the cover.
However, Thecus' specs provided the key information that that 2310 is based around an Applied Micro APM86491 clocked at 800MHz, mated with 512 MB of DDR3 RAM. The APM86491 seems a capable little SoC, with a single PowerPC 465 core and two each USB 3.0 , PCIe Gen 2, SATA II and Gigabit Ethernet ports.
The 2310's key components are summarized in Table 1 along with the Thecus N2560. I also threw in the Buffalo LinkStation 420, which is more directly comparable in price.

Thecus N2310
Thecus N2560
Buffalo LinkStation 420
CPU
Applied Micro APM86491 @ 800Mhz
Intel CE5335 dual-core @ 1.6 GHz
Marvell Armada 370 SoC @ 1.2 GHz
RAM
512 MB DDR3
2 GB DDR3
512 MB DDR3
Flash
?
4 MB Winbond W25Q32BV
2 GB Micron JW865 e-MMC NAND flash
1 MB
Ethernet
in APM86491
Realtek RTL8211E
Marvell 88E1518-NNB2
USB 3.0
in APM86491
Etron Tech EJ168A USB 3.0 Host controller
In Armada 370 SoC
Table 1: Key component summary and comparison
We used two WD Red 3 TB (WD30EFRX) drives loaned by WD for testing. Power consumption measured 13 W with the two drives spun up. Considering that Thecus makes a big point of touting its "Energy Efficient: 5W" operation, I was surprised to not find an idle drive spindown control. I suppose it doesn't matter, since I have found that Thecus' implementation doesn't reliably spin down the drive in other models I've tested.
I rated the 2310's noise as low, with mostly drive motor noise audible in my quiet home office, even under heavy testing load.
Features
The 2310 runs ThecusOS 6, which Scott covered briefly in his N2560 review and Craig covered in depth in his ThecusOS 6 review. There is also Thecus' OS6 Live Demo if you'd like a test drive. The N2310's features are a bit different from the N2560's. So the next three images show all the Control Panel icons.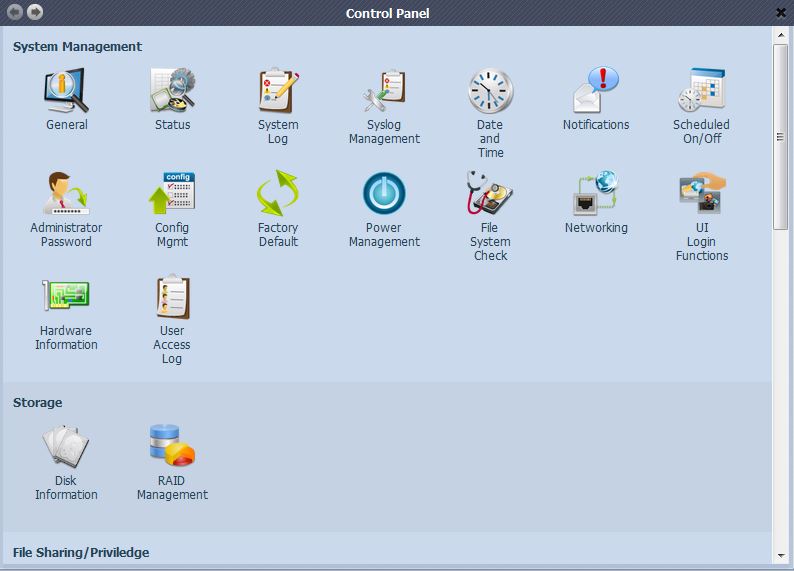 Thecus N2310 Control Panel 1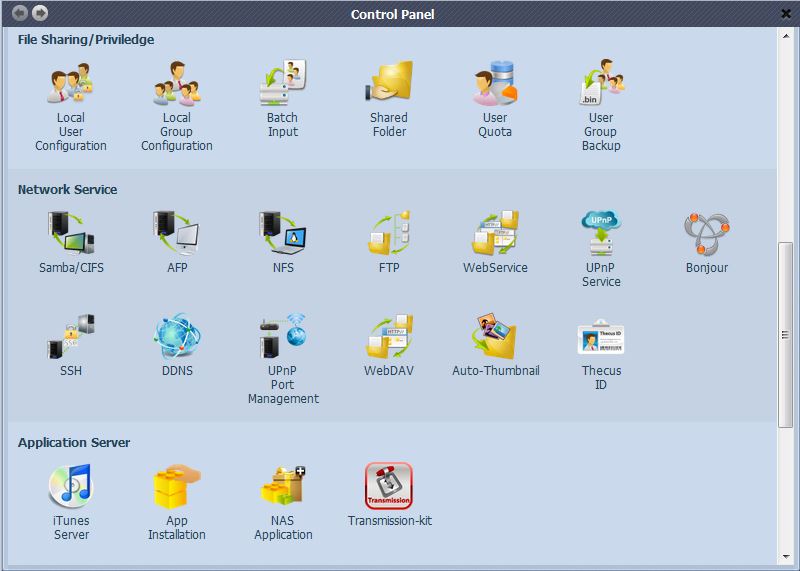 Thecus N2310 Control Panel 2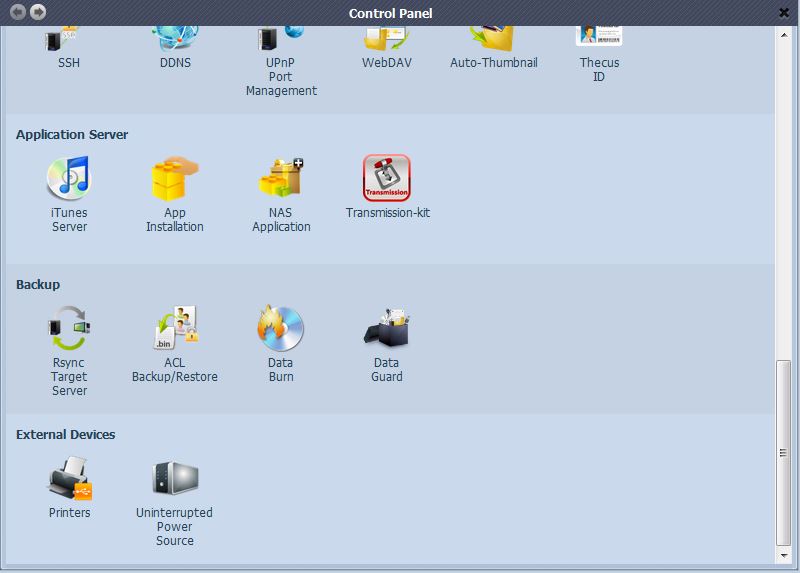 Thecus N2310 Control Panel 3
Like, the N2560, the N2310 doesn't support all the apps shown in Thecus' App Center. In fact, the N2310 isn't included in the Select by model dropdown list. This could be an omission, since app installation appears to be supported. The NAS Application screenshot below shows the apps that are supported.

Thecus N2310 apps
Like the N2520 and N2560, the N2310 don't support iSCSI. I also could not get it to recognize my standard rsync target when I tried to run rsync backup tests.
Performance
The 2310 was tested with OS6.build_677 firmware using our standard NAS test process with RAID 0 and 1 volumes.
Depending on whether you prefer to believe the Windows File Copy or NASPT File Copy tests, the 2310 is capable of either 100 MB/s or 85 MB/s RAID 0 writes. Actually NASPT clocked the 2310's RAID 0 writes at 117 MB/s and RAID 1 writes at 114 MB/s!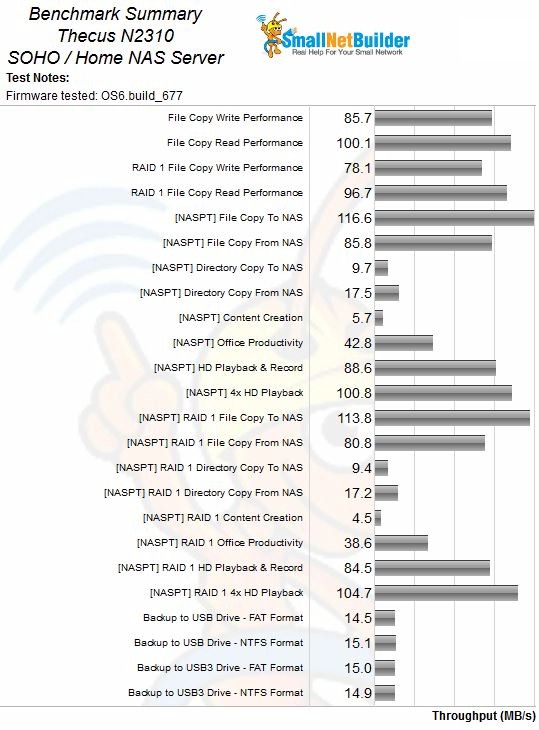 Thecus N2310 benchmark summary
Attached backup using either the USB 2.0 or 3.0 ports and NTFS or FAT32 format putted along at a disappointing 15 MB/s or so. As noted earlier, I could not get the NAS to connect to our standard DeltaCopy rsync target.
With this high performance, I thought the N2310 would zoom to the top of the NAS Ranker, once filters were applied for two drives and single-core SoC (SoC-1) processor.
But the Ranker screenshot shows it ended up ranked fourth, between the Buffalo LinkStation 420 above it and the Synology DS214se below.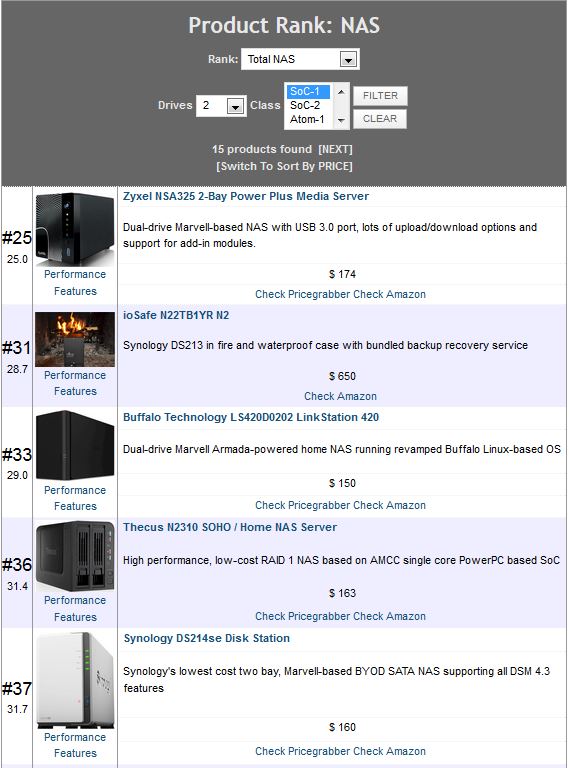 Thecus N2310 benchmark summary
Putting the Ranker Performance summary detail side-by-side below reveals the N2310 performed best against the Buffalo and Synology in the Write benchmarks in the large file copy (sequential) write tests. It didn't do as well when it came to moving a mix of smaller files as evidenced by the lower scores in directory copy and mixed read/write tests. Its low backup throughput didn't help its standings, either.
NAS Ranker Performance Summary comparison
Keep in mind that the closeness of the total scores, i.e. 29.0, 31.4 and 31.7 for the Buffalo, Thecus and Synology respectively, means that it would be difficult to see a significant performance difference among the three.
Closing Thoughts
It used to be that $150 or so would buy you only a Marvell-based NAS capable of 50 MB/s or so performance. With the newer crop of SoCs exemplified by Marvell's Armada 370 and now Applied Micro's APM86491, it looks like the performance bar has been significantly raised to over 100 MB/s for large sequential file transfers in this class of NAS.
Bottom line is that if you're looking for a pretty hot dual-bay NAS for not a lot of money, you should put the N2310 on your short list.
Buy SOHO / Home NAS Server from Amazon