At a glance
Product
Thecus NAS Server (N7710-G) [Website]
Summary
Intel Pentium G850 seven-bay BYOD NAS with USB 3.0, HDMI and 10 GbE ports, supporting multiple volumes and filesystems with many serving options.
Pros
• Standard 10GbE port
• Aggressively priced, especially for 10GbE NAS
Cons
• Runs older Thecus OS 5
• Firmware still has quirks
Typical Price: $1053 Buy From Amazon
Overview
Updated 5/7/14: Missing component information added
A glance at the NAS Charts shows well over a dozen products with throughput greater than the 125 MB/s possible from a Gigabit LAN connection (due to write cache effects). So it's clear that there are products in need of a 10 Gigabit Ethernet (10GbE) port to allow users to get the most out of them. (Aggregated dual and quad Gigabit Ethernet ports help access higher throughput, but only for multiple-client access.)
Until recently, the cost of 10GbE NICs and switches and their reliance on SFP and Direct Attached Twin Axial Cabling have made 10GbE a pricey option for the few NASes that supported 10GbE. But Intel's $350 X540-T1 NIC that connects to standard RJ45 / CAT6 cabling has brought 10GbE within the reach of small businesses and prosumers that just have to have the highest performance possible from their networked storage.
At around $1300, Thecus' N7710-G is aimed directly at scratching that higher-throughput itch without driving buyers into the poorhouse. It sports a built-in 10GbE port nestled into its single PCI-e slot, plus two aggregatable 1 Gigabit Ethernet ports. It's also available sans the 10GbE port as the N7710.
The N7710-G effectively replaces the TopTower N6850 [reviewed] that is currently the entry-level NAS in Thecus' "Large Business-Tower" line, even though the N7710-G is positioned as the top end of Thecus' "SMB-Tower" group. To save cost, the N7710-G swaps the TopTowers' touch-sensitive glass panel for the old-school LCD and button interface found on the other "SMB-Tower" models like the N7700PRO v2 and N7510 [reviewed].
Thecus' seven-bay chassis hasn't changed since we first saw it in the N7700. The front door still has is secured with a push-push latch and no lock. And each of the drives sits in a lockable tray that has light pipes to carry power and activity / error lights forward from the drive backplane. It seems like the drive lights are now better positioned behind the front cover holes, but it could be my imagination…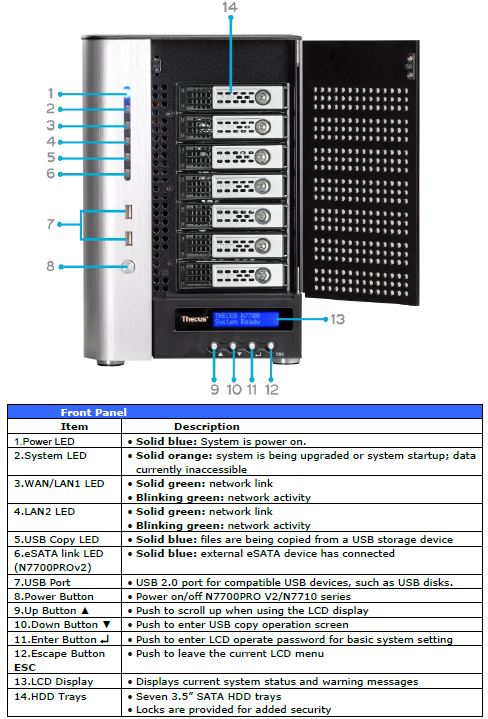 N7710-G Front panel callouts
The rear panel view below shows four more USB 2.0 ports for a total of six and there are two USB 3.0 ports, dual aggregatable Gigabit Ethernet ports and both HDMI and VGA ports for monitor attachment. The blank slot at the top of the photo below should show the single RJ45 10GbE port provided by Thecus' C10GT PCIe card. The NIC compatibility list shows other 10GbE NICs from Emulex and Intel that alternatively could be user-installed.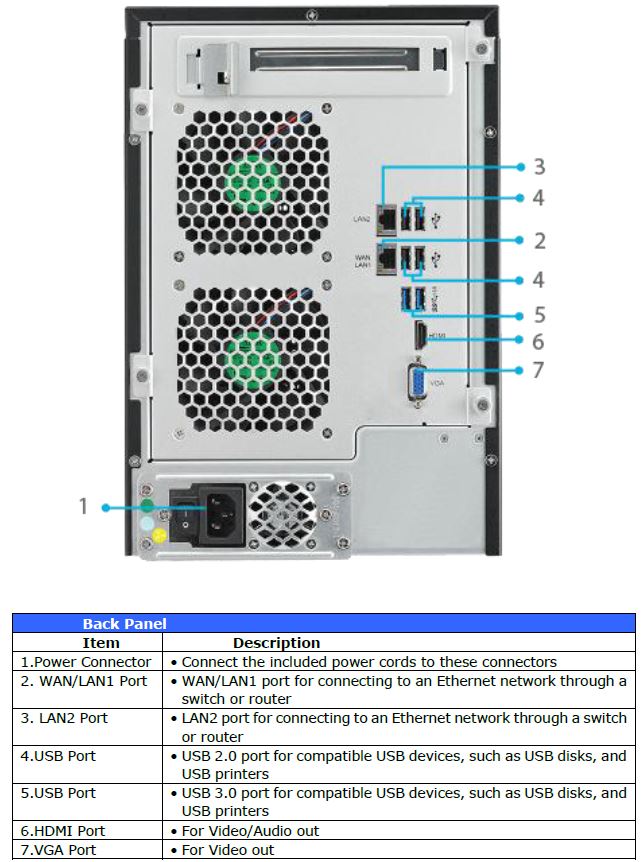 N7710-G Rear panel callouts
I used four WD Re 3 TB drives provided by WD (WD3000FYYZ-0) for testing. They brought total power consumption with all drives spun up to 76 W. The drives all spun down after the 30 minute idle time so that I could measure 43 W in that mode.
The N7710-G is relatively quiet, considering its power draw. I rated its noise level as medium, coming mostly from the system fan. With all seven drives loaded, I imagine it could move up to medium high.
Inside
The N7710-G is not as easily serviceable as some of Thecus' other tower NASes. Although the motherboard is mounted on the removable panel with the two main case fans, the drive bay backplane keeps the panel from sliding out. There are two thumbscrews that appear to be the key to freeing the panel, but they are on the other side of the drive bay cage and I could not figure out a way to get at them.
From what I could see and from a few morsels in StorageTimes.com's N8810U-G review (it uses the same motherboard), I've compiled what I could find out about the key components into the table below, along with those for the N6850. If anyone can provide the missing or "?" info, just let me know and I'll update the table.
Updated 5/7/14: Thecus provided missing and corrected component information.
Feature
N7710-G
N6850
CPU
Intel Pentium G850 @ 2.9 GHz
Intel Pentium G620 @ 2.6 GHz
RAM
4 GB DDR3 ECC (expandable to 16 GB total w/ 4 GB DIMMs)
2 GB DDR3 DIMM (expandable to 16 GB total w/ 4 GB DIMMs)
Flash
2 GB USB DOM
1 GB SATA DOM
Ethernet
Intel WG82574L (x2)
Intel WG82574L (x2)
Southbridge
Intel C206 PCH
Intel C206 PCH
USB 3.0
NEC D720200AF1
NEC D720200AF1 (x2)
PCIe
PCIe x8 (from the CPU)
– PCIe x8 (from the CPU)
– PLX Tech PEX 8604 4 Lane, 4 Port PCI Express Gen 2 (x2) for Southbridge device expansion
SATA
Silicon Image SiI3132 SATALink PCI Express to 2-Port Serial ATA II Host Controller (x4)
Silicon Image SiI3132 SATALink PCI Express to 2-Port Serial ATA II Host Controller (x2)
HW Monitors
– Winbond W33795G hardware monitor ?
– Fintek F71889 Super Hardware monitor & I/O
– Winbond W33795G hardware monitor
– Fintek F71889 Super Hardware monitor & I/O
Video
– CPU onboard
– Pericom PI3VDP411LSZBE Digital Video Level shifter
– CPU onboard
– Pericom PI3VDP411LSZBE Digital Video Level shifter
Table 1: Key component summary and comparison
Other info:
the board is marked N7710 / N8810U ver 0.2
the 10GbE NIC is a Tehuti TN4010
there are four full-sized DIMM slots, three empty.
the four Silicon Image SiI3132's are mounted on the drive bay board
the empty bay on top of the drive bay found in the N6850 is absent
there is a full-height mini PCIe slot on the main board near the rear panel, but with no panel cutout to access it
EXT4 filesystem is used
Features
I was surprised when I logged into the N7710-G to see Thecus' older V5 OS vs. the newer OS 6 [reviewed]. So check the N4800 review for a V5 feature overview. The N7510 review describes the newer Data Guard, Data Burn, Local Display and Transcoding Service modules. Here's a shot of the Home page that you get upon login.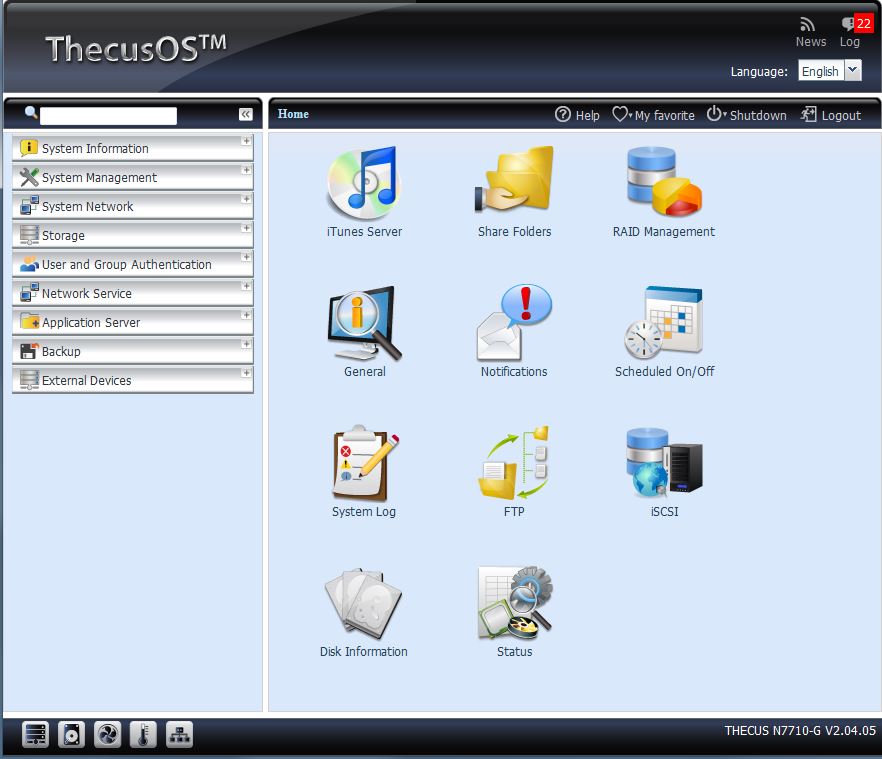 N7710-G Home
As long in the tooth as OS 5 is, the firmware still has some rough edges. Whenver I selected the Auto App Installation menu, the browser just kept showing "Please wait" and I couldn't change to any other page. I had to kill the browser tab and delete the cookies for the NAS' IP address before I could get it unhung.
I was able to download and install apps by downloading them from the NAS App Center and uploading them via the uploader on the Application Server > App Installation page.
The App Center lists 163 apps for the N7710-G (ThecusOS 5 64 bit), but that count includes multiple versions of the same apps as shown in the screenshot below.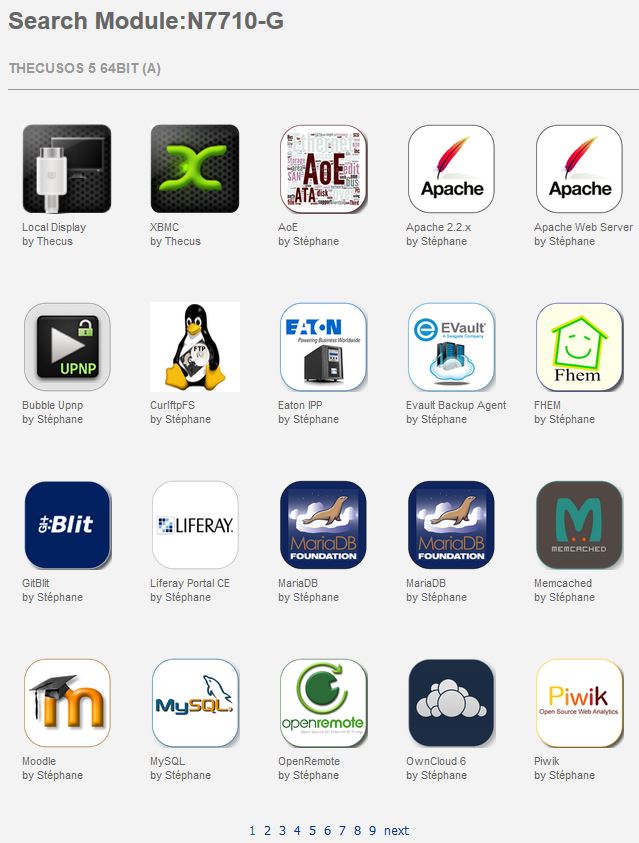 N7710-G App Center
I had to use the Rsync backup app to run the network backup tests because the built-in Data Guard Remote Backup feature threw an error when I tried to connect to the Delta Copy rsync server that is my standard rsync test client. I was able to use Data Guard's Local Backup feature for attached backup testing. But I had to delete the profile each time vs. editing as I moved the USB drive between USB 2.0 and 3.0 connections. For an OS that has been around this long, problems like this should have been solved long ago.
Performance Overview
The N7710-G was tested with 2.04.05 firmware using our recently released V5 NAS test process. Since the new testbed supports 10GbE testing and so does the N7710-G, I ran a full suite of 10GbE connected tests with RAID 0, 5 and 10 volumes. The Benchmark summary below shows 1GbE connected results on the left, 10GbE on the right.
A quick overview shows Gigabit-connected write / read performance around 100 MB/s for all three tested RAID volume types, with a dip down to 89 MB/s or so for RAID 10 Intel NASPT File Copy read.
10GbE connected benchmarks showed a wider performanc range for large file copies from a high of 381 MB/s for Intel NASPT RAID 0 File Copy write to a low of 164 MB/s for Intel NASPT RAID 10 File Copy read. Note that benchmarks using a mix of smaller file sizes, NASPT Directory Copy in particular, knock throughput right down to low teen MB/s.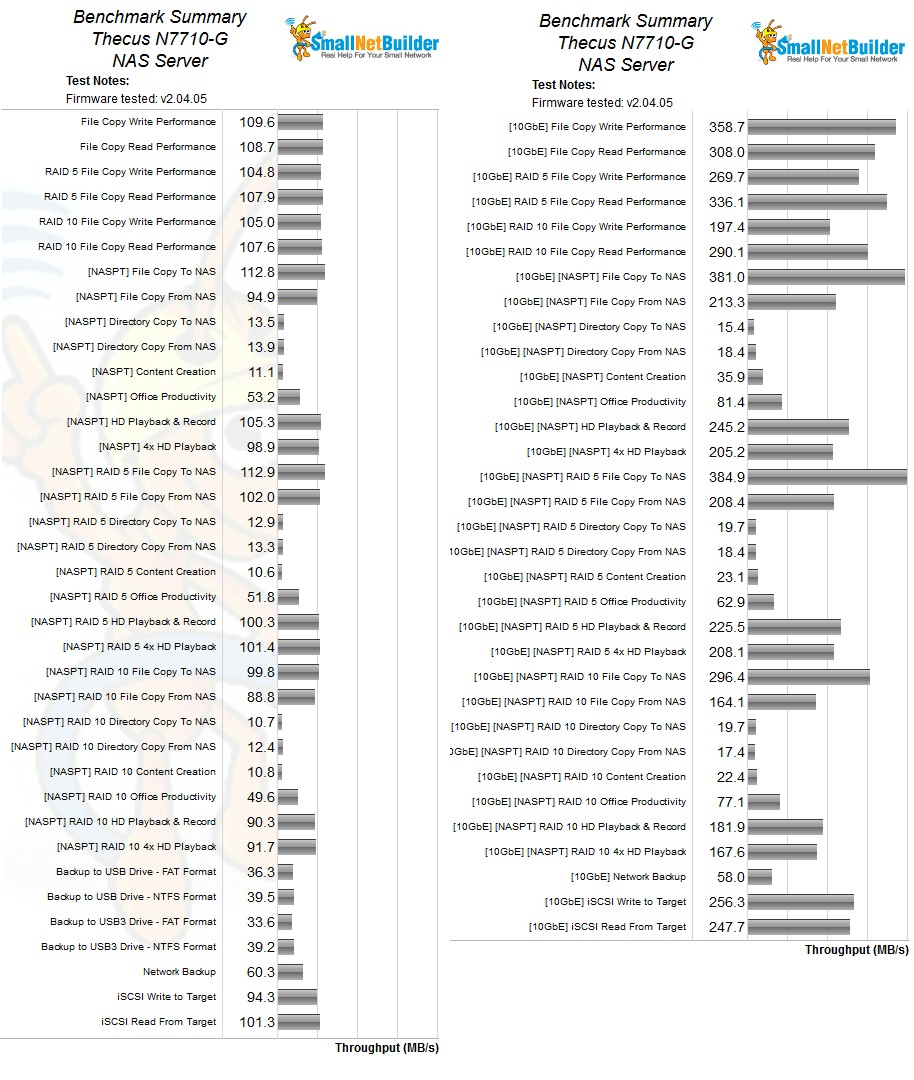 Thecus N7710-G NAS Benchmark summary
iSCSI benchmarks shows it also could take advantage of the 10GbE connection's higher bandwidth. Write and read measurements on RAID 5 volumes came in at 94 MB/s / 101 MB/s for 1 GbE and 256 MB/s / 248 MB/s for 10GbE.
As noted earlier, I used Data Guard for attached backup tests and the Rsync backup app for network backup tests. I ran rsync backup tests with both Gigabit and 10 Gigabit connections, but saw no significant difference at 60 and 58 MB/s, respectively. Best case for attached backup was 39 MB/s for an NTFS formatted volume with both USB 2.0 and 3.0 connections.
Performance – 10GbE Comparative
Since this is the first 10GbE test with the new process, I have no directly comparable data to show. But as a sanity check, I took the 10GbE results from the Thecus TopTower N6850 review that compared it and a QNAP TS-1079 Pro with RAID 5 volumes. Both NASes were connected to the V3/V4 Intel i3 / Windows 7 based testbed and Intel X520-DA2 10 GbE NICs were used on both NAS and testbed.
I added the N7710-G's results as red numbers to the chart below. While they aren't directly comparable, they seem to follow the general pattern of the other results. Keep in mind the CPU's in the NASes are an Intel Pentium G850 @ 2.9 GHz for the N7710-G, Pentium G620 @ 2.6 GHz for the N6850 and Intel i3-2120 in the QNAP.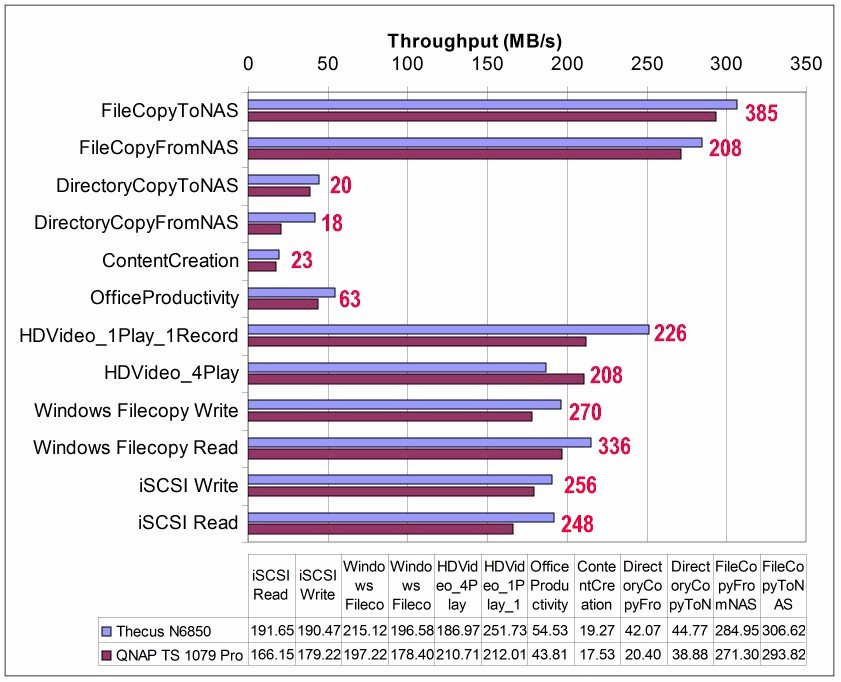 Thecus N6850, QNAP TS-1079 Pro, Thecus N7710-G – 10 GbE connection
1GbE Comparison
The Charts Database has a handful of NASes based on dual-core general-purpose processors to compare. But since they were tested on a different testbed, I have to include the caution that the results aren't directly comparable. That said, I filtered the NAS Ranker to show only products based on dual-core general purpose CPUs and got seven products, with the Thecus N6850 and N8850 TopTowers tied at the top and the N7710-G at the bottom of the rank. But before you dismiss the N7710-G, note the #12 rank among all 70 NASes ranked.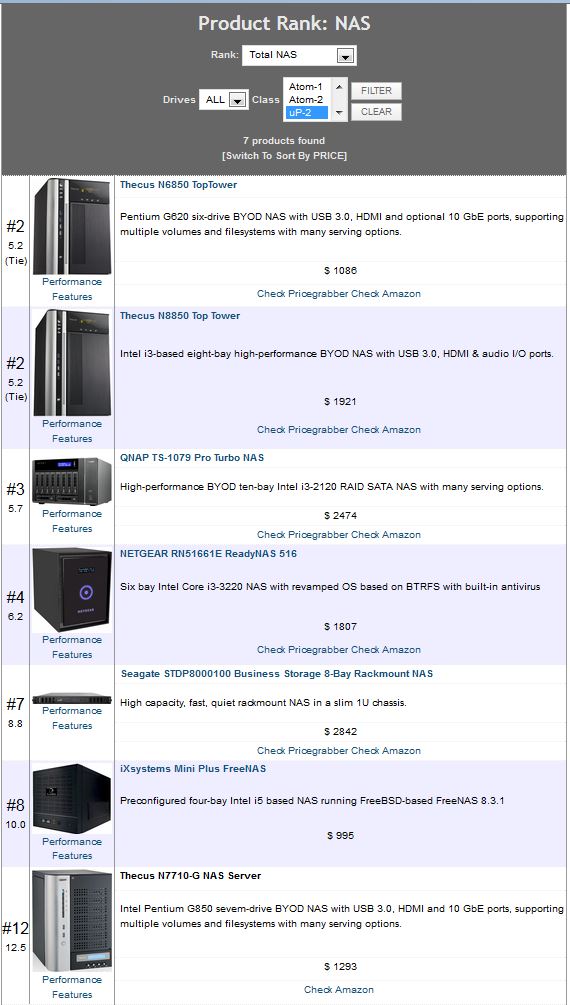 NAS Ranking – Dual-core CPU NASes
Putting the N6850 and N7710-G Ranker Performance details side by side, we see the N7710-G's main weaknesses are in the Directory Copy tests. The other largest difference was the N7710-G's 99 MB/s Video Playback vs. 113 MB/s for the N6850. Its 39 MB/s same-as-USB 2.0 NTFS format backup result vs. the N6850's 84 MB/s didn't help either. Keep in mind that the NAS Ranker doesn't include 10GbE results in the ranking—not that it would have made a difference with no other 10GbE results to rank against!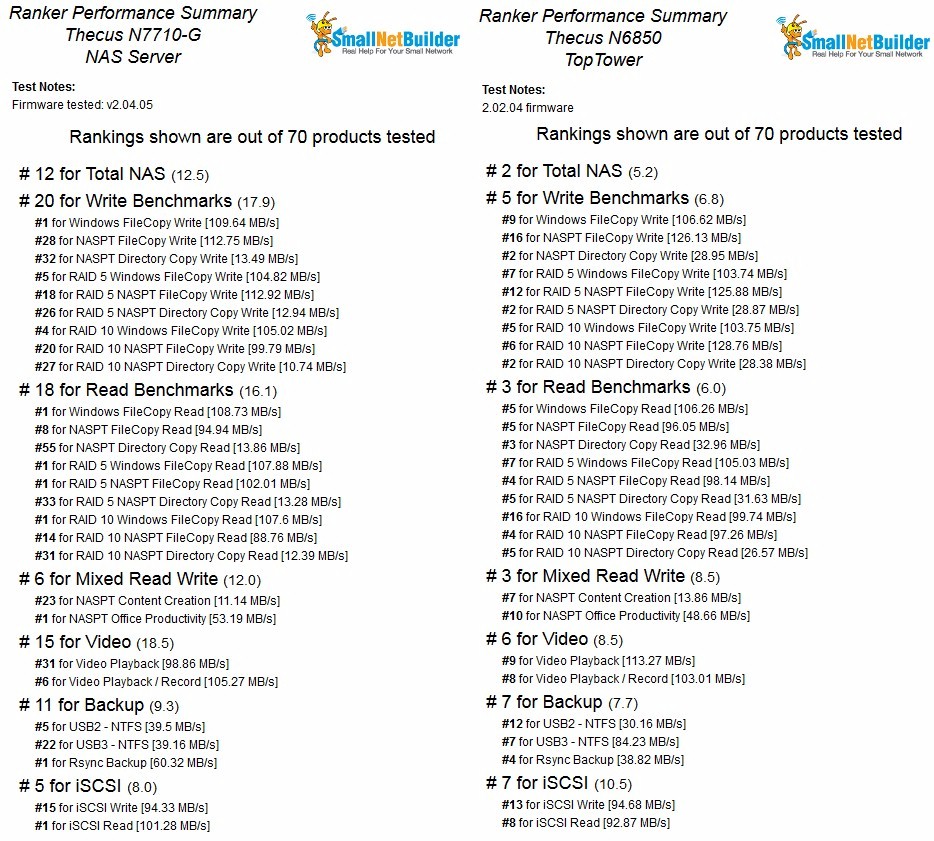 Thecus N7710-G, N6850 Performance Summary Comparison
Use the NAS Charts to further explore performance.
Closing Thoughts
With its odd number of drive bays (pun intended) and bundled 10GbE interface, the N7710-G doesn't really have any direct competitors at the moment. QNAP has plenty of "10GbE Ready" desktop and rackmount NASes with empty PCIe slots ready to accept Emulex, Intel and QNAP-branded NICs, but no models with 10GbE built in.
NETGEAR's six-bay RN716 is the only other 10GbE-equipped NAS that comes to mind. But its two 10GbE ports, quad-core Intel Xeon Ivy Bridge E3-1225v2 processor, 16 GB of ECC RAM and $2700+ street price (diskless) put it in a substantially different class.
So if you're itching to get a 10GbE NAS on your LAN and willing to put up with Thecus' OS quirks, the N7710-G at $1300 could be a good way to dip your toes into the rising 10GbE tide.
Buy NAS Server from Amazon